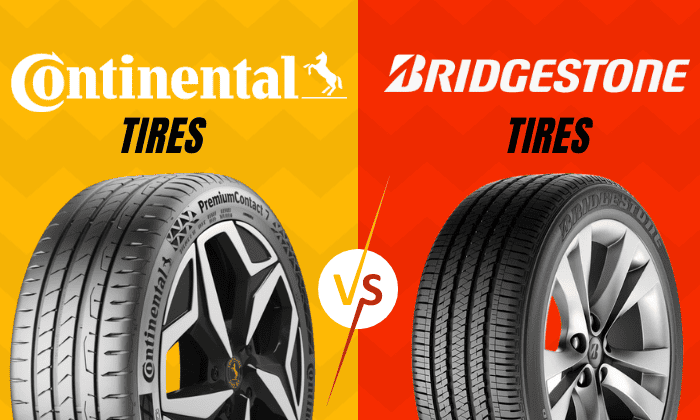 Continental and Bridgestone are two of the biggest names in the tire manufacturing industry. Both are placed on high rankings thanks to their excellent overall tire ratings.
Today, we are going to compare Continental vs Bridgestone tires in terms of general tire performance, price point, warranty, and more. So let's get started!
Continental vs. Bridgestone: Quick Comparison
Take a look at some of their key differences below.
| | | |
| --- | --- | --- |
| Characteristics | Continental | Bridgestone |
| Year Started | 1871 | 1930 |
| Country of Origin | Germany | Japan |
| Number of Tire Lineup | 4 | 8 |
| Price | Cheaper | More expensive |
| Max Treadlife Warranty | 70,000 miles | 70,000 miles |
| Current Ranking | 2nd place | 6th place |
About the Continental Company
Continental has been around for almost 150 years. Its humble beginnings started in Hanover, Germany by the name of Continental Caoutchouc & Gutta-Percha Company with carriage and bike tires as its first offerings to the public.
Continental's brand logo first appeared in 1875, which signifies toughness and agility. This horse is a great symbol of the quality of the tires this brand is producing.
Continental Tire has evolved into a global force, delivering cutting-edge tire solutions for a wide range of vehicles. From high-performance sports cars to rugged trucks, they produce tires that promise safety, sustainability, and state-of-the-art technology.
Popular Continental tires include:
Continental All-Terrain: TerrainContact A/T and TerrainContact™ are made to cater the driving needs of commercial vehicle drivers that want extreme driving experience on different road surfaces.
Continental Touring and Grand Touring: Group of tires that has reliable features such as improved wet traction and long treadwear warranty support.
Continental Winter: This lineup is composed of tires with flexible tread and circumferential grooves that provide supreme wintertime performance.
Continental Ultra-High-Performance: Includes twelve great tires that promise superior sensitive steering, cornering, dry and wet speed driving, lateral traction, and stable fast-speed driving experience.
Related: The manufacturing locations and ownership of Continental tires?
About the Bridgestone Company
Established in 1931, Bridgestone Tire Co., Ltd. is a Japanese-based tire company named after the English translation of its founder Ishibashi. This tire brand achieved its peak success in providing tires for passenger cars in its origin country and grew internationally over the years.
Bridgestone started to become the parent company of The Firestone Tire and Rubber Company in 1988. This helped build a strong foundation for the brand to dominate North American regions. Bridgestone has consistently pushed the boundaries of tire technology to enhance driving experiences on both Formula 1 circuits to everyday roads.
Popular Bridgestone tires are:
Bridgestone Alenza: Lineup of grand-touring tires for dry and winter road conditions.
Bridgestone Blizzak: Composed of competitive wintertime tires that can withstand even the harshest snow and ice conditions.
Bridgestone DriveGuard: Bridgestone's family of superb run-flat tires that promotes safety features.
Bridgestone Dueler: Excellent off-road tires without compromising smooth ride quality and low noise input.
Bridgestone Ecopia: Good for drivers looking for environmentally-friendly tires.
Bridgestone Potenza: This tire family includes a variety of tires for high-speed driving.
Bridgestone Turanza: Group of grand-touring tires that specialize in delivering a quiet and comfortable ride.
Bridgestone WeatherPeak: This tire lineup is home to Bridgestone's all-season tires that showcase ideal handling, ride quality, and enhanced traction capabilities.
Bridgestone vs. Continental
To better compare the performance of these two brands, we choose their most exceptional tire models to represent in each category.
1. Performance
Summer Performance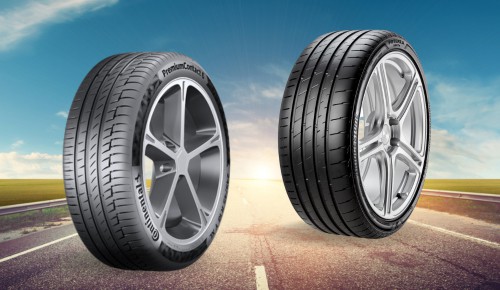 Continental: PremiumContact 6 is Continental's popular summer tire that is praised for its smooth ride quality and innovative tread design that evacuates water that leads to improved performance on wet roads.
Bridgestone: Potenza S007A allows ultimate dry traction, handling, sensitive steering, stability, and cornering, along with performance-oriented driving capabilities.
All-Terrain Performance
Continental: TerrainContact A/T excels in mud, sand, and rock traction performance. Not just in off-roads, but it delivers on-road traction and a longer tread life span too.
Bridgestone: Dueler A/T Revo 3 is an all-terrain tire engineered with innovative technology and tough tread compounds that employ superior durability and traction for off-road elements such as gravel, rocks, and mud.
Winter Performance
Continental: TS 860 promises a durable tire that excels in wet and snow performance, better. However, its performance in extremely harsh winter conditions might not be as strong.
Bridgestone: Blizzak LM005 has its strength seen in its better-rolling resistance and longer treadwear that also performs well in winter.
All-Season Performance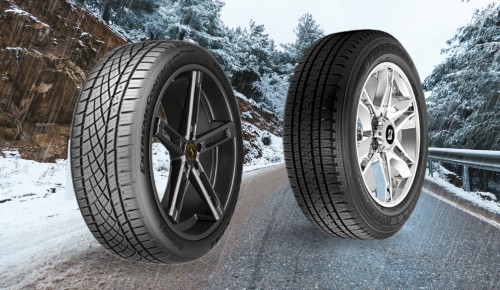 Continental: ExtremeContact DWS06 provides impressive all-year-round handling and traction capabilities, much more in slippery wintertime road conditions.
Bridgestone: Dueler H/L Alenza Plus offers great performance on both dry and wet road conditions but is not the best pick during winter.
Touring Performance
Continental: PureContact LS features low road noise and a comfortable driving experience, plus optimal wet and dry grip, fuel economy, and durability.
Bridgestone: Turanza ensures similar qualities as Continental PureContact LS does.
High-speed Performance
Continental: Sport Contact 7 allows superior dry and wet handling precision, traction, and sensitive braking abilities at high speed.
Bridgestone: Potenza RE050A has extraordinary stability, handling, and braking power.
2. Technology
Continental and Bridgestone are two giants in the tire industry. They have been at the forefront of shaping modern driving experiences through their innovative technologies.
Let's take a closer look at the most notable technologies from both companies.
Continental
Continental Tire has garnered acclaim for its groundbreaking technologies aimed at enhancing safety, performance, and efficiency. Notable Continental technologies include:
ContiSeal: A self-sealing tire technology that can seal punctures from objects up to 5mm in diameter, minimizing the need for immediate tire replacement and improving safety.
ContiSilent: A noise-reducing technology that significantly reduces tire noise inside the vehicle cabin, providing a quieter and more comfortable ride.
ContiSense: A sensor-based technology that detects changes in tire temperature and pressure in real time, enhancing safety and providing early warnings of potential issues.
EcoPlus Technology: Designed for improved fuel efficiency, this technology reduces rolling resistance while maintaining excellent traction, leading to lower fuel consumption and reduced CO2 emissions.
Bridgestone
Here are the core technologies that Bridgestone offers:
Run-Flat Technology: Bridgestone's run-flat tires allow drivers to continue driving for a limited distance even after a puncture, enhancing safety and eliminating the need for an immediate tire change on the roadside.
Nanopro-Tech: This technology optimizes the molecular structure of tire compounds, enhancing grip, fuel efficiency, and overall performance.
Ologic Technology: Utilizing a unique tire shape that combines a large diameter with a narrow tread pattern, Ologic tires improve aerodynamics, reduce rolling resistance, and enhance fuel efficiency.
Enliten Technology: Bridgestone's Enliten technology reduces tire weight, leading to improved fuel efficiency and reduced carbon emissions, while still maintaining the necessary levels of durability and performance.
Overall, both companies offer techs that provide drivers with safer, more efficient, and more enjoyable journeys. However, Continental seems to come just a little out on top with tire sensors and silent technologies.
3. Price
A Continental tire can be purchased for as low as $76. Meanwhile,the most affordable Bridgestone tire starts at $90. However, it's worth pointing out that both Continental tyres and Bridgestone tires are considerably more expensive than other brands.
4. Warranty
In this category, Continental and Bridgestone are held as tie since the majority of their products come with 70,000 warranted mileage, especially on their all-season and touring tires. This is indeed a pretty decent warranty support coming out of both brands.
5. Pros and Cons
Listed below are the general good and bad sides of these two brands.
1. Continental
Pros
Decent warranty support
Comes at a cheaper cost
Comfortable summer tires
Balanced on and off-road performance
Impressive wet and snow performance of winter tires
Balanced all-season tire traction
Smooth and quiet ride
Better performance-oriented tires
More tire size options
Cons
Limited selection
Questionable winter performance
2. Bridgestone
Pros
Decent warranty support
More available options
Performance-oriented summer tires
Better off-roading tires
Winter tires come with better rolling resistance
Great dry and wet performance of all-season tires
Smooth and quiet ride
With run-flat, low rolling resistance, and fuel economy technologies.
Affordable eco-friendly tires
Cons
More pricey
Lack some technologies for monitoring tires
Which is Better? Bridgestone or Continental?
Ultimately, the choice between Bridgestone and Continental comes down to your driving habits and priorities.
Continental is better if we prioritize the price point, tire size options, high performance, all-season traction, and balanced on and off-road capabilities.
In case you value the tire model variety, off-roading, fuel efficiency, and the tire's environmental-friendliness, Bridgestone is a better pick for you.
It's also worth considering specific tire models from each brand, as their performance can vary.
Conclusion
Congratulations on reaching this very last part of this page. We are confident that you are already knowledgeable about the differences between Continental vs Bridgestone tires.
Thank you for reading!