If you're looking for the best motorcycle tires, Michelin is one of the most popular brands. But where are Michelin motorcycle tires made?
The company's main headquarters is in Clermont-Ferrand, France, but its United States plant also manufactures tires. Michelin tires headquarters USA are located in Arkansas, Alabama, South Carolina, and North Carolina.
Furthermore, their tires are also made in Spain and Thailand. Continue reading to find out where else Michelin tires are made and what motorcycle tires they make.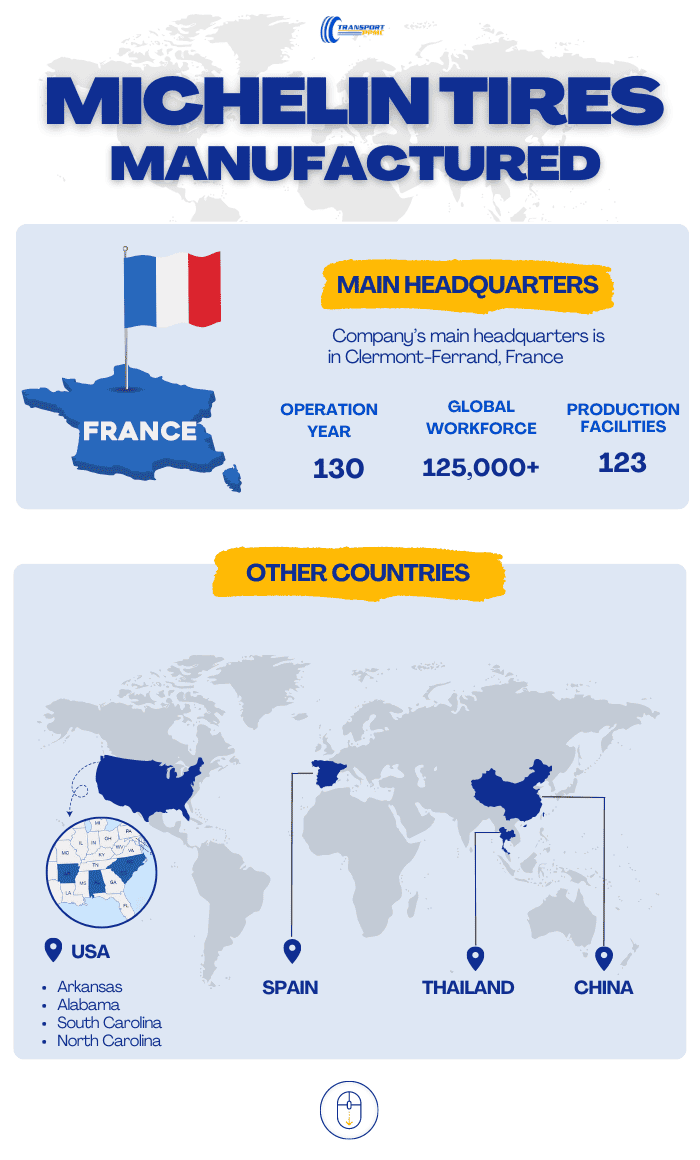 An Overview of the Michelin Company
Michelin, also known as the Compagnie Générale des Établissements Michelin SCA or CGE, has been operating for 130 years.
It is one of the biggest and most renowned tire manufacturers and has grown over the years into a multinational company. Michelin operates 123 production facilities and employs over 125,000 people worldwide.
Where Are Your Michelin Motorcycle Tires Made?
Many might already know that Michelin has their headquarters in France. However, the company produced their Motorcyle Tires in various countries outside France.
In fact, radial construction tires, which are known for their reinforced cord to ensure better traction and cut resistance, are made in Spain.
Meanwhile, bias construction motorcycle tires that are popular to handle a heavier load, are mostly made in Thailand.
Are Any Michelin Tires Made in China?
Yes. The Michelin Group has a large presence in China that began in 1989. The company's Chinese manufacturing facilities are in Shenyang and Shanghai provinces. At present, Michelin China has a workforce of approximately 7000 employees.
Customers often wonder if made in USA tires differ from those manufactured outside the country. There are no differences. Michelin tires manufactured in China, Thailand, or the United States adhere to the same high-quality standards regardless of the country of origin.
How Are Tires Made?
Michelin tires contain a lot of technology, making them some of the best tires on the market today. We can divide their process of making tires into five steps:
1. In-depth Research
During the research phase, Michelin extensively researches customers' specific driving habits and requirements. This step ensures that every Michelin tire model meets the needs and expectations of the users.
Their R&D centers work on everything from developing new materials for tires to improving safety and performance with minimal environmental impact and cost.
2. Prepare Tire Materials
To make tires, Michelin combines over 200 high-quality materials, including
Natural rubber and synthetic rubber
Reinforcing agents like carbon black
Other chemical materials to grip and resistance
Cables for reinforcement made of metallic and textile materials
These materials handle well in wet weather, resist wear and tear, provide good traction and be durable.
3. Conceptualizing and Designing
Michelin's engineers undergo a rigorous R&D phase to develop new tire technologies and processes. They also test these technologies by building prototype tires and testing them out.
During this phase, Michelin collaborates closely with suppliers and partners to optimize the final product.
4. Manufacturing
The tires start as raw materials that they transfer to manufacturing plants. Workers then combine the raw materials with other ingredients to make rubber compounds.
Afterward, they heat the rubber compounds to the proper temperature for molding.
Workers remove cooled molds and inspect them for defects after they have cooled and hardened. After inspection, workers coat tires with latex and cure them in an oven at a high temperature. It ensures long-lasting performance and durability.
5. Testing
Michelin establishes quality control and testing before leaving the manufacturing plant so that it can identify any defects before they reach consumers.
Once they've passed this test, they'll ship it off to distributors, where many local stores will sell it worldwide.
What Kind of Motorcycle Tires does Michelin Make?
Whether it's for racing, recreational riding, or touring, you can find Michelin sport bike tires for it. In particular, Michelin produces tires for all types of motorbikes, including dirt bikes, including:
Cruiser/Custom
Enduro
MX
Roadster
Sport
Street
Sport Touring
Trail
Trial Competition
Scooter
Rally
electric bike or scooter
Moped
Supermoto
Where Can I Buy Michelin Tires?
Michelin tires are available on every continent and in over 170 countries worldwide. As one of the world's most recognized tire brands, it is no surprise that you can buy Michelin tires at nearly any auto parts store.
To find local distributors easily, you can type in your browser, "Michelin tires near me."
You may also visit the main website and check their search tool or browse a list of popular cities where there are Michelin tire dealers.
You can also buy Michelin tires online through their main website and online retailers such as Amazon and Tire Rack.
Read more other articles about Michelin tires below:
Comparison:
Review:
Conclusion
Today, Michelin tires are built to fit various vehicles, with technology that leaps and bounds beyond the earliest designs. The Michelin tire brand has a reputation for quality and durability, making it popular among professional and everyday drivers.
Now, you know where are Michelin motorcycle tires made, as multiple manufacturing locations allow the tires to be present throughout five continents. And there's little doubt that Michelin's footprint in the market will only continue to grow for the foreseeable future.