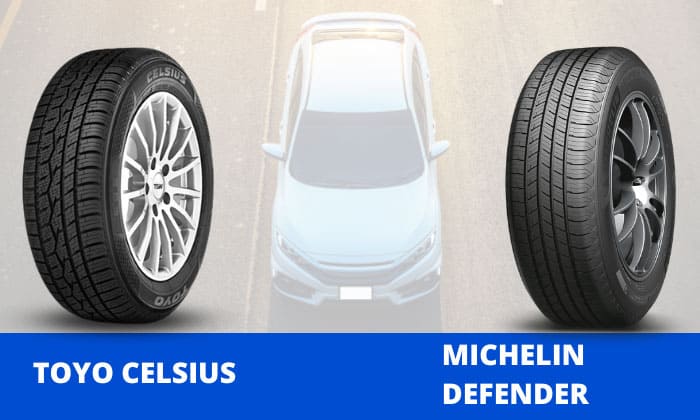 Can a mid-tier grand touring all-season tire beat a premium standard one? Let's find out in this Toyo Celsius vs Michelin Defender comparison.
At first glance, one might think that a tie between these two brands is underway. But right off the bat, the winner is clear on this one—and that's the Michelin Defender. That's because of how well-rounded it is, while the Toyo Celsius is more specialized, as you'll see below.
Since both tires have multiple variants, we'll compare the Toyo Celsius all weather tires with the Michelin Defender T+H.
But first, let's look at this quick comparison table to get you up to speed.
| | | |
| --- | --- | --- |
| Tire | | |
| Brand | Toyo | Michelin |
| Tire Type | Grand touring all-season | Standard touring all-season |
| Tire Sizes | 66 | 33 |
| 3PMSF | Yes | None |
| Tested Size | 185/65R14 | 185/65R14 |
| Tread Depth | 10.7/32" | 10/32" |
| Section Width | 7.4" | 7.4" |
| Rim Range | 5-6.5" | 5-6.5 |
| Max Inflation Pressure | 51 PSI | 44 PSI |
| Max Load | 1168 lbs | 1168 lbs |
| Tire Weight | 16 lbs | 16 lbs |
| Revs/Mile | 885 | 887 |
| Price | $103.26 | $114.21 |
What Are They?
1. Toyo Celsius
The Toyo Celsius is an all-season tire from Toyo, similar to the Proxes Sport A/S or the Toyo Extensa. But, unlike the Extensa, the Celsius is more well-adapted to snowy weather.
That said, the Toyo Celsius isn't a single tire, as it has other variants, like the Toyo Celsius CUV for SUV/Crossovers, Toyo Celsius Sport for sports and performance cars, and the Toyo Celsius Cargo for commercial vehicles. But the original Toyo Celsius is its central star.
This tire features many proprietary technologies; most of them are built for traversing through snow, even achieving a well-coveted 3PMSF rating. This means you may not have to change to dedicated winter tires in colder seasons.
Firstly, snow claws give the tire tremendous grip in heavy snow. At the same time, slush grooves allow it to expel water effectively for stability.
Meanwhile, a variable asymmetric tread pattern offers traction for all other weather conditions. The outside treads prioritize grip on dry and wet roads, while the inside ones take care of ice and snow.
So, how much would the Toyo Celsius cost you? For starters, its smallest tire size, a 185/65r14, starts at around $103.26. For warranty, this all-season tire has a mileage warranty of 60,000 miles, which is great.
Now, on to the Michelin Defender.
2. Michelin Defender
Similar to the Toyo Celsius, the Michelin Defender isn't just composed of one tire alone. It's a family of standard touring tires with different variants depending on your needs.
For instance, the Michelin Defender2 is well suited for passenger cars and SUV/Crossovers, while the Michelin Defender LTX M/S is built for light trucks. Its other variant, the Defender T+H, is capable of withstanding high speeds of up to 130 mph.
The Defender line also has a more specialized variant called the Michelin Defender Green X, which specializes in lower rolling resistance for optimal fuel efficiency, along with a 90,000-miles warranty.
For this Toyo vs Michelin comparison, we'll use the Defender T+H.
The Michelin Defender T+H is a very well-rounded tire. Unlike the Toyo Celsius, which focuses more on winter performance, the Defender T+H has multiple technologies that cover different areas when it comes to driving.
For instance, it comes equipped with Michelin's MaxTouch Construction technology, which consists of belts across the tire tread for even wear, while an EverTread compound maximizes durability.
Moreover, Intellisipe technology significantly improves traction and maneuverability by equipping the tire with the right number of sipes and rigidity, while rain grooves give drivers confidence on rainy terrains
For noise reduction and ride comfort, Michelin's ComfortControl technology has it covered, so expect less noise and bumps.
However, even with all its bells and whistles, it doesn't have a 3PMSF rating, unlike its cousin, the Michelin CrossClimate 2, another all-season touring tire from Michelin.
A size 185/65R14 Michelin Defender T+H tire is priced at $114.21.
Read more: Michelin Defender T+H vs LTX: Which is better?
Differences
For the differences between the Toyo Celsius and Michelin Defender T+H, we referred to our personal testing, as well as some consumer reports.
1. Dry Performance
We expected the Toyo Celsius to be the better tire on this one. However, we were surprised at how well the Michelin Defender T+H stood out. The Intellisipe from Michelin really did wonders on dry pavement, especially regarding braking distance and handling.
While the Toyo Celsius wasn't that bad, it definitely left a lot to be desired. Its cornering and high-speed performance could use some improvements, so the Celsius isn't that suitable for sporty driving. It's safe to say that Michelin's Intellisipe outdid Toyo's asymmetric pattern on this one.
2. Wet Performance
We forgave the Toyo Celsius for its performance on dry roads as we felt it would redeem itself when it came to wet ones. And it did, quite well in fact.
The tire maintains excellent traction on rainy surfaces, so safety is never in doubt. Even when there's slippage, it's short-lived and negligible, living up to the Celsius's designation as an all-weather tire.
The Defender T+H still has the upper hand, though. While there's squealing sometimes with the Toyo, the Defender is very quiet. The biting edges from the Intellisipe did their job fantastically, and hydroplaning was relatively non-existent due to the rain grooves.
3. Snow Performance
There's no doubt that when it comes to snow, the Toyo Celsius reigns supreme—and rightly so. Armed with a 3PMSF rating on its belt due to its snow claws and slush grooves to maximize traction, we were absolutely blown away.
At first, the Michelin Defender T+H did pretty well on snow. However, as the snow became heavier and heavier, handling became somewhat muddy, and we felt traction was slowly going away.
4. Ride Comfort
For ride comfort, both tires did exceptionally well. Vibrations from bumps and potholes weren't that noticeable throughout the cabin, and we were quite pleased. However, when it came to noise, it was definitely more pronounced when we tested the Toyo Celsius.
While the Toyo Celsius has dedicated technology for this – its multi-wave sipe design – rumbles were still quite apparent. Meanwhile, the Michelin Defender T+H's ComfortControl did exceptionally well.
5. Price and Warranty
Price can be tricky to compare, since it would depend on the tire dimensions. So, we opted to compare identical sizes.
For this price comparison, we used a size 185/65R14 for both tires and found that the Toyo Celsius tires price is at around $103.26, while the Michelin Defender T+H costs $114.21.
While the Toyo Celsius is cheaper, it has a more limited mileage warranty at 60,000 miles, while the Michelin Defender T+H boasts 80,000 miles of post-purchase coverage.
Pros and Cons
Toyo Celsius
Excellent snow performance (3PMSF rated)
Comfortable
Decent warranty
Cheaper
Dry and wet performance still has room for improvement
Not for sporty driving
This is box title
Excellent dry and wet performance
Comfortable
Quiet
Extensive mileage warranty
More expensive
Can't handle heavy snow
Conclusion
There you have it folks! We've reached the end of our Toyo Celsius vs Michelin Defender comparison. And to round it all up, it's pretty safe to say that the Michelin Defender, particularly the T+H, was the better tire.
However, the Toyo Celsius is by no means a disappointing tire. Its 3PMSF rating alone makes it a very excellent all-season option, especially in areas where you experience heavy snow every once in a while.
That said, it eventually comes down to preference. If you want a more well-rounded tire, go for the Michelin Defender.