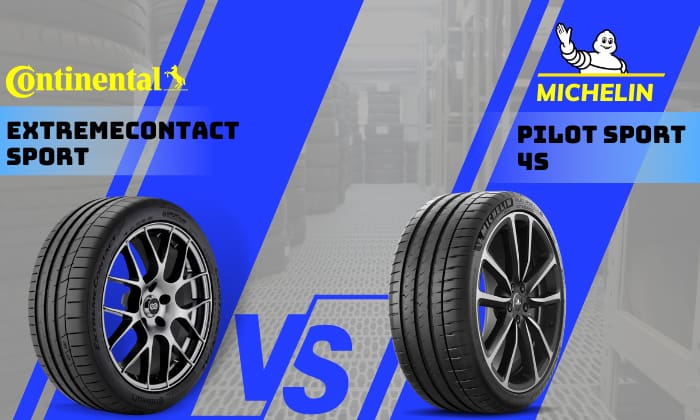 Continental ExtremeContact Sport is a year older than Michelin Pilot Sport 4S (PS4S), as the latter debuted in 2017 while the former came out in 2016.
So, why compare Continental ExtremeContact Sport vs Michelin Pilot Sport 4s? Both are summer performance tires.
Continental's ExtremeContact Sport is an attractive cheaper alternative that has the upper hand in wet braking and offers a similar treadwear warranty to the PS4S.
If money is no object, Michelin Pilot 4s remains the better maximum performance summer tire because it consistently delivers excellent control in warm and dry conditions and high-level performance regarding wet roads, ride quality and noise.
What is Continental Extremecontact Sport? Michelin Pilot Sport 4s?
Continental ExtremeContact Sport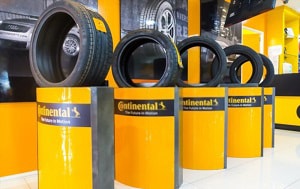 Continental's ExtremeContact Sport is a dedicated summer tire for passenger cars, introduced in 2016. It belongs to the ExtremeContact tire family along with other performance-oriented tire models. In short:
ExtremeContact Force & ExtremeContact Sport – Summer tires for passenger cars with excellent tread life and handling
ExtremeContact DWS06 Plus – All-season tire for passenger, crossover, SUV, and light truck vehicles; has the same technology as the previous two, but with performance indicators.
Continental's ExtremeContact Sport is usually compared with Michelin's Pilot Super Sport (PSS), PS4S, and Pirelli P Zero.
When Tirewheelguide compared the Pilot Super Sport vs Continental Extreme Contact Sport, they found that the PSS outperformed the German tire by 2-7% in many aspects, excluding overall comfort and wear.
Notably, both tires have equal scores in aquaplaning and warranties of 30,000 miles.
Between the Pirelli P Zero vs Continental ExtremeContact Sport, the Continental tire wins in all categories with a perfect score on repeat purchase probability. The gap in scores is striking, from 3-20%.
Before we dig deeper into the Michelin Pilot Sport 4s vs Continental ExtremeContact Sport, here are some things you need to know about Michelin's PS4S.
Michelin Pilot Sport 4s (PS4S)
Michelin's Pilot Sport 4S was dubbed as the king of all tires when it was launched in 2017 as a replacement for the best summer tire during that time – Michelin Pilot Super Sport (PSS).
PS4S was born out of cooperation between Michelin and several luxury car manufacturers, namely, Audi, BMW, Mercedes-Benz and Porsche.
No wonder it became the benchmark for ultra-high performance summer tires for coupes, sedans and sports cars.
Currently, Michelin has 18 summer tires, and this model is available in 215 sizes, ranging from 17-23 inches in rim/wheel diameter.
For five years now, Michelin Pilot Sport 4S has had plenty of rivals, including the new summer tire released in September 2021 by Continental.
In a test between Continental Sport Contact 7 vs Michelin Pilot Sport 4S, SportContact 7 surpassed the wet braking performance of the French summer tire, but it failed to match PS4s's performance in aquaplaning, noise reduction and comfort.
Even though it is not fair to compare the ExtremeContact DWs06 Plus vs Michelin Pilot Sport 4S, since the former is an all season tire, both models excel in wet and dry traction, with PS4S scoring 3% higher in overall comfort.
On the other hand, when pitting the Pilot Sport A/S 3+ vs Continental DWS 06, the A/S 3 has a 1-5% advantage on dry and wet surfaces. Conversely, the DWS06 is more usable in light and heavy snow. Also, it performs better on ice.
Pros and cons/Differences: Extremecontact Sport vs PS4S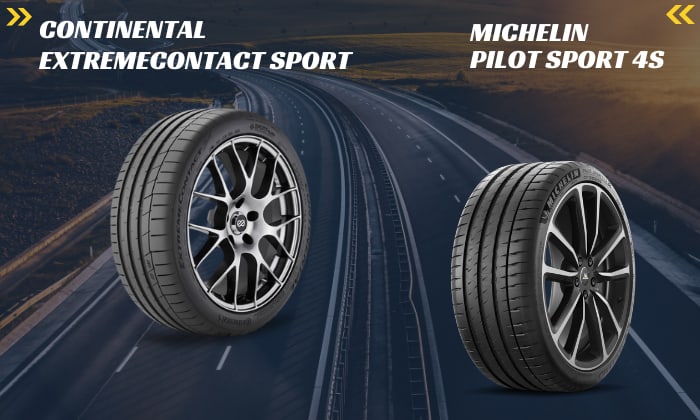 The Pilot Sport 4s excels in dry handling. In contrast, the ExtremeContact has better dry braking performance because its stopping distance is 2.2 feet shorter at 50mph.
When comparing the Pilot Sport 4s vs ExtremeContact Sport, the latter isn't as well-rounded, but it delivers responsive steering control and strong traction on wet surfaces.
In detail, the ExtremeContact Sport has superior wet cornering and braking capabilities. Tire reviews attributed its precise handling on slippery roads to its SportPlus technology.
Michelin's PS4s have a slightly lower wet grip than the ExtremeContact Sport due to having fewer sipes. Also, the latter has customized Y-shaped sipes and narrower but deeper grooves that allow it to have better hydroplaning resistance.
Despite having high-end noise canceling features, the ExtremeContact Sport is noisier than Michelin's PS4s on the road, especially when driven at high speeds. Based on tire reviews, the noise of the PS4S is pretty low.
The PS4S offers a higher level of comfort or ride quality than its ExtremeContact Sport counterpart. Its steering felt natural and not overly sensitive to impacts. The Continental tire, however, is not bad, as it allows for effortless cornering and turning.
Both tires received AA traction and A temperature ratings. The ExtremeContact has a higher treadwear rating of 340 compared to the PS4s' 300.
Both tires have brand support of 30,000 miles or 6 years treadwear warranty, 60 days satisfaction guarantee, and 3 yr. flat changing assistance.
Reddit users complimented Continental for being 30% cheaper than Michelin. They also appreciate that Conti's tire sizes start at 15" while the smallest size for Michelin is 17".
Here is a comparison of their pricings on some websites.
| | | | | |
| --- | --- | --- | --- | --- |
| Tire Model | Simple Tire | Tire Rack | Walmart | Amazon |
| Michelin Pilot Sport 4s | $246.99 | $236.99 | $253.58 | $233.46 |
| Continental ExtremeContact Sport | $196.99 | $193.99 | $193.99 | $ 183.16 |
When it comes to the costs of the Pilot Sport 4s vs ExtremeContact Sport, the latter is $30-50 cheaper than Michelin.
Frequently Asked Questions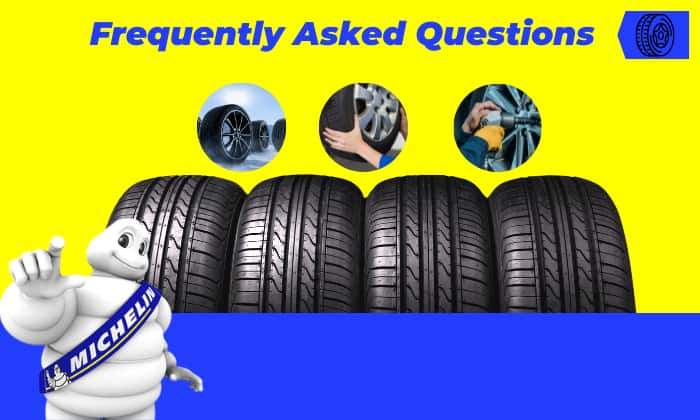 Is Continental or Michelin better?
When we compare Continental vs Michelin Tires, Michelin tops the 2022 world wide sales ranking while Continental comes in 4th place.
However, both tire makers are capable of producing outstanding tires that cater to various driving needs and interests, so choosing which one is better depends on one's preference and budget.
In general, Continental tires are more affordable and diverse than Michelin, but if you're after a higher level of performance in specific weather conditions, Michelin is the stronger option.
What tire compares to the Michelin Pilot Sport 4S?
Michelin's Pilot Sports 4S has been the go-to summer tire since its release in 2017. It has been compared with other premium tires like Goodyear's Eagle F1 Supersport, Pirelli's P Zero and Bridgestone's Potenza Sport.
Interestingly, all the reviews revealed that the competitors' scores are close but not enough to outdo Michelin's Pilot Sport 4s entirely. Its main con is a higher price tag, and its winning edge is consistency in delivering comfort.
Are Michelin Pilot Sport 4S tires worth it?
Michelin's Pilot Sport 4S is worth every penny because it delivers a consistently high level of performance in dry and wet conditions. It also offers superior ride quality and noise reduction.
What is the difference between Pilot Sport 4 and Pilot sport 4S?
Michelin's Pilot Sport 4s offers better treadwear warranty of 30,000 miles, a quieter ride, more stable snow handling and a stronger grip on dry, wet, and icy roads. These are possible because it features wide shoulder channels and narrower grooves.
On the other hand, the Michelin Pilot Sport 4 is more fuel-efficient because it has lower rolling resistance. It falls short in tire longevity, though, with a mileage warranty of 20,000 miles.
Related Comparisons: 
What is the difference between Extremecontact Sport vs Sport Contact 6?
Both summer tires have strong dry grip, but they differ in overall dry performance, since the ExtremeContact Sport takes the lead in corner stability.
The SportContact 6 is more expensive at $377.99 per tire, while the ExtremeContact Sport can be bought at $363.99 per tire.
Conclusion
Knowing the differences between the Continental ExtremeContact Sport vs Michelin Pilot Sport 4s can help you choose a suitable tire for your needs.
In general, Continental tires mastered providing excellent wet braking performance, while Michelin tires managed to hold its ground in dry handling, aquaplaning, noise, and comfort with a higher cost.
Since Continental ExtremeContact Sport performs similarly to Michelin Pilot Sport 4s, tire shoppers can be assured that the price difference will not compromise their safety.
If you have questions about either tire, don't hesitate to reach out to us.