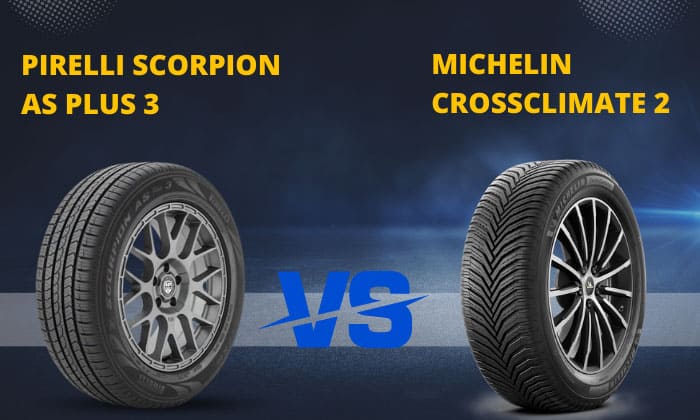 All-season tires have been abuzz as of late—and for good reasons. These tires provide an excellent balance between performance and adaptability, making them the go-to choice for everyday drivers and enthusiasts alike.
So, today, we'll look at the best tire manufacturers in the market in this Pirelli Scorpion AS Plus 3 vs Michelin CrossClimate 2 comparison. We'll explore what makes these tires great, as well as find out which all-season tire is king.
But first, let's see how these models compare on the surface.
| | | |
| --- | --- | --- |
| Tire | | |
| Brand | Pirelli | Michelin |
| Tire Type | Touring All-Season | Grand Touring All-season |
| UTQG | 800 A A | 640 B A |
| 3PMSF | None | Yes |
| Tested Size | 225/60R18 | 225/60R18 |
| Tread Depth | 11/32" | 10/32" |
| Section Width | 9" | 9" |
| Max Inflation Pressure | 51 | 51 |
| Max Load | 1,764 lbs | 1,764 lbs |
| Tire Weight | 28 lbs | 28 lbs |
| Price | $198 | $225.99 |
What Are They?
1. Pirelli Scorpion AS Plus 3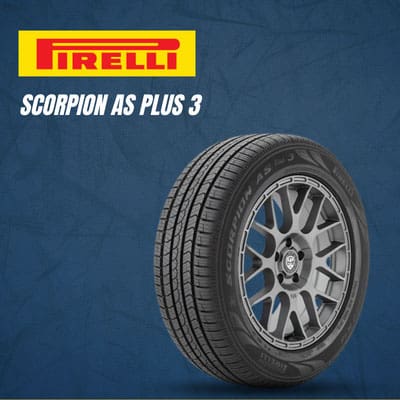 The Pirelli Scorpion All Season Plus 3 is Pirelli's recently designed all-season touring tire for the SUV and pickup truck market, accompanying the aging, yet reliable, Pirelli Scorpion Verde All Season Plus 2 for fellow SUVs and the Pirelli P7 AS Plus 3 for passenger cars.
However, although Pirelli is mostly a European brand, the Scorpion AS Plus 3 was exclusively made with North American drivers in mind.
This tire places heavy emphasis on giving drivers a silky smooth and comfortable ride while ensuring that it doesn't compromise on durability and all-season performance. And these features are definitely what make touring tires great.
For starters, it comes equipped with 3D sipes that work with the full-depth tread pattern to ensure a confident grip on wet surfaces. At the same time, proprietary polymers from Pirelli integrated within the tire not only enhance traction but mileage as well.
Meanwhile, four circumferential grooves help with water evacuation when driving on wet surfaces, significantly improving the tire's maneuverability in inclement weather.
And as for noise suppression, it relies on sequence-tuned shoulder blocks to control the sound frequencies produced by air passing through the tire, mitigating hums and grumbles.
2. Michelin CrossClimate 2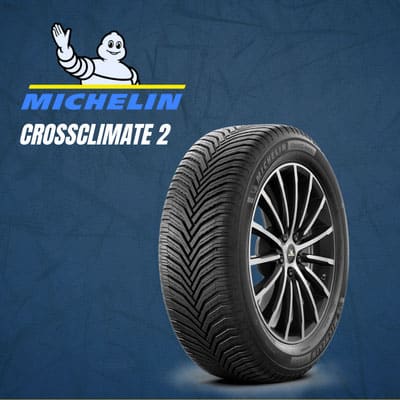 The Michelin CrossClimate 2 is one of Michelin's newly designed tires. Replacing the CrossClimate Plus, the tire shares some minor similarities with its predecessor, like a directional tread design and a 3PMSF rating, while improving some aspects entirely.
Unlike the Pirelli Scorpion AS Plus, which is exclusive for SUV/Crossovers and trucks, the CrossClimate 2 is available for Crossover/SUVs and passenger cars.
Michelin has created the CrossClimate 2 tire with the ability to acclimate to temperature changes with its thermal-adaptive compound, resulting in an exceptional performance on dry, wet, or even snowy roads, earning a coveted 3PMSF rating.
This feature, combined with P-edge technology, enables the tire to be really good in snow. Moreover, its familiar V-directional tread pattern helps prevent hydroplaning and promotes excellent grip on wet surfaces by expelling water effectively.
Meanwhile, V-shaped chamfers and MaxTouch Construction provide even ground contact, leading to enhanced efficiency, traction, maneuverability, and durability.
Differences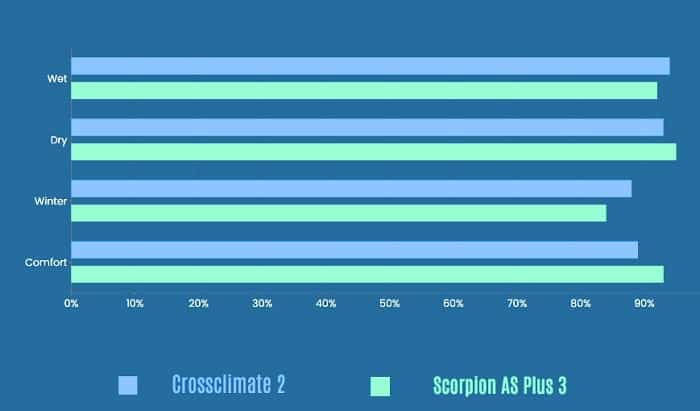 When comparing premium brands like Pirelli vs Michelin tires, performance differences can be very hard to spot, since these tires perform tremendously well on a consistent level. Regardless, we did our very own personal testing to see which was better.
1. Wet Performance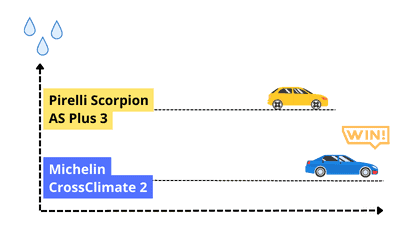 As we mentioned above, both tires were superb, and wet performance was no exception. However, upon further testing, we noticed that the Michelin CrossClimate 2 had marginally better grip, evident by its relatively shorter brake distance of about 1.8 feet.
Nevertheless, both tires were expectedly excellent in aquaplaning resistance, as driving on wet surfaces felt tight and confident, with minor to no maneuverability issues.
2. Dry Performance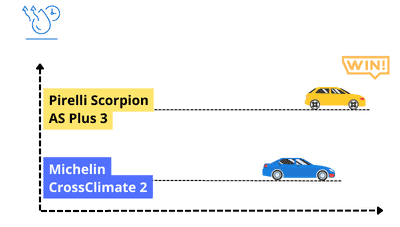 Similar to how the wet performance test turned out, both tires were absolutely brilliant at maintaining control on turns and corners due to the enhanced polymers from the Pirelli Scorpion AS plus 3 and the adaptive thermal compound from the Michelin CrossClimate 2.
But a minor nitpick was apparent with the Michelin CrossClimate 2's braking distance. Although its braking distance was great, the CrossClimate 2 stopped a little later than the Scorpion AS+ 3, which slightly hurt its lap times.
3. Winter Performance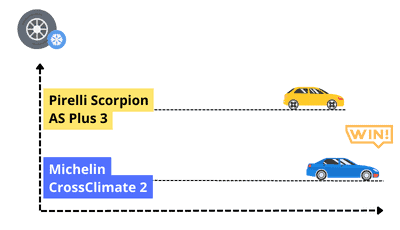 While both tires are under the all-season category, only the Michelin CrossClimate 2 has a 3PMSF rating. And as expected, it absolutely blew the Pirelli Scorpion AS Plus 3 away across all boards—even on ice.
From speed and acceleration, maneuverability, to braking distances, it's definitely clear that the Michelin CrossClimate 2 was the better tire when it came to winter performance. However, the Pirelli Scorpion AS Plus 3 is by no means terrible, as it was able to hold its own on light snow.
4. Ride Comfort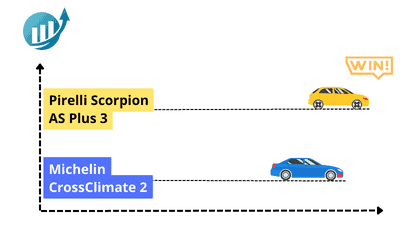 When it comes to touring tires, comfort is definitely something that people look out for—and both tires absolutely delivered. Vibrations across the cabin were not as apparent amidst bumps and potholes, and growls and hums were kept to a minimum.
Although both tires were relatively smooth, the Pirelli Scorpion AS+ 3 was marginally better when it came to noise suppression and ride quality.
5. Price and Warranty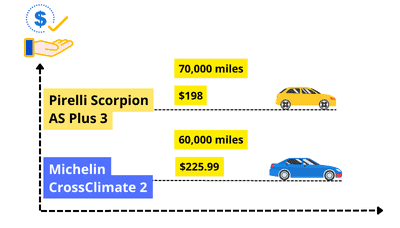 Right off the bat, the Pirelli Scorpion AS Plus 3 is a much cheaper tire at $198 for a 225/60R18 size, while the Michelin CrossClimate 2 can set you back for around $225.99.
As for warranty, the Pirelli Scorpion AS Plus 3 has a mileage warranty of 70,000 miles, and the Michelin CrossClimate 2 is slightly lower at 60,000.
Pros and Cons
Pirelli Scorpion AS Plus 3
Better dry performance
More comfortable
Cheaper
Winter performance needs improvement.
Michelin CrossClimate 2
Better wet performance
Significantly better winter performance
Comfortable
FAQs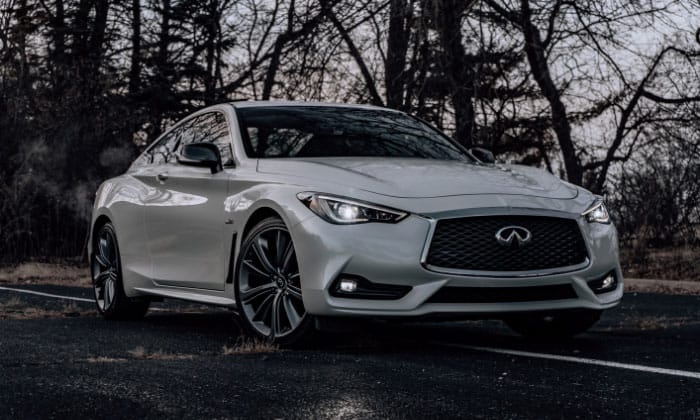 Is Pirelli better than Michelin?
No. Both tires are among the top of the tire industry and are excellent at producing premium quality products. However, Michelin has a slightly wider variety of tires and more popularity.
Are Pirelli Scorpion AS Plus 3 Directional?
No. Pirelli Scorpion AS Plus 3 tires are asymmetric, which allows them to be fitted on either side of the car, provided the outer blocks are on the outside. They're also quieter and have better rolling resistance, enhancing fuel consumption.
Does the Pirelli Scorpion AS Plus 3 run flat?
No. However, another tire from Pirelli, the Pirelli Scorpion Zero All Season, is a tire that's also specifically made for Crossover/SUVs but comes fitted with zero-pressure technology, meaning it can drive farther and longer, even on a flat tire.
Conclusion
I hope we've shed some light on your all-season tire needs in this Pirelli Scorpion AS Plus 3 vs Michelin CrossClimate 2 comparison. For us, we'll go with the Michelin CrossClimate 2 because of its added functionality of snow performance.
However, the Pirelli Scorpion AS+ 3 is still definitely a great tire. With excellent dry performance and comfort, it's a great tire to choose for drivers in an area where it's not snowing all the time.
Other tire comparisons from 2 brands: