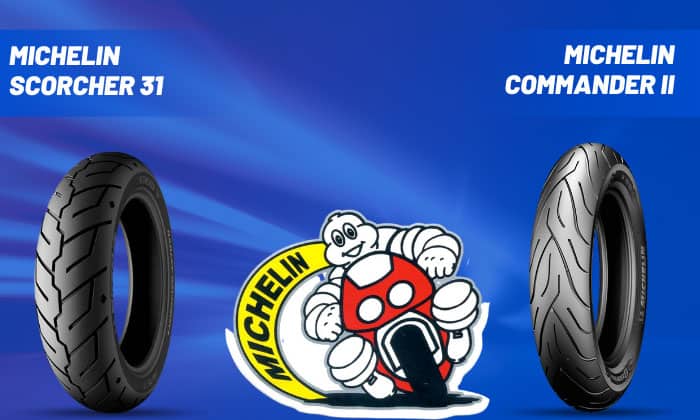 Due to the immense torque and speed that V-twins and Cruiser bikes produce, special sets of tires are definitely required to help them perform at an optimal level. And Michelin has arguably the best tires in the market.
So, we'll feature and compare two of Michelin's most popular motorcycle tires in their extensive catalog, the Michelin Scorcher 31 vs Commander II. Let's see which tire is the better fit for your driving needs.
But first, let's see how they compare on the surface.
| | | |
| --- | --- | --- |
| Tire | | |
| Brand | Michelin | Michelin |
| Style | V-Twin/Street | Cruiser |
| Type | Tubeless | Tubeless |
| Sidewall | Blackwall | Blackwall |
| Tested Size | 180/65B16 | 180/65B16 |
| Width | 180 | 180 |
| Diameter | 16 | 16 |
| Aspect Ratio | 65 | 65 |
| Load Index | 81 | 81 |
| Speed Index | H | H |
| Construction | Belted | Belted |
| Price | $332.95 | $271.95 |
What Are They?
1. Michelin Scorcher 31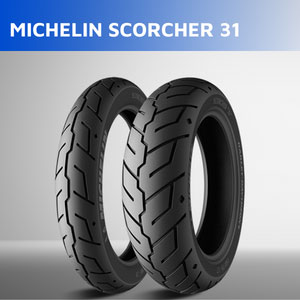 If you're a Harley-Davidson enthusiast, there's a good chance that you recognize this tire. The Michelin Scorcher is actually the popular brand's OEM tire, making it a tried and true cruiser tire, not only for Harleys but for other cruisers as well.
An excellent motorcycle tire through and through, the Michelin Scorcher 31 is an all-around tire capable of traversing wet and dry roads with relative ease due to its proprietary innovative rubber compound.
It's no wonder that the famous motorcycle manufacturer Harley Davidson co-brands it, evident by the instantly recognizable bar and shield logo embedded on the sidewall. But it doesn't end there. The Michelin Scorcher 31 is also very smooth and maneuverable.
Thanks to its Amplified Density Technology, which gives the tire some much-needed stiffness, the Scorcher rolls through bumps with no signs of loss in stability. Coupled with a supple casing, Michelin ensures that flexibility isn't too compromised for confident handling.
The Michelin Scorcher 31 mileage capabilities are also worth mentioning. It's integrated with carbon black-enriched rubber compounds to ensure you go the extra mile without any worries from wear and tear.
Now, let's move on to Commander II.
2. Michelin Commander II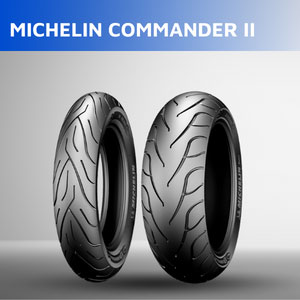 The Michelin Commander II motorcycle tire is the predecessor of the excellent Michelin Commander 3. Known for its superb mileage and stability, the Michelin Commander 2 has always been a solid reference point for quality performance in its category.
The Michelin Commander II rear tire has Aramid Shield Technology, which minimizes tire expansion at high speeds and allows it to be stiffer, leading to more balance and even treadwear, provided that you've inflated the tire with the correct tire pressure.
Weight can be an issue when it comes to cruiser tires, but the Michelin Commander II is relatively lighter than most in its category. Thanks to its integration of Kevlar plies, the tread has enhanced durability without adding too much weight to the tire.
When it comes to inclement weather conditions, the tire performs superbly well. Michelin's Silica Rain Technology gives it all the traction it needs, while the grooves take care of water evacuation for aquaplaning resistance.
So, let's see how these tires compare.
Read more: Metzeler Me888 vs Michelin Commander 2: which is better?
Differences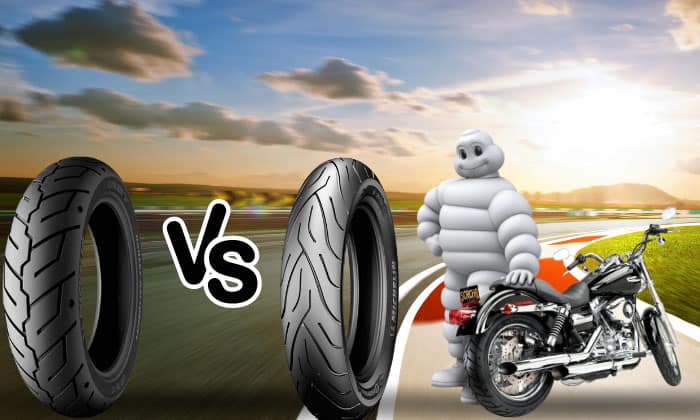 Since both tires come from Michelin, you won't expect a lot of difference between the Scorcher 31 and the Commander 2. While the two tires may not share the same technologies and features, they perform pretty similarly.
1. Wet Performance
Regarding wet performance, both tires did superbly well. The Michelin Scorcher 31's fairly unique tread compound and depth gave it all the traction and aquaplaning resistance it needed to traverse through wet roads, even when the treads were almost fully submerged.
As for the Michelin Commander 2, it performed pretty much the same. Traction was tremendous, and I was able to drive confidently across rain with no problems at all due to how efficiently the longitudinal grooves were able to eject water out of the way.
2. Dry Performance
Similar to wet performance, both tires were terrific. Although both aimed for stability instead of cornering, it's perfectly understandable, since touring tires aren't exactly built for that. Regardless, both tires did surprisingly well.
The Michelin Scorcher 31's Amplified Density Technology gave it excellent stability throughout the ride, and the handling felt smooth and responsive. And the same goes for the Michelin Commander 2's Aramid Shield as well, though there seems to be more complaints about its dry traction than there are for the Scorcher.
I did not experience any problems with either model, though.
3. Ride Comfort
When you're driving long open roads towards the sunset, comfort is a must-have for touring tires—and both options delivered. Bumps and holes on the road were not an issue at all for both the Scorcher 31, while the Commander 2 was silky smooth as well.
4. Price
Both tires were practically tied in regards to performance—until the price came into the picture. A Michelin Commander 2 180/65B16 costs around $271.95, while the Scorcher 31 had a whopping $332.95 price tag for the same size.
Although both tires performed extremely well, this drastic price contrast shows that the Commander 2 might be the better tire for its value.
Pros and Cons
Michelin Scorcher 31
Excellent dry and wet performance
Comfortable
Co-branded with Harley Davidson
Michelin Commander 2
Excellent dry and wet performance
Comfortable
Outdated since there's a Michelin Commander 3
FAQs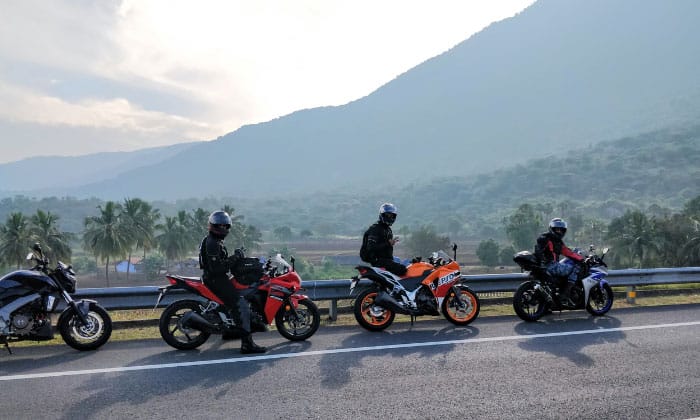 Which is better? Michelin Commander 2 vs Michelin Commander 3
There's no doubt that the newer tire wins in a heartbeat, with improvements in wet performance and durability. However, the Michelin Commander 2 is by no means a terrible tire. As we've learned above, it's a superb choice.
With excellent dry and wet performance, along with optimized comfort for long rides, the Commander 2 is still a great alternative. It's also cheaper as well, so it's definitely a viable premium choice for drivers on a budget.
Read more: Michelin Commander 2 vs 3: comparison.
Is the Michelin Commander 2 co-branded with Harley Davidson?
Sadly, no. The Commander 2 isn't co-branded with the famous motorcycle brand, unlike the Michelin Scorcher series, which has the Harley Davidson logo on its sidewall. This makes the tire more enticing for diehard Harley fans out there.
Conclusion
I hope our Michelin Scorcher 31 vs Commander II comparison has shed some light on the matter of which tire is better. For us, it's definitely the Commander 2. While the Scorcher 31 didn't lag behind in performance, the price was a bit too much for us.
However, the Michelin Scorcher 31 is a great choice if you've got a Harley Davidson motorcycle, since it's co-branded with the vehicle company. It can make your Harley more complete and aesthetically pleasing.