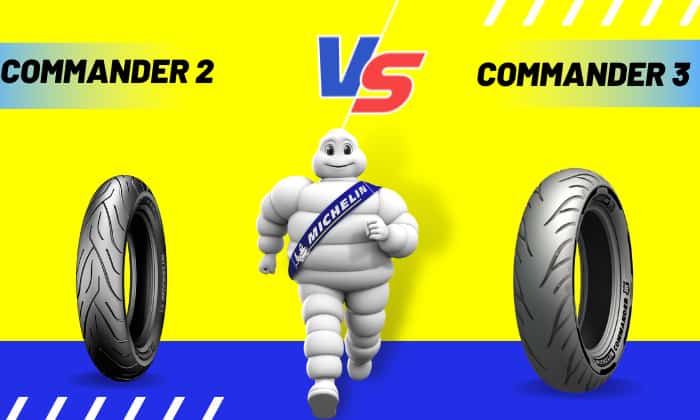 Among the top qualities that most people want to have with their motorcycle tires are excellent handling, wet performance, longevity, and visual appeal. With the Commander tires, Michelin aims to provide a good balance of these attributes to ensure customer satisfaction.
There are some notable differences between Michelin Commander 2 vs 3. Both tires are infused with silica, but the latter contains 100% of it in its tread compound, making it better in terms of wet performance. The Commander 3 also has an improved look with the Premium Touch technology.
Specifications
Commander 2
Commander 3
Brand
Michelin
Michelin
Tire Type
Cruiser
Touring, Cruiser
3PMSF
No
No
Section Width
130 mm
130 mm
Tested Size
130/90B-16
130/90B-16
Load Index Rating
73
73
Tire Aspect Ratio
90
90
Rim Size
16″
16″
Speed Rating
H
H
Tire Weight
18 lbs
18 lbs
Specificity
– Tubeless/Tubetype
– Reinforced
– Tubeless/Tubetype
Price Range
$126-$272
$163-$330
Michelin Commander 2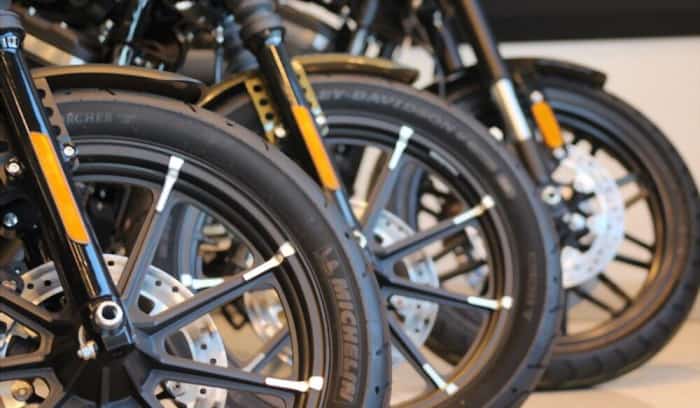 The Michelin Commander 2 was released in 2012 and has the goal of complementing cruiser bikes with its Silica Rain Technology and aggressive tread design.
The flame-like tread pattern allows effective water disposal through the grooves. It is also competitive in terms of longevity, as Michelin claims it to last about twice the miles of other cruiser tires.
Michelin Commander 3
As a successor of Commander 2, Commander 3 boasts improved traction and style. It is available in two versions: cruiser and touring, each with its own set of features. The Commander 3 has a rounded tread and a larger contact patch than its predecessor.
Commander 3 Touring vs Cruiser
Michelin emphasizes excellent wet performance with the cruiser tire while longevity is prioritized for touring.
Upon a closer look, you will notice the difference in tread pattern where the cruiser has extra sipes and sharper grooves for better grip. This is why it has exceptional traction even in the rain. The touring tire, on the other hand, has a wider midsection for it to last longer.
Differences between Commander 2 and Commander 3
Now let us have an in-depth comparison of Commander 2 vs Commander 3 tires. This includes categories such as dry, wet, and snow traction, noise level, and fuel consumption.
1. Dry Traction
The Commander 2 and 3 are both equipped with Amplified Density Technology which gives them better feedback and handling at any speed. This technology consists of a 90-thread ply, which is a bit more than the standard 71-ply, making the tire more rigid.
The technology also provides more stability during aggressive driving such as hard braking and acceleration. That said, there is little difference in dry traction for Commander 3 vs 2. You can rely on both to provide a safe and stable ride on dry pavement.
2. Wet Traction
Wet performance is where Michelin made a lot of improvements with the new Commander tire. The 100% Silica-infused rubber, combined with the deeper tread and higher void ratio, boosts the wet traction of the Commander 3.
Although it is a bit behind, the Commander 2 is still a great option if you want great wet traction. With its Silica Rain Technology, it can still get the job done while having a slightly cheaper price than the newer version.
Speaking of cheaper alternatives, Dunlop has some good offers, including the Elite 4. It features a bi-compound and unique tread pattern, improving its performance on wet surfaces.
However, between the Commander 3 vs Dunlop Elite 4, the former still comes out a winner.
3. Snow Traction
Unlike car tires, motorbike tires are not specifically labeled as winter tires despite being a great performer in cold temperatures and on snowy surfaces. That said, one way to determine if a tire could be dependable in the snow is through its tread design.
Despite being all-season tires, both Commander 2 and 3 aren't marketed by Michelin to be particularly good in snow. And by looking at the treads, the depth of the grooves would not be enough to disperse snow so they could give you some problems.
Other Michelin tires that could be a better option for your motorbike during winter are the Anakee Adventure and Anakee Wild. Both are M+S rated and have deep tread grooves so they can give you more dependable snow traction.
4. Noise level
Michelin is known to provide quiet and comfortable car tires. When it comes to motorcycle tires, there isn't much difference. Generally, you can expect a quiet ride with both the Commander 2 and 3.
Just make sure that you are running with the correct tire pressure as it affects the noise that your tires make. Wheel alignment should be checked as well for a more quiet and comfortable ride.
5. Cost
The Michelin Commander 3 has a slightly higher price compared to the Commander 2. This can be due to the added features and technology in this tire. The usual price for Commander 2 ranges from $126-$272 while it is $163-$330 for Commander 3.
Read more: The reason why Michelin tires are so expensive.
Frequently Asked Questions
Which is better in Metzeler Cruisetec vs Commander 3?
Both the Metzeler Cruisetec and Michelin Commander 3 are excellent tires with top-notch technology. You can't go wrong with either of them but it would be best to look for qualities that would satisfy your needs.
The Metzeler Cruisetec is better in terms of durability, so it would be a better choice for frequent driving on rough road conditions. The Commander 3 is better in rain, so if you want to experience better grip and handling on wet roads, this tire is for you.
Are Michelin Commander 3 tires defective?
According to the Michelin Technical Bulletin, two sizes of the Commander 3 tires have been reported by consumers to have problems with tire feedback when driving straight at 30-40 mph.
Michelin did not recall the tires in question but promised consumers that they would continue to monitor consumer reviews. They also advised riders to have their tire fit and balance checked first.
How do cruiser tires and touring tires differ?
Generally, both the touring and cruiser tires provide a good balance of longevity and traction. However, cruiser tires are made with harder compounds to carry heavier bikes. Touring tires, on the other hand, are better at rounding corners.
Can you mix Commander 2 and 3 tires?
To experience better performance, it is better to have the same tire model on your motorbike. For instance, a Commander II front tire should be paired only with a Commander II rear tire.
Are Michelin Commander 2 tires tubeless?
The Commander 2 is typically tubeless in all sizes, however, tubes are available if required. This applies to both the rear and front tires.
Which is better, Michelin or Dunlop?
Michelin and Dunlop are two premium rubber companies that are very well known around the globe. That said, you can only notice minimal differences in the quality of tires that they produce.
In general, Michelin tires offer excellent value because they provide well-rounded tires with excellent durability and tire life. In contrast, Dunlop tires are known for emphasizing overall performance.
How many miles is Michelin Commander 2?
Michelin markets the Commander 2 as a tire that can last twice as much mileage as its competitors. And as advertised by the brand itself, the rear tires could last up to 25,000 miles, which has been confirmed by a third party – Texas Test Fleet.
Conclusion
Michelin's great technology and innovation are carried over from car tires to motorcycle tires. This comparison of Michelin Commander 2 vs 3 demonstrated the primary advantages of having these two tires.
The Michelin 3 comes out better when it comes to performance in the rain while not giving up longevity. That doesn't mean that the Commander 2 is bad as it can also be a dependable tire on long rides and it's also a little cheaper.