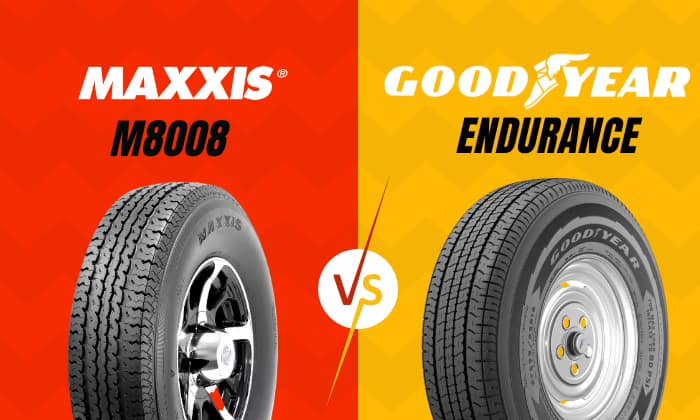 Trailer tires are different from ordinary tires. They are generally tougher since these tires must be able to handle heavy-duty tasks, such as carrying huge loads and towing.
If you're on the market for a trailer tire, we highly recommend considering the Maxxis M8008 and the Goodyear Endurance.
Both of these tires are manufactured by reputable brands and offer high-quality performance, but which one is indeed suitable for your driving needs? Let's find out in this Maxxis M8008 vs Goodyear Endurance comparison.
Comparison Table
Below are comparison charts of Maxxis M8008 and Goodyear Endurance, using two of their same sizes: ST205/75R14 and ST205/75R15. This should help you get a general idea of the key similarities as well as differences of the two tires.
| | | |
| --- | --- | --- |
| Attributes | M8008 | Endurance |
| Tire Brand | Maxxis | Goodyear |
| Tire Type | Trailer | Trailer |
| Maximum Speed Rating | 100 MPH (Q) | 75 MPH (L) |
| Sidewall | Blackwall | Tubeless |
ST205/75R14
| | | |
| --- | --- | --- |
| Attributes | M8008 | Endurance |
| Tire Size | ST205/75R14 | ST205/75R14 |
| Width (in.) | 8.1 | 8 |
| Diameter (in.) | 26.1 | 26.1 |
| Measured Rim (in.) | 5.5 | 5.5 |
| Rim Range (in.) | 5-6.5 | 5-6.5 |
| Tread Depth (in.) | 9/32 | 8/32 |
| Load Range | C | D |
| Max Load (lbs) | 1760 | 2040/1820 |
| Max Inflation Pressure (PSI) | 50 | 65 |
| Revs Per Mile | 796 | 796 |
ST205/75R15
| | | |
| --- | --- | --- |
| Attributes | M8008 | Endurance |
| Tire Size | ST205/75R15 | ST205/75R15 |
| Width (in.) | 8.1 | 8 |
| Diameter (in.) | 27.1 | 27.1 |
| Measured Rim (in.) | 5.5 | 5.5 |
| Rim Range (in.) | 5-6.5 | 5-6.5 |
| Tread Depth (in.) | 9/32 | 8/32 |
| Load Range | D | D |
| Max Load (lbs) | 2150 | 2150/1874 |
| Max Inflation Pressure (PSI) | 65 | 65 |
| Revs Per Mile | 767 | 767 |
Overview of Maxxis M8008 and Goodyear Endurance
About Maxxis M8008
The Maxxis M8008 radial trailer tire is well-built with two steel belts to withstand heavy forces, especially when towing. The tire is long-lasting and fuel-efficient, thanks to its tread composition that allows low levels of rolling resistance.
Moreover,its innovative shock absorption technology promotes comfortable ride quality. The tire comes in several size variants, and all boast excellent build quality.
About Goodyear Endurance
Goodyear Endurance trailer tire offers plenty of desirable features, including its tough composition. The tire uses an innovative polyester structure strengthened with steel belts and an improved tread design. This makes the Goodyear Endurance capable of carrying and hauling maximum loads.
This trailer tire model makes smooth, safe, and straight-tracking driving possible. It is developed with a safeguarding feature, namely the Durawall Technology, protecting its sidewall from unwanted damages such as scratches, scuffs, or punctures along the way.
Explore where Goodyear endurance tires are made here!
Differences
This section will cover the performance of Maxxis M8008 vs. Goodyear Endurance in different categories. Let's all find out which tire beats the other in different aspects.
1. Performance on Different Road Surfaces
Both tires perform well on a variety of road surfaces. Whether you're going through highways or rough terrains, the tires offer stable and reliable handling thanks to their low aspect ratio.
However, the Endurance's low-depth tread design may hinder its performance on muddy or icy surfaces.
2. Maximum Load Capacity
Both tires offer very high load capacity, with the Maxxis M8008 pulling slightly ahead with 2535 pounds. The Goodyear Endurance will handle a load of 2150 pounds comfortably. However, this figure may change according to the tire size.
3. Dry and Wet Performance
Overall, both have respectable performance in most weather conditions.
On dry roads, the Maxxis M8008 offers stable and predictable handling using its rugged tread pattern and high-quality rubber compound. It performs better in terms of braking power and noise reduction. Meanwhile, the Goodyear Endurance steals the show when it comes to traction and pulling power.
In wet conditions, both the Maxxis M8008 and the Goodyear Endurance perform reasonably well. Their tread designs help channel water away from the contact patch, which helps reduce the risk of hydroplaning and improves wet traction.
4. Treadwear
Both tires are designed to be durable and long-lasting. However, the Goodyear Endurance's strong construction and optimized tread compound puts it at a small advantage. With that said, the Maxxis M8008 will also last a long time, thanks to its rugged tread design and high-quality rubber.
5. Warranty and Durability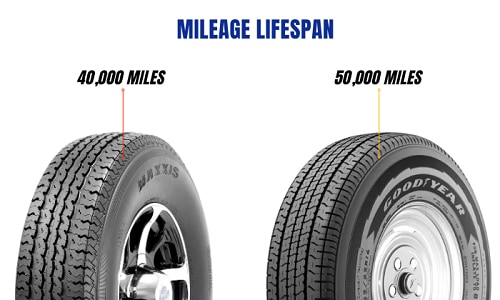 Both Maxxis M8008 and Goodyear Endurance have a limited warranty of six years from the date of manufacture. Thus, neither one of these two tire models include warranted mileage.
Then, in the durability category, Maxxis M8008 has a mileage lifespan of up to 40,000 miles. This is 10,000 miles shorter than the Goodyear Endurance, with a tread life of approximately 50,000 miles, Therefore, the Goodyear Endurance trailer tire is supposed to last longer than the Maxxis M8008 trailer tire.
6. Pricing
Price does also matter to determine which tire to purchase. Keep in mind that the prices may vary depending on your location, tire size, model, and more.
The Maxxis M8008 will cost you $113/tire for the ST175/80R13 model, and up to $243/tire for the St235/R16 model. On the other hand, the Goodyear Endurance will set you back somewhere in the neighborhood of $160 to $278, depending on the size.
7. Pros and Cons
Maxxis M8008
Pros
Comes at a more pocket-friendly price
Has a durable construction
Faster speed rating
Fuel-efficient
Low levels of rolling resistance
Comes with shock absorption technology
Has a great cornering
Composed of deep tread pattern that allows all weather and all terrain performance
Lower noise levels
Better in terms of handling, control, and braking power
Cons
Wears faster than its opponent
Goodyear Endurance
Pros
Has a durable construction
Longer mileage lifespan
With protective sidewall technology
Less air loss possibility
Offers comfortable ride
Has a great cornering
Provides stronger towing power
Better overall dry performance
Uniform treadwear
Cons
Consists of low-depth tread pattern which is a challenge in harsh road conditions
Related Comparison: Goodyear Endurance vs Hankook Vantra.
Which Tire is Better?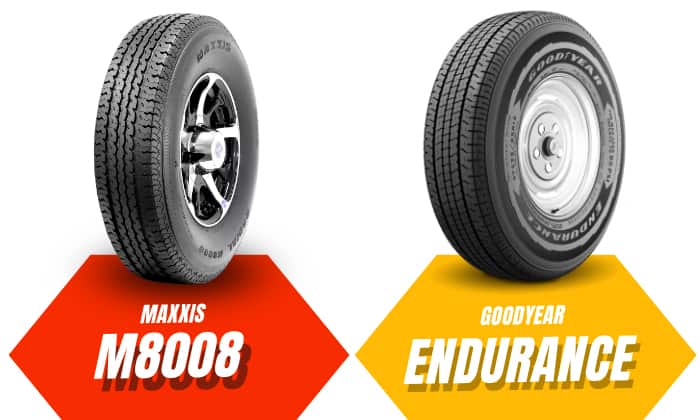 It's hard to say definitely which tire is better. In close comparison, both the Maxxis M8008 and the Goodyear Endurance have their own strengths and weaknesses.
The M8008 offers a higher speed rating, lower noise levels, and an overall better handling experience at the cost of reduced tread life and lower towing power. On the flip side of the coin, the Endurance performs decently well in most conditions but lags behind on muddy or icy surfaces.
The two tires boast positive reputations, and we believe you will be satisfied with either choice. To make an informed decision, consider your specific needs and preferences to find factors that matter most to you.
Frequently Asked Questions
Where are Maxxis Trailer tires made?
Maxxis International is the official tire brand name where Maxxis Trailer Tires came from. Maxxis Trailer tires (including other Maxxis tires) are all made mainly on the Maxxis International's manufacturing facilities around Asia, including Taiwan, China, Vietnam, Thailand, and India.
What is the recommended tire pressure for Goodyear Endurance trailer tires?
To ensure the safety and longevity of your tires, it is necessary for you to know the recommended tire pressure of your tires.
For Goodyear Endurance trailer tires, the maximum PSI ranges from 65-80. This all depends on what tire size you own.
Take Goodyear Endurance 225/75r15, for example, its recommended maximum tire pressure is 80 PSI. Generally, Goodyear Endurance trailer tires with smaller sizes have a maximum PSI of 65 (just like the ST205/75R14 105N Goodyear Endurance BW D/8).
Conclusion
Congratulations on making it to the last part of this post. Hope you get all the things that you need to know to compare Maxxis M8008 vs Goodyear Endurance well.
We hope that at this very moment, this article successfully leads you to the right tire model that suits your personal driving priorities better.
You might also want to broaden the scope of your radial tire options. You can also consider looking for Maxxis M8008 plus since it is an upgraded version of the Maxxis M8008.
Once again, thank you for reading! Have a safe drive!