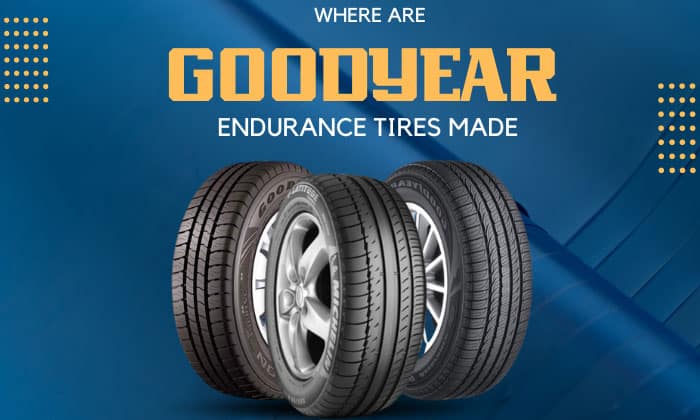 If you've got a set of Goodyear Endurance tires, you know what they're capable of. Goodyear Endurance tires are superb, whether due to their heavy-duty features or their ability to handle the cold.
But do you know where are Goodyear Endurance tires made? These tires are made in USA, ensuring that they're made with the utmost care by and for Americans.
If you want to learn more about where these tires are manufactured and their features, read on!
Factory Locations
Goodyear Endurance tires are special because they're American made trailer tires, which, as it turns out, isn't the case for all of the brand's tire lineups. Goodyear has a lot of factories and plants scattered around the world that cater to different tires.
The brand has 48 factories across 21 countries worldwide, including Canada, India, and China, just to name a few. As for their Endurance line, Goodyear assures that they're made in America, specifically in Gadsden, Alabama, and Fayetteville, North Carolina.
Read more: Owners of Goodyear Overtime
Do Any Other Countries Make Goodyear Endurance Tires?
No. Goodyear prides itself on making their Endurance line here at home. However, although Goodyear Endurance tires are USA made trailer tires, it's with noting that your new trailer may not sport these great options, as it may come with tires made in China.
So, if you don't want to run into problems linked to low-quality wheels when buying your next trailer, be sure to let your dealer know that you'll be replacing the tires with a fresh set of Endurance tires or those from another reputable brand.
Features of Goodyear Endurance Tires
Aside from being made here at home and hailed as one of the most recognizable travel trailer tires, Goodyear Endurance tires are also made with state-of-the-art features which make them perform tremendously well.
As such, we've compiled some features which make Goodyear Endurance tires great.
1. Heavy-duty capabilities
Never worry about carrying heavier loads ever again with Goodyear Endurance's redesigned polyester construction with reinforced steel belts.
Whether it's some extra gear for your next camping trip or hauling toys for big boys like boats or side-by-sides, your Goodyear Endurance tire can carry them with ease.
Moreover, the tires also come with an enhanced inner liner, which not only provides extra durability but also prevents air loss, even with all that weight.
2. Low-temperature optimization
If colder adventures are more your fancy, then Goodyear Endurance Tires have got you covered. It comes equipped with an optimized tread depth and decoupling groove, which makes traversing snow safe and easy.
Couple that with an enhanced tread pattern, and you've got a set of rubbers that not only handles low temperatures but would also give you a tight and silky smooth driving experience as well.
3. Durability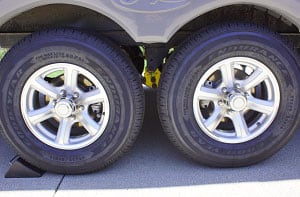 It goes without saying, but from the name itself, Goodyear Endurance tires can definitely endure anything we throw at it. That's because these tires come with Durawall Technology and a scuff guard to protect them from scrapes, bruises, and even punctures.
4. Price
With all these features, you might be worried about how much these tires would set you back. And right off the bat, they're not exactly the cheapest Goodyear trailer tire. During the pandemic, production of some sizes were discontinued, and the location of the seller can certainly raise prices as well.
However, we're sure that they're definitely worth the investment.
One Goodyear Endurance 225/75r15 tire costs $184, which might be expensive for some, but with all those features, you'll be getting a tire that would not only have great performance but would also last for years.
What Tire Size Should I Get for My RV?
Well, it might depend on the size of your RV, but to be on the safe side, look for tires with a good max load. Max loads are usually higher on larger yet more expensive tires.
For instance, a 255/85R16 Endurance tire has a max load of 4080 lbs, while smaller ones like a 205/75R14 or 205/75R15 only handle 2040 or 2150 lbs, respectively.
Alternatively, you can also convert tire sizes, which might have different specs but can achieve quite similar max loads. The more popular RV tire size conversions are:
235/80R22.5 = 245/75R22.5
255/80R22.5 = 265/75R22.5
275/80R22.5 = 295/75R22.5
Conclusion
Now that you know where are Goodyear endurance tires made, it's time to consider if these tires and the features they offer are the ones for you. In my opinion, Goodyear Endurance tires certainly won't disappoint if you're the adventurous type.
And although they come with a relatively hefty price tag, drivers will be getting tires with a ton of features, plus they'll also be sporting tires that are 100% made in the USA.