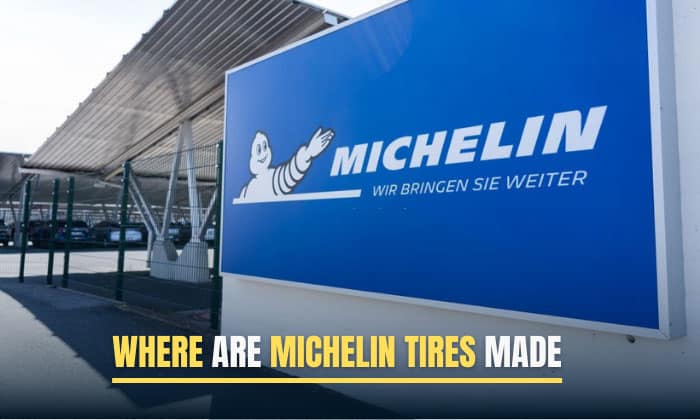 The Michelin tire company is arguably the most recognizable manufacturer of wheel components. With factories all over the world, this ensures that Michelin tyres can support the demand for their quality products.
The main Michelin factory and head office are located in Clermont-Ferrand, France. The company has tires made in 26 countries, including tires made in USA. This shows that many countries can be named when answering, "where are Michelin tires made?"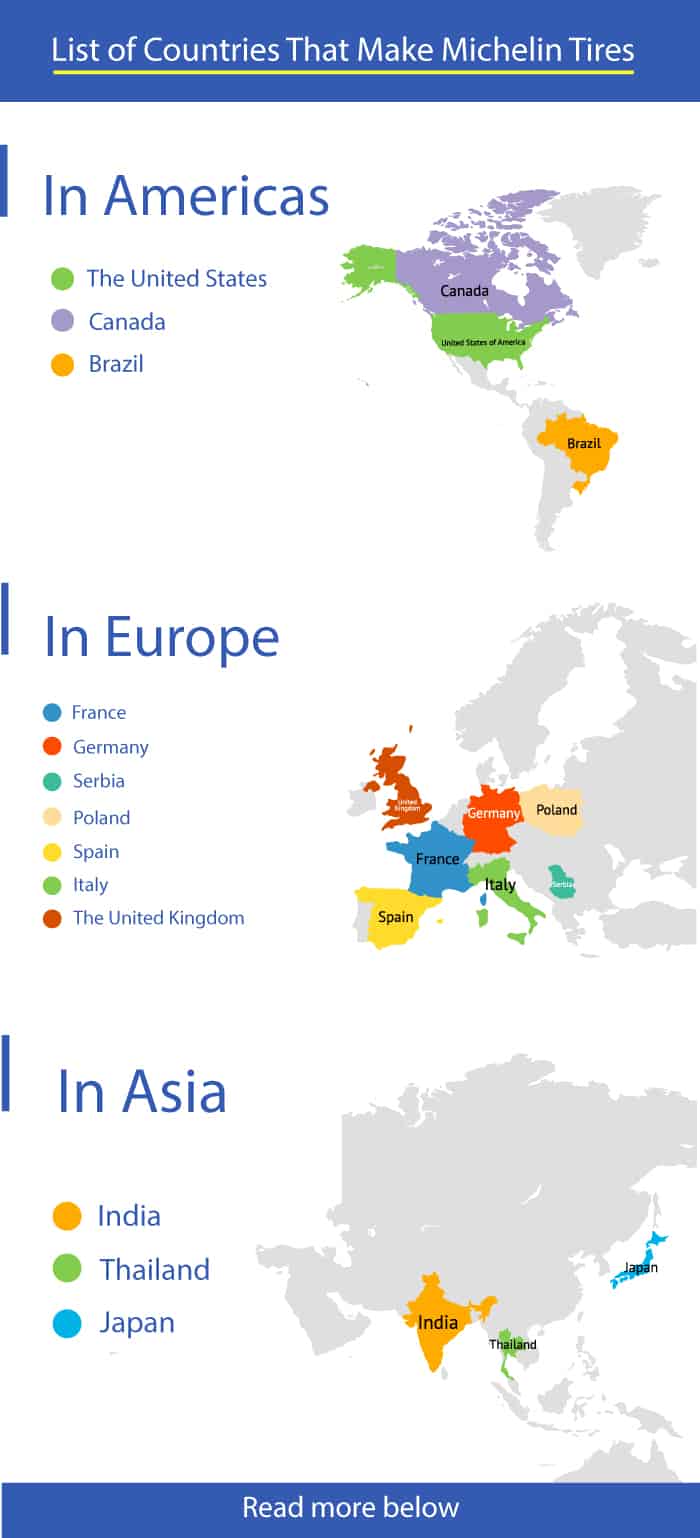 List of Countries That Make Michelin Tires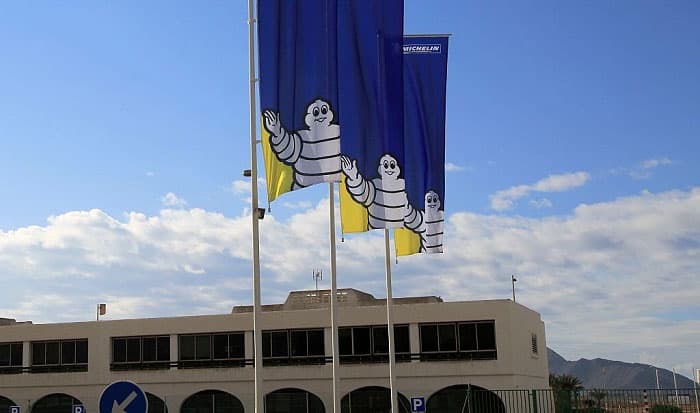 Europe
France
Germany
Serbia
Poland
Spain
Italy
The United Kingdom
Asia
The Americas
The United States
Canada
Brazil
History of Michelin Tires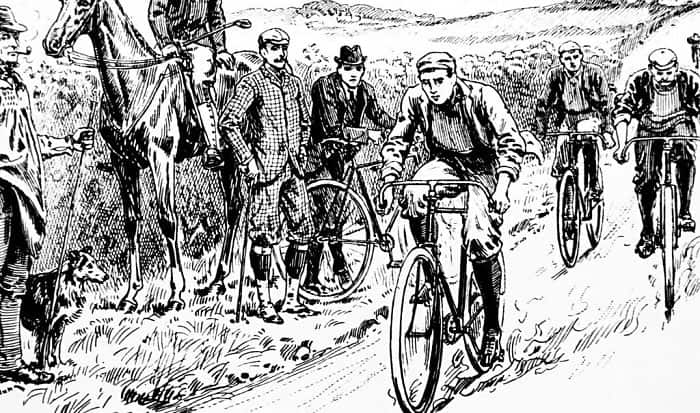 The history of Michelin tires has been an exciting journey of discovery. In the 1890s, before producing tires made for vehicles, Andre and Edouard Michelin were only making tires exclusively for bicycles and horse-drawn carriages.
However, the Michelin brothers were very sure that pneumatic tire technology could be improved and ultimately used in motor vehicles. Tire and wheel technology like this was relatively unheard of at the time and pushed the brothers to innovate.
So, they tested out their new removable pneumatic tires in the Paris-Bordeaux road race to show the world their technology, in hopes of turning it into a standard for how tires should be made.
They lost the race. However, their technology gained attention and was a subject of interest for many motor vehicle enthusiasts in the competition.
The Michelin brothers perfected their craft and eventually were proven right as they ushered in a new age of wheel innovation.
Aside from manufacturing tires, André Michelin also created an annual travel guide for different countries worldwide called the "Guide Michelin." These books provided lists of the best restaurants and how to get there.
These resources, while containing useful information for tourists, were primarily used by Michelin to bolster the car industry.
Michelin Tires Manufacturing Process
Step 1: Research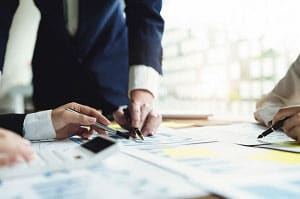 Before Michelin creates a tire, an enormous amount of research is done so they can innovate and employ further enhancements to their products.
Step 2: Creating and blending materials
A tire has more than 200 components essential for safety, fuel economy, performance, and environmental friendliness.
These elements are divided into five categories:
Natural and Synthetic rubber – these materials are mixed and matched into the tread of the tires.
Silica and carbon black – are used to increase abrasion resistance.
Metallic and textile reinforcing cables – these give the tire its shape and integrity by providing much-needed stiffness. The cables also contribute to traction.
Secret chemical formulae – chemicals and compounds that are considered trade secrets by Michelin to enhance their tires.
Step 3: Designing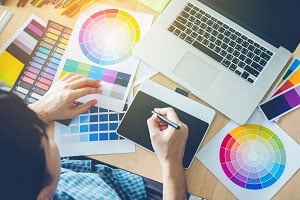 Before construction, everything starts on a drawing board. Michelin creates many different concepts and designs until they find the perfect one.
Step 4: Construction
Michelin starts the construction of tires by using automated and manual methods, depending on the tire's design and quality. Doing this makes the process more efficient and meticulous.
Step 5: Checking for quality
After the tires are made, they are checked against the standards of a Michelin tire, such as durability, performance, and fuel economy.
It is said that each year, all the Michelin tires manufactured can go through 1 billion miles of testing, which roughly equates to 40,000 trips around the world.
Popular Michelin Tires
The Michelin Defender tires made waves since they were all-terrain, all-season tires. This product line has a robust tread pattern and Michelin-exclusive technology. They can last up to 80,000 miles or 128,747 km.
Due to their design, these tires provide traction on slick surfaces. Their components, which include extreme silica and sunflower oil, create a distinctive tread pattern. These characteristics firmly grip the ground and aid your handling.
These tires are adapted from the Michelin Pilot Super Sport and provide grip and handling at high speeds. They are also best used for the summer seasons, when heat can affect the durability of your tires, as well as their air pressure.
Always consider switching your tires to more specialized models like this to withstand higher driving temperatures.
Michelin Subsidiaries
The following tire companies are also owned by Michelin:
BFGoodrich
Kleber
Kormoran
Riken
Tigar
Uniroyal
For American tire owners, look for these plant codes (without subsidiaries) to identify Michelin tires manufactured in the USA:
Greenville, South Carolina (4M, M3)
South Carolina's Spartanburg (B6)
Dothan, Alabama (B7)
Lexington, South Carolina (B9)
Conclusion
Michelin has a long and vibrant history. Many years have passed since the brand's inception, from being just the pioneers of pneumatic tires to one of the biggest manufacturers in the world.
Right now, this international company has factories scattered all over the globe. So there are many answers to where are Michelin tires made, depending on the country. For example, some US factories for this brand are in Covington, Kansas City, and Greenville.