Between Goodyear Wrangler UltraTerrain AT vs BFG KO2, which all-terrain tire has the better value? Based on performance and overall value, the Wrangler AT has the edge for providing smooth rides on wet roads and superior winter traction, while the KO2 has better off-road traction.
Here is a short tire chart to show the strengths of these options:
| | | |
| --- | --- | --- |
| Specifications | | |
| Brand | Goodyear | BF Goodrich |
| Category | All-Terrain | All-Terrain |
| Speed Ratings | S and Q | R, S, or Q |
| Load Ratings | SL and E | C, D, and E |
| Weight Range | 40 to 70 lbs | 35 to 80 lbs |
| Tread Depth | 16/32" or 18/32" | 15/32″ on all sizes |
| Winter Ratings | 3PMSF and M+S | 3PMSF and M+S |
| Warranty | No treadwear warranty | Up to 50,000 miles |
| Sizes | 16 to 20 inches | 15 to 22 inches |
Below is a comparison between the Wrangler UltraTerrain AT vs KO2 to help you choose the best all-terrain tires.
Compare in Detail
1. What Is It?
These are brief descriptions of both all-terrain tires.
1. Goodyear Wrangler UltraTerrain AT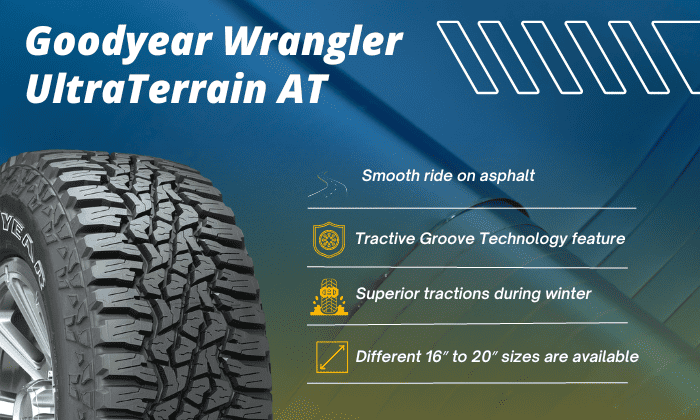 The Goodyear Wrangler UltraTerrain AT gives drivers a smooth ride on asphalt and decent off-road traction due to the TractiveGroove Technology feature. This tire features in-groove traction teeth designed to grip snow-covered roads for superior tractions during winter.
Different 16″ to 20″ sizes are available for various vehicles, including the Goodyear Wrangler UltraTerrain AT 265/70R16 and Wrangler UltraTerrain AT 35X12.50R20.
2. BFG KO2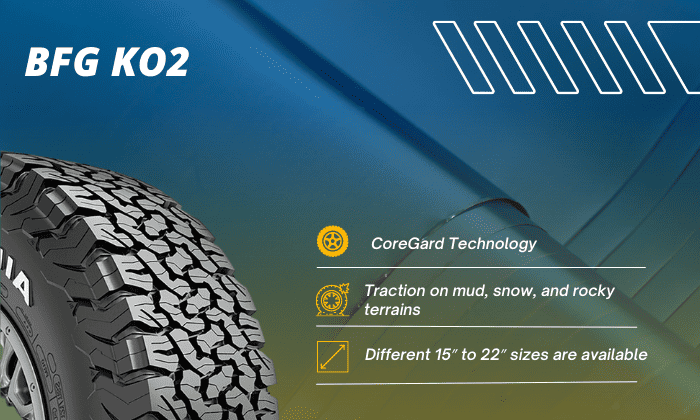 The BF Goodrich AT KO2 features a CoreGard Technology that makes its sidewall rubber resistant to wear and tear for superior service life. The serrated shoulder of the tires gives the KO2 increased traction on mud, snow, and rocky terrains.
The sizes available for this all-terrain tire range from 15″ to 22″, such as the BF Goodric KO2 275/70R17 and BF Goodrich KO2 325/60 R20.
2. Differences
These are the significant differences between the two branded all-terrain tires.
1. Internal Construction
All-terrain tires require strong internal walls and inner construction to withstand common off-road conditions. The Wrangler has a thick rubber skin and two-ply sidewalls to meet the demands of off-road areas.
Similarly, BF Goodrich has a sturdy construction with its three-ply polyester cover. The KO2 is even made of cut-resistant rubber for better resistance against physical damage.
2. Outer Construction
The Goodyear Wrangler UltraTerrain AT has strong biting treads in the middle. This tire has two ribs with triangular-shaped lugs divided with grooves. The tires have full-depth sipes placed haphazardly around the treads to optimize off-road grip.
The BF Goodrich all-terrain tires have a functional pattern of grooves formed by three lugs in the middle of their tread. These lugs also have depth notches and sipes that unfold to grip onto the road or gravel when needed.
3. Pros and Cons
Here are the quick positives and negatives for Goodyear's all-terrain tires:
Goodyear Wrangler UltraTerrain AT
Superior winter performance
Smooth and quiet drive
Long-lasting durability
Limited sizes
Low gravel and sand traction
Below are the advantages and disadvantages of the BF Goodrich KO2:
BFG KO2
Superior handling on-road and off-road
Good sand and gravel traction
Durable design for uphill drives
Not suitable for wet roads
Pricier than the Wrangler UltraTerrain AT
4. Costs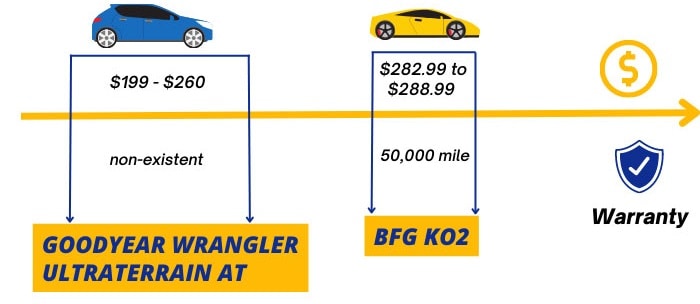 The price range for a BF Goodrich KO2 265 ranges from $282.99 to $288.99, according to Simpletire.com. Meanwhile, Goodyear Wrangler UltraTerrain AT tires of the same width range around $199 – $260, according to Discounttire.com.
Due to being slightly cheaper, the Wrangler UltraTerrain AT warranty is non-existent, while the KO2 covers 50,000 miles.
5. Which is Better?
These comparisons show which of the all-terrain tires performs better in specific scenarios.
1. Fuel Economy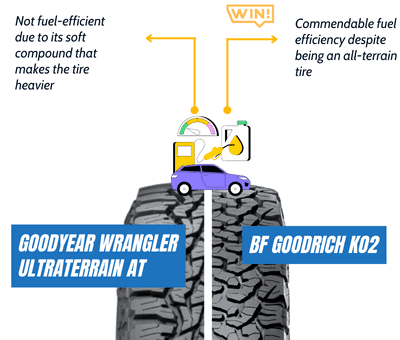 The Goodyear Wrangler UltraTerrain AT is not fuel-efficient due to its soft compound that makes the tire heavier. Light tires allow vehicles to consume less fuel, since there is less to carry.
The BFG K02, meanwhile, has commendable fuel efficiency despite being an all-terrain tire. Although there was some mpg loss compared to smaller options, the difference wasn't that substantial (around 1 miles per gallon).
2. Wet Grip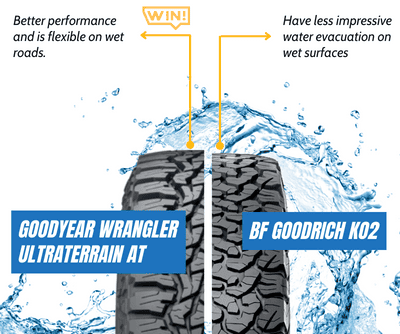 All-terrain sipes and flexibility determine performance on wet roads. Out of the two brands, Goodyear's tires have the better wet grip.
The Wrangler UltraTerrain AT has a better performance and is flexible on wet roads. KO2 tires have less impressive water evacuation on wet surfaces.
3. Gravel Braking & Traction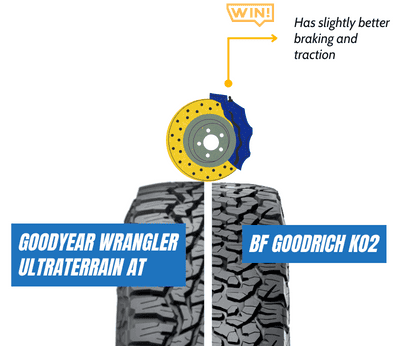 All-terrain tires must provide proper braking and traction on gravel surfaces. Gravel performance is necessary for safe off-road driving across unpaved or rural areas.
While Goodyear and BFGoodrich have nearly the same gravel driving performance, the KO2 has slightly better braking and traction than the Wrangler UltraTerrain AT. BF Goodrich's tires have stone ejectors in the form of small pyramids at the base of each tread void.
4. Sand Traction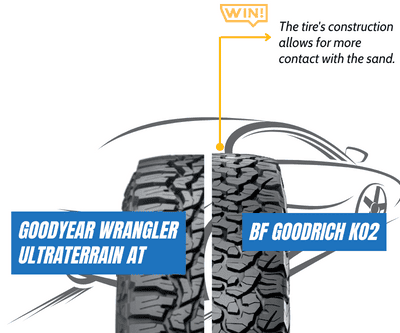 Sand is challenging, since there is barely anything for your tires to grip onto compared to asphalt roads. Traveling across deserts or beaches without getting stuck requires better sand traction.
BF Goodrich KO2 is better in this area, with the tire's construction allowing for more contact with the sand. The contact point of the UltraTerrain from Goodyear concentrates more on the edges, which does not provide as much traction as its competitor.
5. Winter Traction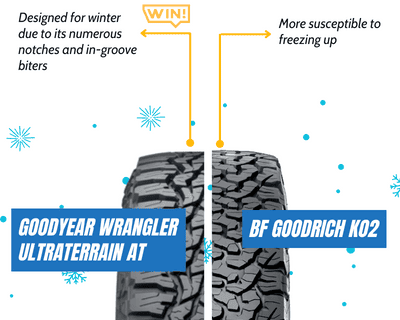 Goodyear and BF Goodrich tires are rated 3 Peak Mountain Snowflake (3PMSF) to handle severe winter conditions, making them good in snow areas. Tires with a 3PMSF rating can achieve 10% better acceleration than all-season tires.
Both tires have good traction over snow, but the K02 is more susceptible to freezing up. The Wrangler UltraTerrain AT is designed for winter due to its numerous notches and in-groove biters for better traction on snow particles with less risk of freezing.
6. Rock Climbing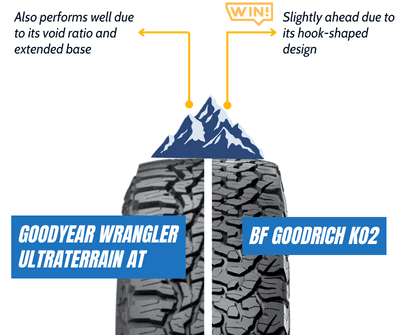 Ascending rocky terrains require treads that have a solid grip in multiple directions. Both Goodyear and BF Goodrich have treads for overcoming slopes or rugged terrains.
BF Goodrich KO2 is slightly ahead due to its hook-shaped design, though the UltraTerrain also performs well due to its void ratio and extended base.
7. Longitudinal Grip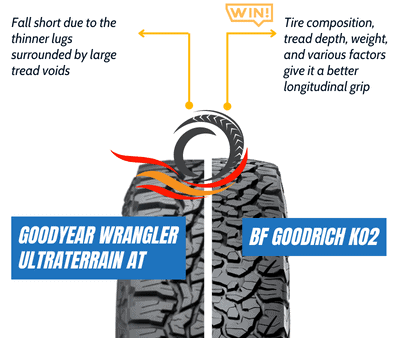 A tire's longitudinal grip determines your car's traction while accelerating or braking. The BFG KO2 tire composition, tread depth, weight, and various factors give it a better longitudinal grip than the Wrangler UltraTerrain. Goodyear tires fall short due to the thinner lugs surrounded by large tread voids.
6. Overall Comparison
BF Goodrich excels in off-road performance thanks to the KO2 tire's treads that achieve better traction on gravel and sand. However, due to its design, the Wrangler UltraTerrain is the better choice for wet or snow tires.
Also read: BF Goodrich Compared with Goodyear Tires
Tips for Choosing the Right Tire
The road condition where you plan on driving should help you pick the right all-terrain tires for your vehicle. Tires with sipes offer traction on gravel-filled and wet areas, while designs with less aggressive treads are more stable on sand. More aggressive tires with lugs, however, offer better performance on muddy surfaces.
Your budget is the second factor that helps you pick a proper AT tire. The correct tire should have the proper wet and dry performance on most roads at an affordable price.
Frequently Asked Questions
Are BF KO2 good tires?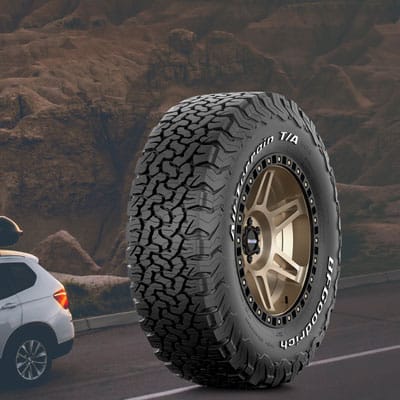 KO2 tires are great for off-road driving because of their sand and gravel traction. BF Goodrich AT tires are also suitable for uphill driving due to their durability.
Which tire is better on wet roads?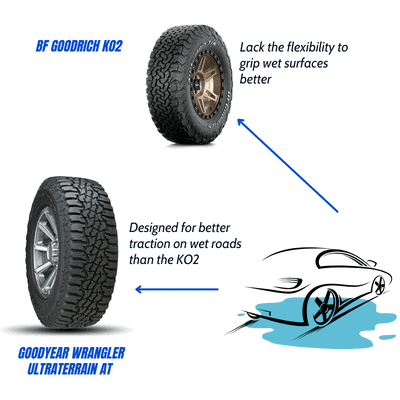 Goodyear Wrangler UltraTerrain AT is designed for better traction on wet roads than the KO2. The KO2's sipes lack the flexibility to grip wet surfaces better.
Conclusion
The latter is the winner between Goodyear Wrangler UltraTerrain AT vs BFG KO2 for off-road performance. BF Goodrich tire's capability on common off-road conditions makes it an excellent choice for various excursions.
The Wrangler UltraTerrain is better when driving through winter conditions or wet surfaces. Goodyear's AT tire is also slightly cheaper than BF Goodrich, though with a lack of an extended warranty.
---
Related Comparisons: