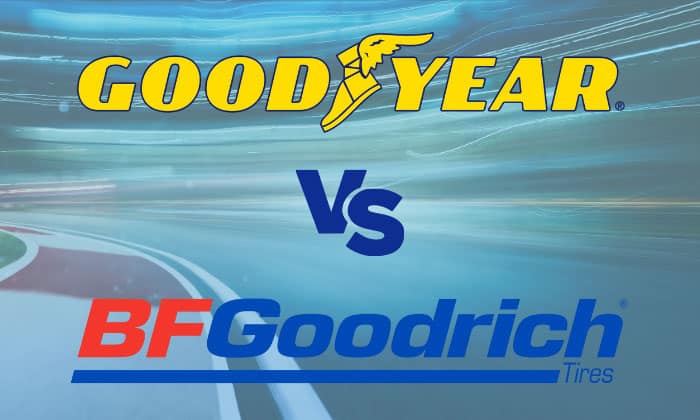 When comparing BF Goodrich vs Goodyear tires, which has the best value for your car? BF Goodrich tires are good for off-road driving, while Goodyear offers excellent all-season touring tires. You can get a quick grasp on the strengths of both brands by checking the table below:
| | | |
| --- | --- | --- |
| Specifications | Goodyear | BFGoodrich |
| Established In | 1898 | 1870 |
| Offerings | 10 lines | 6 lines |
| In Snow and Mud Rating | 3-PMSF M+S | 3-PMSF M+S |
| Warranty | 30-Day Pledge and Tread Life Warranty | Standard Limited and Treadwear warranty |
| Cost | Generally more affordable | More expensive |
| Performance | Stand out in terms of all-season tires | Better for racing and high performance |
This article will take a close look at both brands to help you know which of their tires are suitable for your vehicle.
Compare in Detail
What is it?
These are the two brand's short history:
1. Goodyear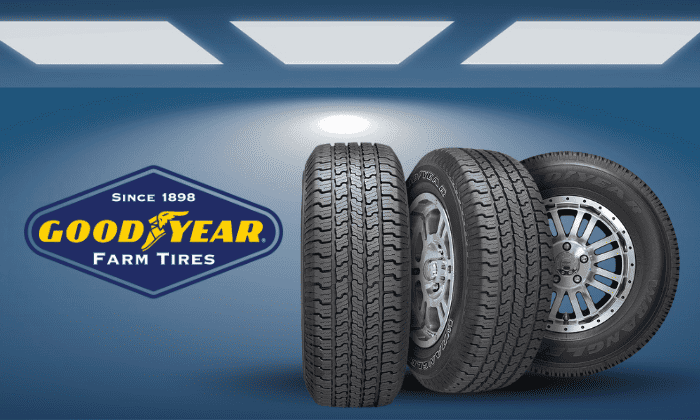 Charles and Frank Seiberling founded Goodyear in 1898. The company produces tires for passenger vehicles, trucks, buses, farm vehicles, industrial equipment, and aircraft. One of their contributions to the industry is using polyester cord fabric for tires.
2. BF Goodrich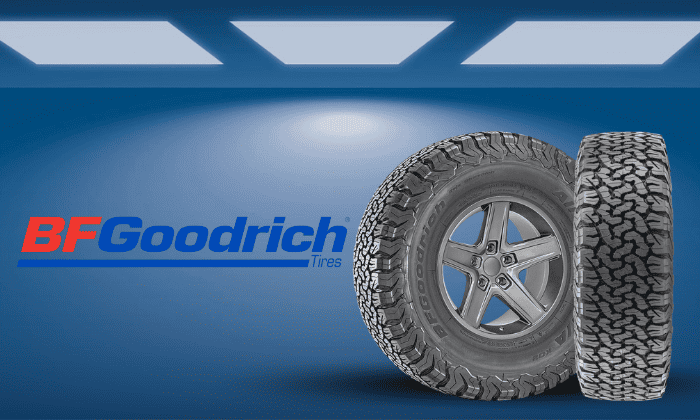 Dr. Benjamin Franklin Goodrich founded BF Goodrich in 1870, which started as a rubberized hose manufacturer for firefighters. The brand's headquarters is in Akron, Ohio, while BF Goodrich factories are in Alabama and Indiana.
Differences
There are several key differences between the two tire brands.
1. Performance
You can expect high-grade tire performance and durability from BF Goodrich and Goodyear. Both brands also have specialty tires for specific driving conditions, such as wet roads.
But BFG is generally the better choice for off road racing tires. One example is the BFG KM2, built for superior mud-terrain traction. This brand also suits off-roading better, though Goodyear has the edge when it comes to wet and dry performance.
2. Availability of Options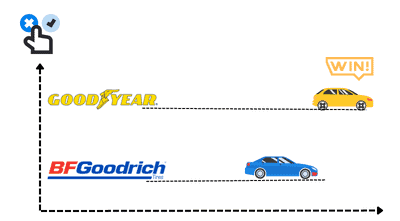 Goodyear and BFGoodrich offer many tires, including off-road, all-terrain, and all-season. Regarding availability between Goodyear vs BF Goodrich, the former has more options.
There are ten Goodyear tire line series compared to BF Goodrich's six tire. In addition, Goodyear has been producing tires for non-passenger vehicles such as airplanes and tractors. You are more likely to find a tire for a specific vehicle in a Goodyear aisle than in BF Goodrich's section.
3. Warranty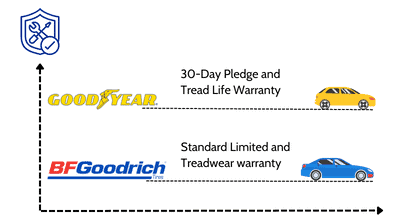 BF Goodrich tires come with their Standards Limited Warranty that provides six years of coverage from the date of purchase. Certain BFG tires also come with a Manufacturer's Treadwear Limited Warranty, such as the BFGoodrich Advantage Control, which has 65K to 75K miles of coverage.
Goodyear offers a 30-Day Pledge, where you can return your tires if you are unhappy. Most of the Goodyear Wrangler tires come with this policy. The brand's tires also have a Tread Life Limited Warranty coverage for premature treadwear.
Meanwhile, Goodrich Wrangler tires like the BFGoodrich mud terrain TA KM3 and all-terrain KO2 for Jeeps generally lack a return and exchange policy. A mileage warranty may be available, depending on the model.
4. Pros and cons
Below are the good and bad aspects of Goodyear.
Goodyear
Wide range of tires for almost any road conditions
30-Day Pledge coverage
Optimized ride performance and tire durability
Lacking in off-road and racing performance
Here are the strengths and shortcomings of this tire brand:
BF Goodrich
Established history of manufacturing tires
Focus on sports and off-road tires
Extensive knowledge of tires
Pricier than Goodyear tires
Limited range of products
5. Cost
Goodyear and BFGoodrich have reasonable tire prices for most of their product line. However, BFGoodrich's major tire lines cost more than similar Goodyear offerings. The price difference is due to the performance of BFGoodrich tires for off-road conditions and races.
One of the closest comparisons where we can see of the costs of each brand is between the Goodyear MTR and BFG KO2. The Wrangler tire costs around $200, while KO2 tires of the same size cost around $230.
Popular Tires of Each Brand
BF Goodrich

Below are the best BF Goodrich tires in the market.
G-Force – The G-Force line consists of tires with superior wet and dry traction and optimized steering. These tires are suitable for casual drives and competitive races.
All-Terrain – BF Goodrich's all-terrain line consists of off-road tires that provide exceptional grip on sand, gravel, and mud, like the BF Goodrich Mud-Terrain T/A KM3. These tires also provide ample grip for rock climbing.
Radial – The Radial T/A series from BF Goodrich offers optimized stability and steering response, similar to highway options like BFGoodrich Long Trail tires. This line also has a tread block phasing feature for low noise levels.
Goodyear

Here are unique Goodyear products.
Assurance – The Assurance line consists of all-season touring and all-weather tires. You can find specialty tires from this line that focus on specific driving attributes, such as the gas-efficient Goodyear Assurance Fuel Max and the long-lasting Goodyear Assurance MaxLife.
Eagle – Goodyear's Eagle line is known for its cornering performance and superior grip while providing a comfortable driving experience. Low-profile tires in this series offer better traction and high-speed ratings, such as the Goodyear Eagle F1 Asymmetric.
Wrangler – Goodyear Wrangler tires are for off-road driving and are the series competing against BF Goodrich's popular all-terrain products. Wrangler tires provide better traction on challenging gravel and dirt roads.
Winter Command – Thanks to their Cryo-Adaptive Compound and V-Tred technology, Winter Command tires are built for ice and snow traction safety.
Which is Better?
BF Goodrich tires are our choice for racing tires and ultra-high performance vehicles. These tires offer Ultragrip technology and dynamic suspension for a smooth and comfortable ride.
Meanwhile, Goodyear tires have dependable performance for off-road and all-season needs. Their products have better value for their prices and are covered by an extensive warranty.
What Should I Choose?
You should pick a tire that addresses your primary concerns. If you need tires to drive across rural or undeveloped areas, you need all-terrain tires from BF Goodrich. For quiet drives, Goodyear tires have an abundance of products for various passenger vehicles.
Things to Consider Before Choosing Bf Goodrich or Goodyear Tires
Knowing what type of tire your vehicle needs is the first step to considering which brands are for you. All-season tires from Goodyear are our pick when looking for dependable and quiet road performance. BF Goodrich tires should be considered for off-road driving due to their all-terrain performance.
The amount you are willing to spend is your next consideration. Goodyear offers affordable and reliable tires if your budget is tight. Otherwise, BF Goodrich performs better if you can handle their tire prices.
Frequently Asked Questions
Who makes BFGoodrich tires?
These tires are made by BF Goodrich factory workers in Alabama and Indiana. Despite Michelin being BF Goodrich's parent company, their tires are made by BFG staff.
See now this comparison between Michelin and BF Goodrich here!
What is a 3 Peak Mountain Snowflake rating?
A 3PMSF rating indicates the tire's capability to provide dependable snow traction. Goodyear Assurance WeatherReady products are an excellent example of a 3PMSF winter tire.
Should I buy the most expensive tire to get the driving performance I want?
It would be best only to get tires that satisfy your basic requirements. You do not need mud terrain tires if you are not going to drive across rural areas.
Conclusion
The comparison between BF Goodrich vs Goodyear tires should show you which of the brands offer the tires you need. BF Goodrich tires can achieve high-performance driving on race tracks and dependable off-road traction. Goodyear products provide reliable and safe driving for all-season options.