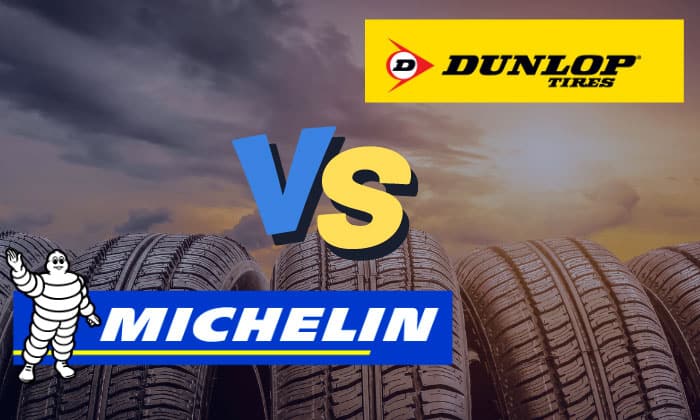 When it comes to purchasing tires for their vehicles, every driver has a favorite brand. The majority of them stick to a single tire brand to ensure high-quality and consistency.
Yet, it is never illegal to experiment with new products. Young businesses may outperform major names in the industry in some aspects.
Many are aware that Michelin has been a major tire brand for a long time when compared to other companies, but this does not immediately imply that its tires are superior to other manufacturers such as Dunlop.
To be more specific, let's compare Michelin vs Dunlop Tires in this article. Continue reading for a more in-depth examination of the two.
Comparison Table
| | | |
| --- | --- | --- |
| Attributes | Michelin | Dunlop |
| Warranty | 6-year warranty | 6 years or 60,000 miles |
| Durability | Tougher | Softer |
| Noise | Loud | Quiet |
| Availability | Globally | in the USA, Europe, Australia, and Asia. |
| Cost | starts at $156 | starts at $46 |
General Information
1. Michelin Tires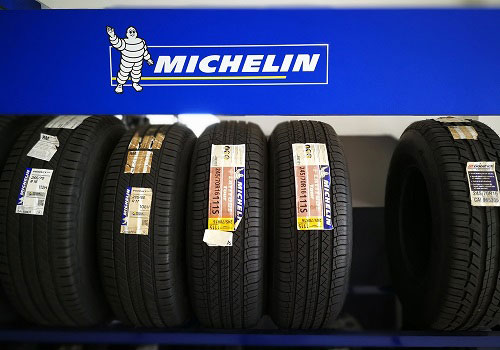 From Michelin Primacy 4 to Michelin Commander 2, Michelin is a well-known company internationally that raises the stakes of high-quality tires. Its first appearance was way back in 1888, when it was founded in Clermont-Ferrand, France.
From Michelin's humble beginnings, the brand has reached global prominence when automobile brands such as Mercedes-Benz, Porsche, and Ferrari used its products as the standard tires for their vehicles.
To say the least, this company never fails to deliver innovative tires that promote safety, durability, and maximum performance. More of its impressive features will be discussed later in the following sections.
2. Dunlop Tires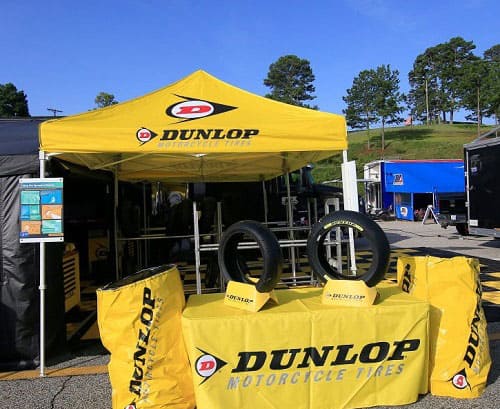 Dunlop is another successful tire brand, and motorsport racing is its competitive edge. This company's well-known offerings include the Dunlop Sport Maxx 050 and Dunlop LM705.
It also has trendy lineups, such as the Dunlop Conquest tires, which include the Dunlop Conquest Sport A/S, and the Dunlop Conquest Touring tires lineup, which includes the Dunlop Conquest Touring BSW.
But first, let's go back to its humble beginning.
It all started on a typical day in 1888 when a man named John Boyd, who was living in Dublin, developed a pneumatic tire. From that day, Dunlop tires were born.
The brand's consistency in producing high-quality racing and motorcycle tires caught the attention of companies with big names such as Goodyear (in the USA, Europe, and Australia) and Sumitomo Corporation (in Asia), which eventually became the owners of Dunlop.
In a nutshell, Dunlop ensures that all of its products, whether dirt bike tires or truck tires, promote longer tire age, ride comfort, and puncture resistance. There are other interesting features of Dunlop that will be mentioned in the next part, so stay tuned.
Differences
Let's take a deep dive into different aspects of Michelin and Dunlop tires for a more detailed comparison. The parameters that we will be examining in this section are the following:
1. Tire Technology
Both Michelin and Dunlop raise the bar of premium tires with innovative high-end technology. Here are the overall list of their tires' technological properties:
Michelin
Selfseal technology to limit the effects of punctures
Embedded RFID tire data identification
Silica for increased fuel savings and low rolling friction
Powercoil and Duracoil technology for tire deformation prevention
Acoustic technology for quiet rides
Infinicoil steel wires for longevity under high loads and off-road conditions
Dunlop
Bead seat optimizer for good tire reactivity
Hybrid overlay system for slower wear
Dual silica and Silica-plus compounds to maximize grip and acceleration
Noise shield technology with polyurethane foam
RunOnFlat for driving on flat tires up to 50 miles
Multi-blade system in the tread work for winter conditions
2. Tire Warranty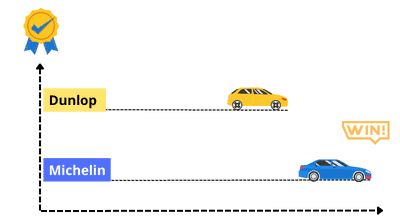 Tire warranties matter to ensure the longevity of the product you just availed for your vehicle. For Dunlop tire insurance, you get up to 60,000 miles or about six years, depending on the model.
Similarly, the maximum tire warranty period for Michelin tires is up to 6 years, but the brand also offers 3-year roadside support for tire problems, as well as cashback guarantee within 2 months from purchase.
Clearly, Michelin provides far better warranties in its package.
3. Durability
Michelin tires are made up of tougher compounds to maintain the tire's durability in different driving conditions.
So Michelin evidently wins in the durability ratings compared to Dunlop, which is made up of lightweight compounds.
4. Noise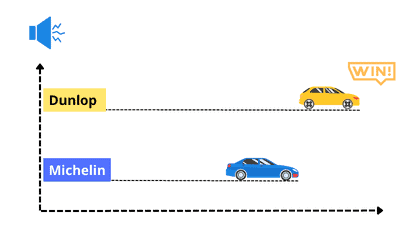 The tire composition plays a role in its noise quality. Dunlop, since it's made of a softer compound than Michelin, has overall better comfort and quiet ride quality.
5. Availability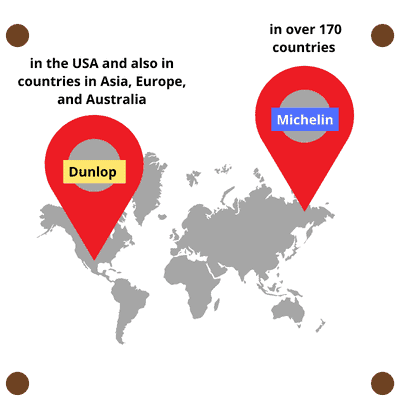 Michelin has been available in over 170 countries due to its increased demand in the industry. Meanwhile, Dunlop is available prominently in the USA and also in countries in Asia, Europe, and Australia.
6. Pros and Cons
Each tire brand has its edge, at least to say that each also has its drawbacks. For this section, let's compare Dunlop vs Michelin tires regarding their advantages and disadvantages.
Michelin Tires
With better warranty
High-quality grip and control in different driving conditions (wet and dry)
Eco-friendly technology, such as repurposing waste polystyrene to produce rubber
Increased fuel mileage
Wide variety of tire selections
Comes at a high-price
Lower grip functionality in off-road environments
Dunlop Tires
High value for money
Great ride quality
With puncture resistance
Adequate dry and wet performance
Wearing could use some improvement.
7. Cost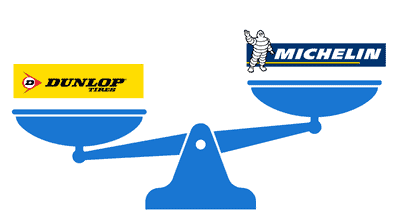 Dunlop tires are about three times cheaper than Michelin.
So when it comes to affordability between the two brands, Dunlop vs Michelin, we can all agree that Dunlop is more budget-friendly.
Michelin might have a high tire price, but there is no doubt that its phenomenal offerings with extensive warranties are worth the penny.
FAQs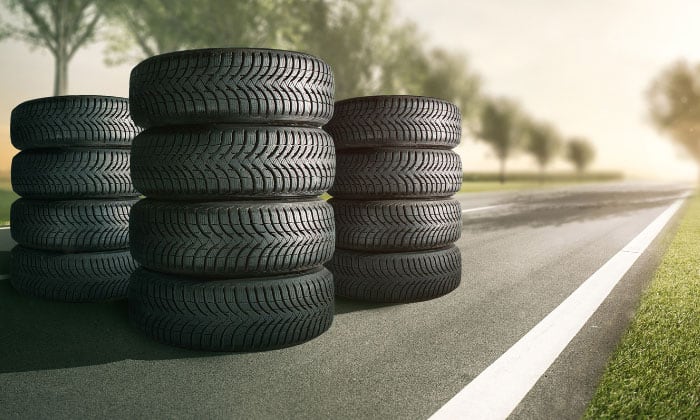 Are Dunlop Tires a Good Brand?
Are Dunlop tires good? Yes, they run well on wet and dry surfaces, enough to serve drivers on daily commutes. I would not call Dunlop a luxury brand, but for its price, the tires do their job well.
Are Dunlop Tires Reliable?
With its low price point, Dunlop is indeed reliable. Goodyear and Sumitomo Corporation would not own these tires if they were not reliable in the first place, right?
Why are Michelin Tires so Expensive?
Michelin's reputation in the market, extended warranties, and innovative R&D made its tires more expensive than the other brands like Dunlop. Read more here!
How Durable are Dunlop Tires?
After five years, the quality of Dunlop tires greatly declines. Once you've managed to keep your Dunlop tires this long, the company recommends an annual tire check. After a ten-year period, tire replacement is required for safety measures.
Conclusion
Whether the battle is Michelin vs Dunlop Tires, or perhaps even Atlas tires vs Michelin tires, we cannot compare brands easily, for each has its major benefits and drawbacks.
But to wrap up all the information in this article, let's say that Michelin is a better option compared to Dunlop in terms of warranties and durability. But if you're into a comfortable and quiet ride while on a budget, then Dunlop is a wise bet.
At the end of the day, the choice is all yours. Have a safe drive!