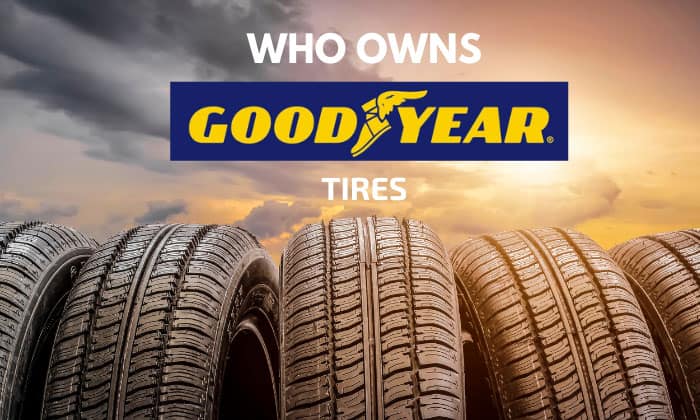 If you're wondering who owns Goodyear Tires, you've come to the right place. To answer your question, Goodyear Tires has been an independent company since its inception in 1889. It owns 66.87% of its shares, which is approximately 4,948,418.
But let's not stop there. Join us as we explore Goodyear's long company history, leadership over the years, and its top shareholders today. Let's jump in.
Owners of Goodyear Overtime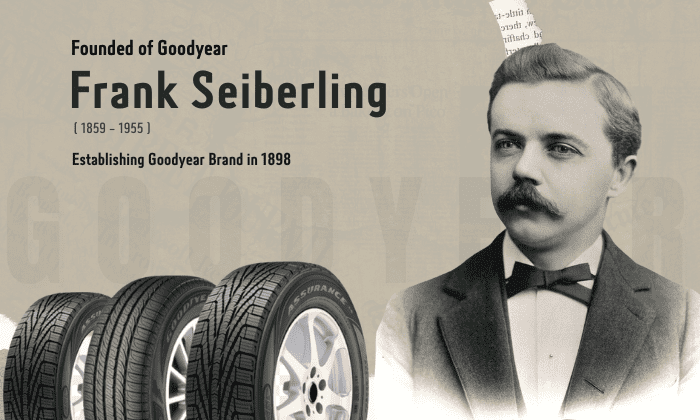 As with all great stories, Goodyear started from a man with a vision. Founded by Frank Seiberling in 1898, the pioneer borrowed money from his brother-in-law to realize his vision.
With that, Seiberling and his brother Charles founded The Goodyear Tire & Rubber Company, named after the inventor of rubber vulcanization Charles Goodyear.
Here are some history snippets on the brand's ownership and highlights over the years.
1898-1919
1898
Company founded
David Hill was named president
1899
Raymond Penfield named president
1903
Lucius Miles became the third president
1906
Frank Sieberling, the founder of Goodyear, became president
1910
Goodyear expanded into the international stage
1920-1939
1921
Frank and Charles Sieberling resigned
Edward Milner became president
1923
George Stadelman was named president
Edward Milner became chairman
1926
Paul Litchfield was named president after Stadelman's death
1930
Paul Litchfield became chairman
1935
Goodyear bought Kelly-Springfield Tire Company
1940-1959
1940
Edwin Thomas became president
Paul Litchfield named chairman and CEO
1942
Goodyear built fighter planes for World War II
1956
1958
Edwin Thomas named chairman
Russell DeYoung became president
1960-1979
1963
Goodyear Tires manufactured one billion tires.
1964
Russell DeYoung became chairman and CEO
Victor Holt Jr. named president
1972
Charles Pilliod Jr. became president
1974
Charles Pilliod Jr. was named chairman of the board
The president's post was left to John Gerstenmaier
1978
John Gerstenmaier was elected vice chairman
Robert Mercer became president
1980-1999
1983
Robert Mercer elected chairman and CEO
Tom Barrett named president and chief operating officer (COO)
1985
Frank Seiberling inducted into the Tire Industry Hall of Fame.
1986
Goodyear purchased Long Mile Rubber Company and Min Tire Equipment Inc.
Sir James Goldsmith, Hanson Trust, and a group of investors bought 11.5% of stocks
Goodyear re-bought stock from Goldsmith Investment Group
1987
Goodyear Farms, Litchfield Park, and Westinghouse-Goodyear sold
Hose Coupling Manufacturing Inc. sold.
1989
Tom Barrett became chairman
1991
Stanley Gault elected chairman and CEO
Hoyt Wells became president and COO
Sold most of its food and industrial films business
1992
Sold its polyester businesses
1994
Manufacturing began in China
1995
Samir Gibara became president and COO.
1996
Acquired a 50% stake in Sweden's Dackia, a tire retailer.
Purchased tire assets of Sime Darby Pilipinas in the Philippines.
Goodyear purchased 60% of the South African tire company, Contred.
Goodyear bought Belt Concepts of America, a lightweight conveyor belt maker
1999
Goodyear and Sumitomo Tires joint venture formed. Sumitomo also owned most of Dunlop Tires, which gave Goodyear exclusive rights to the Japanese brand.
2000-Today
2000
Robert Keegan became president and COO
2002
President Robert Keegan appointed as Goodyear CEO.
2003
Robert Keegan elected chairman
2004
2006
Purchased South Pacific Tyres
2007
2009
Richard Kramer named as COO.
2010
Richard Kramer named president and CEO,
2015
Goodyear dissolved joint venture with Sumitomo Rubber Industries
2017
2021
Goodyear bought Cooper Tire & Rubber Company
Ownership Structure
The Goodyear Tire & Rubber Company – 66.87%
Boonpermpoon Co., Ltd. – 5.66%
Srikiri Enterprise Co. Ltd. – 2.84%
Sri Brothers Co., Ltd. – 2.81%
Boon Song Co., Ltd. – 1.92%
Thai NVDR Co., Ltd. – 1.38%
Techapaibul Co., Ltd. – 0.99%
BNP Paribas Securities Services, London Branch64, – 0.87%
Dararat saluk – 0.45%
Worawat Co., Ltd. – 0.45%
Is Goodyear Still America Owned?
Yes. It's now the only tire company in America that is still considered "American-owned" since most of its US competitors sold their shares to other foreign companies. One example is Firestone Rubber Co., which was initially founded in America, but was bought by Bridgestone in 1988.
However, Goodyear tires aren't just manufactured in the US alone—the company has several plants in many countries, such as England, Germany, China, France, Brazil, Canada, etc. Rest assured, its corporate headquarters are still in Akron, Ohio.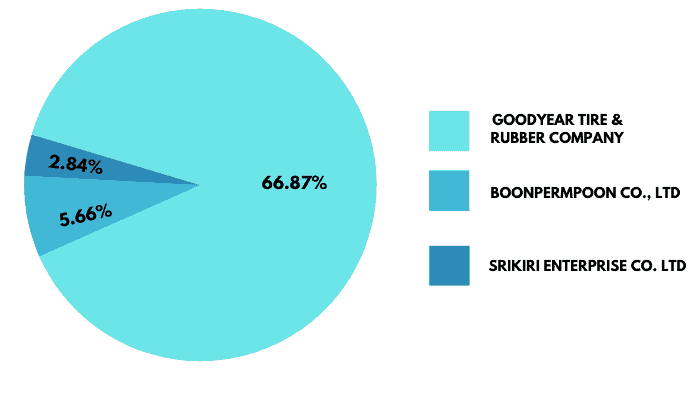 As of 2022, the company itself, Goodyear Tire & Rubber Company, owned 66.87% of shares, which translated to a number of 4,948,418 shares. It was then followed by Boonpermpoon Co., Ltd with only 5.66% and Srikiri Enterprise Co. Ltd with 2.84%.
Which Companies Are Owned by Goodyear?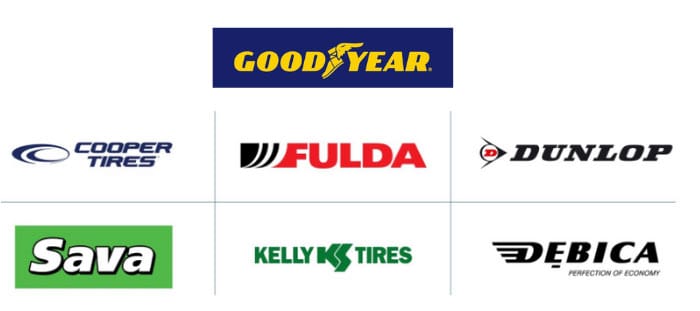 Across its history, Goodyear has acquired many companies, from rubber farms to tire companies. These business moves and the many tire brands owned by Goodyear catapulted the company to the top of the American tire industry.
However, its most notable acquisitions were undoubtedly its merger with Japanese tire giant Sumitomo Rubber Co. in 1999, with Dunlop Tires among its subsidiaries. This allowed the company to have rights to Dunlop tires as well.
The merger lasted for 15 years until it ended in 2015. But the company's incredible business moves did not end there, as Goodyear recently bought Cooper Tires in 2021 for a whopping $2.5 billion dollars.
Companies such as Fulda, Sava, Debica, and Kelly Tires, are also considered under Goodyear brands.
FAQs
Where are Goodyear tires made?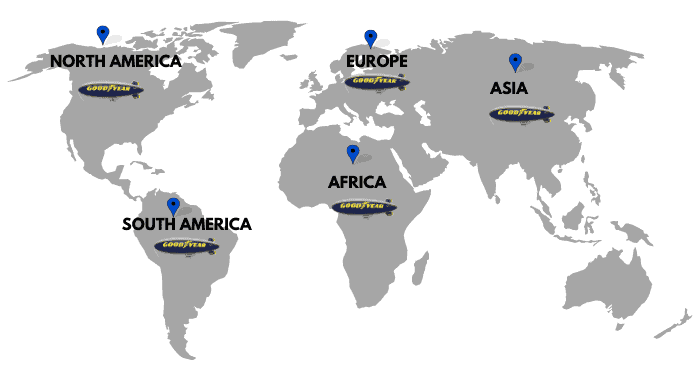 Although Goodyear's originally manufactured and its company headquarters is in the U.S., its factories and facilities are scattered across many locations worldwide within many continents.
Here are some of Goodyear's plant locations across the continents:
North America
South America
Colombia
Venezuela
Brazil
Peru
Europe
France
Germany
England
Poland
Asia
China
Taiwan
Malaysia
Indonesia
India
Thailand
Africa
Which is Better, Michelin or Goodyear?
When it comes to business, Michelin still reigns as the largest tire manufacturer in the world. However, when it comes to tires, the answer is more complicated since it depends on what you're looking for in a tire.
For instance, Goodyear is known for their all-terrain off-road tires, while Michelin specializes in touring and smooth long drives on highways. Regardless, both brands are among the best in the world, and their tires are always worth the investment.
For more details, learn this comparison: Michelin vs Goodyear tires.
Conclusion
I hope we answered your itching question on "Who owns Goodyear tires?" and more. As we've learned, the company's constant evolution and adaptability allowed it to survive for over a century.
Goodyear is a great example of showing how one expert business move can turn the tides of the complex and competitive tire industry.
Read more: The Lifespan of Goodyear tires