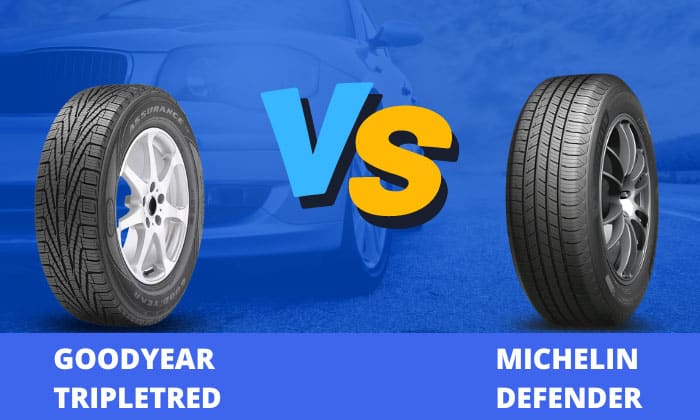 Goodyear and Michelin tires have been at it for ages. As heavyweights in the tire industry, comparing these two brands is always inevitable. So, we find ourselves in a battle between all-season tires Goodyear TripleTred vs Michelin Defender. Who will prevail?
Ultimately, the Michelin Defender is the winner. However, it's for a reason you might not expect—logistics. So definitely read on to find out more!
Furthermore, since the Michelin Defender is a family and not a single product, we used the Michelin Defender T+H for this article.
But before we get into brass tacks, this comparison table will get you up to speed.
| | | |
| --- | --- | --- |
| Tire | | |
| Brand | Goodyear | Michelin |
| Tire Type | Passenger all-season | Standard touring all-season |
| Tread Warranty | 70,000 miles (V-rated) – 80,000 miles (T/H rated) | 80,000 miles |
| Tire Sizes | 22 | 33 |
| 3PMSF | None | None |
| Tested Size | 215/65R16 | 215/65R16 |
| Tread Depth | 11/32" | 10/32" |
| Section Width | 8.7" | 8.7" |
| Rim Range | 6-7.5" | 6-7.5" |
| Max Inflation Pressure | 51 PSI | 44 PSI |
| Max Load | 1653 lbs | 1653 lbs |
| Tire Weight | 28.7 lbs | 23 lbs |
| Revs/Mile | 774 | 770 |
| Price | $142.49 | $149.59 |
What Are They?
1. Goodyear TripleTred
The Goodyear Assurance TripleTred All Season belongs to a family of Goodyear's catalog of all-season tires—primarily headed by its flagship, the Goodyear Assurance All Season.
The family hosts amazingly made tires, such as the Goodyear Assurance WeatherReady, an all-season tire with a 3PMSF rating, and the Assurance Maxlife, Goodyear's longest-lasting tire, boasting an incredible tread life of 85,000 miles.
That said, the Goodyear TripleTred is a great tire. Well, "was," to be more precise, since the Goodyear TripleTred was discontinued along with the Goodyear Comfortred Touring, which had excellent noise reduction and comfort.
Nevertheless, during its heyday, the Goodyear TripleTred was well-loved by everyday drivers and car enthusiasts. And that's mainly because of its proprietary technologies the three tread zones, which allow it to perform tremendously well across all boards.
The three tread zones were individually specialized to specific weather conditions. Moreover, these three tread zones are also where the Goodyear TripleTred aptly got its name.
Dry Zone – Enhanced shoulders and blocks give the tire tremendous traction and maneuverability on dry roads.
Water Zone – Drive confidently on wet roads with the Water Zone. Aquahutches allow the tire to expel water effectively to mitigate hydroplaning.
Ice Zone – If you're having trouble with snow and ice, the Ice Zone has you covered. With aggressive biting edges and interlocking treads, expect a tight and responsive grip during winter.
2. Michelin Defender
The Michelin Defender is arguably Michelin's most popular tire family. But, as we mentioned, we'll keep our sights on the Defender T+H since the Defender2 can only handle H-rated vehicles, while the LTX M/S is made explicitly for SUVs and light trucks only.
As for technologies, the Michelin Defender is packed with well-rounded features.
To start, it's equipped with Michelin's EverTread, a compound that gives it its signature longevity. At the same time, MaxTouch Construction technology ensures equal wear by integrating belts across the tire's tread to equalize tread wear, promoting durability even further.
Additionally, rain grooves mitigate aquaplaning by effectively expelling water, while Intellisipe dramatically enhances traction and maneuverability by outfitting the tire with the perfect amount of sipes and hardness.
Lastly, ComfortControl gives the Michelin Defender T+H impeccable comfort by absorbing shocks and vibrations, making it the ideal touring tire.
Related: Michelin vs Goodyear tires: Which Tire Brand is the Best?
Differences
There aren't a lot of tires comparable to Michelin, but the Goodyear TripleTred gives the Michelin Defender T+H a run for its money, especially regarding performance.
1. Wet Performance
The Goodyear Tripletred's Aquahutches from the Wet Zone are doing wonders on wet roads, as we didn't notice any aquaplaning. Moreover, even with aggressive driving, the tires remain firmly planted on the road, which makes drives much safer.
With the Michelin Defender T+H, we expected similar results, and we were not disappointed. The Intellisipes gave immense grip, coupled with some rain grooves for aquaplaning resistance, and you've got yourself one of the shortest wet braking distances on the market.
2. Dry Performance
Similar to wet performance, both tires are tied when it comes to dry roads. The Michelin Defender T+H's EverTread Compound made the tires stick to dry tarmac like glue, and we got ourselves some very impressive braking distances.
Meanwhile, the Goodyear TripleTred was no slouch either, as it showed that it was definitely at par with the Michelin Defender T+H. Its Dry Zone gave it some high-level grip, allowing us to make corners relatively easily.
3. Snow Performance
For snow performance, we started to notice the difference, and we're giving it to the Goodyear TripleTred.
While the flexible rubber compounds from the Michelin Defender T+H displayed pretty decent performance on light snow, the tire struggled as the snow got heavier and heavier.
However, the Goodyear TripleTred was still cruising through severe winter conditions with no issues, provided the snow had a little more slush to assist in traction. Nevertheless, the Ice Zone's enhanced shoulders and blocks definitely showed us what it's capable of.
4. Ride Comfort
If you love to drive long distances, you'll naturally seek peace and quiet. Unfortunately, you won't find that on the Goodyear TripleTred.
Though the noise was not that irritating, it was undoubtedly far more noticeable than with the Michelin Defender T+H—which provided immaculate noise reduction.
However, when it came to comfort, both tires were impressive. Both tires effectively mitigated shocks and vibrations from bumps and potholes entering the cabin, which gave us a smooth and silky ride.
5. Price and Warranty
Michelin Tires prices can get pretty expensive. A size 215/65R16 Michelin Defender T+H is priced at $149.59, while the Goodyear TripleTred runs only at about $142.49.
The tread life from the Goodyear TripleTred and Michelin Defender T+H are very beefy, packing a mileage warranty of 80,000 miles for T and H-rated vehicles for both, while an extra 70,000 for V-rated ones on the Goodyear TripleTred.
However, since the Goodyear TripleTred has been discontinued, it's recommended that you consult with your tire shop first if you're still eligible for the warranties they offer.
Moreover, getting your hands on brand-new Goodyear TripleTreds can pose a challenge since Goodyear doesn't sell them anymore.
Pros and Cons
Goodyear Assurance TripleTred All-Season
Excellent dry and wet performance
Great snow performance
Comfortable
Cheaper
Discontinued
Noise reduction needs improvement
Michelin Defender T+H
Excellent dry and wet performance
Excellent noise reduction
Comfortable
Readily available
Snow performance needs improvement
Expensive
FAQs
What tire is similar to the Michelin Defender?
The Michelin Defender's closest identical tire is the Michelin X-Tour, a Costco-exclusive Michelin tire that's a carbon copy of the Defender.
Is Michelin owned by Goodyear?
No. Michelin has been a stand-alone brand from France for over a century, while Goodyear is from the USA and owns Dunlop tires instead.
Conclusion
That concludes our Goodyear TripleTred vs Michelin Defender comparison, and it's clear why the Michelin Defender takes the cake.
While they may have similar performance, logistics proved to be the final nail in the coffin for the Goodyear TripleTred. The discontinued tire's availability and support mean you'll want to invest in more recent tires.
Read next: Michelin Defender vs Goodyear Assurance Weatherready