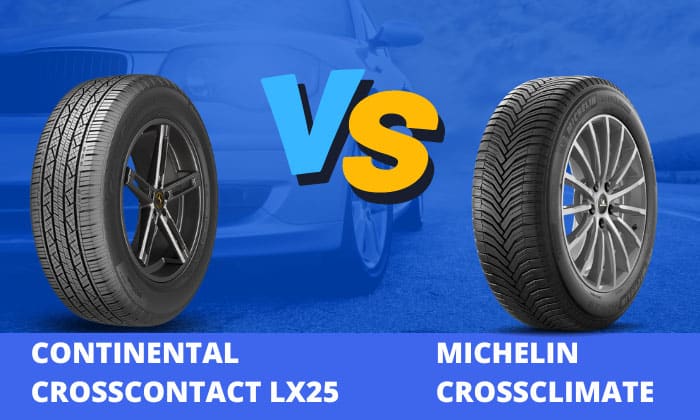 Whether it's summer or winter, an all-season tire is a must-have for everyday drivers and car enthusiasts alike. Let's find out which one is the better choice in this Continental CrossContact LX25 vs Michelin CrossClimate comparison.
Since the Michelin CrossClimate is a tire family and not a single product, we opted to use its SUV variant, the Michelin CrossClimate SUV, which is similar to the Continental CrossContact LX25.
Before we begin, it's safe to say that the CrossClimate SUV was better, mainly because it's a much more well-rounded tire than the CrossContact LX25, which is more specialized for certain conditions, as we'll see below.
But first, let's look at this comparison table to see how these tires compare on the surface.
| | | |
| --- | --- | --- |
| Tire Line | | |
| Brand | Continental | Michelin |
| Tire Type | Crossover/Suv Touring All-season | Crossover/SUV Touring All-Season |
| Tire Sizes Available | 41 | 23 |
| 3PMSF | No | Yes |
| Tested Size | 225/65R17 | 225/65R17 |
| Tread Depth | 12/32" | 9/32" |
| Section Width | 9" | 9" |
| Diameter | 28.5" | 28.5" |
| Rim Range | 6-8" | 6-8" |
| Max Inflation Pressure | 51 psi | 50 psi |
| Max Load | 1874 | 2094 |
| Tire Weight | 27 pounds | 28.2 pounds |
| Revs/Mile | 729 | 730 |
| Price | $174 | $197 |
What Are They?
1. Continental CrossContact LX25
The Continental CrossContact LX25 is the successor of the Continental CrossContact LX20.
Both tires come from Continental's array of all-season touring tires for SUV/Crossovers, which include the Continental CrossContact LX Sport and Continental SureContact LX.
So, what makes the CrossContact LX25 special? Well, for starters, it features Continental's proprietary EcoPlus Technology compound that's integrated into its symmetrical tread design, which gives the tire superior traction and durability.
Moreover, it also comes equipped with Comfort Ride technology that effectively cushions vibrations from the road to give drivers a silky smooth ride, while continuous circumferential ribs keep road noise from entering the cabin.
Naturally, as an all-season tire, it's also well equipped at handling wet road conditions, as well as snow.
It does this through lateral, diagonal sipes and wide circumferential grooves that expel water and minimize aquaplaning, while teeth from the Traction Grooves Technology enhances snow traction.
Now, on to the Michelin CrossClimate.
2. Michelin CrossClimate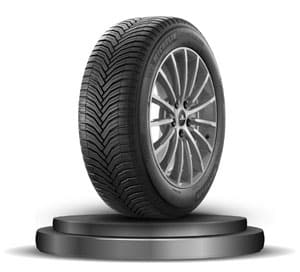 Michelin has a handful of all-season touring tires in its catalog, such as the Michelin Defender for durability, the Michelin Primacy Tour A/S for luxurious drives, or the Michelin Premier LTX for light trucks and SUVs.
A Related Comparison:
However, the thing that sets the CrossClimate apart from other Michelin all-season tires is its 3PMSF rating. This allows it to traverse through heavy snow with no issues at all, mainly due to its 3D sipes and V-shaped tread pattern.
For this comparison, we've chosen the Michelin CrossClimate SUV to match Continental's CrossContact—and we've got ourselves a competition.
Right off the bat, the Michelin CrossClimate SUV features many technologies which makes it a fantastic all-season tire.
For starters, it has special rigid bevel-edged tread blocks to enhance grip on dry roads, while an extreme silica tread compound allows it to adapt to varying temperatures with ease, whether it's scorching hot or freezing cold.
The tire's also designed with protruding grooves, which give it tremendous biting traction on wet and snowy surfaces, so users can drive with absolute confidence.
Differences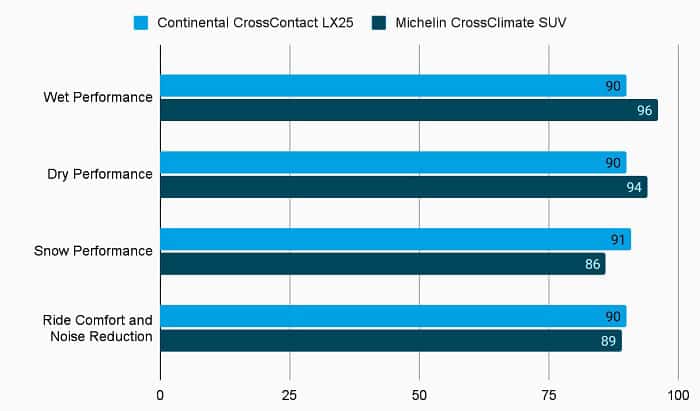 For differences, we've based our findings on personal testing along with inputs from consumer reports.
1. Dry Performance
When it comes to performance on dry roads, especially when it came to braking, the Michelin CrossClimate SUV was the better tire.
The special rigid bevel-edged tread blocks allowed the French brand's tire to stop much quicker than the Continental CrossContact LX25. However, when it came to handling, both tires were superb as I didn't notice any muddiness at all, even when cornering.
2. Wet Performance
For wet performance, we expected the Continental CrossContact LX 25 to take the cake as it sports the ever reliable EcoPlus technology. However, testing revealed we were mistaken.
Handling was excellent on both tires, mainly due to Michelin's 3D sipes and emerging grooves and Continental's dynamic sipe design. However, when it came to traction, the differences were quite apparent.
Similar to dry performance, the Michelin CrossClimate SUV stopped at a much shorter distance on wet surfaces compared to the Continental CrossContact LX25.
3. Snow Performance
We honestly thought that snow performance would be worse on the Continental CrossContact LX25, since it didn't have a 3PMSF rating, unlike the Michelin CrossClimate SUV.
However, the Continental CrossContact LX25 surprisingly came out on top. From snow braking to handling, who would've thought that it would rise above the Michelin CrossClimate SUV.
While the Michelin CrossClimate SUV still performed relatively well, it was clear that Continental's Traction Grooves were the superior technology compared to Michelin's 3D sipes.
4. Ride Comfort and Noise Reduction
When it came to noise reduction, the Continental CrossContact was much better at mitigating it through its Comfort Ride technology. However, the difference was negligible as both tires were relatively quiet all throughout.
5. Price and Warranty
Pricing can be tricky to compare, since different sizes account for different prices. So, as a basis, we used a Continental CrossContact LX25 225/65R17 tire and compared it against the Michelin CrossClimate SUV with the same size.
The Continental CrossClimate LX25 was priced at $174, while the Michelin CrossClimate SUV came in at $197.
When it comes to warranty, the Continental CrossContact LX25 has a 70,000 and 65,000-mile warranty for T/H-Speed rated and V-Speed rated vehicles, respectively. Meanwhile, the Michelin CrossClimate SUV only has up to 50,000 miles.
Pros and Cons
Continental CrossContact LX25
Excellent snow performance
Extensive warranty
Cheaper
Quiet
Dry and wet braking can be improved
Michelin CrossClimate SUV
Excellent dry performance
Excellent wet performance
Great snow performance
Quiet
Expensive
Warranty can be improved
FAQs
Is Continental as good as Michelin?
Both are among the top brands in the tire industry, so it's hard to say which one is better. Typically, Continental tires are cheaper, while Michelin tires perform much better, albeit a steeper price tag.
Is Michelin CrossClimate 2 as good as winter tyres?
While not exactly on par with dedicated winter tires, which can handle temperatures as low as 7°C, Michelin CrossClimate 2 tires have a 3PMSF certification. This gives the CrossClimate the ability to traverse through snow relatively easily.
Conclusion
That concludes our Continental CrossContact LX25 vs Michelin Crossclimate SUV comparison. And, it was a really close one.
While the Continental CrossContact LX25 was cheaper and better in snow, the Michelin CrossClimate SUV performed better on dry and wet roads, which are conditions most drivers usually experience. So, we went with Michelin on this one.
However, if you're from an area which frequently experiences heavy snow, the Continental CrossContact LX25 can be a good choice.