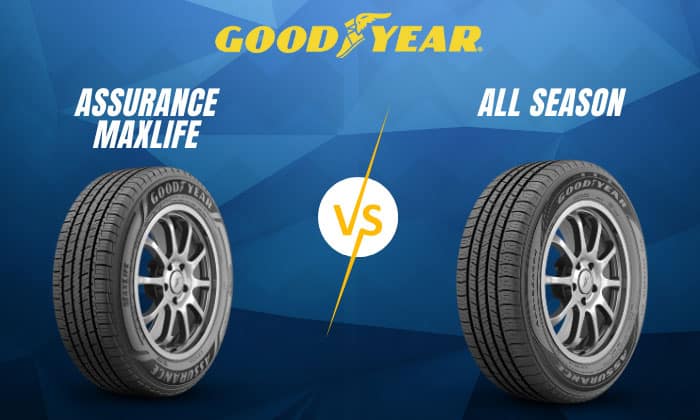 Choosing the right tires for your vehicle ensures a safe and comfortable driving experience. Today, we're here to help you decide which is better: the Goodyear Assurance MaxLife, or the Goodyear Assurance All-Season.
If you own a car, chances are you already know who Goodyear is. The All-Season tires are Goodyear's entry-level line that offers dependable traction for dry and wet conditions. Meanwhile, The MaxLife has the most extended lasting tread life.
Below is a Goodyear Tire comparison chart highlighting the key differences between the two immediately.
| | | |
| --- | --- | --- |
| Specifications | Goodyear Assurance MaxLife | Goodyear Assurance All-Season |
| Brand | Goodyear | Goodyear |
| Category | All-Season Passenger | All-season Touring |
| Car Types | Passenger Vehicles | Passenger Vehicles |
| Overall Score | Above Average | Average |
| Dry Traction | Superior | Above Average |
| Wet Traction | Superior | Average |
| Light Snow | Above Average | Below Average |
| Heavy Snow | Above Average | Below Average |
| Ice | Average | Poor |
| Ride Comfort | Above Average | Superior |
| Noise | Average | Above Average |
Continue reading the article as we attempt to settle the discussion of All-Season vs. MaxLife tires. Goodyear Assurance MaxLife vs. All-Season, which is better for your vehicle? Let's find out.
About the Two Products
1. Goodyear Assurance MaxLife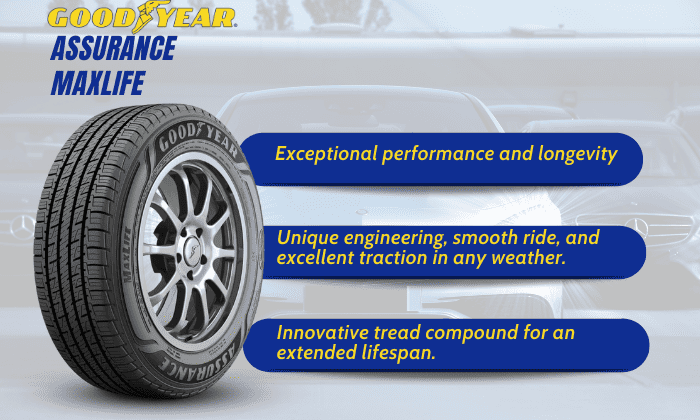 The MaxLife is a touring all-season line from Goodyear with a prolonged tread life. These high-quality, all-season tires are designed to deliver exceptional performance and longevity.
The Assurance Maxlife undergoes unique engineering that provides a smooth and comfortable driving experience while ensuring excellent traction and handling in almost every weather condition.
One of the standout features of the Goodyear Assurance MaxLife is its innovative tread compound. Using a special formula, the tire is built to last longer, making it an ideal choice for drivers who want to maximize their investments.
2. Goodyear Assurance All-Season
The Assurance All-Season is a line of Goodyear's affordable tires. These entry-level products are suitable for standard passenger cars. They provide a balance of traction, handling, and comfort, making them a popular choice for everyday driving.
The Goodyear Assurance All-Season offers a dependable grip on both dry and wet surfaces, thanks to a specially designed tread pattern. It comes equipped with biting edges and grooves that enhance traction and stability.
All-Season Vs. MaxLife: The Differences
1. Performance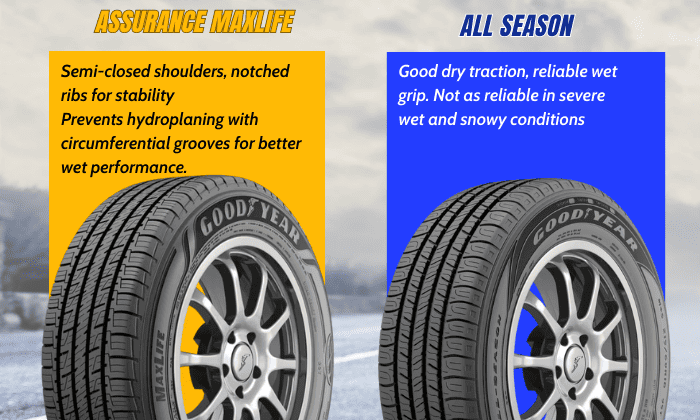 If you go through a Goodyear MaxLife review, you will notice the tire is ahead of the competition. It has semi-closed shoulders and notched intermediate ribs, giving you better stability on the road. The MaxLife also avoids hydroplaning by removing water immediately through its circumferential grooves for better wet performance.
On the other hand, Goodyear All-Season reviews show it lags behind MaxLife in terms of performance. The tires still check all the boxes you expect from an entry-level Goodyear tire, such as good dry traction and reliable wet grip. However, it's not as reliable in both severe wet and snowy conditions.
2. Warranty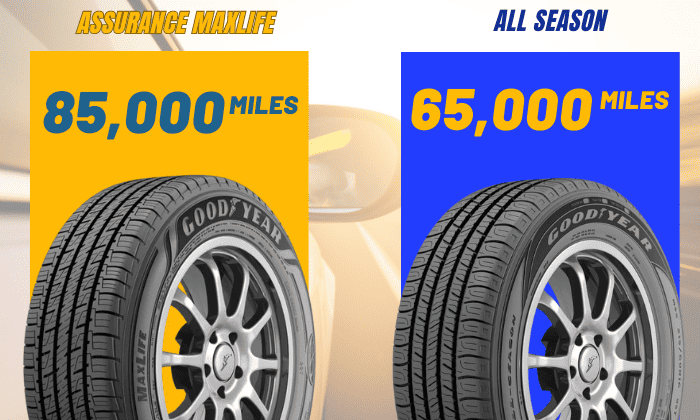 Nearly all new Goodyear tires are covered with Workmanship & Materials Warranty coverage of up to six years. This warranty coverage entitles you to a free MaxLife or All-Season replacement if any defects affect the treads due to the manufacturer's mistake.
What makes the two different is the extensive mileage coverage of an Assurance MaxLife tire of up to 85,000 miles. Meanwhile, the Assurance All-Season tire only has a mileage warranty of 65,000 miles.
3. Ride Comfort and Noise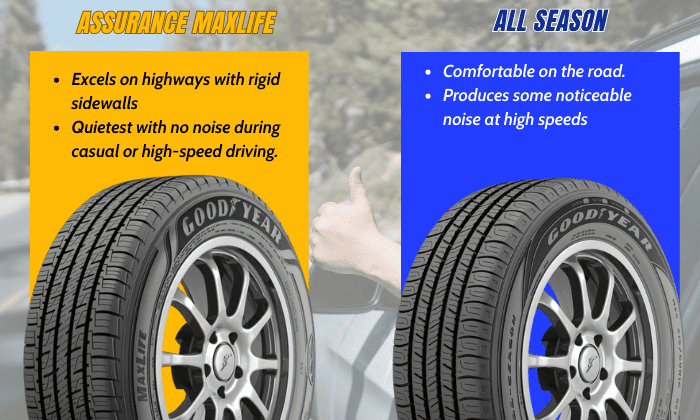 Both Assurance tires provide a smooth ride in most conditions. The All-Season slightly excels on highways or roads regarding riding comfort thanks to its rigid sidewalls. The MaxLife is also identical in road comfort. However, the Assurance line is reported to have a less smooth ride when encountering bumps on the road.
Thanks to its tread pattern, the All-Season is the quietest tire of the two. The MaxLife has a noticeable noise when reaching high speeds. While the sound is not as intrusive as other tires, it can bother some drivers. The All-Season tires do not produce any noise during casual driving or speeding.
4. Pros and Cons
Here are the reasons to buy or skip a MaxLife tire.
Assurance MaxLife
Extensive tread life and mileage warranty
Great dry and wet traction
Smooth and comfortable drive
Audible noise when driving at high speed
Poor ice traction
These are the pros and cons of a Goodyear All-Season tire.
Assurance All-Season5
Reliable dry condition performance
Comfortable and noise-free ride
Economically priced than a MaxLife tire
Lower tread life
Poor snow and ice performance
5. Costs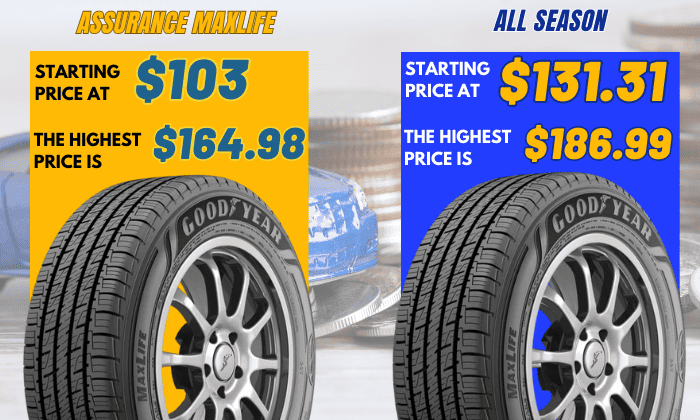 Assurance All-Season tires are the most affordable, with prices starting at $103.00. The highest price is $164.98 for an All-Season 225/65r17 model.
Starting price for Goodyear Assurance MaxLife is $131.31 for a 205/55r16 tire. A MaxLife 225/65R17 has a slightly higher price tag of $186.99 than the same-sized All-Season tire.
Which is Better?
When comparing the two product lines from Goodyear, MaxLife is easily the better choice regarding performance and value. The longer tread life means you can drive for a long time without worrying about replacing your tires. Its enhanced traction on most road conditions is an added benefit.
The Goodyear All-Season does not have any of the usual tire problems as other similar brands, but it does not stand out as much as the MaxLife. However, this tire is affordable and produces less noise at high speed than the MaxLife. So, if you seek a cost-saving option or value a quiet driving experience, go for the All-Season.
10 Useful Tips for Choosing the Right Tire
Choosing the right tires is important to ensure safety, performance, and your overall driving experience. Here are 10 tips to consider when selecting tires:
Know Your Needs: What you're looking for in a tire? What are your driving habits, local weather conditions, and the type of roads you frequently encounter? These will help determine whether you should prioritize performance, longevity, fuel efficiency, off-road capabilities, or a balance of all factors.
Tire Size and Compatibility: Make sure the tires fit. Check your vehicle's manual or the sidewall of your current tires for the exact tire size. There's no point in choosing Goodyear SUV tires for your coupe.
Weather Conditions: Consider tires designed for specific weather conditions in your area. Generally, all-season tires perform well in various conditions but cannot beat specifically engineered winter tires for snow and ice or performance tires in dry conditions.
Tread Life and Warranty: Evaluate the expected tread life of the tires you are considering. Look for warranties or guarantees the tire manufacturer provides in case of premature wear.
Traction and Handling: See how the tire performs in real-world driving conditions. User reviews are often a great source of reference.
Comfort and Noise: If a smooth and quiet ride is essential to you, consider tires that have features to minimize road noise and absorb vibration.
Fuel Efficiency: Tires can impact your vehicle's fuel efficiency. Look for tires that can help improve fuel economy and reduce carbon emissions.
Budget: Determine how much you're willing to invest in tires. Higher-quality tires may provide better performance, longevity, and safety but may come at a higher cost. Consider the long-term value and cost-effectiveness of the tires you choose.
Research The Market: Take the time to compare different tire brands, models, and read customer reviews. Look for reputable tire manufacturers who offer desirable features in your tires' price range.
Ask Professionals: There's no shame in asking for a second opinion before purchasing. Consult a professional and have them pick out the best tires for you.
Frequently Asked Questions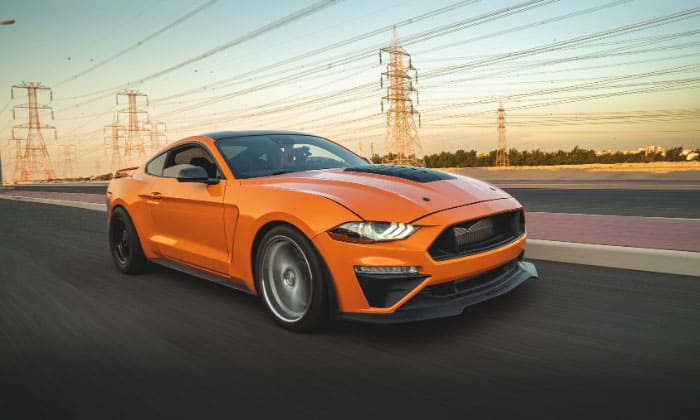 How can the Goodyear Assurance MaxLife have an extended tread life?
A MaxLife tire uses Goodyear's TredLife Technology, which involves an innovative tread compound and a unique tread depth design.
Are Goodyear Assurance All-Season lines good tires?
While the Assurance All-Season has no outstanding features, this Goodyear tire still provides dependable traction in most weather conditions.
Can you use the Assurance MaxLife or Assurance All-Season on icy roads?
Both Goodyear tires do not provide dependable grip on frozen roads or areas with heavy snowfall as winter tires. However, the MaxLife and All-Season lines can give you a dependable grip on light snow conditions.
Conclusion
In comparing Goodyear Sssurance Maxlife vs All Season, the former has more features than the latter. While a MaxLife costs more, you get a tire with an extensive tread life and superior road performance. However, the All-Season is still a good tire for its low noise and affordability.
Read more: