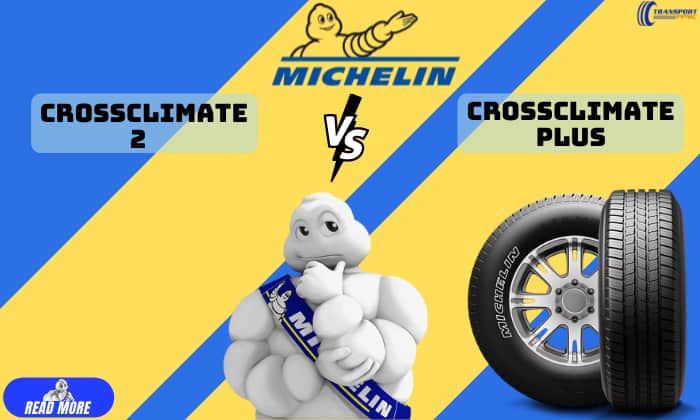 Whenever Michelin drops a new tire, it is usually an upgrade of the best tire they have in the market. The French tire maker is well-renowned for introducing tires that passed rigorous testing. Hence, Michelin never disappoints.
In this tradition, if you are tired of switching from winter to summer tires and vice versa, Michelin offers all-season tires that are impressive in varying conditions all year round.
However, which is superior, Michelin Crossclimate 2 vs Crossclimate Plus? In fact, the Michelin Crossclimate 2 is the replacement for the Plus model. It delivers less noise, enhanced snow traction, more mileage, and a higher level of performance in wet and dry conditions.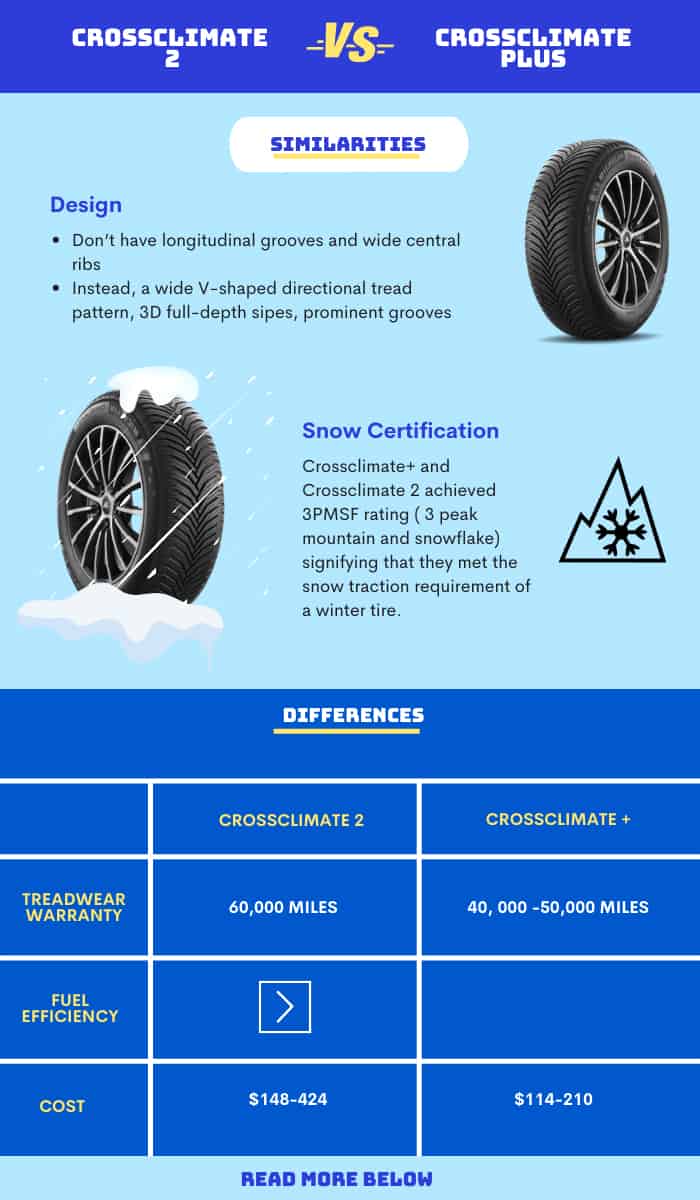 Similarities : Crossclimate+ vs. Crossclimate 2
1. Design
Both Michelin Crossclimate Plus and Crossclimate 2 don't have longitudinal grooves and wide central ribs that are seen in traditional tires.
Instead, Crossclimate family tires have a wide V-shaped directional tread pattern, 3D full-depth sipes, prominent grooves and open shoulders that help increase snow traction.
They have a rounded contact patch and plenty of cuts or sipes to promote less tread wear during summer but provide good grip on dry and damp roads.
2. Snow Certification
Crossclimate+ and Crossclimate 2 achieved 3PMSF rating ( 3 peak mountain and snowflake) signifying that they met the snow traction requirement of a winter tire.
In other words, both tires passed snow tests but cannot fully replace a winter tire. Although the symbol certifies that the tires are capable of higher levels of snow traction, they are meant for light snow conditions.
These tires are good enough for sedans, coupes, and crossovers to survive a sudden winter storm or light snowfall.
Differences: Crossclimate 2 vs Crossclimate Plus
1. Design
Crossclimate 2 adopted a Thermal Adaptative compound composed of higher density of silica and carbon black materials that are designed to adapt to dry, wet and snowy conditions.
The tread design integrated 3D SipeLock technology to ensure that there are more biting edges to handle grip or traction in different weather and road conditions.
Michelin utilized PIANO Noise Reduction Tuning to minimize airborne noise for Crossclimate 2.
The V ramps chamfers provide hydroplaning resistance. In a Michelin Crossclimate 2 test, the water is dispersed away from the center to the side then out of the tires.
2. Manufacturing
Two years after the success of Crossclimate in 2015, Michelin introduced another all weather tire with improved snow traction, wet and dry performance throughout the tires' service life.
Crossclimate+ was primarily designed in Europe and produced for the European market. It was launched with 40 sizes.
On the other hand, Crossclimate 2 was developed for the North American market but manufactured exclusively in seven European plants particularly in France, Germany, Italy and Spain. The tire is available in 105 sizes for 15-20 inch wheels.
At present, the Crossclimate family is under the Crossclimate 2 flagship that offers tires in H and V speed rated sizes to match passenger vehicles and even SUVs.
3. Treadwear
Crossclimate 2 has a longer treadwear warranty of 60,000 miles compared to the 40, 000 -50,000 miles of Crossclimate+.
Based on Consumer Reports, Crossclimate Plus has an estimated tread life of 75,000 miles.
4. Fuel Efficiency
Crossclimate 2 consumes less fuel than Crossclimate Plus because it has better rolling resistance than Crossclimate Plus. In a test conducted by Toptirereview, a difference of .11 liters puts Crossclimate 2 with a fuel economy advantage.
5. Cost
In general, Crossclimate 2 costs higher than Crossclimate Plus. On Discount Tire, the price of Crossclimate Plus ranges from $114-210 while Crossclimate 2 costs around $148-424.
According to Consumer Reports, the best price for Crossclimate 2 can be found at Walmart which starts at $ 198.96- a few cents lower with Tire Rack's $199.99 offer.
Pros and Cons: Crossclimate Plus vs Crossclimate 2
When compared to other brands, Crossclimate Plus ranked fifth place with excellent performance on wet conditions, subjective handling on dry roads, and usable in snowy conditions.
The review included improvement points such as average score on wet braking, high levels of noise and high cost.
Fortunately, between the Michelin crossclimate vs crossclimate 2, most of these negative concerns were addressed by Crossclimate 2 such as improved snow traction, noise reduction, short braking distance on dry roads and less tire wear in summer.
Michelin exceeded expectations by securing better fuel economy and more mileage through improving rolling resistance and using silica-infused tread compound.
Frequently Asked Questions
Is the Michelin CrossClimate 2 noisy?
Michelin Crossclimate 2 employed the PIANO Noise reduction tuning system so that the tires would emit low to average noise.
Tirehungry reported that it has tread noise at higher speeds but the level is not alarming. If driven on rough roads, the tires would have slight nondescript growl which is normal.
What changed in Michelin CrossClimate2?
Most all-season tires start with winter capabilities with dropping performance during summer because the tires are worn. This problem was identified when Crossclimate was launched in 2015.
Crossclimate+ came in 2017 and improved its wear while delivering good performance in wet, dry and snowy surfaces.
So far, Crossclimate 2 raised the bar set by Crossclimate Plus higher by delivering less noise, more snow traction and more mileage, especially during summer.
The increase in tread life was made possible by the highly adaptive tread compound. Because it contains a higher density of silica, it reacts to a wide range of temperatures in different weather conditions.
Is Michelin CrossClimate 2 a good winter tire?
Michelin Crossclimate 2 is winter-certified with 3pMSF ( 3 peak-mountain snowflakes) rating but it cannot replace the full capabilities of a dedicated winter tire. It is a tire that can get you to your destination safely in light snowy or icy conditions. Tirehungry claimed that it is functional in deep snow.
Conclusion
Through the years, Michelin strives to cater to every need of motorists. One of them is having an all-season tire that promises long tread life, excellent snow traction and stable performance in wet and dry conditions.
After comparing Michelin Crossclimate 2 vs Crossclimate Plus, one can be assured that Michelin Crossclimate 2 is a cost-efficient upgrade. It is not a perfect all weather tire but you get all the attractive features of a summer and a winter tire in one without compromising quality and safety.
If you think this article fell short on answering your questions about Michelin Crossclimate 2, don't hesitate to share your comments so we can add them in future posts.
Related Comparisons: