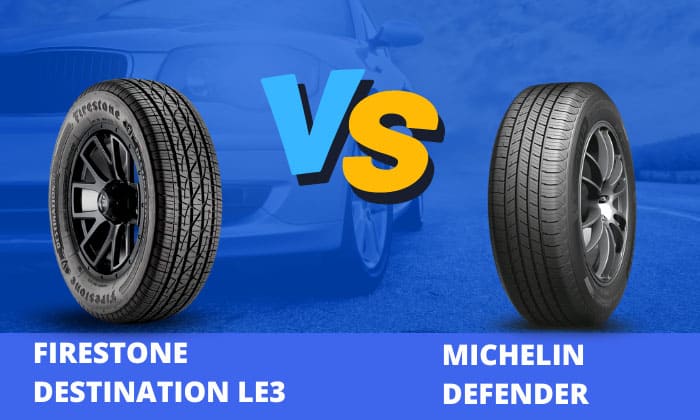 Which one catches the confidence of a keen enthusiast?
Firestone Destination LE3 vs Michelin Defender is like weighing two things fighting for balance. These brands champ traction for all weather conditions with reasonable prices.
Yet, Michelin Defenders will carry the torch for an all-season tire match. Firestone Destination LE3 is an excellent tire, but Defender led with its treadwear miles and all-terrain capabilities.
As a warm-up, check the tires' specs chart where the weighing starts and find out how Defenders slightly edged out Destination LE3.
| | | |
| --- | --- | --- |
| Specs | | |
| Brand | Firestone | Michelin |
| Type | All Season | All Season |
| Tested Tire Size | 215/75R15 | 215/75R15 |
| Tread Depth | 10/32″ | 12/32″ |
| Tread Width | 8.5" | 8.5" |
| Max Load | 1764 lbs | 1764 lbs |
| Weight | 24 lbs | 28 lbs |
| Max psi | 44 psi | 44 psi |
| Revs/Mile | 753 | 751 |
What Are They?
1. Firestone Destination LE3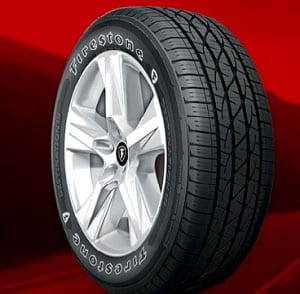 Firestone is a prominent tire brand founded in 1900 in Akron, Ohio. Bought by North America's largest tire manufacturer, Bridgestone, in 1988, Firestone specialized in passenger vehicle wheels. It also formerly produced original equipment (OE) for Ford Motor Company.
In June 2020, Firestone Destination LE3 succeeded Firestone Destination LE2. A remarkably upgraded all-season tire for SUVs, crossovers and light trucks, Destination LE3 is set to reach 70,000 miles of tread life and fits 87% of those vehicles on the road when it was initially launched.
It has Hydro-grip™ technology that empowers wet traction grip through hydroplaning resistance, while TractionTech™ technology provides tire longevity better than Destination LE2. The best news, the tread's full-depth 3D sipes took care of the latter's traction problems to complete the total makeover of the Destination line.
Barely called a high-performance tire as there are still some doubts with its off-road performance, it is consistently commended for a smooth quiet ride, good speed and durability.
Evidently more than just a good tire, it is best for daily driving.
2. Michelin Defender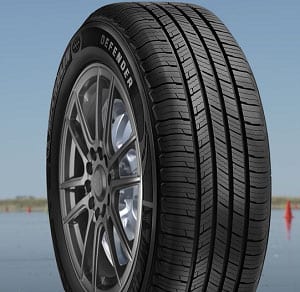 A proven innovator in the tire industry, Michelin was established in 1889. Big on research and development, the company created the first anti-puncture, airless tire in 2019.
In 2012, Michelin released the first Defender, which now has two known types, Michelin Defender LTX and Michelin Defender T + H. Before 2022 ended, they came out with Defender 2 for CUVs and passenger vehicles with expanded rim sizes of 19" and 20".
Defenders are all-season SUVs and light-duty truck tires, covering 93% of the tire market. Likely to fit your vehicle type, it is made of Michelin proprietary technology known for its durability. It's also built with 3D sipes technology for a great dry and wet traction and especially employed for snowy weather.
Michelin utilized IntelliSipe™ Technology that provides maximum braking performance if you're off-road or in a challenging driving situation.
It also combines MaxTouch Construction and Michelin´s Breakthrough IntelliSipe™ Technology to protect the tread wear life through tread block rigidity that leads to lower rolling resistance. Making Defender fuel cost-efficient without compromising safety and longevity.
Defender Touring all-season tire was recognized as number 1 because of its impressive dry traction and handling performance, notching up from Michelin Latitude Tour HP, which works good even on light snow.
Some customers suggest a bit of improvement to its wet traction, but overall, they gave an amazing review when they tested a set for a spin.
Speaking of wet traction, the Michelin CrossClimate 2 defeats Defender in water and slush displacement.
Differences Between Firestone Destination LE3 and Michelin Defender
Down to its differences, the Firestone Destination LE3 and Michelin Defender only highlighted how these wheels were balanced with their specs to show off in all weather conditions. So finding how they differ could be easy, but not who wins.
Firestone vs Michelin Tires is not surprising, as both brands excel in their own right.
Each provides great value in terms of quality and traction capabilities, so let's take a deeper look at how Michelin Defender stands out.
1. Tread Depth
The deeper the tread, the better traction and braking capacity. Depending on the sizes, Defender makes a tread depth of 10/32 or 12/32", and Destination LE3 sticks with 10/32". A good tire has a tread depth of at least 6/32", so both are doing a great job here.
2. Tire Weight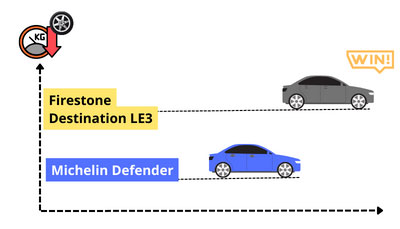 Tire weight matters in speed, suspension rebounding rate and even the car's fuel economy.
Decreased weight means lesser control is required, which means lesser energy, and Firestone wheels are normally lighter than Michelin's. But remember, Defender has a low rolling resistance because of rigid tread blocks that saves fuel or energy.
3. Tread Width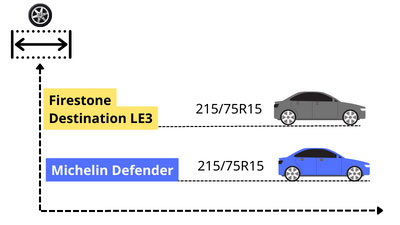 Using the tire size in the chart (215/75R15), Michelin vs Firestone levels the game here. Tread width identifies how much tread comes into contact with the road, but it's difficult to measure.
In fact, tire manufacturers measure it through different methods and knowing that competitors measure the same means they're in line with the standard.
4. Revolutions Per Mile
Revolution per mile counts the number of times tires spin in every mile. True to its lighter weight advantage, Destination LE3 would often take a notch here against Defender tires, but usually in a small fraction.
5. Durability warranty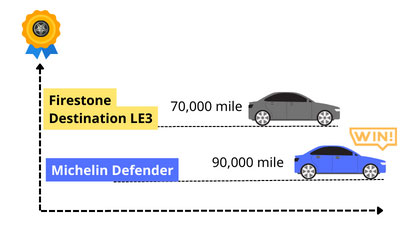 Defender offers a top-of-the-line 90,000 miles of tread wear potential. But its oldest and most prominent type, Defender LTX squared with Firestone Destination LE3 on a 70,000 mileage warranty. In this round, the Defender will defend its seat. As Michelin's pride, a tread life of 5-10 years is expected.
6. Price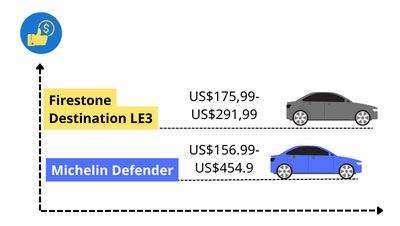 Firestone Destination LE3 ranges from US$175.99-US$291.99 and Michelin Defender goes from US$156.99-US$454.99 both vary in tire sizes. Firestone is absolutely not a low-budget tire, but a budget-friendly one. Affordable among the good tires out there, most users find it a great buy.
Pros and Cons
Firestone Destination LE3
Great hydroplaning resistance
Better traction control
Durable
Quiet
Needs improvement on rough roads
Not for heavy snow condition
Michelin Defender
Good grip even on icy weather
Consistent dry traction and handling performance
Longer tread life
Reliable off-road
Non noisy all-season tire
Has a tendency to be more expensive
Needs slight improvement on wet traction
Frequently Asked Questions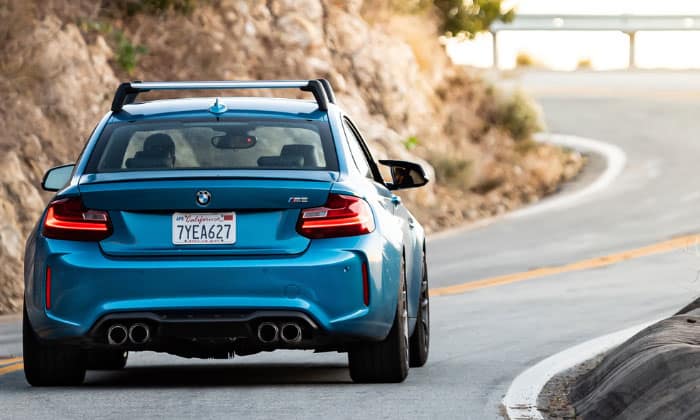 What tire is comparable to Michelin Defender?
Most brands with a reputation for durability and innovation commonly challenge Michelin tires. The Firestone Destination A/T2 can make a good fight because it's built for off-road traction. Still, the best contender for Michelin Defender is the Goodyear Assurance.
In terms of innovation, like its Dual Aquachannel Grooves and Unique Polymer Tread Design, it matches Defender's tire technology.
Is Firestone Destination LE3 a quiet tire?
Yes. The Firestone Destination LE3 is known for smooth and quiet rides, even at very high speeds.
How long do Firestone Destination LE3 tires last?
Firestone recommends tire replacement every 3.5 years at least, but that greatly depends on how frequently you travel and how you drive the vehicle. Still, Destination LE3 offers 70K treadwear mileage, which is better than many Firestone tire types.
What does LE3 mean on a tire?
Firestones launched Destination LE3 in June 2020. This all-season tire is a successor of the LE line released over the years. Primarily for passenger Light Truck/SUV tires, it's unfortunate that there's no available information on what LE stands for.
Where are Firestone Destination LE3 tires made?
Firestone manufactures tires in several main plants. Currently, that includes the United States, Mexico, China, India, Brazil, Argentina, and Canada.
Conclusion
Firestone Destination LE3 vs Michelin Defender is a tight battle. It isn't easy to decide between a great value tire and an innovative tire, especially if both carry a long-running reputation in the industry. But this one will go to Michelin's Defender.
Picking up an all-season tire seems better to stick on the basics. It should be a long-lasting one that's efficient year-round, even off-road, with a fuel saving quality. However, if you're inclined to Destination LE3, it's not bad to trust your gut.
Lastly, you can always check Reddit followers' reviews and more on other tire forum's feedback for a more balanced opinion.