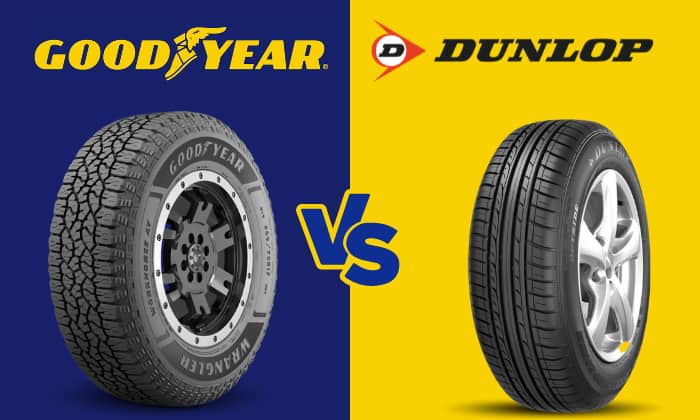 Premium brands are just hard to beat—they all have stellar reputations and innovative products. Today, in this Dunlop vs Goodyear tires article, let's see what premium tire suits you best!
Both brands are immensely popular and are considered veterans in the industry, so we did some digging and compared them for their differences in performance, history, history, and best tires. So, let's jump in!
Dunlop
Goodyear
Country of Origin
Ireland
The United States
Tires Manufactured

Motorcycles
Passenger Cars
Light Trucks/SUVs
Trucks
Industrial Tires

Trucks
Passenger Cars
Light trucks/ SUVs
Trailers

Year Founded
1889
1898
Type
Premium
Premium
Parent
Sumitomo Rubbers
Stand-alone
About the Brands
1. Dunlop
Dunlop, founded by John Boyd Dunlop in 1889 in Ireland, was primarily known as the first company to invent and develop a functional pneumatic tire. It's also recognized for being the innovator of aqua-resistant tires and RunOnFlat Technology, which allows tires to run after a blowout.
Since its establishment, the brand has changed ownership several times, even being operated by Goodyear at one point. As of now, Sumitomo Rubbers Industries is the owner of the brand.
With more than a century of experience, Dunlop is one of the world's most easily recognizable brands and has become an expert in the industry, earning them the label of being a premium brand.
2. Goodyear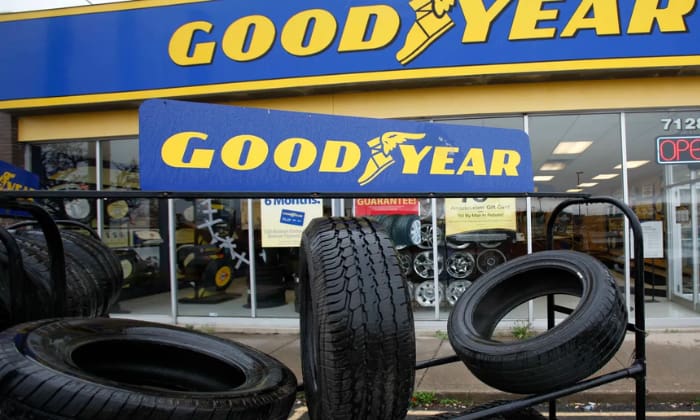 Goodyear and Dunlop tyres are similar in regard to a lot of things. They have both been in the industry for more than a century, and they first started their companies with an invention. In Goodyear's case, it was the tubeless tire.
From their humble start in Akron, Ohio, in 1898, Goodyear has evolved from producing bicycle and horse-carriage tires to being one of the world's biggest tire manufacturers. Now, it's widely recognized as one of the best brands for passenger tires.
Differences
1. Dry Performance
To take a look at their performance on dry pavement, let's test some summer tires, as these are designed for optimal dry performance. In this category, we'll compare Dunlop's SP Sport Maxx RT2 to Goodyear's Eagle F1 Asymmetric 6.
Though both brands perform more or less the same, we have to give this one to Goodyear because it produces minimal noise and has great rolling resistance.
2. Wet Performance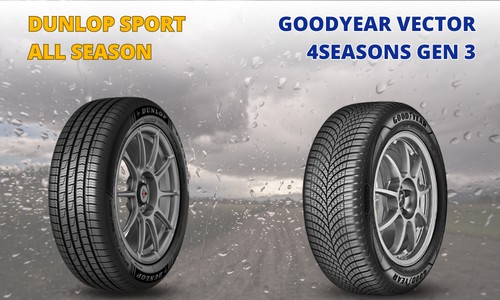 For wet performance, we'll use their all-season grand touring tire. This time, we'll examine the Dunlop Sport All Season vs the Goodyear Vector 4Seasons Gen 3.
Again, the performance between the two brands is neck-and-neck; however, Goodyear also wins this round with its exceptional performance in terms of wet braking and wet handling. This is mainly due to Goodyear's AquaControl Technology.
3. Snow Performance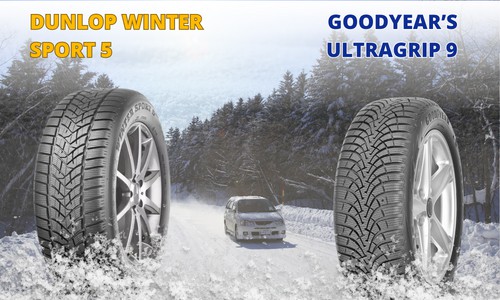 Winter is a very dangerous time to be driving if you're not equipped with the right tires. So, for this part, we'll rely on their specialized winter tires—Dunlop Winter Sport 5 vs Goodyear UltraGrip 9—to continue this Dunlop tires vs Goodyear article.
Snow performance is where Dunlop shines because the Winter Sport 5 performs better in snow braking, handling, and traction. It has the coveted 3PMSF symbol, meaning it is certified to handle snowy roads effectively.
Make no mistake, the UltraGrip 9 has excellent snow performance as well, particularly when it comes to snow braking distance. It also has a 3PMSF symbol, indicating that it's suitable for traveling in severe snow. The only aspect that sets it back is that its snow handling feels slightly unbalanced.
4. Durability and lifespan
In terms of durability and treadlife, Goodyear is hands down the winner. Compared to Dunlop's 5-year lifespan, Goodyear seems much more impressive as it can last up to 6 years.
The disparity is even clearer if you compare treadlife. Whereas most tires from Goodyear can last 50,000 to 80,000 miles, Dunlops products can only remain in tip-top shape for 20,000 to 38,000 miles at most.
5. Pricing and Value for Money
Both brands are considered premium tires, so their price ranges are all above average. Goodyear tires typically cost around $75 – $975, while Dunlop tires will set you back around $116 – $975 at Walmart.
Understandably, the high prices may make the tires seem unappealing. However, I can guarantee that you'll get your money's worth. These tires all boast supreme traction, handling, and excellent cornering. Plus, they all offer excellent warranty policies:
Dunlop has a 72-month warranty period from the production date and is willing to replace any tire that becomes unserviceable within 50% of its tread wear.
Meanwhile, Goodyear offers replacements up to 5 years from the date of purchase.
6. Pros and Cons
Dunlop
Great overall performance
Excellent snow performance
Great warranty options
Slightly weaker dry performance
Not very long lifespan
Goodyear
Excellent dry performance
Better rolling resistance
Better durability
Slightly weaker snow performance
7. Notable Tires of Each Brand
Here is a list of a few of Dunlop's best tires according to tests.
Dunlop Winter Sport 5 – Winter Tire
Dunlop SP Winter Response 2 – Winter Tire
Dunlop SP Sport MAXX RT2 – Summer Tire
Dunlop Sport BluResponse – Summer Tire
Dunlop Sport All Season – All-Season Touring Tire
Related: Dunlop American Elite Tire Review.
Some of Goodyear's best tires are also listed below.
Goodyear Eagle F1 Asymmetric 6 – Summer Tire
Goodyear Efficientgrip 2 SUV – Summer Tire
GoodYear Vector 4Seasons Gen-3 – All-Season Touring Tire
GoodYear UltraGrip 9+ – Winter Tire
Goodyear Vector 4Seasons Cargo – All-Season Touring Tire
Which is Better?
It is tough to say which is better among the two veteran brands, as it ultimately boils down to personal preferences and driving habits.
That said, I'd personally pick Goodyear due to its excellent performance in various weather conditions and superb durability.
Then, are Dunlop good tires? Yes, its performance is not far behind Goodyear. And when it comes to snow driving, Dunlop even outperforms the American brand. Therefore, I'd suggest this tire for anyone who has to drive in severe snow conditions.
Conclusion
Dunlop vs Goodyear tires is a challenging comparison to make as both have been in the industry for over a century and have made significant innovations to their craft.
We do hope that we were able to provide insight on these brands and on what their strengths and weaknesses are. Premium brands offer quality that hardly disappoints anyone. What do you think is better? Let us know!