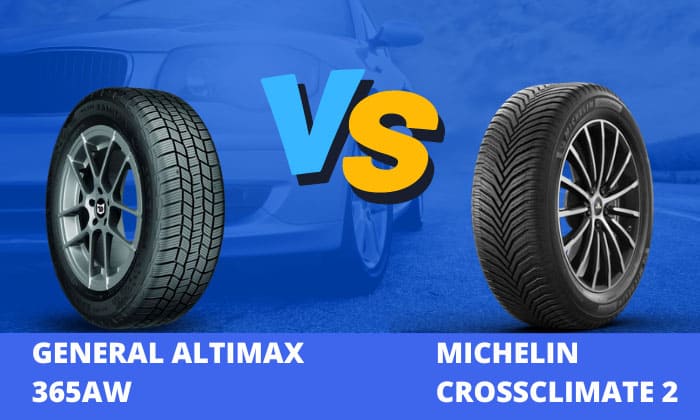 General and Michelin have been in the tire game for over a century now. However, Continental acquired General in 1987, while Michelin remained independent. Did this shift in ownership affect the quality of General tires? Let's find out.
We'll see if their premium all-weather tire can match up against Michelin in this General Altimax 365AW vs Michelin CrossClimate 2 face-off. And right off the bat, we can definitely say that Michelin has the better tire.
However, the General Altimax 365AW is by no means a pushover. It also has some great qualities, which can be suitable for specific types of drivers. Read on to know more about it.
But first, here's a quick comparison table to get you started.
Tire Line
Brand
General
Michelin
Tire Type
Grand Touring All-Season
Grand Touring All-Season
Usage
– Passenger cars
– Crossovers
– Luxury performance
– Passenger cars
– SUV/Crossover
– Electric vehicles
3PMSF
Yes
Yes
Tested Size
245/60r18
245/60r18
Tread Depth
11/32"
10/32"
Section Width
9.8"
9.7"
Diameter
29.6"
29.5"
Rim Range
7-8.5"
7-8.5"
Max. Inflation Pressure
51 PSI
51 PSI
Max Load
2039 lbs
2039 lbs
Tire Weight
31 lbs
29 lbs
Revs/mile
702
703
Price
$189.99
$245.25
What Are They?
1. General Altimax 365 AW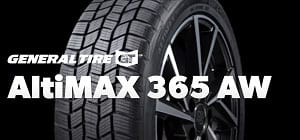 The General Altimax 365 AW is actually General's first all-weather tire. As a touring all-season tire, one can even think that it's a cross between the General Altimax RT43, a touring tire, and the Altimax Arctic 12, and rightly so.
This tire has tremendous performance in all types of weather, from wet, dry, to snowy roads. And by all types, we mean all of them, as its 3PMSF rating allows it to traverse heavy snow without any issues in traction.
In fact, it's one of the best all-weather tires in the mid-range market, competing against well-known products in its category like the Firestone WeatherGrip, Nokian WRG4, and the impeccable Toyo Celsius.
The key to its success lies in a high-silica, all-season tread compound that increases hydroplaning resistance.
Meanwhile, its center rib's lower sipe density gives this tire very even road contact, so you won't have to worry about muddy steering responses, treadwear, and general discomforts like poor braking.
Moreover, a sinusoidal siping system increases traction through interlocked block patterns —so you can drive confidently no matter rain or shine.
Working alongside these are large lateral channels and circumferential grooves that expel water efficiently. At the same time, additional traction teeth integrated into the Waved Groove design enhance grip on snowy surfaces.
Now, on to the Michelin CrossClimate 2.
2. Michelin CrossClimate 2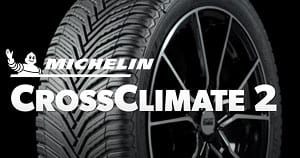 Considered by Forbes magazine as the best overall tire in 2022, the CrossClimate 2 is one of the best products from Michelin, hands down. It has been praised by everyday drivers on forum like Reddit and by experts from popular magazines.
Like the General Altimax 365 AW, it also comes with a 3PMSF rating, so snow, light or heavy, won't be a problem. That's because thermal adaptive compounds and its P-edge technology allow it to adjust to any road temperature with no hitches.
Drivers can stay safe on the road thanks to the exceptional dry and wet-braking capabilities of its V-Ramp tread blocks and V-shape grooves. These, combined with the MaxTouch Construction, and you've got a very durable tire.
Lastly, expect a peaceful ride throughout, thanks to the tire's use of Michelin's PIANO noise reduction technology.
Differences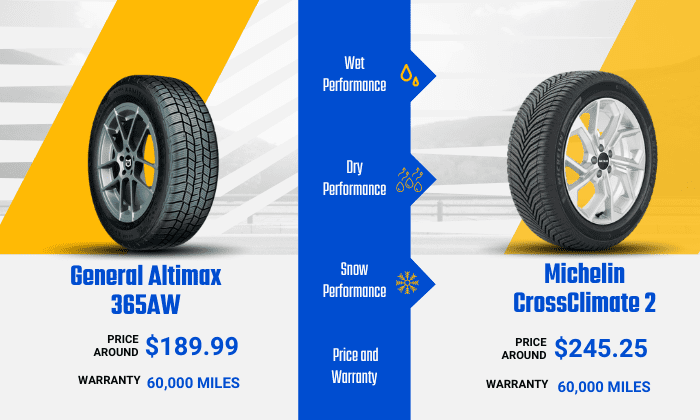 For the differences in this Altimax 365AW vs CrossClimate 2 comparison, we cross-referenced info from our personal tests and various consumer reports.
1. Wet Performance
As expected, the Michelin CrossClimate 2 rose to the occasion. The V-Ramp tread blocks and V-shape grooves allowed it to breeze through wet roads without problems.
While the sinusoidal sipe system from the Altimax 365AW proved to be impressive, it fell short against the Michelin CrossClimate 2's superior wet traction and aquaplaning resistance.
2. Dry Performance
Similar to wet performance, the dry performance from the Michelin CrossClimate 2 fared noticeably better.
Although the General Altimax 365AW proved to be excellent in steering response, traction, and cornering due to the sinusoidal sipe system, the CrossClimate 2 still edges it out by a fairly small margin. It performs better on gravel and rocky surfaces.
3. Snow Performance
Both tires have a 3PMSF rating, so we expected this to be a close one—but we were wrong.
The thermal adaptive compounds and P-edge technology from the CrossClimate 2 did exceptionally well in light and heavy snow.
In comparison, the all-season tread compound and high-silica components of the General Altimax 365AW definitely did their part as we rushed through three inches of ice with relative ease.
However, we felt the traction needed a slight improvement, especially in heavy snow conditions without plows and salters.
4. Price and Warranty
In our General Altimax 365 AW review, we found that the price of a General Altimax 245/60r18 tire size was $189.99. Meanwhile, the Michelin CrossClimate 2 was very expensive at $245.25 per tire.
However, both models featured a 60,000-mile tread life warranty.
Pros and Cons
General Altimax 365AW
Above-average wet and dry performance
3PMSF rating
More affordable
60,000 mileage warranty
Performance on snow could be improved
Michelin CrossClimate 2
Excellent performance on all road conditions
3PMSF rating
60,000 mileage warranty
More tire sizes
Related comparisons you can refer to:
Frequently Asked Questions
General RT45 vs RT43, which one is better?
The RT45 is the upgraded version of the RT43. Continental stated that the RT45 has better treadwear than its predecessor by about 10%.
Conclusion
The truth is, there's no clear winner in this General Altimax 365aw vs Michelin CrossClimate 2 comparison. While the CrossClimate 2 was the better tire, the General Altimax 365AW wasn't too far behind in terms of performance.
So, if you're looking for the best and can afford the hefty price tag, we suggest Michelin. However, if you want more affordable all-season tires, the General Altimax 365AW is an excellent choice.