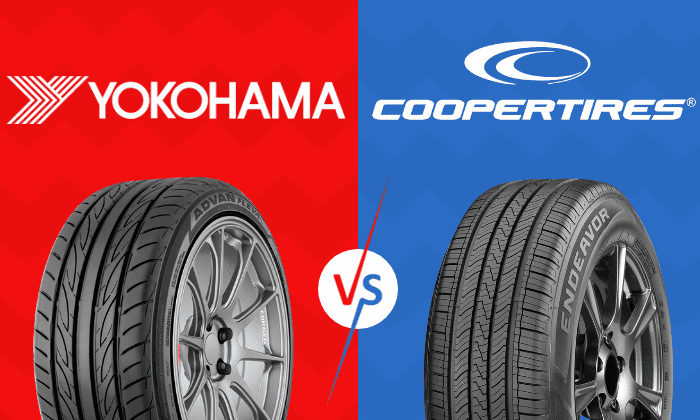 If you're in the market for new tires, you've likely come across Cooper and Yokohama. Choosing the right tires for your vehicle is essential for your safety and performance.
We will provide a detailed comparison between Cooper vs. Yokohama tires to help you decide which tire fits what you are looking for and within your budget.
Check out this quick comparison of these two tire brands.
| | | |
| --- | --- | --- |
| Criteria | Cooper Tires | Yokohama Tires |
| Performance | Moderate to High | Excellent |
| Design | Varied and Aesthetic | Modern and Sleek |
| Durability | Fair to Excellent | Excellent with Longevity |
| Tread Pattern | Diverse Options | Innovative Technology |
| Price and Value | $65 – $480 | $90 – $450 |
| Warranty | 45k – 80k miles | 25k – 80k |
Before we dive into the details, let's take a moment to understand the history and background of these two good tire brands.
Brief History of Cooper and Yokohama Tires
1. Cooper Tires
The Cooper Tire brand was founded in 1914 by John F. Schaefer and Claude E. Hart in Akron, Ohio, USA. Cooper Tire initially produced tire patches and repair kits before venturing into tire manufacturing.
Post-war expansion in the 1950s-60s saw them produce a wide tire range, gaining recognition in motorsports for performance and durability.
The 1970s-80s witnessed technological strides with innovations like radial tire technology, enhancing fuel efficiency and handling.
In the 21st century, they celebrated their centenary in 2013, continuing their legacy of high-quality tires and advanced technologies. In 2021, Goodyear acquired Cooper Tire, uniting two renowned brands.
Today, Cooper Tire is acclaimed for producing dependable, durable, high-performance tires across a diverse vehicles.
2. Yokohama Tires
Yokohama Tires, part of the Yokohama Rubber Company, boasts a rich tire industry innovation and global expansion history.
Founded in 1917 in Yokohama, Japan, the company initially focused on industrial products. However, in the 1940s, they ventured into tire manufacturing, starting with bicycle tires and expanding to passenger and commercial vehicle tires.
The 1960s and 1970s witnessed significant technological advancements, including steel-belted radial tires, which improved tire performance and safety. Yokohama Tires embarked on global expansion in the 1980s, establishing a strong presence worldwide, notably in the United States.
In recent years, Yokohama Tires has prioritized sustainability, introducing eco-friendly tire technologies such as low-rolling resistance tires.
Today, Yokohama Tires is a globally recognized brand known for its extensive range of high-quality tires.
Overview of Cooper Tires vs Yokohama
1. Performance and Durability
Cooper Tires: Cooper Tires stands out in the tire industry for its commitment to providing high-performance tires with exceptional durability. Whether you're looking for tires that excel in handling, traction, comfort, or longevity, Cooper Tires consistently delivers on its promise of quality and reliability.
Yokohama Tires: Yokohama Tires delivers exceptional performance with precise handling and all-season traction. These tires are known for their outstanding durability, resisting wear and tear while providing puncture resistance. It is backed by high-quality materials and warranties and is built to withstand various road conditions and extreme temperatures.
2. Tread Patterns and Technology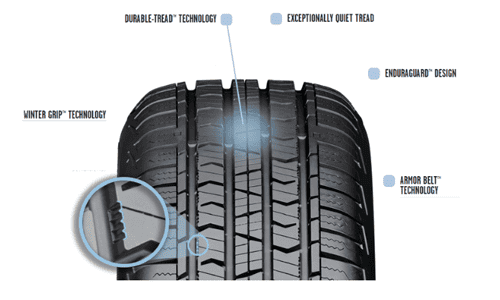 Cooper Tires: Cooper uses advanced technology like StabilEdge Technology, 3D siping, and silica-based compounds to enhance grip and wet traction in their tires. Cooper Tire most commonly offer Symmetric, Asymmetric, and Directional Tread Pattern, but tread patterns vary depending on the tire type.
Yokohama Tires: Yokohama employs innovative tread designs and rubber compounds, such as the Orange Oil technology, to improve fuel efficiency and wet grip while reducing rolling resistance. Yokohama offers Symmetric, Asymmetric, Unidirectional, Rib Type, and Block Type Tread patterns.
3. Tire Types
Cooper Tires: Cooper offers many tire types, including all-season, summer, winter, and performance tires for passenger cars, SUVs, trucks, and more.
Yokohama Tires: Yokohama also offers a diverse lineup of tires, including high-performance, all-terrain, and eco-friendly tires designed for various vehicle types and driving conditions.
4. Price Range
Cooper Tires: Cooper offers a range of tires at various price points. Passenger car tires start at $65 but can go up to $480, depending on size and model.
Yokohama Tires: Yokohama tire prices range for standard-sized passenger cars from $90 up to $450 for larger all-terrain tires for SUVs. They also offer affordable options, like $140, and performance-oriented tires for around $190.
5. Warranty
Cooper Tires: Cooper offers limited treadwear warranties on many tires, typically ranging from 45,000 to 80,000 miles, depending on the model.
Yokohama Tires: Yokohama also provides limited warranties. Some higher-end Yokohama tires may have more extended warranty periods. Ranging from 25,000 to 80,000 depending on model, but Yokohama Tires typically average around 50,000 miles.
6. Environmental Considerations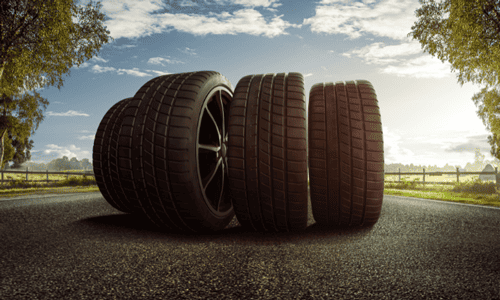 Cooper Tires: Cooper Tires has implemented sustainability initiatives to reduce its environmental impact. They focus on sustainable rubber yields, the use of sustainable materials, and responsible end-of-life tire management.
Moreover, they participate in community outreach initiatives, showcasing their dedication to corporate social responsibility.
Yokohama Tires: Yokohama Tires is committed to minimizing its environmental impact through various initiatives. They have eliminated harmful substances in their manufacturing process, reduced CO2 emissions by switching to natural gas, and prioritizing using materials with minimal environmental impact.
Additionally, they engage in tree-planting activities and have an environmental management system.
Which Tire is Better?
Both brands offer various products to cater to your driving needs. In the battle between Yokohama vs. Cooper Tires, please consider the following factors below before deciding.
Driving Conditions: Assess the typical road and weather conditions you'll encounter. Are you primarily driving on dry, wet, or snowy roads? This will help you determine the type of tire tread pattern and rubber compound you need.
Tire Size: Select the appropriate tire size by referencing your vehicle's manual or the sidewall of your current tires.
Tire Type: Consider the type of tire that best suits your vehicle. There are various categories, including all-season, summer, winter, and performance tires. Each type is uniquely optimized to perform exceptionally well in particular situations.
Tread Life: For long-lasting tires, look for high treadwear ratings. This is especially important for those who put many miles on their vehicles.
Budget: Determine your budget for new tires. Choosing the cheapest option may seem enticing, but it's important to remember that quality tires can improve your safety and your vehicle's performance.
Notable tires from Cooper Tire:
Discoverer STT PRO: An all-terrain tire designed for off-road enthusiasts. It features aggressive tread patterns and durable construction, providing excellent traction and durability in challenging off-road conditions.
Evolution Tour: A touring tire that's designed for passenger cars. Clients highly rate these all-season touring tires for their affordable pricing and long tread life.
CS5 Ultra Touring: A high-performance all-season touring tire for sedans, coupes, and crossover vehicles. It offers excellent handling, traction, comfort, and low road noise.
Zeon RS3-G1: A performance tire for sports cars and high-performance vehicles. It offers responsive handling, precise steering, and excellent grip on wet and dry surfaces. It is known for its sporty performance and durability.
Notable tires from Yokohama Tire:
Geolandar A/T G015: An all-terrain tire SUV tires. Its durable tire can handle off-road conditions, long tread life, and a light snow grip.
IceGuard IG53: A winter tire designed for passenger cars and SUVs. It provides excellent traction on snow and ice and enhanced handling and braking performance in cold weather conditions.
Advan Sport A/S+: A high-performance all-season tire designed for sports cars, sedans, and coupes. It delivers excellent traction, handling, and braking performance in various weather conditions and wintry, even light snow.
Avid Ascend GT: A touring tire designed for sedans and minivans. It offers a smooth, comfortable ride, good traction, and long-lasting tread life.
---
Related Comparisons:
Conclusion
The choice between Cooper vs. Yokohama tires ultimately depends on your preferences and driving needs.
Cooper Tires excels in performance and durability, offering options for various budgets. Yokohama Tires also deliver top-notch performance, featuring innovative technologies and a solid commitment to sustainability, making them suitable for diverse driving conditions.
Consider specific tire models from both brands, like Cooper's Discoverer STT PRO and Yokohama's Geolandar A/T G015, to find the perfect fit for your vehicle.