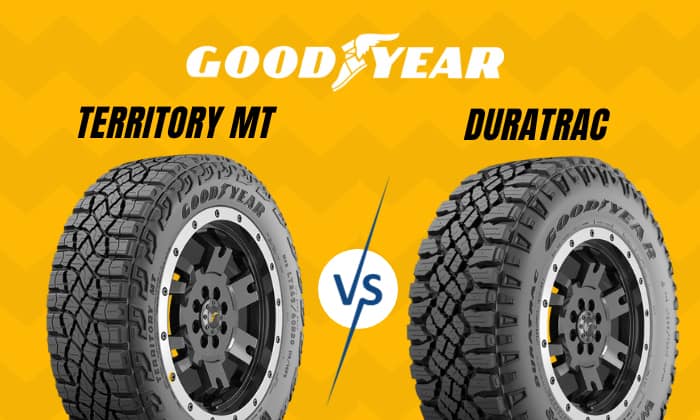 Off road tires have always been a mainstay in the tire market. From pleasant drives through the great outdoors to blood-pumping competitions, Goodyear has always been at the forefront with its Wrangler all-terrain family.
However, due to the brand's number of off-road tires, it can often be confusing which model suits you best, and Wrangler tires are no exception. As such, we wrote this comprehensive review of Goodyear Territory MT vs Duratrac to help you out.
| | | |
| --- | --- | --- |
| Tire | Goodyear Wrangler Territory MT | Goodyear Wrangler Duratrac |
| Tire Type | Off-Road | Off-Road |
| Tested Size | LT285/70R17 | LT285/70R17 |
| 3PMSF | None | Yes |
| Load Range | C | E |
| Tread Depth | 16/32″ | 18/32″ |
| Max Load | 2,755 lbs | 3,195 lbs |
| Overall Diameter | 33″ | 33″ |
| Revs Per Mile | 628 | 630 |
| Rim Range | 7.5-9.5″ | 7.5-9″ |
| Price | $330.41 | $321.99 |
Overview
1. Goodyear Wrangler Territory MT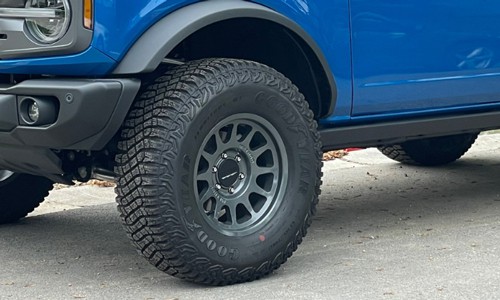 The Goodyear Wrangler Territory MT is a mud terrain tire that's explicitly built to combat and traverse muddy terrain. And, of course, Goodyear made sure of this by equipping the Goodyear Wrangler Territory with extensive design features.
For starters, it features an open-tread configuration that allows the tire to clear and eject mud from its treads to enhance traction. Not only that, but this specific tread pattern also has a wrap-around shoulder design for some added snow traction as well.
As for the cherry on top, although the Goodyear Wrangler Territory MT looks very aggressive, it's actually a relatively quiet tire. It does this through a sequenced pitch pattern that effectively mitigates growls and hums from infiltrating the cabin.
Now, on to the Goodyear Wrangler Duratrac.
2. Goodyear Wrangler Duratrac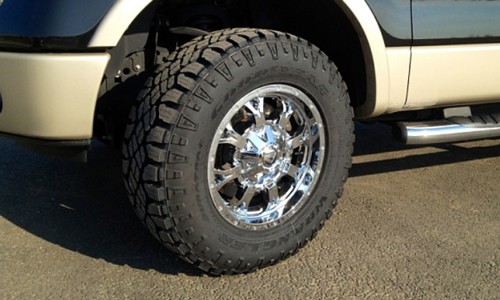 Another iteration from Goodyear's Wrangler family of off-road tires, the Duratrac operates in a much more different sphere than the Territory MT. That's because, unlike the Territory, the Duratrac is more of a jack-of-all-trades off-road tire.
As mentioned beforehand, the Territory MT places heavy emphasis on traversing through mud, whereas the Duratrac has more well-rounded capabilities. Like any off-road tire, it has the ability to pass through a variety of terrains, from gravel and mud to dry and wet asphalt.
As such, this versatility is arguably Duratrac's main selling point. It does this through a variety of design features like a self-cleaning tread, a rugged compound for some durability, and a symmetric design with massive shoulder blocks for road stability.
Lastly, it also comes equipped with thousands of biting edges at the base of its circumferential grooves for enhanced traction on wintry trails.
Differences
It's becoming quite clear what the stark differences between these two tires are, but we won't stop there.
We've made a list of the major disparities between the two in this tire comparison to help you make a more informed choice if you're thinking of grabbing either.
1. Performance
In this Goodyear Duratrac vs Territory MT comparison, we'll be assessing these tires in different road conditions.
Mud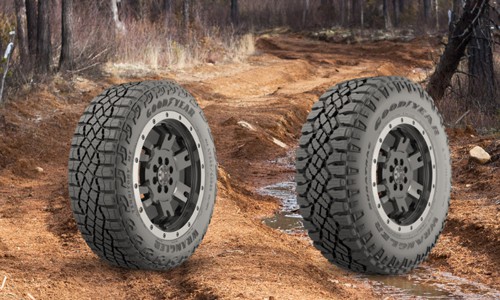 Contrary to its name, the Territory MT isn't always the better tire for evacuating mud. Its lower void ratio can result in the tire struggling a bit when it comes to evacuating sludge, as debris can easily get lodged in its tracks.
As for the Goodyear Duratrac, it has much wider grooves, which allows for more efficient and effective mud ejection as the tires continuously move. Not only that, but this higher void ratio also enhances the tire's maneuverability, especially in cornering.
Snow
While these offerings aren't exactly dedicated winter tires, their design gives them quality snow performance. Similar to mud traction, the Duratrac also wins this round mainly due to its higher void ratio, which excels in evacuating snow.
On the other hand, the Goodyear Territory's lower void ratio results in the opposite as the narrower the grooves, the more debris — in this case — snow, gets lodged in its tracks. However, due to its enhanced biting edges, the traction is still top-notch.
Rock
Again, the Duratrac's higher void ratio is what gives it the competitive edge when it comes to rock crawling, giving it all the bite it needs. Meanwhile, the Territory yet again struggles with traction due to its lower void ratio.
2. Comfort
Although comfort is often a non-factor for off-road tires, it's still an important aspect to consider. That's because you'll be driving your vehicle through highways in order to get to the great outdoors.
And right off the bat, the Territory is the clear winner when it comes to comfort. Surprisingly, it's all because of its lower void ratio, which prevents much of the air from passing through its grooves and thus mitigating sounds.
Reddit user "cjthecookie" had this to say about the tire's highway noise capabilities in his personal Goodyear Territory MT review:
Goodyear Wrangler Territory MT
byu/EnoughAd4231 inchevycolorado
3. Price
Price can definitely vary depending on the tire's specifications, so we compared similarly sized tires from both models. For an LT285/70R17 tire, we found that the Duratrac was cheaper at $321.99, while the Territory had the steeper price tag at $333.95.
Conclusion
I hope we've cleared up some confusion regarding Goodyear Territory MT vs Duratrac in this tire comparison. As such, it's vividly clear that the Duratrac is the better tire for your outdoor needs, and you'll get excellent mileage out of it as well.
However, you shouldn't disregard the Territory, since it's a very balanced tire in its ability to provide comfort when driving on highways and light mud traction. But then again, we're talking about off-road tires here, and this option definitely falls short when compared to the Duratrac.