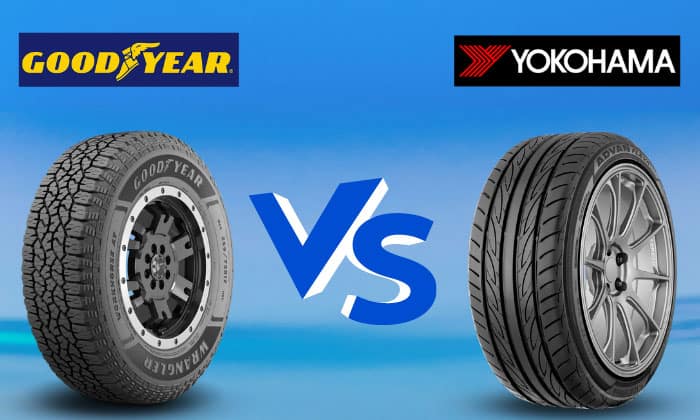 All vehicle owners want a good tire brand that offers good quality according to their personal driving needs. Deciding which tire brand to subscribe to over so many tire giants around the world is a difficult task to do alone.
So let's narrow down your options with Yokohama and Goodyear tire comparison. Which one should you pick?
After reading this article, you will have an in-depth insight into the comparative analysis between Yokohama vs Goodyear tires, including history, rating, performance, pros and cons, popular brand lineups, warranty, and tire price.
Comparison Table
Here is a sneak-peak of their main differences.
| | | |
| --- | --- | --- |
| Characteristics | Yokohama | Goodyear |
| Year Started | 1917 | 1898 |
| Country of Origin | Japan | US |
| Number of Tire Lineup | 6 | 10 |
| Price | Cheaper | More expensive |
| Warranty Length | Up to 6 years (80,000 miles) | Up to 6 years (80,000 miles) |
| Current Ranking | 4th place | 5th place |
About the Companies
1. Yokohama Tires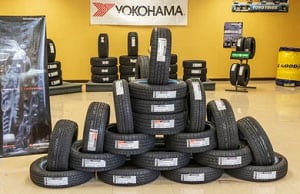 On the 13th day of October 1917, a small tire company named Yokohama was built. Its very first manufacturing site was found in Japan, the Hiranuma Plant.
Unfortunately, things didn't go as planned. An unexpected earthquake fully demolished the site in 1920. This incident caused Yokohama to rise up, driving its development and popularity in the following decades.
Currently, Yokohama is known worldwide. The company manufactures tires mainly for SUVs, trucks, passengers, and racing vehicles. And to better provide high-performance products with several types and categories, the Japanese tire giant broadened its production facilities, making it available on three continents.
2. Goodyear Tires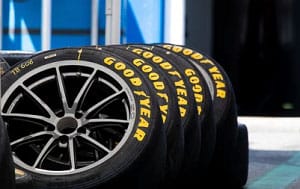 Goodyear has been providing tires with amazing quality for over 125 years. Its humble beginnings started in Akron, Ohio, US. This is quite fascinating because several tire companies also built their very first manufacturing plant in this city.
Before Goodyear produced various tires for our large vehicles, it initially offered tires for bicycle riders from 1898 up to its few years of appearance in the market. Luckily, Henry Ford discovered this tire company, and he believed that Goodyear could potentially be the perfect OEM for Ford.
It was an amazing opportunity for Goodyear to put their name on the map of the world's best tire manufacturers. Now, Goodyear products are available in the global market and managed to become 5th place in the tire industry ranking.
Comparing Goodyear Yokohama Tires
1. Performance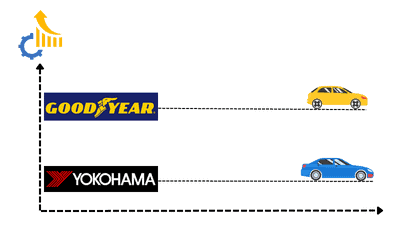 Yokohama and Goodyear both offer products with great steering and grip that can withstand both dry and wet roads.
Their main difference is that Goodyear tires come with puncture-resistance features and a longer tread life. However, their products aren't the best at eliminating noises from contact with the road.
This is the edge of Yokohama against Goodyear. The company excels at producing tires that promise less noise and vibrations.
Considering durability, Yokohama tires perform worse than Goodyear's.
2. Price
Yokohama tires cost much more affordable in comparison with the Goodyear tires in the general market. The price difference varies depending on which type and size of tires you will be purchasing under these brands.
So it's safe to say that if you're on a budget, then Yokohama is a better pick for your vehicle.
3. Warranty
Goodyear and Yokohama both have a warranty length of up to 6 years or up to 80,000 miles which cover any malfunctions in materials and workmanship of the purchased product.
Both also offer similar types of warranty, including Standard Limited Warranty, Uniformity Warrant, and Tread Life Warranty.
However, Yokohama doesn't have a Road Hazard Warranty as Goodyear has.
Pros and Cons
Every tire brand has its own set of strengths and drawbacks. Let's highlight the biggest pros and cons between Yokohama vs Goodyear Tires.
Yokohama
Comes at an affordable price
Long warranty
Variety of tire lineups, categories, and sizes
Uses eco-friendly technology
Great steering and grip on dry and wet roads
Fewer noise levels and vibrations
Limited availability
Less durable than others
Goodyear
Comes with various lineups and selections
Long warranty
Variety of tire lineups, categories, and sizes
Great steering and grip on dry and wet roads
Available across different regions
Uses puncture-resistance technology
Longer tread-life
Expensive compared with other brands
Louder road noise
Popular Tire Models of Each Brand
To help you better understand the variety of products that these two manufacturers offer, we've compiled a list of the most popular tires in their lineups. Let's take a look!
Yokohama Tire Lineups
1. Yokohama ADVAN
Offers high performance in different seasons (types: summer, winter, and all-season).
2. Yokohama AVID
Features sensitive handling and good traction in both dry and wet road conditions.
3. Yokohama Geolandar
Provides great comfort and ride quality, even on harsh and challenging routes. Great resistance to mud, slush, snow, gravel, or rocks. Good for off-road purposes.
4. Yokohama Ice Guard
Grants great performance in icy & snowy conditions, as the name suggests.
5. Yokohama Parada
Achieves a decent price-to-performance ratio for a budget product.
6. Yokohama BluEarth
Uses eco-friendly technology to provide great performance in warmer conditions.
Read more: Yokohama yk-htx overview.
Top 3 Yokohama Tires
1. Advan Sport V105
Designed for vehicles like sedans and sports cars to ensure great performance in summer.
2. Geolandar AT GO15
A decent all-season tire option for heavy vehicles such as SUVs and light trucks to operate in most weather conditions. Cannot perform as well as season-specific models.
3. Geolandar HT G055
An all-season model designed for compact SUVs.
Goodyear Tire Lineups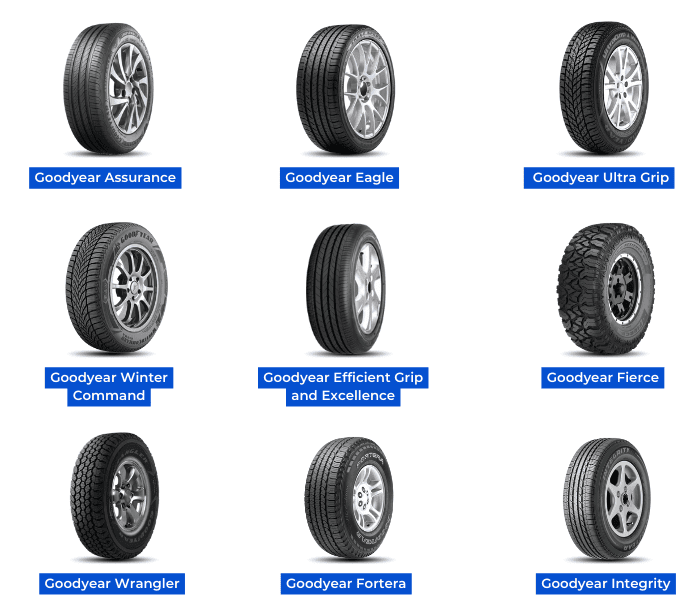 1. Goodyear Assurance
Made for daily drives.
2. Goodyear Eagle
Tires optimized for high-speed performance.
3. Goodyear Ultra Grip
Offers short stopping distances in snowy conditions.
4. Goodyear Winter Command
Made for winter use.
5. Goodyear Wrangler
Great grip on off-road situations with puncture-resistance technology.
6. Goodyear Efficient Grip and Excellence
Provides road comfort and reputable performance.
7. Goodyear Fierce
Designed for terrain road surface. Only good on light off-roads.
8. Goodyear Fortera
An all-season tire family that provides good traction.
9. Goodyear Integrity
Goodyear's budget lineup.
Top 3 Goodyear Tires
1. Goodyear Assurance Triplemax 2
An efficient solution to the driving needs of SUVs and passenger car drivers, especially during the summer season.
2. Goodyear Excellence
Famous for its safety features, comfort quality, and sensitive handling capabilities.
3. Goodyear Wrangler Duratrac
Comes with a tread pattern provides a firm grip even in off-road areas. Excellent for 4×4 vehicles.
Which is Better? Yokohama or Goodyear?
Frankly speaking, everyone, including tire technical enthusiasts, has different perspectives on Goodyear vs Yokohama. Some might claim Yokohama tires are better, while others will say that Goodyear is the clear winner.
Depending on your driving needs and preference, you may value a brand's offerings more than the other's.
If you're the type of driver who hates road noise and wants a comfortable driving experience, then go with the cost-effective Yokohama tires.
On the other hand, if you go on tours or off-road a lot, a tough, puncture-resistant tire made by Goodyear is the choice for you.
Frequently Asked Questions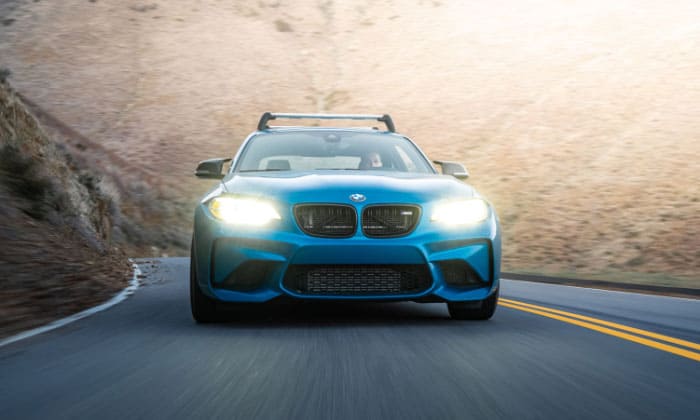 Do Yokohama tires last long?
Yokohama produces tires that can endure up to 85,000 miles or even more you can use your Yokohama tires for 15 years if you practice proper maintenance.
What rank is Yokohama Tire?
As of 2023, Yokohama is in 4th place (while Goodyear is in 5th place) in the tire industry worldwide, with a current rating of 4.4 out of 5. This only proves that Yokohama is also a premium tire brand that can compete with other tire brands with big names.
Conclusion
We hope that our tire comparison gives you an idea of what each brand can offer. If you're weighing your options between Yokohama vs Goodyear tires, just be mindful of your priorities.
Both brands produce amazing products, but each has its own identity. It's your job as a consumer to know what you're looking for before making the purchase!