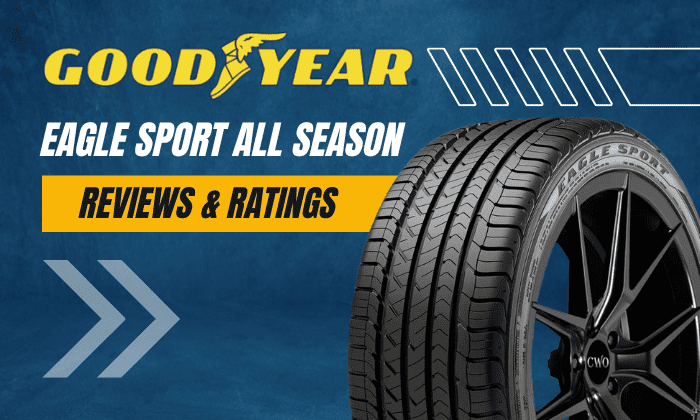 The Eagle Sports All-Season tire is designed for both sports and casual driving, thanks to its asymmetric design and large surface area that grip the road well. Our Goodyear Eagle Sport All Season review covers each aspect of the tire to help you see whether it is suitable for your vehicle.
Here is a small chart to show the specifications of the Eagle Sports tire.
| | |
| --- | --- |
| Specifications | Goodyear Eagle Sport All-Season |
| Load Range | XL, SL |
| Max Load | Up to 2833 pounds |
| Goodyear Eagle tire ratings (UTQG rating) | 560AA (highest), 400AA (lowest) |
| Sizes available | 15 to 22 inches in rim diameter, including 225/40r18, 235/40r18, 245/45r18, 255/40r19, 255/50r19, and more |
| Weight | 17 to 39 pounds |
| Diameter | 23.4 to 32.1 inches |
Below is a detailed look at the Goodyear Eagle Sports All-Season.
Overview of Goodyear Eagle Sports All Season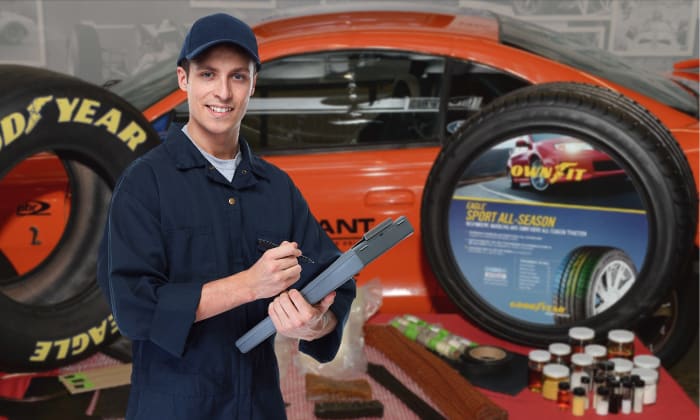 Eagle Sports tires are engineered to perform at their peak in most road conditions, including both wet and dry surfaces.
These tires are intended for sports car drivers who desire stability, excellent traction, and control even at high speeds. The technology and design elements incorporated into these tires include Goodyear's racing technology, RaceWrap, used in NASCAR tires.
1. Performance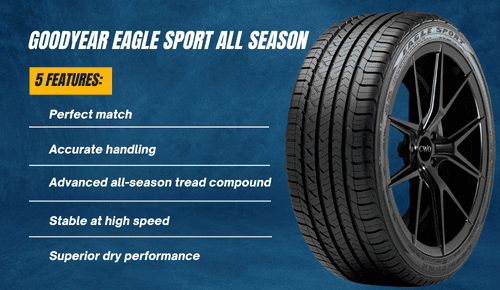 In dry conditions, driving on Eagle Sport All-Season tires feels like your vehicle has found its perfect match, providing excellent responsiveness and accurate handling. This performance comes from the advanced all-season tread compound and asymmetric design that keeps the tires in maximum contact with the road.
The Eagle Sport All-Season tire also boasts a strong and unique steel belt construction that keeps the vehicle stable at high speed. Both the tread compound and the interior construction of the Goodyear Eagle Sports AS give the tire a superior dry performance.
2. Wet conditions
You'll appreciate the confidence-inspiring performance of the Goodyear Eagle Sport AS during heavy downpours. The tire handles wet conditions with poise, giving drivers an adequate grip on wet surfaces, thanks to the full-depth sipes that bite the road.
In addition to the full-depth sipes are the four wide circumferential grooves on the Eagle Sport's treads. The grooves channel water beneath the tire away, lowering the risk of hydroplaning.
3. Snow conditions
Goodyear Eagle Sports A/S can provide decent traction in light snow conditions. The tire will struggle and may cause fishtailing under heavy snow or ice, so look for Goodyear winter tires if you plan on driving through blizzards.
4. Off-road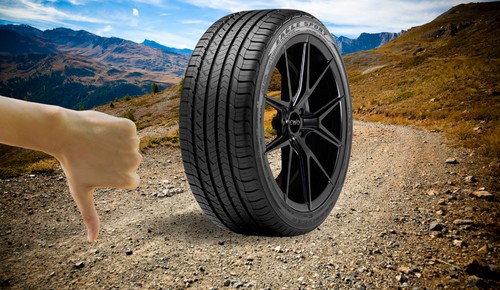 No features make the Eagle Sport AS suitable for mud, sand, or gravel surfaces. While you can safely drive this Goodyear tire on flat dirt or urbanized park areas, it is not built to handle severe off-road conditions.
5. Treadwear and durability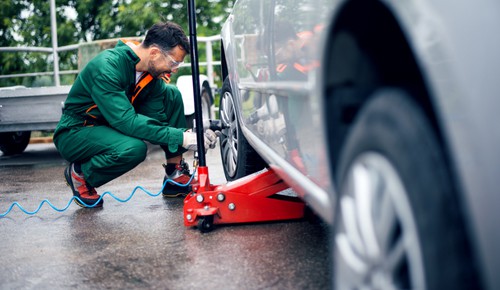 Regarding treadwear, Goodyear's Eagle Sports is above average here. It should last for 31,000 miles or about 50,000 km at the very least.
With careful maintenance and use, the tire's lifespan may even reach 80,000 miles, which is very impressive for a mid-tier model.
6. Comfort
Because of its tread features, the Eagle Sport can provide a stable and comfortable driving experience. Even at high speeds, the RaceWrap Construction prevents vibrations from occurring.
Regarding noise, consumer reports say very low sounds come from the tire. Given this factor, the Eagle Sports All-Season has an above-average rating for comfort.
7. Pros and cons
Pros
Superior dry and wet performanceDependable in snow that's not too thickDurable interior construction
Cons
Not designed for off-road or heavy snow conditions
8. Costs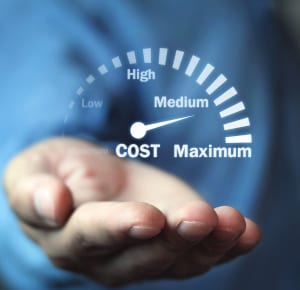 You can find Eagle Sport tires with a price range of $98.46 to $444.32 at most retail auto stores. This price range is standard for the Goodyear Eagle line, which is often around $96 to $590.32. Many dealers offer Eagle Sport tires in sets of two or four at a discounted price.
9. Warranty Coverage
Goodyear Eagle Sport A/S is covered by a limited tread life warranty of up to 50,000 miles. If your Goodyear Eagle tire got premature wearing within the warranty period due to a manufacturing problem, you are entitled to a replacement.
Are Goodyear Eagle Sport Tires Any Good?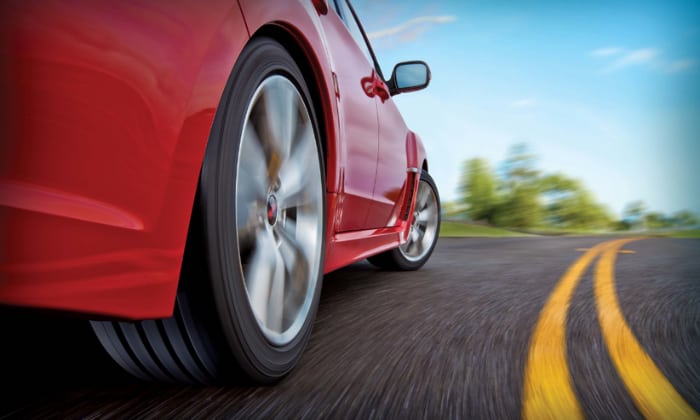 Given its high performance, the Goodyear Eagle Sport AS is an exceptional tire for those who require superior traction and control on dry pavements. You can navigate corners like a professional with the reliable grip of the Eagle Sport.
Is Goodyear a good tire for ride comfort? If you compare Goodyear Eagle vs Assurance tires, the former has a low noise rating, but it's not focused on quiet performance like the Comfortdrive or Comfortred.
Does the Eagle Sports All-Season Run Flat?
There is a unique Eagle Sport All-Season ROF product that has RunOnFlat technology. This technology lets you drive the tire for up to 50 miles after it gets punctured. Note that this feature is only available for the ROF version of the Eagle Sports AS and not the regular design.
Conclusion
To conclude our Goodyear Eagle Sport All Season review, the tire delivers exceptional traction, grip, and control on dry and wet surfaces. The performance of this Eagle tire can satisfy the driving requirements of everyday commuters and office workers. It offers excellent value for money.