Premium brands like Michelin and Bridgestone can break your bank with steep prices when purchasing tires. While they may have top performance, some consumers prefer something reliable and affordable.
That's where mid-tier brands like Arroyo tires come in. So, are Arroyo Tires good? Well, it's a resounding yes! Arroyo tires have great bang for your buck prices, perfect for everyday drivers.
Let's talk about them below. You'll know where are Arroyo tires made, along with their features in this Arroyo tires review.
How Good Are Arroyo Tires?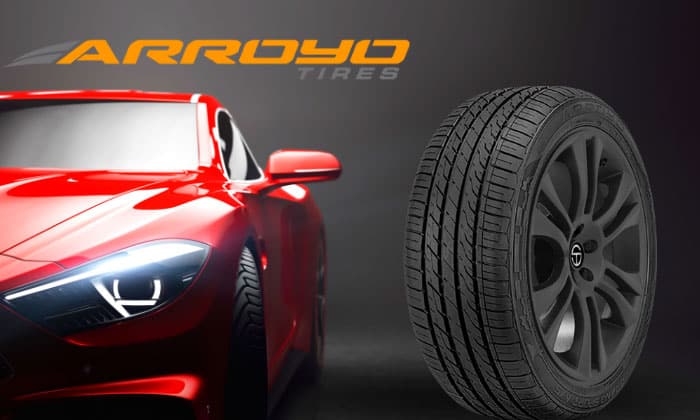 Because of their dedication to building premium yet affordable tires, Arroyo tires are very safe and reliable on any surface or in any climate.
Moreover, their tires are also known to have great maneuverability, traction, comfort, and durability.
So, we put some of Arroyo's tire catalog to the test and saw for ourselves how these tires performed in a live setting, plus their feedback on sites like Reddit.
1. Warranty
Mileage can be a tricky part to determine for a quick comparison test, since it requires a significant amount of time to get an accurate estimate. However, Arroyo swears by the durability of their tires through fairly extensive warranties.
For instance, The Arroyo Tires Grand Sport 2 boasts a staggering 55,000-mileage warranty, which is considered excellent for an ultra-high performance tire. For context, Michelin's ultra-high performance all-season variant, the Pilot Sport A/S 3+, only has 45,000 miles of brand support.
So, if you're looking for a more affordable tire to use on the race track, Arroyo Grand Sport tires are definitely something to consider.
2. Noise and Comfort
For noise and comfort, we decided to take their passenger tires for a spin and tested Arroyo's Eco Pro A/S, which is one of Arroyo's most affordable tires. And, in all honesty, we were quite surprised.
Perfect for relaxing drives in the city or in the countryside, the Eco Sport A/S was relatively quiet for a budget passenger tire. This is mainly attributed to its specialized grooves and sipe design, which effectively mitigate road noise.
3. Reliability
When it comes to mid-tier tires, reliability is among the most important aspects to assess.
So, for this one, we tested the Arroyo Grand Sport A/S, which is regarded as one of Arroyo's high-value all-season tires. Well, we're here to let you know that this tire does not disappoint.
It had fairly decent traction on dry roads and a very reliable grip on watery surfaces. Its asymmetrical design provides this tire with more contact on the road's surface, ultimately improving braking and maneuverability.
Moreover, its 4 wide longitudinal grooves allow it to expel water much easier, mitigating the chances of hydroplaning when driving in wet weather.
4. Quality
To experience a more high-quality ride with Arroyo tires, their all-terrain catalog is your best bet. However, keep in mind that high-quality rides demand higher prices, and it's very apparent with Arroyo's Tamarock M/T, which starts at $230.96 per tire.
So, we took this model out for a spin, and we couldn't ask for a better all-terrain tire.
Aside from a very rugged aesthetic, its incredibly aggressive treads made from silica provide excellent traction in mud, rain, or even moderate snow.
Moreover, the Tamarock M/T is also a self-cleaning tire, thanks to its massive sidewalls, which never let debris like rocks get stuck.
Not only that, but it also provides tremendous durability, especially on rocky terrains, allowing you to go further regardless of the surrounding condition.
However, as we mentioned above, its price is a little steep, even for an off-road tire, as there are much cheaper off-road models around, like the General Grabber X3, which starts at $198.97.
But, if you're looking for the quality Arroyo experience, look no further than the Arroyo Tamarock M/T.
5. Price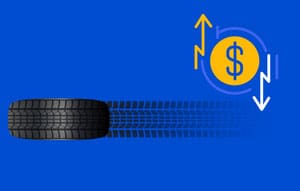 Like mileage, price is also a tricky thing to determine when it comes to tires. However, it's safe to say that most Arroyo Tires price points are more affordable than premium-tier brands, especially when you compare Arroyo tires vs Michelin.
Arroyo tires' prices are very balanced as they offer affordable options for everyday drivers like the Eco Pro A/S, which starts at a very modest $65.95 per tire. Meanwhile, some tires can be far more expensive, such as the Tamarock M/T at $232.96 per tire.
Arroyo Tires Overview
A leading American tire producer from Castaic, California, Arroyo tires are one of, if not the best, mid-tier tire manufacturer in the world. The brand's mostly focused on making premium passenger car tires with state-of-the-art technology.
Arguably the best thing about Arroyo tires is their cost-efficiency. While some brands plaster premium prices on their products, Arroyo has found a way to reach more everyday drivers, offering affordable prices for some of their tires.
However, not all models from their product line share this, as some of their tires, especially those from their all-terrain family, can be a bit on the expensive side. Nevertheless, Arroyo has fine-tuned its tires with the perfect balance of cost and performance.
Where Are Arroyo Tires Manufactured?
Usually, many mid-tier brands are made in China, which can turn many potential customers off due to quality and safety concerns. While this might not be true for all brands, since some brands, like Sailun tires, are reliable enough, many consumers prefer products made elsewhere.
Apart from their U.S. headquarters, Arroyo has two factories which are situated in Turkey and Thailand. So, some tires are made in Thailand, while some are in Turkey. Nevertheless, expect excellent tires even if they're not made in America.
Types of Arroyo Tires
1. Performance Tires
Grand Sport 2
Grand Sport A/S
Ultra Sport A/S
2. Passenger Tires
Eco Pro A/S
Eco Pro H/T
Eco Pro H/T 2
Van Pro 2
3. Off-road Tires
Tamarock M/T
Tamarock A/T
4. TBR (Truck, Bus, Radial)
AR 1000
AR 1100
AR 2000
AR 2200
Frequently Asked Questions (FAQs)
Who makes Arroyo tires?
Unlike some American tire brands like Firestone, which is owned by Bridgestone, Arroyo tires are a private company. This means that they're the ones who market, manufacture, and distribute their tires.
Which country makes Arroyo tires?
Arroyo typically handles the business end of their company in their American headquarters located in Castaic, California. However, when it comes to manufacturing, they have factories in Thailand and Turkey.
Conclusion
To answer the question again, "are Arroyo tires good?" it's definitely a yes for us. However, it's still up to you to decide. While they offer excellent bang for your buck prices, they won't outclass luxury tires available on the market.
Regardless, Arroyo tires are fairly decent for their price, making them an excellent option for drivers on a budget who are only looking for something to commute with.
Read more of the following articles to explore their manufacturers and the most popular tire,… everything you need to know: