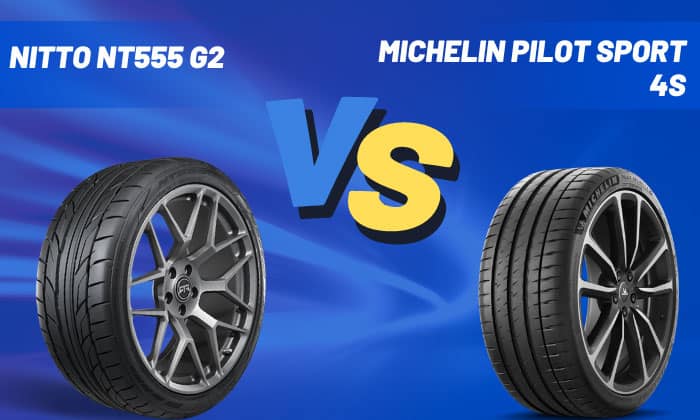 Shoppers are fond of looking for cheaper quality tires that can compete with premium ones, and those curious about Nitto vs Michelin tires are not an exception.
So, let's compare the two brands' high performance summer tires, Nitto NT555 G2 vs Michelin Pilot Sport 4S.
Michelin's Pilot Sports 4S is a premium performance summer tire that delivers exceptional dry and wet performance, while Nitto's NT555 G2 is a dependable budget tire that can provide excellent driving for less-powered sports cars.
| | | |
| --- | --- | --- |
| Factors | | |
| Wet | Capable | Winner |
| Dry | Capable | Winner |
| Noise/ Comfort/ Ride Quality | Low to Loud Noise, Less Comfortable | Winner |
| Price | Cheaper | Expensive |
| UTQG | Higher treadwear rating | Lower |
| Mileage Warranty | Does not offer | Excellent |
What is It?
1. Nitto NT555 G2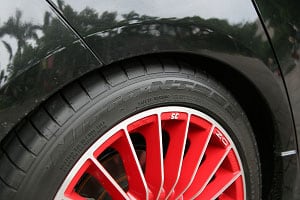 Nitto NT555 G2 is a Japanese budget tire that promises cornering stability through twin center ribs and big tread blocks. Its wet grip relies on a silica-enriched compound, plus four wide circumferential grooves and sipes.
As expected of ultra high performance tires, this model has the sporty look that fits passenger cars. It replaced the Nitto Triple 5 that was popular in the 90s.
2. Michelin Pilot Sport 4S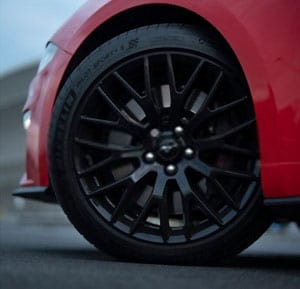 Michelin Pilot Sport 4S is a French premium tire built for a wide range of powerful vehicles, from sports sedans to high-performance luxury cars. It has been used by high-end automakers such as Mercedes-Benz AMG and Ferrari.
This max performance summer tire can deliver superb handling, dry traction, and wet performance because its tread design took inspiration from the legendary racing model, Michelin Pilot Super Sport.
The tire was built with the following technologies:
Multi-Compound technology – The hybrid compound ensures enhanced grip and road handling in dry conditions.
Meanwhile, the infusion of elastomers in the outer shoulder and silica in the inboard shoulder and center ribs provide excellent grip and braking performance on wet roads.
Dynamic Response Technology – for control on the road and cornering stability
Differences: Michelin Pilot Sport 4s vs Nitto NT555 G2
1. Specifications
For the size we chose, both tires have the same maximum carrying capacity of 1323 pounds, but the Michelin tire runs faster at 186 mph compared to the speed rating of 168 mph of the NT555 G2.
The PS4s has a warranty of 30,000 miles while Nitto's NT555 G2 does not have a projected mileage support. Compared to other max performance summer tires, the mileage warranty of the PS4s was the best in its class.
Alternatively, Nitto's summer UHP tire has a higher treadwear rating of 320 than Michelin's Pilot Sport 4S.
| | | |
| --- | --- | --- |
| Specifications | Nitto NT555 G2 | Michelin Pilot Sport 4S |
| Tire Size Tested | 225/35ZR20 | 225/35ZR20 |
| Load Index | 1323 pounds | 1323 pounds |
| Max Speed | 168 mph(W) | 186 mph (Y) |
| Load range | XL | XL |
| UTQG | 320 AAA | 300 AAA |
| Tread Depth | 10.2/32 in. | 9.5/ 32 inches |
| Price | $183.99 | $361.99 |
| Mileage Warranty | Not available | 30,000 miles |
2. Wet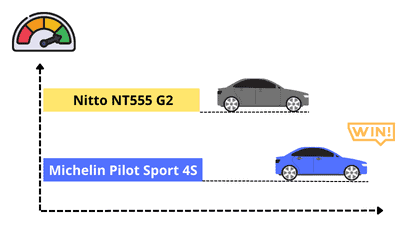 Both tires have high levels of silica in their tread, but the Michelin Pilot Sport 4S has better wet performance.
NT555 tires can wick water away better than other models in its class. However, its traction on wet roads is comparably weaker than that of the Pilot Sport 4S, which allowed vehicles to move stably even at high speeds.
Users also praised the short stopping distance of Michelin's Pilot Sport 4S in rainy or damp conditions.
3. Dry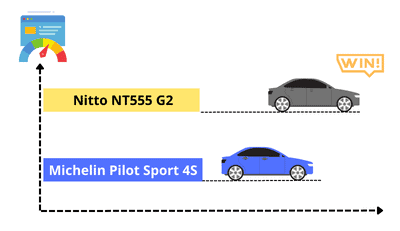 The tread of the NT555 G2 was developed with a stiffer compound, which is good in warmer weather. Thus, its grip is excellent on dry roads.
On the other hand, Michelin's Pilot Sport 4S warms up faster than the Nitto tire. It has a higher dry traction score because its tread uses a unique hybrid elastomer, which is primarily designed for racing competitions like Formula-E and 24 Hours of Le Mans.
Although PS4S leads the dry braking category, when it comes to steering, the Nitto tire has a slight edge.
4. Noise/comfort/ride quality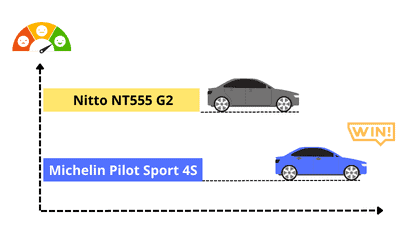 NT555 G2 tires are reliable in sporty driving because of responsive steering and excellent grip. However, the G2 cannot serve sporty cars with tons of power, as evident from its speed capability.
Its ride quality suffers because the tire's tread rigidity prevents it from absorbing the bumps on the road. The NT55 is noisy on rough pavements and gets louder on the highway.
In contrast, Michelin's Pilot Sport 4S is a tire you can drive on the track and use for daily trips with minimal road noise and high levels of comfort.
It performs well on curvy country roads, highways, and tight corners. PS4S tires are capable of changing lanes in an instant while maintaining safe speeds and without oversteering or understeering.
5. Cost
Michelin's Pilot Sport 4S is more expensive than the Nitto NT555 G2. The starting price of the NT555 G2 is $150 while the PS4S starts at $216.
Reddit users shared that despite the higher price tag of the Michelin tire, it performs better in wet and dry conditions and offers reasonable tread life.
Pros and Cons
Capable of straight-line driving in wet and dry conditions with great cornering ability
Higher treadwear rating
Budget-friendly
Not suitable for high-powered sports cars
Noisy and lower ride quality on rough roads
Can support high-performance cars
Unparalleled dry performance
Superior wet traction
Offers outstanding mileage warranty
Lower treadwear rating
Expensive
FAQs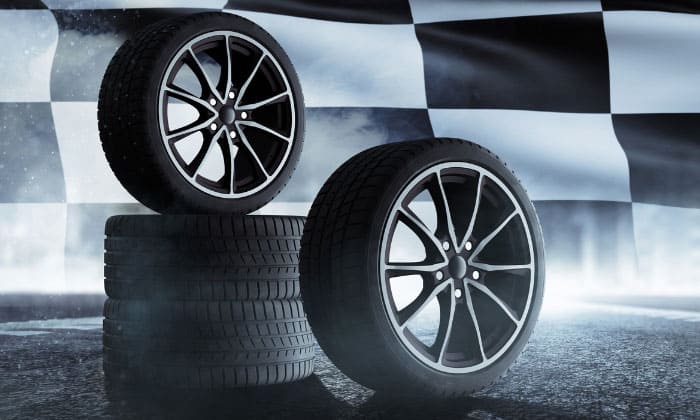 Which is better, Toyo Proxes Sport or NT555 G2?
The NT555 G2 beats Toyo Proxes Sport in dry and wet conditions. It has superior steering response, comfort, and a longer tread life.
Read more: Toyo Open Country AT3 vs Nitto Ridge Grappler: Which is better?
Are Michelin Pilot Sport 4S good in snow?
Michelin Pilot Sport 4S is a max performance summer tire, so it is not a good idea to use it in snowy conditions or below freezing temperatures. Instead, the PS4S offers exceptional handling on dry and wet roads.
Conclusion
After checking the performance of the Nitto NT555 G2 vs Michelin Pilot Sport 4s, it can be concluded that the NT555 G2 is a reliable and cheaper option for sporty driving.
However, if you would like to enjoy the full potential of high-powered sports cars, you won't go wrong with Michelin's Pilot Sport 4S. It is expensive but delivers what UHP tires are expected to do in wet and dry conditions.
If you are impressed by NT555 G2's competitive dry performance, you might want to check out other Nitto tires such as the Nitto Invo and Nitto NT421Q.