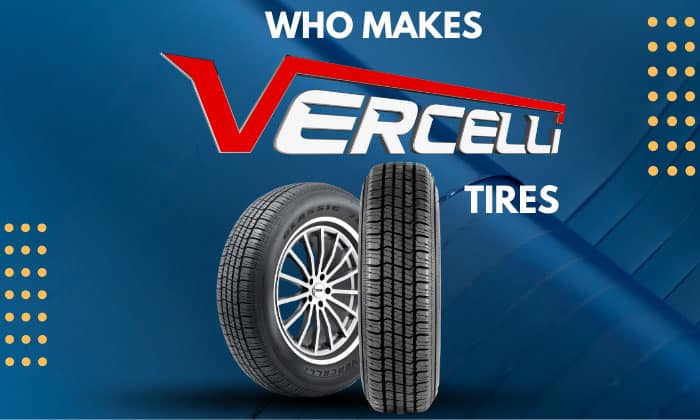 The success of a specific tire business is based on the hard work of its founder. All companies started with humble beginnings and then later on achieved their desired breakthrough due to all the manpower behind their names.
Vercelli is one tire company that gained recognition slowly but steadily.
This takes us to our curious question: Who makes Vercelli tires? Are Vercelli tires good options? Is it a good tire brand? Finish reading for a more in-depth answer.
Producer of Vercelli Tires
American Omni Trading Company (AOT) is the founder and manufacturer who sells Vercelli tires around the globe.
Specialized in dealing with wholesale tires, American Omni Trading Company is located in Houston, Texas, TX 77030, United States. This company has 33 years of professional experience in importing and exporting a variety of tires.
American Omni tires are not limited to the Vercelli brand. Tire labels under this company also include Americus, Crop Max, Deestone, Lancaster, Omni-Cargo, Thunderer, Transmax, and Venezia.
Vercelli's Background and History
Vercelli is a new tire brand, founded in 2018 by American Omni Trading Company. This means that Vercelli has just five years of appearance in the tire sector as of now.
Where are Vercelli tires made? The brand's main headquarter is situated in West Green Drive, Katy, Texas, and Thailand is where its tires are made.
Vercelli started with a small quantity of products but also offers all-terrain and off-road tires.
Manufacturing Process, Quality Assurance and Certification
Vercelli engineers regulate the quality of the tires it delivers to customers. Generally, the brand's secret formula for its high-quality tires are the use of abrasion-resistant compounds and rubber technologies.
In addition, all Vercelli tires are founded by thorough research and tests to ensure safety without compromising high-quality performance that can compete with other tire company giants.
These meticulous manufacturing procedures and strict quality checks allow Vercelli to produce tires with impressive mileage, grip, ride comfort, low noise level, steering, and stability.
Vercelli Tire Products and Performance
Types of Vercelli Tires
Vercelli currently has three tire lineups: Passenger Tires, Classic Tires, and Light Truck Tires. Let's know all the amazing distinct features and the tire models under these tire families.
1. Vercelli Passenger Tires/ Vercelli Strada Tires
Vercelli Strada I – Vercelli Strada 1 all-season tire allows for sensitive steering, superior grip, and excellent ride comfort.
Vercelli Strada II – Another all season tire that has a short distance braking and stability at high speeds.
Vercelli Strada IV – This tire model can hold additional load without compromising on control, making it perfect for trucks and SUVs.
2. Vercelli Classic Tires
Vercelli Classic 787 – A conventional tire that provides wear-resistant features, comfortable rides, a low noise level, and good steering qualities on dry and wet roads.
3. Vercelli Light Truck Tires
Vercelli Terreno A/T – This design has great performance on highways and impressive off-road traction and durability. Its grip capabilities are not just good for wet conditions, but good in snow too.
Vercelli Terreno MT – Tire that has an exceptional off-road performance.
Vercelli Terreno H/S & H/T – These are good choices for rainy seasons, since they are equipped with rainwater-evacuation technology that can maintain steady braking and grip not just on wet roads but also in light snow conditions.
Plus, the tires guarantee comfort, sensitive steering, and durability.
Pros and Cons
All tire brands have their own benefits and unexpected drawbacks. Below are the pros and cons of Vercelli tires quality to give you a preview of what to expect with Vercelli tires.
Pros
Comes at a budget-friendly price
Great warranty policy (25/365 free replacement policy)
Wear-resistant sidewall design
Has a mileage cover plan to support customers whose tires wear down before they are supposed to
Good stability and traction performance
Provides comfortable rides and a low noise level
Cons
Becomes harder and noisier through time
Not the best choice if you're an aggressive driver
Top Vercelli Tire Models
All Vercelli Strada tires (Strada I, II, and IV) currently have the top 3 highest ratings among Vercelli offerings, as per SimpleTire. Here are the reasons why.
For the Strada I, the credit belongs to its high performance on dry and wet roads alongside its quiet and comfortable ride.
Meanwhile, excellent hydroplaning engineering, great stability in dry and wet conditions, and its ability to provide a smooth ride are the reasons why Vercelli Strada II made it to the top three.
Lastly, Vercelli Strada IV's edge is its durability, grip on highways, and remarkable braking capabilities during rainy days.
These tires prices range from $65.96 to $181.98 (for the Vercelli Strada I), $78.95 to $178.96 (for the Vercelli Strada II), and $127.96 to $185.98 (for Vercelli's Strada IV). The final cost of your chosen tire depends on which size you're purchasing.
Comparing Vercelli Tires with Other Tire Brands
Achilles, Lexani, Mastercraft, and Waterfall are some of the competitors of Vercelli when it comes to affordability.
Achilles tires range from $75 to $150, while $65 to $320 is the price range for Mastercraft tires. It is fascinating to know that you can have a Lexani tire for as low as $67 (the Lexani LX-Seven), and a Waterfall tire for as little as $61 (Waterfall Eco Dynamic).
These products are great matches for the $66 price of the top favorite Vercelli tire (Vercelli Strada I).
I would say Vercelli tires vs Goodyear or Michelin are not really 'fair' comparisons, since these brands are not in the same league or targeting the same customer base. Brands like Goodyear and Michelin are generally more reliable with better products.
Tips for Choosing The Right Tire
Consider your driving conditions and terrains when shopping. Winter tires are unnecessary if there's little to no snow where you live, for example, while all-season options offer a middle ground between summer and winter tires.
Tire size affects how your car performs, so use the right wheel dimensions only and do not change yours willy-nilly.
Load and speed ratings are other important factors to consider, as manufacturers have specific requirements for how much weight or speed their vehicles can handle, and you must not ignore these guidelines.
Choose newer tires if possible to avoid problems that stem from natural wear and tear. While you're at it, consider extra features such as fuel efficiency and puncture resistance.
Once you have the right tire, remember to inflate it to the recommended pressure on your vehicle placard and check the sidewalls for air loss, punctures, and deformities regularly.
Never overload your vehicle, or you'll have to deal with blowouts and being stranded in the middle of the road. Pay a professional to rotate your wheels every 5,000 to 7,000 miles and balance them during installation and removal.
Frequently Asked Questions
Are Vercelli tires good for all types of vehicles?
Vercelli produces a wide selection of tires mainly for cars and trucks.
Other than that, Vercelli doesn't offer products that can cater to vehicles of other types like motorcycles and bicycles.
How long do Vercelli tires typically last?
Normally, Vercelli tires' usable tread life expectancy ranges from 40,000-60,000 miles.
Generally, the lifespan of any tire really depends on the quality of maintenance and driving conditions. So, proper tire maintenance is advised by Vercelli.
What kind of warranty does Vercelli offer for their tires?
Vercelli tires have a warranty plan called No Questions Asked, 25/365 Free Replacement Limited Protection Policy. This means that malfunctioned Vercelli tires are eligible for free replacement during their first 25% of usable tread wear or 12 months from the date of purchase.
If it happens that a Vercelli tire is not eligible for the No Questions Asked, 25/365 Free Replacement Policy, it can be replaced by another tire of the same pattern or under the same lineup, and in some cases, a tire with different tread or sidewall but with the same quality.
This replacement typically takes place within 60 months after the date of purchase or when the tire is already worn to 2/32″.
Also, the majority of Vercelli tires come with a decent mileage warranty of 45,000 to 60,000 miles (not applicable to the Classic 787 and Terreno M/T).
Conclusion
That's about it for this article on who makes Vercelli tires. I hope this post has given you enough information about Vercelli tires and the company itself.
Basically, Vercelli tires come with decent warranty policies, which are impressive for their affordable price. Their performance is good for their prices, though there are still areas for improvements.
Vercelli tires are generally less durable than other premium tire brands out there, but their handling in wet conditions, stability, and comfort make up for some of their drawbacks.