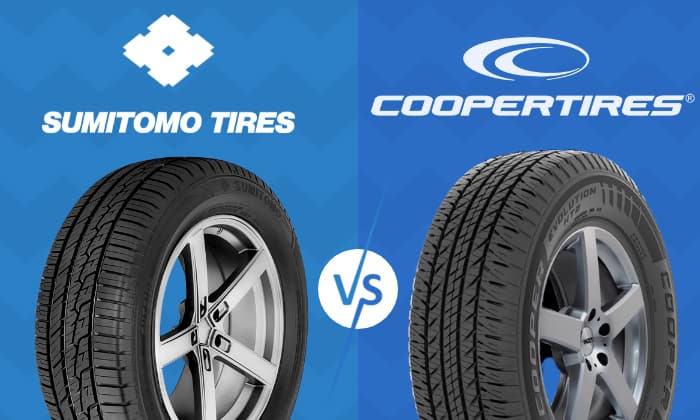 With all the mid-range tire brands popping up, day-to-day drivers and enthusiasts alike are often hard-pressed to find the best brands that offer reliable performance and excellent value for money.
And when it comes to choosing the best mid-range tires, Sumitomo and Cooper are always part of the conversation. So, let's find out who has the better set of rubbers in this Sumitomo vs Cooper tires comparison.
Tire Brand
Sumitomo
Cooper
Country of Origin
Japan
United States
Short Description
A Japanese tire brand established in 1909 and is the owner of Dunlop and Falken tires.
American tire brand owned by Goodyear. Established in 1914 in Akron, Ohio.
Focus
Low to Mid-Range Market
Mid-Range Market
Popular for
All-season Tires
Off-road Tires
Tire Compatibility
● Passenger

● SUV/Crossover

● Racing

● Construction

● Agriculture

● Industrial

● Motorcycle

● Passenger

● Truck

● Minivan

● SUV/Crossover

● Performance
Overview
Sumitomo
First established in 1909, Sumitomo started as a bicycle and rickshaw tire manufacturer. It wasn't until 1913 that they made tires for automobiles.
Arguably, one of Sumitomo's best achievements was developing Japan's first tubeless tire, which skyrocketed the brand to much greater heights, and the rest is history.
Sumitomo Tires offers one of the best bang for your buck, especially within its all-season tire catalog, which is its best-selling product line.
Pros
Great wet performance
Better off-road performance
Better warranty and tread life
Cheaper high-end tires
Cooper
Established way back in 1914 in Akron, Ohio, Cooper is one of America's oldest tire brands. During its inception, Cooper devoted all its time and energy to making tires from the get-go.
They take great pride in the quality of their tires, which can often go on par with other premium tires. Despite their excellent performance, these tires remain affordable.
Moreover, Cooper tires are beloved by off-road enthusiasts due to the superb quality of their all-terrain tires. This makes Cooper one of the world's most sought-after tire companies, leading to its acquisition by the tire giant Goodyear in 2021.
Pros
Great wet performance
Better dry performance
Good warranty and tread life
Cons
Worse off-road performance
More expensive high-end tires
Differences Between Sumitomo and Cooper Tires
How do these tires differ? Well, we tested some of what both brands can offer to fully explore what makes them unique and what they do best in this tire comparison.
1. Wet Performance
Wet performance can be the most coveted aspect of a tire, especially among everyday commuters. As such, grand touring all-season tires are best. For this one, we'll compare the Sumitomo HTR Enhance LX2 with the Cooper CS5 Ultra Touring.
Unexpectedly, both tires performed similarly on aquaplaning and wet traction, with their high-silica compound tread and excellent tread design.
Therefore, it's a tie in this category.
2. Dry Performance
Regarding dry traction and handling, performance tires will be the best bet. So, we'll go with a Sumitomo HTR A/S P02 vs Cooper Discoverer SRX comparison.
Both tires performed quite well in terms of dry performance, but it was clear that the Cooper Discoverer SRX was better. From dry traction to steering response and stability, it dominated the Sumitomo HTR A/S P02.
3. Off-Road Performance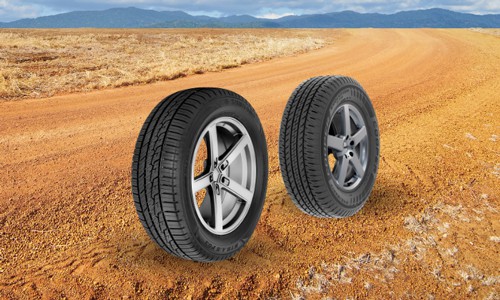 When it comes to off-road riding, Sumitomo Encounter A/T vs Cooper Discoverer A/T3 are the best tires in their respective brand. So, how do these two products fare against each other?
Right off the bat, both were superb on all fronts, making them ideal for the great outdoors. However, we were surprised when the Sumitomo Encounter A/T provided slightly tighter traction and more responsive handling on sand and rock.
4. Warranty and Treadwear
Cooper tires have mileage warranties up to 80,000 miles, while Sumitomo's are much higher at 90,000 miles. From there, we can infer that the latter can last longer than the former.
This fact is once again proven when we consider the average lifespan of tires from either brand. Whereas Cooper's products can last between 30,000 to 50,000 miles, the tires made by their Japanese competitor are good for 55,000 to 70,000 miles.
5. Price
Price can often be the main factor that compels many drivers to buy tires from a certain brand. So, it would be an oversight not to include this important aspect in our tire comparison.
Generally, Cooper tires cost $73 to $585, whereas Sumitomo will set you back from $84 to $475.
Which One is Better?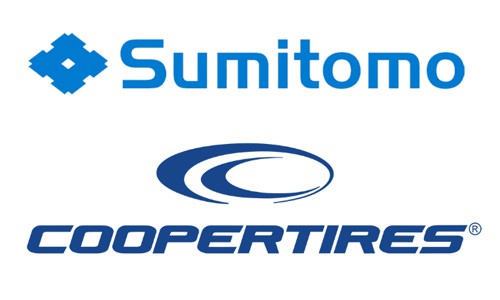 In this Sumitomo tires vs Cooper comparison, both were objectively tied regarding performance. However, when looking at mid-range brands, it's often understood that you want the best value for your money, and Sumitomo offers this in spades.
It's clear that Sumitomo didn't skimp out on making their tires durable – even going at par with many premium brands, which is rare, considering that they focus on the mid-range market.
However, this doesn't mean Cooper tires are bad—far from it. Cooper tires are still a solid choice since they excel in many categories. And although Sumitomo offers better warranties, Cooper also doesn't lag by a lot either.
Related comparisons:
Conclusion
I hope we've shed some light on this Sumitomo vs Cooper Tires comparison. And it's safe to say that Sumitomo has the edge on this one with their superb performance and better price ranges, warranty, as well as treadwear.
However, as mentioned above, Cooper isn't a terrible tire by any means. If anything, this American brand comes at a close second to what Sumitomo tires can offer, and that's not an easy feat.