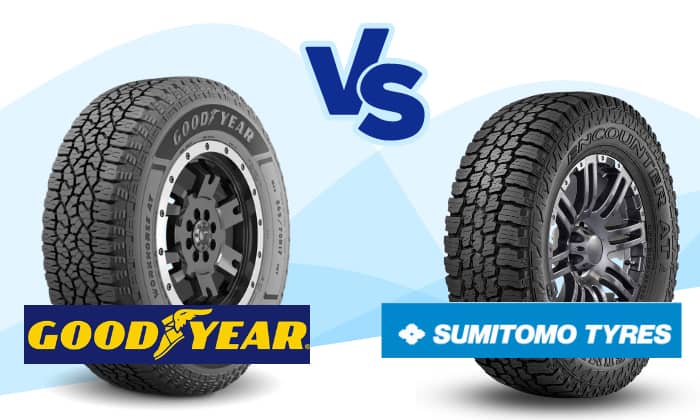 Sumitomo tires vs. Goodyear tires – what are the significant differences between the two brands? The former is a Japanese tire company that offers reliable tires for passenger cars and light trucks, while the latter is an American company that innovates tire designs.
Here is a quick comparison chart to help you see the difference between the tire brands.
| | | |
| --- | --- | --- |
| Factors | Sumitomo Tires | Goodyear Tires |
| History | Established in 1909 as a company that produced various rubber goods, such as sporting goods and vehicle tires. | Founded in 1898 in Akron, Ohio, as a company that produced tires for bicycles and carriages. |
| Performance | Renowned for their all-season traction and comfortable driving experience. | Large selection of tires for on-road, off-road, winter conditions, and special requirements. |
| Warranty | Mileage warranty ranges from 45,000 to 85,000-mile warranties. | Mileage warranty ranges from 45,000 to 85,000-mile warranties. |
| Price | $61.96 to $545.21 | $77.00 to $692 |
To give you a better understanding of the tires they provide, below is a detailed look at the comparison between Sumitomo vs. Goodyear.
Overview of the Companies
1. Sumitomo Tires
The Sumitomo Rubber Industries. Ltd specializes in tires for passenger vehicles and light trucks. This Japanese brand's product lines primarily consist of all-season tires as well as those built for off-road terrains and highways.
2. Goodyear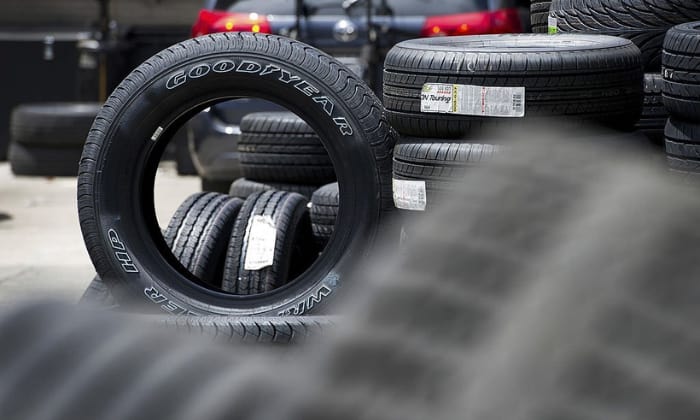 The American company that is synonymous with tires, Goodyear stands out for its expansive variety of products. This tire company has lines dedicated to performance, all-season traction, and off-road gripping.
On top of variety, Goodyear tires are known to last longer than others, thanks to the high-quality materials used.
Differences
1. Performance
Sumitomo excels in tires with driving comfort; its tire produces little noise and vibrations. The brand can deliver impressive on-road driving, although it still sadly pales in comparison to Goodyear, which can promise a smoother ride with minimal noise.
In addition, Goodyear peaks in terms of speed rating, handling, steering response, and traction in all weather conditions—although the disparity is much clearer in wet conditions. This superiority comes from the optimized tread design with the Tredlock Technology, a soybean-based tire compound, and varying unique construction.
As such, performance-wise, Goodyear tires can pretty much beat Sumitomo, especially regarding off-road handling and traction. This comes as no surprise, considering that the Japanese brand doesn't really have a dedicated product line for off-road driving.
2. Warranty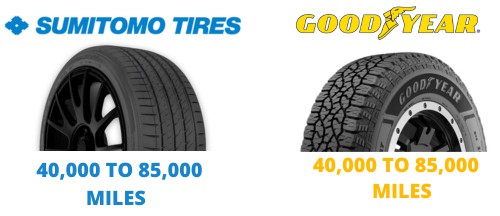 Sumitomo offers a free replacement should your tire break because of a problem with the manufacturer. In addition, its mileage warranty covers 40,000 to 85,000 miles, depending on the specific product line.
Goodyear also offers a mileage warranty coverage of 40,000 to 85,000 miles. However, not every Goodyear has this warranty protection, such as certain Eagle product lines and their RV tires.
3. Durability
Sumitomo Tire's durability is top-notch due to the brand's innovations. An example is the Jointless Nylon Band technology consisting of a spirally wound nylon reinforcement on two rigid steel belts. This technology preserves the tire's interior integrity when traveling at high speed.
As for Goodyear, durability is one of the brand's fortes. One example of its innovation in this regard is the Dupont Kevlar technology, which involves an absorbent layer installed between the tread and steel belt. Also noticeable is the Durawall technology that makes the tire's sidewall impervious to cuts and punctures.
Although both brands are impressive when it comes to durability, Goodyear comes out on top with its numerous tire qualities.
4. Pros and Cons
Here are the reasons to buy or skip Sumitomo tires:
Sumitomo Tires
Reliable all-season tires
Warranty coverage on all tires
Affordable price range
Inferior traction, steering response, and speed rating
Limited tire variety
Below are the advantages and disadvantages of Goodyear tires.
Goodyear
Superior performance and outstanding features
Wide range of tire selection
Highly durable tires
Lack of warranty on other tires
5. Cost and Value for Money
Sumitomo Tire's price within major retail stores can range from $61.96 to $545.21, whereas Goodyear tires will set you back $77 to $692.
Although Goodyear tires are more expensive than an average Sumitomo, their durability balances things out, so you may want to keep this factor in mind if the hefty price tag puts you off.
Notable Tires of Each Brand
1. Sumitomo Tires
The Tour Plus is Sumitomo's enhanced touring tire specially designed for sedans and minivans. Its innovative tread pattern prevents air from hitting the groove's walls for a quiet ride. The tire also has reliable traction in various weather conditions.
The Encounter is Sumitomo's all-terrain tires for SUVs and light trucks. The Encounter can achieve an aggressive grip on off-road surfaces and optimized service life with its non-directional, five-rib tread feature and deep void channels.
The HTR Enhance LX2 is the upgraded HTR tire from Sumitomo for sedans and coupes. This touring tire features 3D zig-zag sipes for better grip in snow conditions while preventing wearing caused by irregular pressure.
2. Goodyear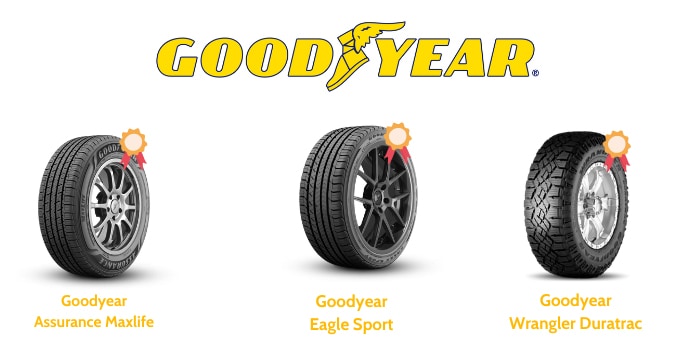 Goodyear Assurance Maxlife
Goodyear Assurance Maxlife is the brand's renowned all-season touring tire for passenger vehicles. Its overall design ensures reliable grip for various weather conditions and good tread life – up to 85,000 miles.
Goodyear Wrangler DuraTrac
The DuraTrac is a high-performing tire for trucks, known for its excellent off-road performance and superior durability. Plus, it boasts aggressive treads that make it possible to travel in snow, mud, and gravel.
Goodyear Eagle Sport is the brand's performance tire for sports and luxury cars. It features a rugged tread compound and unique tread pattern to achieve superior steering response, dry & wet traction, and ride comfort. This tire will always come up when you compare Goodyear tires with others on performance.
Which is Better?
Goodyear is the clear winner among the two brands due to their selection of tires. Whether high-performance, all-terrain, or winter, Goodyear has what you need more than Sumitomo.
Note that Sumitomo is still a solid tire brand, with their all-season touring tires being almost neck-to-neck with Goodyear's touring line. In addition, the Japanese tire brand offers warranty coverage on all of their tires.
Tips to Consider When Buying The Right Tire
Below are four valuable tips to help you invest in a suitable tire for your vehicle.
Consider low-rolling resistance tires, as they cut down on gas or energy usage. An example of this type is the Goodyear Assurance CS Fuel Max.
Lookup buyer reviews will help you know if there are any specific shortcomings for a particular tire and whether said drawback is a deal-breaker for you.
Learn the market price by going through various tire retailers or dealerships. This will help you find a good deal for a tire you want.
Ask a local mechanic to see which tire meets your driving requirements and budget.
Frequently Asked Questions
What is a Sumitomo GeoTour Tire?
GeoTour Tires is a brand of all-terrain tires for passenger cars made by Sumitomo. It is specifically designed to drive unpaved dirt patches or remote recreational grounds.
Are Sumitomo Tires reliable?
The Japanese tire brand is renowned for the reliability and performance of its products. It should also be noted that Sumitomo is one of the top ten tire companies in the world, making them nearly the same in ranking as Goodyear.
Conclusion
To conclude the comparison between Sumitomo Tires vs. Goodyear, the US company has the edge for overall performance, durability, drive comfort, and steering response.
However, Sumitomo is still a good brand to rely on, especially if you prefer something more budget-friendly.