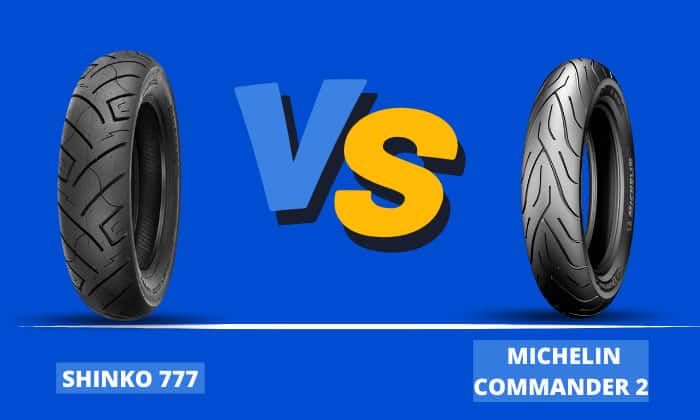 Shinko tires are made in South Korea, but the tire designs are developed in Osaka, Japan.
Let's find out if this combination holds out against a premium motorcycle tire by comparing Shinko 777 vs Michelin Commander 2.
Shinko 777 is a practical cruiser tire that can deliver a noiseless and comfortable ride with confident wet and dry performance at low speeds. On the other hand, Michelin Commander 2 is excellent for long drives because it has long-lasting mileage and superior grip and handling in wet and dry conditions.
| | | |
| --- | --- | --- |
| Features | | |
| Mileage | Comparable | Winner |
| Dry Performance | Comparable | Winner |
| Wet Performance | Great at low speed | Winner |
| Noise | Quiet | Loud noise in turns |
| Comfort/Ride Quality | Comfortable | Smooth |
| Price | Cheaper | Expensive |
What Are They?
1. Shinko 777
Shinko 777 can be found on its official website as Black wall SR777 & SR 777 H.D. This tubeless tire was specifically developed to provide cruiser motorcycles with confident handling and traction even when accelerating, braking and cornering.
The tire promises:
Ultimate grip through rubber compound
Practical siping and grooves for better control
Stability even under heavy load through aramid belt
Shinko 777 comes in numerous sizes that are suitable for V-twin and metric-cruiser models. It has a heavy-duty version that is capable of delivering a surefooted ride.
2. Michelin Commander 2
Michelin Commander 2 was introduced in 2012 as the cruiser tire to beat in longevity. It was made available in 15 sizes with a bias and radial construction.
This tire features:
multiple longitudinal grooves for hydroplaning resistance
high-density carcass that can deliver ease in movement even at high speeds
Aramid Shield technology that promises stability, superior handling, and durability
Silica Technology to prevent uneven wear
Square bead to reinforce the sidewalls and provide tensile strength
This tire was replaced by the Michelin Commander 3 in 2020.
Read more:
Differences: Shinko 777 versus Michelin Commander 2
Shinko 777 and Michelin Commander 2 are included in the list of the best cruiser motorcycle tires. But, which is better in terms of mileage, performance, and cost?
1. Mileage
Reviews show that both tires are loved for their strong mileage. Between the two, Michelin Commander 2 has a longer tread life with a promise of up to 25,000 miles or 40,000 kilometers.
On the other hand, the Shinko 777 can handle 5,000-10,000 miles.
Some drivers shared that Shinko wears out faster than the Commander 2 because its compound is stickier and softer. Many appreciate the Shinko 777 burnout and use it for stunts. When used with Harley, it was recommended to be run at higher pressures.
2. Performance
Shinko 777 performs well at low cruising speeds. It is easy to control in cornering, but not that impressive in high speed turns. It can also pass through mud and snow with ease.
I like this tire because the ride is predictable, noiseless, and comfortable. It can tackle uneven roads, concrete freeways, and mountain byways.
On the other hand, Michelin's Commander 2 is a grippy tire in dry and wet conditions. In my experience, it doesn't skid on wet roads, and the tire performs well at both low speeds and high speeds.
In normal conditions, I enjoyed its hard grip and firm handling. The Commander 2 is easy to maneuver through deep turns and delivers excellent rides on the highway, but produces noise when making turns.
Michelin Commander 2 isn't a winter tire, so it is not a good idea to use it in snowy conditions.
3. Cost
Shinko 777 is cheaper than the Michelin Commander 2. For instance, Michelin Commander II 180/65B16 rear tire is sold at $312.85 per tire while the Shinko 777 is available at $168.49 for the same tire size.
The Shinko 777 HD 180/65B16 version can be bought for $161.56.
Pros and cons: Shinko 777 versus Michelin Commander 2
Shinko 777
Low-cost tire
Easy to control
Quiet and comfortable
Can pass through mud and snow
Needs caution in high speed turns
Michelin Commander 2
Good wet and dry performance
Longer tread life
Smooth rides
Firm handling
Conclusion
There are plenty of choices for cruiser motorcycles, and most of them are available in various sizes. In this review of Shinko 777 vs Michelin Commander 2, we found out that both tires are long-lasting with good dry performance.
If you are looking for a cruiser motorcycle tire for daily errands, Shinko 777 is a more affordable choice that performs well at low speeds. However, for long trips, you can save more on the Michelin Commander 2 because it delivers a balance in performance and mileage.