Michelin Pilot Sport tires are designed to maximize the potential of your high-performance sports car by optimizing handling and tread life. They feature brilliant performance qualities in both dry and wet conditions. In fact, it's no surprise that these tires can be found on many of the world's best sports cars.
Under Michelin's Pilot Sport line are Michelin Pilot Sport 4S and Michelin Pilot Sport Cup 2. These two are both popular and undeniably great choices due to their exceptional road handling and control features.
But Michelin Pilot Sport 4S vs Cup 2 — which is really better? Let's examine their performance in various weather situations, price range, tire ratings, and advantages and downsides.
| | | |
| --- | --- | --- |
| Attribute | | |
| Size | 245/35ZR20 | 245/35ZR20 |
| Maximum pressure | 50 psi | 50 psi |
| Tire weight | 23 pounds | 23 pounds |
| Tread depth | 9/32″ | 7.2/32″ |
| Maximum load | 1521 pounds | 1521 pounds |
| UTQG | 300 AA A | 180 AA A |
What are they?
1. Michelin Pilot Sport 4S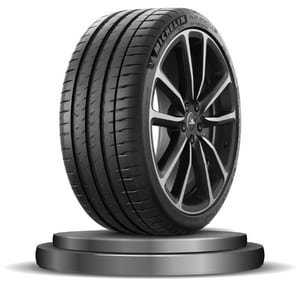 In 2017, Michelin Pilot Sport 4S made its first appearance in the market. It is one of the Michelin tires that outperforms many older models.
Michelin PS4S is essentially an upgrade of the Pilot Super Sport, specifically for regular use. Its benefits are a longer lifespan, less noise, and a higher comfort level than its predecessor.
Furthermore, when comparing the Michelin Pilot Sport 4 vs 4S, it is indeed not debatable that the Michelin PS4S is relatively better in traction on dry and wet road surfaces, aquaplaning, and has a longer tread life than its predecessor, the Pilot Sport 4.
The tire was produced in 35 different sizes in the beginning but is now available in over 200 sizes. The rim measures 225-345mm and is 17 to 23 inches in diameter.
The Michelin PS4S has a lot of incredible features, namely:
Ultra-reactive tread patterns – Stable high speed driving is not a problem, since this feature provides strong road grip for impressive cornering and ride control.
Multi-Compound Construction – Provides incomparable levels of dry and wet grip precision when needed
Deep rim protector – Serves as a safeguard against possible tire wear while providing aesthetic appeal.
Belt made of Aramid and Nylon – This hybrid of heat-resistant and strong synthetics is robust to prevent the softening and weakening of the tire rubber, especially when used at high-speeds.
Multi-tread compound– For excellent dry handling and braking in different weather conditions, the tire is composed of rubber and silica. Its interior is silicon-injected for wet traction enhancement, while its exterior has a dry-focused rubber good for default driving.
2. Michelin Pilot Sport Cup 2
Michelin Pilot Sport Cup 2 is a high performance, track-only tire that is derived from endurance racing technology, and is also road-legal.
It has a stronger external shoulder made up of a specially formulated rubber substance, which improves the tire's wear resistance.
The following are the remarkable features of the Cup 2 Michelin tire:
8 seconds faster on dry laps – Bi-Compound technology for higher cornering traction and improved handling.
20% higher tread depth — Track Longevity Technology allows for slower treadwear, so drivers can enjoy quicker lap time on the race tracks without replacing the tire early.
Lap time consistency and 50% more track laps – This tire is definitely designed for experienced drivers, especially those who are racers. Outboard shoulders and Twaron cords enable easy maneuvering around corners, even at high speeds.
Pilot Sport Cup 2 Connect, a more advanced version of the Cup 2, was just launched recently. Despite its lower price, many people prefer the earlier version because of its superior handling, longevity, and higher speed rating.
This only proves that although the Cup 2 is an older model, it still excels in dry road, noise, and comfort compared with its latest tire edition.
Differences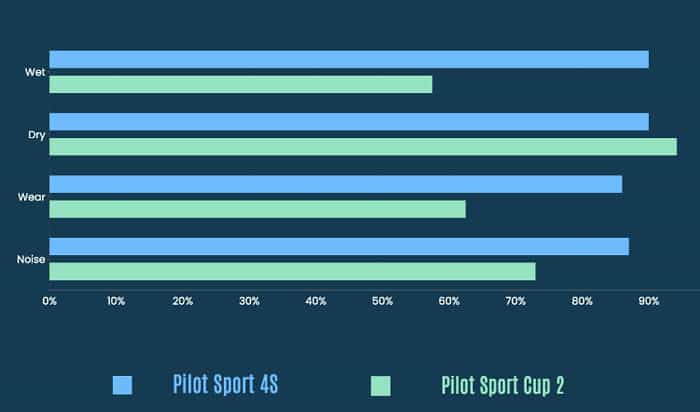 1. Wet
Wet braking criteria are essential to determining how amazing a tire is, since wet roads decrease the friction of a tire.
The Michelin PS4S has a silica compound infused within its middle ribs to allow for maximum driving performance even on wet surfaces. The Cup 2, though possessing sufficient grip on wet areas, doesn't handle standing water that well, and users should not accelerate on this tire when moving through puddles.
In terms of overall wet performance, Michelin's Pilot Sport 4S excels with a 90% point in comparison with the low 57.5% score of the Michelin Pilot Sport Cup 2.
2. Dry
The Michelin PS4S doesn't focus on dry traction as much as the Pilot Sport Cup 2, as evidenced by the latter's bigger outer blocks and faster dry braking. In terms of cornering stability and steering response, we also found that the Cup 2 did better, though the margins weren't that significant.
Thus, it's no surprise that Michelin Pilot Sport Cup 2 won the overall dry condition category by 4.2%.
It got 94.2% in feedback, while the Michelin Pilot Sport 4S received 90%.
3. Wear
In terms of tire wear, the Pilot Sport Cup 2 earned 62.5% in scoring from calculations, while the Michelin Pilot Sport 4S had 86%.
This only means that Michelin Pilot Sport Cup 2 will most likely be worn more quickly than the Michelin Pilot Sport 4S. It might also imply that the Michelin PS4S has a longer lifespan, thanks to its Aramid and Nylon compounds.
We would estimate the tires' lifespan to be 60,000 km versus 40,000 km.
4. Noise
While noise is not the most important thing on the tracks, regular drivers will appreciate a peaceful ride. In this aspect, the PS4S excels with its relatively quiet performance. Users have reported needing ear plugs when driving with the Pilot Sport Cup 2.
5. Cost
It is expected that outstanding tires under the Michelin brand are costly, but they are worth the price, since all of these tires offer great performance and features that are good for our cars.
The price range of Michelin Pilot Sport 4S is estimated to be around $227.29 to $611.65. On the other hand, Michelin Pilot Sport Cup 2's price range comes around $324.72 to $689.48. The price range discrepancies are influenced by tire sizes.
Considering this pricing range, we may conclude that the Pilot Sport Cup 2 is significantly more expensive than the Pilot Sport 4S.
Pros and Cons
Both the Pilot Sport 4S and Pilot Sport Cup 2 are undeniably great on their own. On the other hand, they also have their own drawbacks, whether we like it or not.
Here's a rundown of the advantages and disadvantages of each.
1. Michelin Pilot Sport 4S
Superb wet handling and braking
Low noise level
Ride comfort
Low rolling resistance
Better tread life
Cheaper price
Brakes more slowly on dry roads
2. Michelin Pilot Sport Cup 2
Excellent in dry conditions
Good steering response
Good cornering stability
Precise grip
Quite expensive
Average in wet conditions
Short tread life
Noisy
Conclusion
For over a century, Michelin has provided us with their long-lasting and useful tires. So Michelin Pilot Sport 4S vs Cup 2 comparison rises among Michelin faithful fans.
Based on the facts we gathered, Michelin Pilot Sport Cup 2 proved itself in the dry performance category. However, the Pilot Sport 4S excels in pretty much all other aspects.
The conflict is merely a matter of personal choice. It all depends on which category is most important to you.
Make this article the starting point for your analysis, and we will leave the selection between these two tires up to you.