Among all-terrain tires, one of the most vital criteria is to ensure that they balance their efficiency in both on- and off-road conditions. Otherwise, you'd be better off with a specialized highway or off-road tire.
To give you more options, let's compare Nitto Ridge Grappler vs Goodyear Duratrac. By pitting a lesser-known brand Nitto tires with an industry titan that is Goodyear, you'll be able to be more informed on your off-road tire needs. Let's get started!
But before that, let's see how these tires compare on the surface.
| | | |
| --- | --- | --- |
| Tire | Nitto Ridge Grappler | Goodyear Wrangler Duratrac |
| Tire Type | Rugged All-Terrain | Commercial All-Terrain |
| Tested Size | LT265/75R16 | LT265/75R16 |
| UTQG | None | None |
| 3PMSF | None | Yes |
| Tread Depth | 16.4/32″ | 18/32″ |
| Max Load | 3,415 lbs | 2,470 lbs |
| Overall Diameter | 31.7″ | 31.7″ |
| Section Width | 10.5″ | 10.5″ |
| Rim Range | 7-9″ | 7-9″ |
| Price | $277.00 | $253.99 |
Overview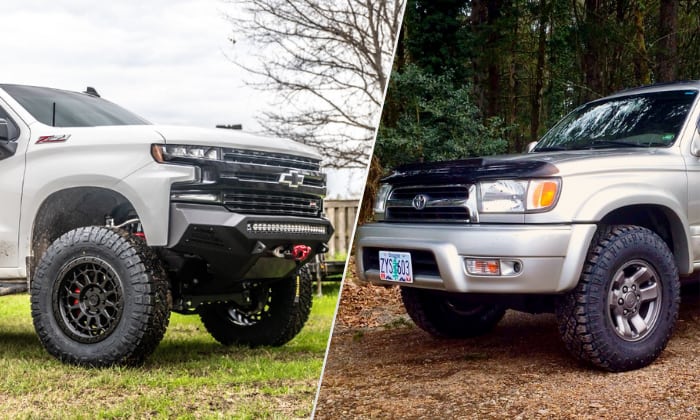 1. Nitto Ridge Grappler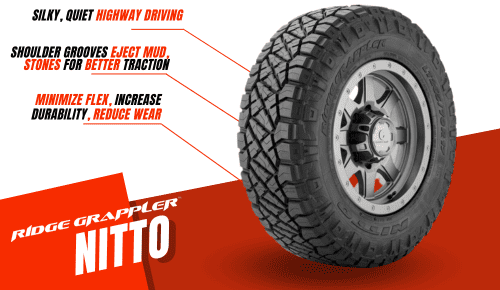 The Nitto Ridge Grappler is one of Nitto's most advanced tires. Armed with a plethora of features, this allows the tire to perform superbly well on and off-road.
Nitto utilized state-of-the-art audio technology called the Variable Pitch Pattern to generate a tread design that ensures a silky smooth and quiet driving experience on highways.
As for traction capabilities, Nitto ensured grip wouldn't be an issue by emphasizing mud and stone ejection using shoulder grooves with varying widths and lengths.Additionally, the lateral Z grooves adopt a zig-zag pattern, creating biting edges that further improve traction. These are coupled with step block edges and staggered shoulder lugs to maximize grip on off-road surfaces.
As for durability, a reinforced block foundation bolsters the tread blocks, effectively minimizing flex which substantially decreases wear and tear.
2. Goodyear Wrangler Duratrac
The Goodyear Duratrac comes from a famous family of all-terrain tires called the Wrangler. This tire offers various features contributing to its exceptional performance across various driving conditions.
To begin with, its TractiveGroove Technology™ ensures enhanced traction, particularly in challenging terrains such as deep mud and snow. This means you can confidently navigate through difficult off-road conditions with improved grip.
The Duratract also comes equipped with self-cleaning capabilities, effectively clearing the tread of debris like mud and stones. This feature significantly enhances traction on dirt, gravel, mud, and even snow.
In addition, it boasts angled center tread blocks that enhance traction and stability.
As for durability, the tire comes equipped with a rim protector, which plays a crucial role in safeguarding your wheels from accidental curb damage.
Differences
When comparing the Goodyear Wrangler Duratrac vs Nitto Ridge Grapplers performance, it might seem that the Goodyear has the upper hand when it comes to features. But after rigorous testing, we found some interesting results.
1. Dry Performance
Overall, both tires have features that enable them to comfortably drive through dry highways, although the one from Goodyear has an edge over its competitor.
For starters, when it comes to maneuverability, the Goodyear Wrangler Duratrac comes on top due to how it features materials for better steering response and cornering capabilities.
Meanwhile, the Nitto Ridge Grappler's handling feels a bit muddy at times due to tremendous weight and rigid sidewalls.
2. Wet Performance
Right off the bat, The Goodyear Wrangler Duratrac tire outperforms the Nitto Ridge Grappler in wet grip and hydroplaning resistance.
The Duratrac's stretchable siping pattern, especially on the shoulder blocks, provides better interlocking and handling on slippery roads.
On the other hand, the Nitto Ridge Grappler has more rigid sidewalls, contributing to less sufficient siping, leading to potential slippage while cornering due to the lack of water evacuation capabilities.
3. Off-Road Performance
Of course, this Nitto Ridge Grappler vs Duratrac comparison isn't complete without off-road performance. So for this one, we've considered different terrains such as mud, rocks, sand, and snow to give a complete all-terrain experience.
Similar to wet performance, the Goodyear Wrangler Duratrac's ability to eject debris and water due to its siping gives it an edge in mud performance. Moreover, the tractive grooves technology allows the mini tread blocks to break down mud particles, further enhancing their self-cleaning capabilities.
On rocky roads, the winner naturally goes to the tire with the most aggressive tread design, so the Nitto Ridge Grappler triumphs in this regard. Its durable 3-ply polyester construction ensures strong and puncture-resistant sides.
Meanwhile, the Grappler's thicker dual-sidewall lugs offer ample off-road traction when the tire is under pressure and the aggressive biting edges across the tire ensure grip on all sides of the tire, an essential feature when traversing rocky terrain.
When it comes to performance on sand, we'll have to give it a tie. That's because although the Goodyear Duratrac is lighter, which is excellent for terrain like sand dunes, the Nitto Ridge Grappler's weight and aggressive design give better forward momentum.
There's no surprise that the Goodyear Wrangler Duratrac wins in this regard due to its 3PMSF rating—a feature absent on the Nitto Ridge Grappler. Moreover, for LT sizes, the Duratrac also features #16 metal studding, which significantly improves grip on snow.
4. Comfort
The Nitto Ridge Grappler, with its stiffer construction, falls short in ride comfort but is still not as loud as the Duratrac. That's because Goodyear Duratrac features a polymer-rich composition in its tread, granting it superior stretching abilities to absorb bumps more effectively.
However, because of this design, the Goodyear Duratrac's ability to suppress noise is compromised, as air particles have a much wider area to enter the treads and produce pesky growls within the cabin.
5. Durability and lifespan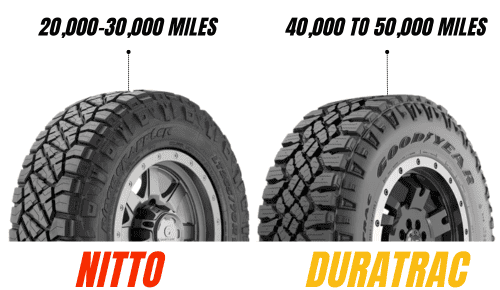 As all-terrains tires tend to have shorter treadlife, it comes as no surprise that the Nitto Ridge Grappler can only last 20,000-30,000 miles on average. Its lack of a mileage warranty can also be a concern if durability is your top priority.
The Goodyear Duratrac, on the other hand, can last at least 40,000 to 50,000 miles. Its 50,000-mile warranty also indicates how long this tire can hold up.
6. Pricing
Surprisingly, although the Goodyear Wrangler Duratrac comes from a more well-known brand, it's actually cheaper than the Nitto Ridge Grappler. In an LT265/75R16 sized tire, the Duratrac costs $253.99, while the Ridge Grappler is priced at $277.
Given its better performance, lower price, and longer lifespan, the Goodyear Duratrac obviously offers better value for money.
7. Pros and Cons
Nitto Ridge Grappler
Better rock performance
Great sand performance
Quieter
Mud performance lacking
No 3PMSF rating
No mileage warranty and shorter lifespan
Goodyear Wrangler Duratrac
Better wet and dry performance
Better mud and snow performance
Great sand performance
Better ride quality
Cheaper
Comes with mileage warranty and longer lifespan
Rock performance lacking
Rather loud
Which is Better?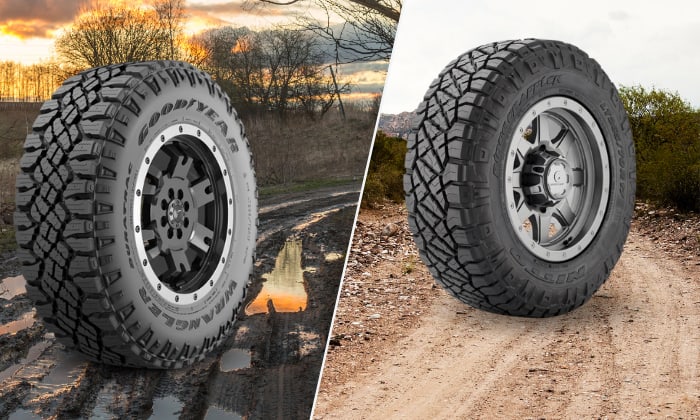 It's fairly obvious that the Goodyear Wrangler Duratrac is the overall better option in terms of performance and price. It has excellent versatility, allowing it to perform well on many terrains, especially mud and snow.
However, if you mainly travel on rocky terrains, the Nitto Ridge Grappler is a better alternative. And in case you're a fan of Nitto and often traverse on mud, try comparing Goodyear Duratrac vs Nitto Trail Grappler. In this case, you'd find Nitto's mud-terrain tire a more enticing pick.
Conclusion
I hope we've shed some light on who's the better off-road tire in this Nitto Ridge Grappler vs Goodyear Duratrac tire comparison. And it's safe to say that we have to go with the Goodyear Wrangler Duratrac on this one.
Not only is it the better tire in terms of performance, but it's also a much cheaper option. However, the Nitto Ridge Grappler is by no means a terrible tire as it excels on specialized terrains like rocks and sand.
What tire would you choose? Comment below and let us know your thoughts
---
Other options you can learn more about: