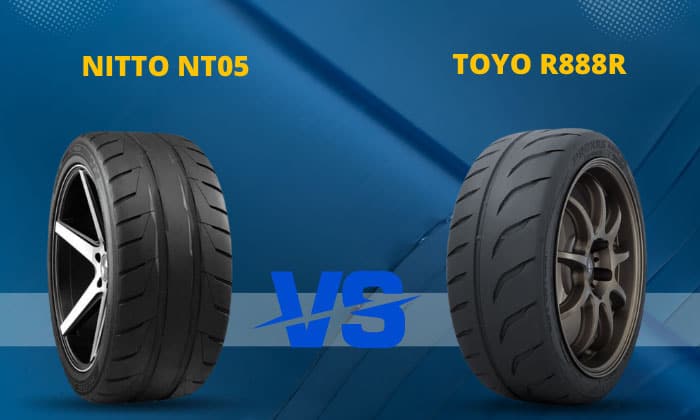 Are you looking for a tire that can perform well both on streets and tracks? This Nitto NT05 vs Toyo R888R comparison might help you.
Toyo's R888R performs better than the Nitto NT05 on dry pavements, while the latter is surprisingly grippier on wet roads.
Nitto NT05 is a quieter and practical street tire for daily driving and occasional track events while Toyo R888R delivers a noisier but more enjoyable racing performance.
| | | |
| --- | --- | --- |
| Factors | | |
| Wet | Winner | Average |
| Dry | Above average | Winner |
| Noise | Quiet to loud noise | Loud |
| Comfort/Ride Quality | Good | Smooth rides |
| Snow and Ice | Not usable | Not usable |
| Price | Cheaper | Expensive |
| Mileage Warranty | None | None |
What Are They?
1. Nitto NT05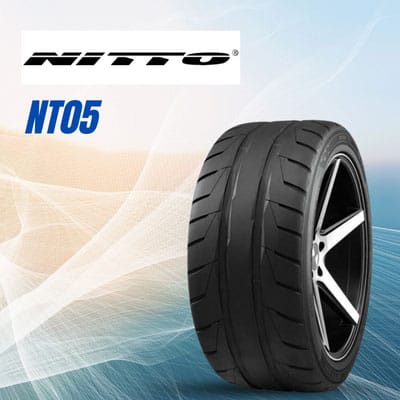 Nitto NT05 is a max-performance tire designed to give high-performance vehicles sticky, dry performance, predictable cornering, and handling stability through continuous center ribs and large outer shoulder blocks.
Its silica tread compound allows users to drive at high speeds without concerns about dangerous sliding and losing control.
This tire was launched in 2009 in 20 sizes ranging from 17-20 in. Its name was derived from two Nitto tires: the NT01 and NT555 UHP, due to the tire being a combination of its siblings' best qualities. It also has a DOT certification.
Interestingly, the NT05 appeared in competition courses before its release in the market. Ryan Gates and Matt Dennison were the first people to try out the tire, so it has been proven to be fast enough for racing.
Related: Nitto Crosstek 2 tire Review
2. Toyo R888R
Toyo R888R is a racetrack and autocross only tire that was introduced in 2015 and made available in 32 sizes.
Compared to its bestselling predecessor, the Proxes R888, this tire claims fast warmup time and superior handling thanks to the following features:
Traction-focused compound and contact patch
Tread patterns that enable water evacuation
Tread blocks and center rib for stability and control during tight turns
Differences: Toyo R888R vs Nitto NT05
1. Specifications
Nitto NT05 has higher treadwear and superior traction ratings (200 AA) than the Toyo tire. It also has a bigger load capacity.
Despite having a lower treadwear rating (100), the Toyo R888R's wear life doesn't disappoint on the street and track. It has a wider range of speed ratings (V, W, and Y).
Specifications
Nitto NT05
Toyo R888R
Brand
Nitto
Toyo
Tire Category
Max performance tire
Racetrack and Autocross only
Load Index
89-112
80-105
Tread Depth
7.2/32 in.
6.3/32 in.
UTQG
200 AA A
100 A A
Max PSI
50-51 psi
50-51 psi
Speed Rating
W (up to 168 mph)
V (up to 149 mph)
W (up to 168 mph)
Y (up to 186 mph)
2. Warranties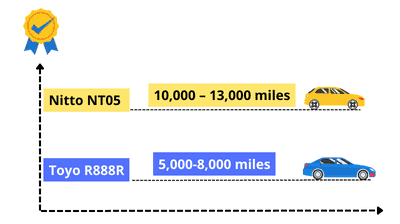 Both tires do not offer mileage treadwear warranties, but they have coverage for workmanship or materials.
Drivers attest that the Toyo tire lasts for about 5,000-8,000 miles while NT05 wears out fast, but can be driven up to 10,000 – 13,000 miles depending on how hard the tires were run.
3. Wet
The Nitto NT05 wins the wet category. It can pass puddles of water with ease, better than the Toyo R888R. It is more steady in the rain because it has sufficient traction imparted by the center rib.
The Toyo R888R needs a boost in wet conditions. Its wet traction and hydroplaning resistance are decent, but you need to be cautious in standing water.
4. Dry
The R compound makes the Toyo tire more sticky. Thus, even if you compare the NT05R vs R888R, the R888R rules dry roads with excellent traction, cornering stability, and steering response.
On the other hand, the NT05 has amazing handling but tends to slack after a few drives. It provides slick performance on dry pavements if warmed properly. Some claimed it takes about five minutes to reach the ideal operating temperature.
5. Noise/ Comfort/Ride quality
The Toyo R888R is noisy. This tire is recommended for competition events, so its loud noise comes out pleasing. The ride is fantastic, smooth, and sticky.
Alternatively, Nitto's NT05 is relatively quiet but pretty noisy at higher speeds. It is fun to drive daily on the highway, since it is street legal. It has nice feedback when pushed to the limit, or when cornering.
6. Snow and ice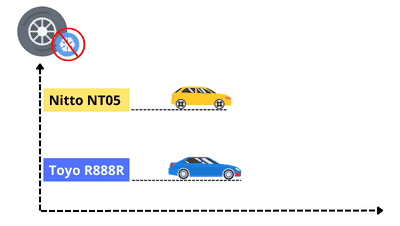 Both tires are not usable in the snow. They both have special formulations on the tread compound that stiffens when driven below 45 degrees. Thus, it is better to switch to snow-rated street tires in the winter season.
7. Cost
The Nitto NT05 is more affordable than the Toyo R888R.
The price of Toyo's R888R ranges from $154-$608, while the Nitto NT05 can be bought at $130-$399.
Pros and Cons: Toyo R888R vs Nitto NT05
Nitto NT05
Toyo R888R
Pros

More affordable
More stable and confident in wet conditions
Pretty quiet

Superior dry performance
Delivers comfortable and smooth ride

Cons

Wears out quickly
Not intended for winter use

Noisy
Expensive
Not ideal for snowy terrains
See more a tire comparison from 2 brands: Nitto Ridge Grappler vs Toyo Open Country AT3
FAQ
Are Toyo and Nitto the same company?
No. But technically, the two brands are owned by the same tire manufacturer, Toyo Tire Corporation. Nitto was acquired by Toyo in 1979.
Conclusion
In this review of Nitto NT05 vs Toyo R888R, we learned that both tires have competition-quality design that attracts driving enthusiasts and serious racers.
Between the NT05 vs R888R, more reviews are in favor of the Toyo R888R for road racing events because it gives off a smoother, grippier, and confident handling while the NT05 delivers a sporty performance good enough for daily driving.
You might be interested in other Nitto vs Toyo tires, so stay tuned for more reviews to find out for yourself "is Nitto or Toyo better?"