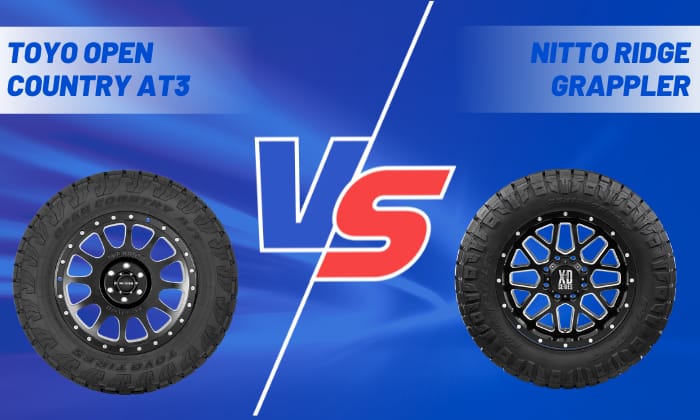 Among the best car tires worldwide, Toyo Open Country AT3 vs Nitto Ridge Grappler has caught the attention of car dealers and buyers. Given this dilemma, which should you choose?
The Toyo Open Country AT3 is the perfect choice for heavy trucks due to its overall performance. This tire proves its durability and adaptability in different weather conditions, especially on snow and wet terrains.
Meanwhile, Nitto Ridge Grappler is the better pick for high-way driving. The product is popular for its responsiveness.
Read on to know more.
Toyo Open Country AT3 and Nitto Ridge Grappler
1. Overall durability for winter performance
Durability in all circumstances should be taken into consideration. With the challenges of weather conditions and on-road and off-road trips, the tread, voids, and compounds must all cohere and adapt to these obstacles.
Winter weather is one of the most tricky challenges to face when having both an on-road and off-road drive.
Open Country AT3's complexity is stable enough to encounter off-road conditions. Its snow rating proved that it could move evenly on the road without hassle and chunks to notice.
Here the AT3 gives its best with its tread design–-higher voids that keep it confident moving on the snow.
In fact, AT3 includes a three-peak mountain snowflake rating for the snow conditions, while the Nitto design does not.
Indeed, Nitto Ridge Grappler good in snow for its claim on stellar on-road execution, as well as adequate off-road performance, most especially during winter.
Ridge Grappler's tighter tread pattern makes it a little more slippery during extreme weather conditions, especially when the snow is thick.
Due to potential cracking and chunking issues, severe off-road driving was a real challenge for Nitto. These cracks and notches could eventually cause balancing problems over time.
Between the two, only AT3 got 3-peak standards for their snow control, resulting in outstanding performance when it comes to snow rating.
Winner: Toyo Open Country AT3
2. Compounds, Tread, and Patterns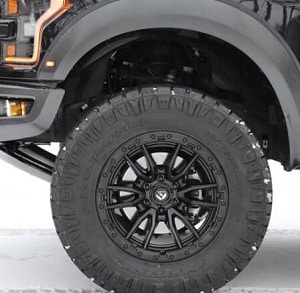 Toyo Open Country AT3 has made it well-balanced with its chunks-and-cracks resistant components. Most distinctly, its symmetrical pattern, as well as its voids, are all evenly distributed.
The voids of Open Country AT3 are indeed much bigger and higher as they aim to increase off-road traction.
Yet, the dynamic hybrid pattern of Ridge Grappler makes it to be so easy and quiet for on-road trips. These tires have good traction due to its tread featuring zig-zag patterns, an unique feature of Ridge Grappler.
Comparing them further, the Open Country AT3 vs Ridge Grappler both show a great performance when it comes to dealing with traction and rigidity.
While the AT3's tread design facilitates increased handling stability, Grappler's tread offers a smooth experience.
To avoid damage to the rubber, both designs avoid sticking stones well. As a result, they are both excellent choices for rough terrains.
3. Off-road performance
3.1: On mud
With the tread review earlier, it was known that the AT3's voids are all uniformly distributed. But more than that, the Toyo AT3's wider groove voids can also vacate more mud than the Ridge Grappler.
Comparing Nitto Ridge Grappler vs Toyo AT3 on muddy trips, the AT3 made it the better way to cut through the mud with its sharp, intelligently-designed tire edges.
Likewise, its spoon-like functions with its tottered shoulder blocks scoop out the mud more competently. Its sturdier shoulder clods enable a faster and smoother way to get out of the mud.
Winner: Toyo Open Country AT3
3.2: On rock and gravel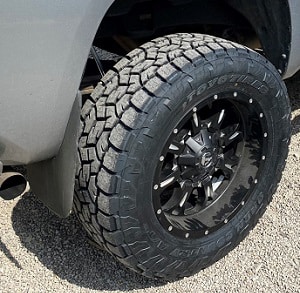 Nitto vs Toyo is hard to compare here, as they perform almost the same on rock and gravel trips.
As mentioned, the Grappler tread was hybrid-designed, which is indeed proven to be useful in rocky terrain with its numerous lateral traction.
The shoulders are the main component here as they could determine whether it could have an excellent grip on rocky terrains.
Similarly, the Toyo AT3's resistance in these circumstances exhibits an impeccable performance because of its palpable sipes and cuts. Hence, the firm grip on rocky surfaces.
AT3's step blocks and grooves were larger than Grappler's, which is an advantage on the rocks and gravel. Furthermore, the AT3's stone ejectors are indeed way huger than Ridge Grappler.
4. On-road performance
Without a doubt, on-road performance is a must-have factor on the list. These two must prepare their tires regarding steering response, stability, and dry traction.
4.1: Cornering stability
Fortunately, both AT3 and Grappler have exceptional cornering stability indeed. With this, they can be easily and evenly manipulated while being firm with their turns and positions.
4.2: Steering response
Undeniably, Grappler got a better steering response. Since AT3 has a wider and bigger size for its off-road travels, it requires more time to move. It's high school physics, as they said.
Winner: Nitto Ridge Grappler
4.3: Dry traction
With the AT3's higher voids and larger treads, the result is not enough tread patch with the road. It caused a decrease in grip and traction.
Compared to AT3, the treads of Grappler are close-packed, resulting in narrow voids that consequently improve the traction and grip.
Despite that, its narrow voids and lesser sipes potentially cause an obstruction in the water flow.
5. Noise & comfort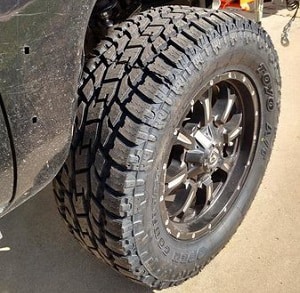 With the hybrid tread pattern of the Ridge Grappler, it is commendable that it does not create irritating noises. It is among the quietest ones in the category of mud and rock tires that reduces road noise.
Its tinier voids are the ones to credit with the comfort that it could provide. Hitting the pitch design's surface also makes it much quieter.
Given that, the Open Country AT3 could be a little noisy with its larger voids.
Winner: Nitto Ridge Grappler
6. Sizes
While it is given that the AT3 has a wider, huger treads perfect for off-road performance, its size ranges in sizes up to 134. Meanwhile, you can expect a healthy 94 from the Grappler.
In contrast, the largest AT3 rim diameter is up to 22 inches, while Grappler offers up to 24 inches. These two are indeed perfect for long trips.
7. Price
Aside from the quality and performance, the price must also be taken into consideration. Comparing Toyo AT3 vs Nitto Ridge Grappler, the AT3's starting price is $139, while the Grappler's price starts at $213.
8. Treadwear Warranty
Under the price, the treadwear warranty also comes into the list of things to be considered. Between the two, the Toyo Open Country AT3 warranty has the higher treadwear warranty, which is up to 65,000 miles.
Meanwhile, the Nitto Ridge Grappler has a limited warranty. Keeping the receipt is crucial here as their warranty counts up to 60 months from the day of purchase.
In this circumstance, it is also important to note that treadwear is significant to observe. Here, mileage rating comes into play. For new tires, the mileage rating is 7-8 years. Despite that, maintenance must always be practiced.
Conclusion
Indeed, comparing these two car tires and deciding which one to choose is not work in the park. The comparison of Toyo Open Country AT3 vs Nitto Ridge Grappler reveals how car tires become more well-designed and advanced over time.
However, only one of these two must prevail. Considering all the factors we mentioned, it is evident that the Toyo Open Country AT3 got better overall features and performance.
From durability, off-road performance, and warranty–you name it! AT3 got your back with its huge, sturdy, and dexterously-designed tires.
Read more: Michelin vs Nitto tires vs Toyo: which is better?