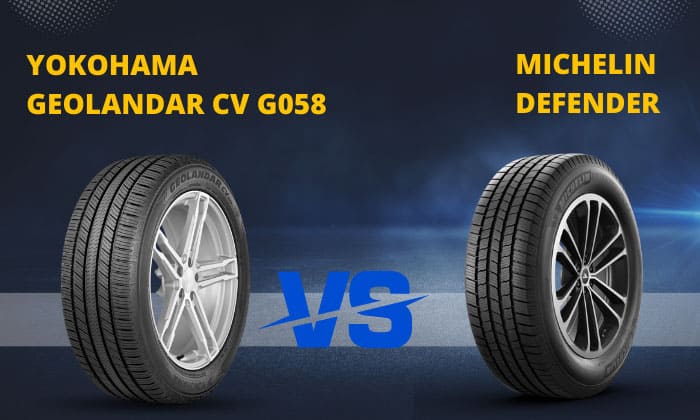 When you compare Yokohama and Michelin tires, it is best to start with their all-season tires because they are expected to provide year-round flexibility in adapting to hot and cold weather.
We examined the Yokohama Geolandar CV G058 vs Michelin Defender to find out which is more suitable in a variety of conditions.
It was a tough call because both tires have excellent all-season performance. Michelin Defender has a slight advantage in comfort, road silence, fuel efficiency, and mileage warranty while Yokohama's Geolandar CV G058 is a bang for the buck.
| | | |
| --- | --- | --- |
| Factors | | |
| Wet | Comparable | Winner |
| Dry | Comparable | Winner |
| Noise | Competitive | Noiseless |
| Comfort/Ride Quality | Competitive | Comfortable |
| Snow and Ice | Equal, usable in light snow | Equal, usable in light snow |
| Price | Cheaper | Expensive |
| Mileage Warranty | Above Average | Winner |
What Are They?
1. Yokohama Geolandar CV G058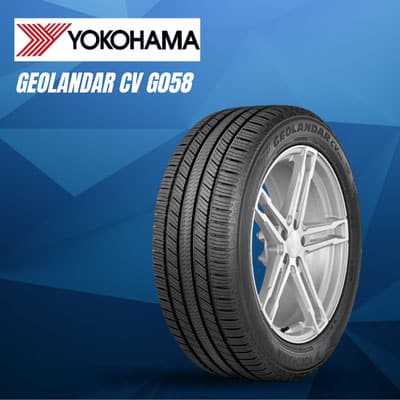 Yokohama Geolandar is an all-season touring tire released in 2020 for crossovers and midsize sports utility vehicles. It was available in 33 sizes, ranging from 16-20 inch wheels.
This tire was developed with a five-rib symmetric pattern composed of chamfered edges, 2D and 3D sipes, and an advanced CV2 compound called Micro Silica which are responsible for increasing wet traction.
Together with serrated outer grooves, this compound reduces slippage while providing long-term, reliable performance.
Lastly, the tire cancels noise through a distinctive multi-pitch variation pattern.
It won the 2020 Good Design Award that was organized by Chicago Athenaeum.
2. Michelin Defender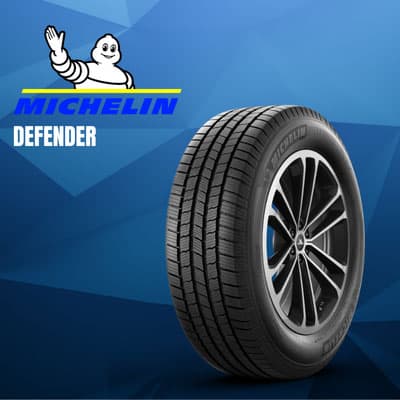 The Michelin Defender line is composed of three all-season tires that promise long-lasting mileage.
The two standard touring tires, Defender 2 and Defender T + H, are designed to deliver a quiet and comfortable ride. The former promises a more durable tread than rival tires, or a difference of two years in lifespan, while the latter is touted as the longest-lasting tire.
In this review, we will focus on the highway model for pickup, SUVs, and crossovers, the Michelin Defender LTX M/S.
This tire was introduced in 2015 with the following features:
MaxTouch Construction – aims to save up to 65 gallons of fuel to increase savings
Evertread compound – deliver outstanding grip for shorter braking distances on wet surfaces, better snow traction than competitors, and longer wear life in gravel and other harsh conditions
3D Active Sipes for year-round traction on dry surfaces
Twin steel belts for strength and durability in managing heavy cargo
Similarities and Differences
1. Specifications
Both tires have the same maximum load capacity, traction rating, and heat tolerance.
Michelin Defender LTX M/S is a heavier tire. It has a lower tread depth and lower treadwear rating (720).
| | | |
| --- | --- | --- |
| Specifications | Yokohama Geolanda CV G058 | Michelin Defender LTX M/S |
| Brand | Yokohama | Michelin |
| Tire Category | CUV/SUV Touring All Season | Highway All Season |
| Tire Size Inspected | 215/70R16 | 215/70R16 |
| Max Load | 1764 pounds | 1764 pounds |
| Max PSI | 51 psi | 44 psi |
| Tread Depth | 11/32 in. | 10.5/32 in. |
| Tire Weight | 25 pounds | 28 pounds |
| UTQG | 740 A A | 720 A A |
| Mileage Warranty | 65,000 | 70,000 |
2. Warranties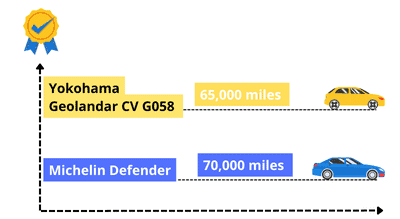 Yokohama Geolandar CV G058 comes with a treadwear warranty of 65,000 miles, a 30-day trial satisfaction guarantee, and a standard free tire replacement warranty.
In contrast, the mileage support of the Michelin Defender LTX M/S is up to 70,000 miles for T and H speed-rated tires. It comes with a 60-days satisfaction guarantee and roadside assistance for 3 years.
3. Reviews
| | | | | | | |
| --- | --- | --- | --- | --- | --- | --- |
| Tires | Wet | Dry | Winter | Noise | Comfort | Treadwear |
| Yokohama Geolandar CV G058 | 9.1 | 9.1 | 8.4 | 8.7 | 8.8 | 9.3 |
| Michelin Defender LTX M/S | 9.2 | 9.3 | 8.4 | 9.1 | 9.2 | 9.1 |
4. Wet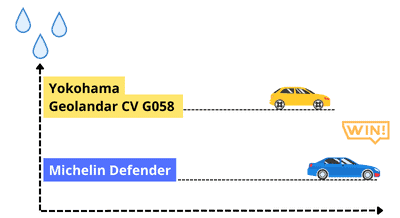 Michelin Defender LTX M/S beats the Yokohama tire in wet performance because of its slight advantage in hydroplaning resistance. It is safe to drive even under heavy rain because of its superb acceleration traction and wet stopping power.
Nonetheless, both tires have impressive wet traction.
The Geolandar CV G058 can easily pass through deep water patches and handle torrential rain with excellent grip and braking distances.
5. Dry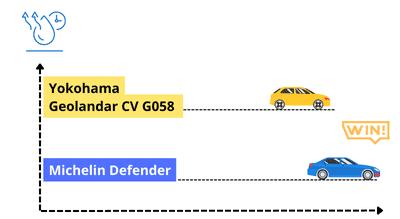 Michelin Defender LTX M/S wins the dry category by a slight margin. It has a higher rating in cornering stability, dry traction, and steering response. Nevertheless, both tires have excellent performance on dry pavements.
6. Noise/comfort/ride quality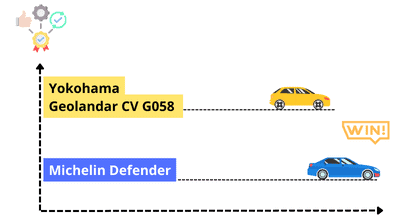 The Defender tire exhibits a higher comfort level and less noise compared to the Yokohama tire because the Geolandar CV G058 can eliminate road vibrations, but when challenged by bigger potholes, the feedback can be heard inside the cabin. It gets noisier as it wears out.
In general, Yokohama's Geolandar CV G058 delivers a quiet and surefooted ride with amazing cornering and handling capabilities. It doesn't swerve or scream on curves. It is also stable enough for long distance trips.
Conversely, Michelin Defender LTX M/S performs well even when worn down, noiseless even when you drive faster, and it is vibration-free even if the ride is bumpy.
7. Snow and ice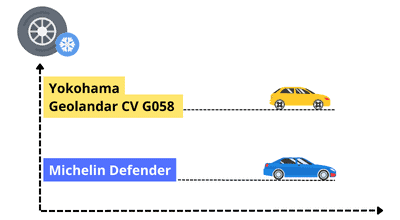 When it comes to winter performance, both tires have good traction in light snow.
Normally, rival tires struggle with hard-packed snow, but the Geolandar CV G058 can deal with it with good handling and stability.
However, you may find that the ice in northern climates is too much for it, particularly while accelerating or cornering. Thus, it is better to choose a Yokohama snow tire in such cases.
On the other hand, even though the Michelin Defender tire was designed to provide longer tread life in severe conditions, it is safer to switch to dedicated winter tires in extreme wintry conditions.
8. Cost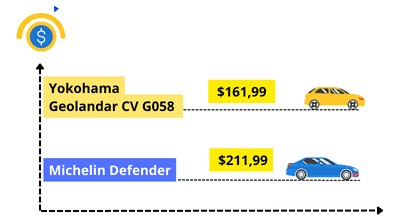 The tire price of Yokohama's Geolandar CV G058 is cheaper than the Defender LTX M/S tire.
For instance, if you check out Geolandar CV G058 in a 215/70R16 size, it costs around $161.99, while the Defender LTX M/S tire is sold at $211.99 per tire.
Pros and Cons
Yokohama Geolandar CV G058
Cheaper
Excellent wet and dry performance
Fit for light snow
Shorter tread warranty
Low noise
Michelin Defender
Outstanding wet and dry performance
Usable in light snow
Longer tread warranty
Quieter and more comfortable rides
Fuel-efficient
FAQs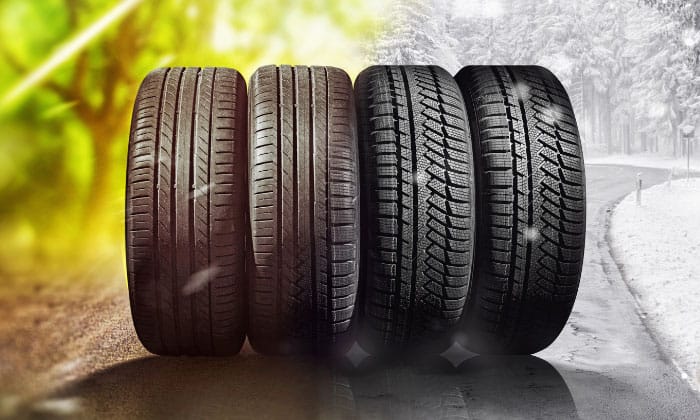 Who makes Yokohama tires?
Yokohama tires are made by Tokyo-based tiremaker, Yokohama Rubber Company. The brand is known as one of Japan's biggest tire manufacturers with more than a century in the business. It has both R&D plants and factories in the US.
How long do Yokohama tires last?
The average treadwear warranty of Yokohama tires is 50,000 miles. Its Tornante line can go as high as 80,000 miles, while all-season tires like the Yokohama Geolandar H/T G056 or Avid Ascend LX have a limited treadwear warranty of 65,000 to 85,000 miles.
The Japanese tire maker adheres to industry standards, such as offering a manufacturer's six year limited warranty for replacement tires.
Are Yokohama tires good?
Yes. Yokohama produces high-quality tires across a different range of categories: all-season, summer, and off-road, to name a few. The brand also offers rebates on its website from time to time, making its products more affordable.
Which tire is better Michelin or Yokohama?
Michelin is better than Yokohama in terms of industry standing, tire variety, and expertise in producing top quality products for every tire category. The French tire maker is highly regarded for innovation, technology, and performance.
In contrast, Yokohama offers more affordable options in some tire categories without compromising quality and performance.
Conclusion
This Yokohama Geolandar CV G058 vs Michelin Defender comparison proves that their tread pattern and rubber compound greatly affect their performance on the road.
These features are the reasons why they can provide excellent year-round flexibility and longevity. The Geolandar CV G058 is reassuring on long trips and highway commute, but for more tread wear durability and fuel efficiency, the Defender LTX M/S hits the sweet spot.
If you would like to learn more about Yokohama tires rating on fuel efficiency, you might want to look for the Yokohama Geolandar G055 or check out our Michelin vs. Yokohama tires review.
Read more: