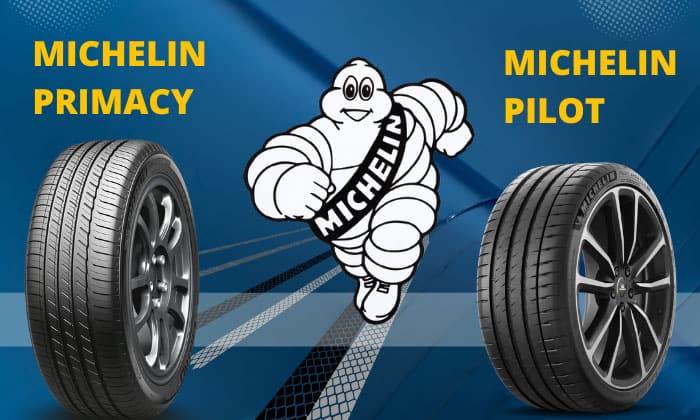 Michelin has so many popular tires that make picking one harder. If you are contemplating on the best tire between Michelin Primacy vs Pilot, you've come to the right place because we'll give you a rundown of all the best features you need to know about Michelin Pilot Sport 4 vs. Michelin Primacy 4.
We found that the strongest features of Michelin's Primacy 4 lies in fuel efficiency, more durable wear life, and low rolling resistance while the Michelin Pilot Sport 4 provides luxury vehicle owners an excellent sporty driving experience because of its dynamic steering and superior wet and dry stopping power.
Factors
Wet
Good
Winner
Dry
Tie
Noise
Low Noise
Winner, Quiet
Comfort/Ride Quality
Equal, steady and pleasant
Equal, stable and comfortable
Snow and Ice
Unusable in snow
Not fit for snow
Price
Pricier
More affordable
Mileage warranty
Winner, higher
Lower
What Are They?
1. Michelin Primacy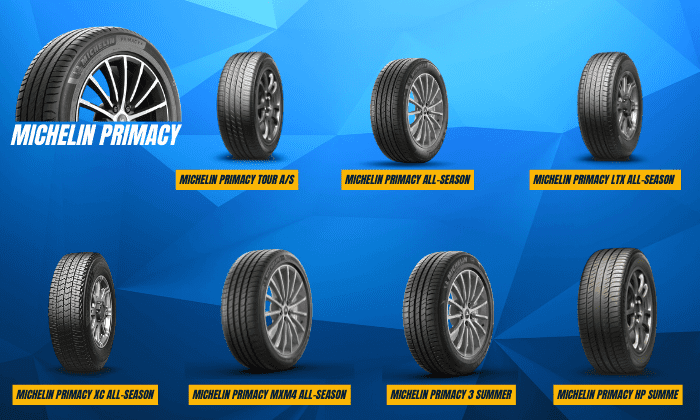 Michelin Primacy includes seven tires:
Michelin Primacy Tour A/S grand touring all-season tire for passenger cars, SUVs, and CUVs
Michelin Primacy All-Season tire for passenger vehicles
Michelin Primacy LTX all-season tire for light trucks
Michelin Primacy XC all-season tire for light trucks and SUVs
Michelin Primacy MXM4 all-season tire for passenger cars
Michelin Primacy 3 summer tire chosen as OEM for luxury vehicles such as BMW 5&7 Series, Mercedes Benz S-Class, and Audi 6
Michelin Primacy HP summer tire for luxury vehicles
2. Michelin Pilot
The Michelin Pilot family has 18 tires. Here are some of the popular tires in this product line.
Michelin Pilot Sport 4S max performance summer tire evolved from the legendary street tire, Michelin Pilot Super Sport
Michelin Pilot Sport A/S 3+ Ultra high-performance all-season tire
Michelin Pilot Alpin 5 performance tire for wintry conditions
Michelin Pilot Exalto PE2 ultra-high performance summer tire for classic Porsches
Michelin 4 x 4 Diamaris high-performance tire for SUVs and CUVs
Similarities and Differences: Michelin Pilot vs Primacy
1. Warranties
Both tire families are covered by Michelin Promise Plan, which includes a manufacturer's warranty, access to roadside assistance for 3 years, and free tire replacement within 60 days from the date of purchase.
2. Tire Diversity
Michelin tires can be classified by season and vehicle type or category.
In terms of season, both families have options for all-season, summer, and winter.
When it comes to category, both families have options for passenger cars, sports utility vehicles, crossovers, luxury vehicles, and light trucks. They have tire designs that were chosen as OEM for high-end cars.
3. Reviews
This section will compare two summer tires, the Michelin Pilot Sport 4 vs Michelin Primacy 4.
01
Specifications
Obviously, the Primacy 4 is heavier than the Pilot Sport 4, although they have the same maximum load capacity, tire pressure requirement, traction and temperature ratings (A A).
As expected of most performance tires, Michelin's Pilot Sport 4 can be driven at a higher speed and has a lower treadwear rating (320).
The Primacy 4 promises 15,000 miles more in warranty than the Pilot Sport 4.
| | | |
| --- | --- | --- |
| Specifications | Michelin Primacy 4 | Michelin Pilot Sport 4 |
| Tire category | Grand Touring Summer | Max Performance Summer |
| Tire Size inspected | 245/45R19 | 245/45R19 |
| Tread depth | 8.8/32 in. | 9.5/32 in. |
| Max Load | 1874 pounds | 1874 pounds |
| Max PSI | 50 psi | 50 psi |
| Tire Weight | 26 pounds | 25 pounds |
| Speed rating | V (149 mph) | Y (186 mph) |
| UTQG rating | 340 A A | 320 A A |
| Mileage Warranty | 35,000 miles | 20,000 miles |
02
Tire Design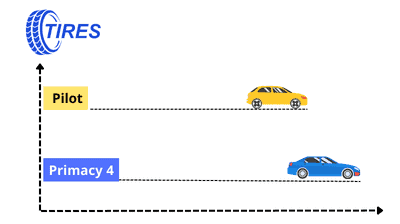 Michelin Primacy 4 was introduced in 2018. It was available in 14 sizes for 16-18 inch wheels. The brand claimed that it brakes 2.5 meters shorter than rival tires when new and 5.1 meters shorter when worn.
It utilized EverGrip technology for excellent wet grip. This technology features new tyre sculpture and a rubber compound rich in silica. They enable the tire to have a 50% bigger contact surface for water evacuation.
Additionally, the Primacy 4 promises a noiseless and relaxing ride through Silent rib Technologies. It is composed of interlocking bands between tread blocks so that drivers feel less vibration behind the wheel.
If we compare it to Michelin's Pilot Sport 4 or Michelin PS4, the latter provides driving pleasure because of its superb handling on wet surfaces.
Thanks to the combination of elastomers, silica compound, and deep grooves, this tire maintains stability and control on wet roads, allowing users to stop their vehicle without delay.
03
Wet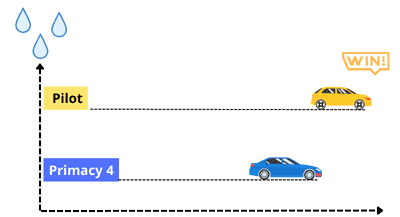 As stated, the Pilot Sport 4 has excellent wet handling and braking capabilities.
On the other hand, Michelin Primacy 4 can deliver reduced braking distances but not as good as it can do on dry roads. It has good aquaplaning resistance.
02 Dry
The Pilot Sport 4 is praised for its excellent braking and steering precision on dry roads. The tire delivers a satisfying sporty driving experience because its steering feels responsive with good feedback.
Meanwhile, the Primacy 4 delivers fine steering, great handling, and reduced dry barking distances. Drivers enjoy low wear and fuel-saving rolling resistance.
Overall, the PS4 has superior handling but slightly slower braking.
04
Noise/Comfort/Ride Quality
Michelin PS4 ensures a smooth, quiet, and stable drive even when cornering at high speeds. On the other hand, the Primacy 4 has observable low noise, but the ride feels safe and smooth.
05
Snow and ice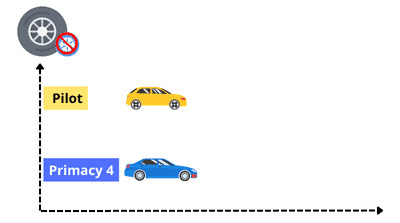 Summer tires are not intended for winter use. Thus, both models are unusable in snow and ice-laden areas.
06
Cost
Michelin Primacy 4 is a few dollars more expensive than the Michelin Pilot Sport 4.
The price of Michelin Primacy 4 for a 245/45R19 tire size is $334.39, while Michelin Pilot Sport 4 can be bought at $330.15.
Pros and Cons: Michelin Pilot vs Primacy
Michelin Primacy
Good wet and dry performance
Higher treadwear rating
Low rolling resistance
Gas-saving
Michelin Pilot
Excellent wet and dry grip
More affordable
Quiet, steady, and comfortable
Brakes slightly slower than the Primacy
FAQs
Is Michelin Primacy a quiet tire?
Yes. Michelin Primacy tires are quiet because of their Comfort Control Technology. For instance, Michelin's Primacy MXV4 was hailed as one of the quietest all-season touring tires.
Does Michelin still make Primacy?
Yes. Michelin still produces Primacy tires, and currently, there are 7 designs in this line. For example, the brand manufactures Michelin Primacy HP for luxury vehicles, Michelin Primacy LTX for light trucks, while the Michelin Primacy Tour A/S is suitable for passenger cars, CUVs, and SUVs.
How long do Michelin Primacy tires last?
The mileage warranty of Michelin Primacy tires ranges from 35,000- 55,000 miles. Four tire designs offer 55,000 miles in wear support. Michelin Primacy 3 has the shortest treadlife warranty among Primacy tires.
Pilot MXM4 vs Primacy MXM4, which is better?
The Primacy MXM4 is better on wet surfaces, but on dry terrains, the two tires are neck and neck. The Primacy seems to be a bit quieter, though.
Conclusion
I hope that this Michelin Primacy vs Pilot tires review helped you to quickly identify the suitable touring or performance tire for your vehicle.
Michelin Primacy 4 is a good touring tire for dry performance, wear, and handling on wet and dry roads, while the Michelin Pilot Sport 4 is an attractive tire that can guarantee a silent and surefooted ride with good braking distances on wet and dry pavements.
Aside from checking out Michelin Primacy and Pilot Sport 4, I invite you to browse the Pilot Sport 5 vs 4s to assess how this tire evolved.