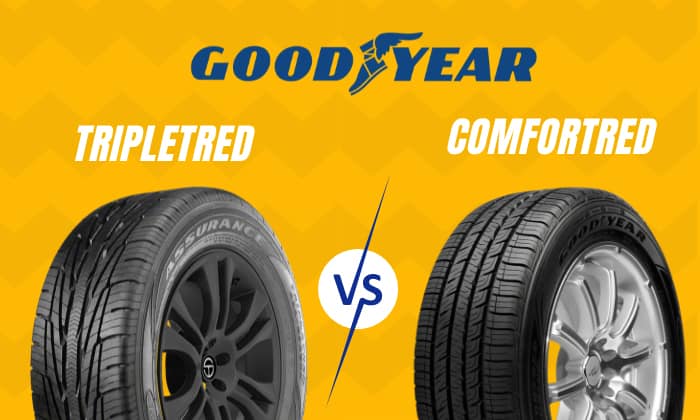 Goodyear, as one of the tire giants in the market, always provides its consumers with innovative and high-performing tires of different types. Goodyear has plenty of lineups that aim to cater to different driving needs of the public.
One of its offerings is the Goodyear Assurance, a collection of products mainly for all-season and all-weather use. There are plenty of tire models under the Goodyear Assurance name that offer versatile performance that many drivers would want to have.
For today, let's focus on the two amazing tires under this series, the Goodyear Tripletred vs Comfortred. Which of them is better for you? Let's find out through this article.
Below is a comparison table listing some of the key features of these two tires. This is just an overview for you to have insights about the similarities and differences of the Tripletred and Comfortred.
| | | |
| --- | --- | --- |
| Attributes | Tripletred | Comfortred |
| Tire Brand | Goodyear | Goodyear |
| Category | All-Season | All-Season |
| Vehicle | Passenger | Passenger |
| Sidewall | Blackwall | Blackwall |
| Tread Design | Directional | Symmetrical |
| Size | 205/55R16 | 205/55R16 |
| Width (in.) | 8.4 | 8.4 |
| Diameter (in.) | 24.9 | 24.9 |
| Rim Range (in.) | 5.5-7.5 | 5.5-7.5 |
| Tread Depth (in.) | 11/32nds | 11/32nds |
| Load Range | XL | SL |
| Max Load (lbs) | 1477 | 1356 |
| Max Inflation Pressure (PSI) | 50 | 51 |
Overview of Goodyear Assurance Tripletred and Comfortred
About Goodyear Assurance Tripletred
The Goodyear Assurance Tripletred is basically an all-season touring tire developed with triple tread zone technology, namely: dry, water, and ice zones.
Each zone is responsible for the tire's performance on a terrain type.
The unity of these triple tread zones allows the Tripletred to withstand even the harshest weather conditions.
This tire is indeed a long-lasting one, thanks to its optimized tread compound. In addition, it has impressive grip, stability, and smooth on-road and off-road performance.
About Goodyear Assurance Comfortred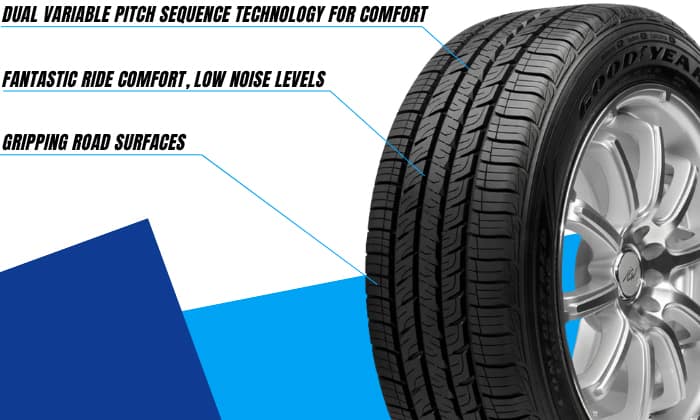 Another great tire model under the Goodyear Assurance lineup, the Comfortred deserves its name as this tire really delivers fantastic ride comfort and low noise levels, thanks to its dual variable pitch sequence technology that is embedded on its shoulder.
You can also expect a long tread life with this one due to its tough internal framework. Also, this reinforced construction preserves tire shape and reduces the possibility of deformation.
As an all-season tire, its key features are its semi-asymmetric tread pattern with biting edges that grips different road surfaces well.
Differences
1. Performance
At this very moment in time, let us proceed in discussing the performance of the Goodyear Comfortred vs Tripletred. How do these tires really behave?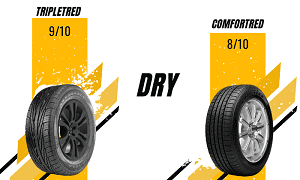 On dry roads, Goodyear's Tripletred has decent cornering, traction, and handling performance. It is also a pretty responsive and stable tire with fuel-efficient technology.
Similarly, Goodyear's Comfortred also delivers excellent dry traction but with extra firmness when cornering and short stopping distances.
However, I would say the Tripletred maintains stability better when encountering bumps or slopes.
---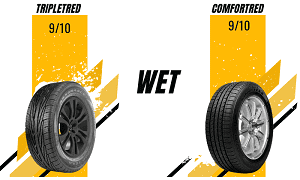 Second is their wet category, with both of them being effective when preventing hydroplaning.
Their wet-performance difference is that the Goodyear Tripletred is developed to safely pass puddles of water along the way, but incapable of providing short wet stopping distances the way the Goodyear Comfortred can.
---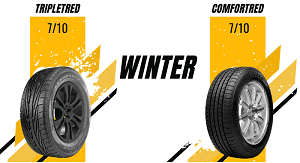 Next on the list is their performance during the winter season.
Since it is engineered to withstand slippery surfaces, the Goodyear Tripletred has decent traction and superb winter performance, even in the wettest conditions.
I would say the two tires are equally impressive in this aspect, but drivers should limit their use to light snow only.
---
For the last category, Goodyear's Tripletred is somewhat loud on the road, more so as the tire ages.
In comparison, Goodyear's Comfortred offers much quieter performance with its Comfort Edge technology.
2. Warranty and Durability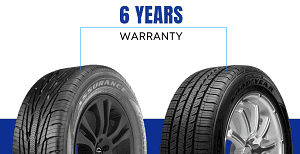 Since these two tires come from the same brand and lineup, the Tripletred and Comfortred both have a limited six-year warranty from their manufactured date.
Interestingly, their supported mileage is also similar to each other. The Goodyear Assurance Tripletred and Goodyear Assurance Comfortred both have 80,000 miles of coverage.
3. Pricing
For $60.99 to $253.99, you can have the Goodyear Tripletred. Meanwhile, the price range of the Goodyear Comfortred ranges from $81.46 to $245.99.
With this information in hand, we can tell that there is only a slight difference regarding their prices. Goodyear's Tripletred starting cost is more affordable, yet the price of its largest tire, which is $253.99, is more expensive than the highest price point of the Goodyear Comfortred.
It's safe to say that in general, Goodyear's Comfortred is slightly cheaper than the Goodyear Tripletred.
4. Pros and Cons
Goodyear Assurance Tripletred
Pros
Decent warranty length and mileage
Engineered with triple tread zones
Has a durable construction
Fuel-efficient
Superb all-weather traction (dry, wet, and snow)
Great handling and cornering on dry road conditions
Decent stable and ride comfort qualities
Cons
Not for heavy snow
Substantially loud
Goodyear Assurance Comfortred
Pros
Comes at a slightly cheaper price
Decent warranty length and mileage
Comfort-oriented with low road noise
Has a durable construction
Decent all-season handling, stability, and maneuverability
With extra firmness when cornering
Short stopping distances on dry and wet roads
Another Comparison: Goodyear Tripletred vs Michelin Defender
Which Tire is Better?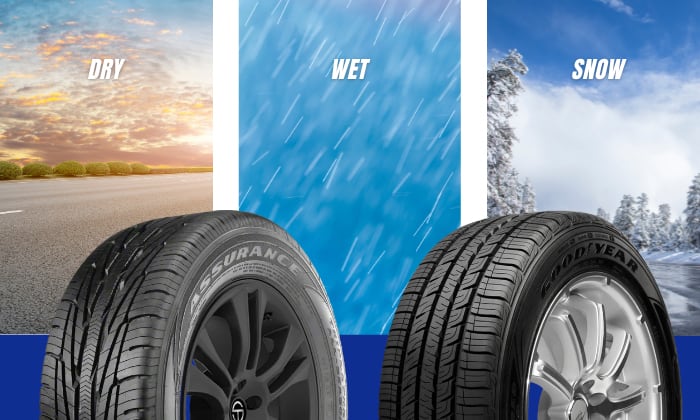 Examining which tire between the Goodyear Comfortred vs Tripletred is better will never be an easy task. Both of them have advantages and drawbacks of their own. So for this section, let us just review the differences between the two.
The Goodyear Assurance Tripletred might be more suitable for you if you are looking for an all-season tire with fuel-efficient properties and outstanding traction on dry, wet, and snowy roads.
But this tire is not ideal for buyers who hate noise while driving.
Perhaps, the Goodyear Assurance Comfortred will be a better tire for your vehicle if you want high-speed stability and maneuverability with superior comfort. Plus, it comes at a slightly cheaper cost than its counterpart.
Conclusion
It is nice knowing that there is tough competition between the Goodyear Tripletred vs Comfortred. This only showcases that the Goodyear Assurance series is indeed a group of outstanding all-season and all-weather tire models that is worth our pennies.
We hope you are now able to decide which one satisfies your personal driving preference more than the other. You might also consider looking into different consumer reports, testimonials, and personal tire reviews all over the net to ensure that you get the suitable product for your vehicle.
And that is about it for today. More tire comparisons are on the way!