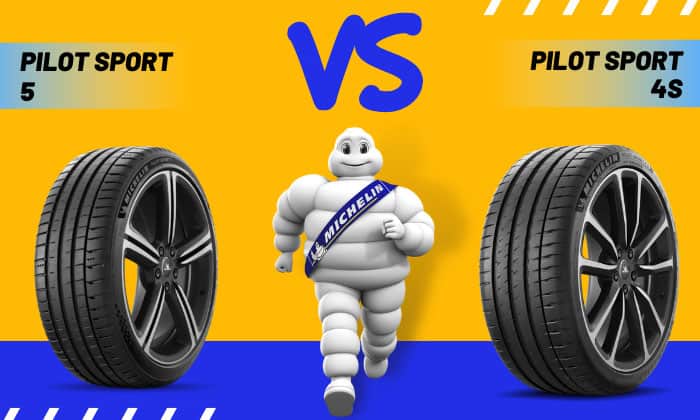 Summer tires are favorites of many drivers. The tires themselves encapsulate the season very well, from the adaptability to high temperatures to their intensity and speed. This makes these tires a must-have for racers and enthusiasts alike.
So, today, we'll be comparing two summer tires from the industry titan that is Michelin. The Michelin Pilot Sport 5 vs 4S, which one will prevail? Let's find out more below.
But first, take a quick look at this comparison table.
| | | |
| --- | --- | --- |
| Tire | | |
| Brand | Michelin | Michelin |
| Tire Type | Max Performance Summer | Max Performance Summer |
| 3PMSF | None | None |
| Tested Size | 255/35ZR19 (96Y) XL | 255/35ZR19 (96Y) XL |
| UTQG | 340 A A | 300 AA A |
| Tread Depth | 9/32″ | 9.5/32″ |
| Section Width | 10.2″ | 10.2″ |
| Rim Range | 8.5-10″ | 8.5-10″ |
| Max Inflation Pressure | 51 psi | 50 psi |
| Max Load | 1,565 lbs | 1,565 lbs |
| Revs/Mile | 799 | 799 |
| Tire Weight | 24 lbs | 24 lbs |
| Price | $365.56 | $321.99 |
What Are They?
1. Michelin Pilot Sport 5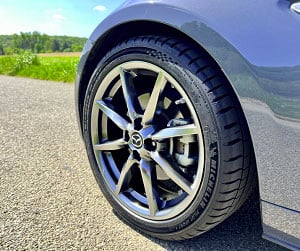 Contrary to what most people think, the Pilot Sport 5 was not made to replace the Pilot Sport 4S. Instead, it was meant to succeed the aging Pilot Sport 4. It didn't take long for this tire to be made, as the Pilot Sport 4 came out in 2016, 6 years before the Michelin Pilot Sport 5 release date of 2022.
And as the new tire on the block, Michelin didn't skimp out on technological features. For starters, the Michelin Pilot Sport 5 comes equipped with a familiar feature from the French brand, Dynamic Response Technology.
This gives the tire tremendous responsiveness on the road, making the driving experience feel very tight and sure-footed. It also features the new MaxTouch 2.0 technology, which improves the tire's contact patch, allowing more even tread wear and better longevity.
It's also excellent on wet and dry roads, as expected from a premium summer tire. Courtesy of its Dual Sport Tread Design, the tire combines two specialized sides to give the tire the adaptability it needs.
The internal grooves are wider, which allows better water ejection and traction on wet surfaces. At the same time, the external blocks are stiffer, so handling isn't compromised on dry roads, especially when it comes to cornering.
But, since it's relatively new, Michelin Pilot Sport 5 sizes are still fairly limited. Only time will tell if Michelin decides to manufacture more sizes.
Now, on to the Michelin Pilot Sport 4S.
2. Michelin Pilot Sport 4S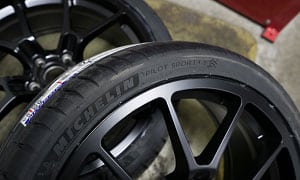 The "S" in Michelin Pilot Sport 4S signifies the tire's status as a performance-oriented option.
Like the Michelin PS5, the Pilot Sport 4S also comes equipped with its very own Dynamic Response Technology, so expect tight and responsive drives. Moreover, a Multi-Compound Construction gives it unsurpassed braking distances in all types of weather.
Couple that with ultra-reactive tread patterns, and the tire becomes adaptable in any weather, rain or shine, while further enhancing maneuverability up a notch.
And lastly, Michelin's Total Performance gives the tire some much-needed longevity, which is the usual caveat on most performance summer tires.
Unlike the Pilot Sport 5, there are plenty of Michelin PS4S sizes available, since it's a relatively more established option.
So, how do these tires fare against each other?
Related: How many miles do Michelin tires last?
Differences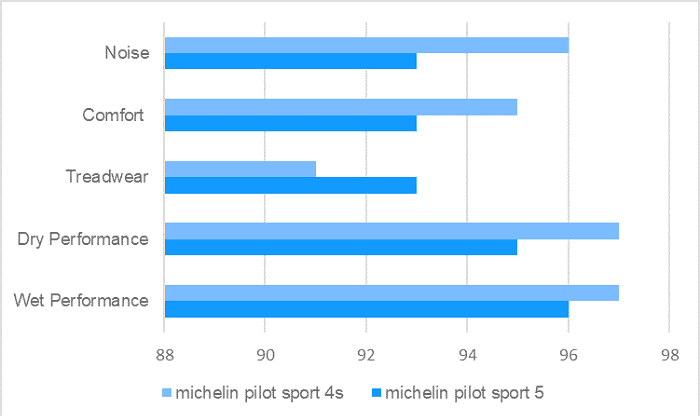 1. Wet Performance
As expected from Michelin tires, wet performance was superb on both. Traction was as sure-footed as can be, and aquaplaning was significantly unnoticeable. However, when you take a closer look, there are subtle differences between the two tires.
The Michelin Pilot Sport 5 had a slight edge over the Pilot Sport 4S when it comes to hydroplaning resistance, while the latter had a marginally shorter braking distance. Although the difference was minimal, these small differences can turn the tide when it comes to races.
2. Dry Performance
Summer tires are the kings of dry performance, and both tires exemplify the title extremely well. The stiff shoulders from the two Michelins gave extremely satisfying handling and cornering capabilities, and braking distances were short with no slippage.
However, as expected, the Michelin Pilot Sport 4S provided better stoppage but only by a little, as the difference in dry braking distances between the two was quite minuscule.
3. Noise
Noise isn't usually a problem when it comes to summer tires, since the sound of roaring engines overwhelms the hums that the tires make when they roll. However, noise can be an issue when it comes to casual drives.
Fortunately, both tires were fairly quiet, even for summer tires. However, some sizes from the Pilot Sport 4S come readily equipped with Michelin Acoustic Technology, which blocks familiar hums and growls from entering the vehicle's cabin. For this reason, the 4S may have a tiny edge over the Pilot Sport 5.
4. Treadwear
With a UTQG rating of 340 A A, the Pilot Sport 5 has a better mileage rating than the Pilot Sport 4S' 300 AA A. However, since both are rated "A" for temperature, heat caused by acceleration and high velocities won't be an issue for either.
5. Price and Warranty
When it comes to price, there's a big difference between them. As the newer tire, The Pilot Sport 5 has a heftier price tag of $365.56 for a 255/35ZR19 size, while the Pilot Sport 4S is a little bit more affordable at $321.99.
As for warranty, both tires feature a 30,000-mileage warranty, which is fairly average.
Pros and Cons
Michelin Pilot Sport 5
Excellent wet and dry performance
Fairly quiet
Better tread life
Limited sizes
Slightly lags in performance
More expensive
Michelin Pilot Sport 4S
Excellent wet and dry performance
Some sifzes have Michelin Acoustic Technology
Slightly better performance (significant when it comes to races)
Lots of available sizes
Cheaper
Slightly worse tread wear
FAQs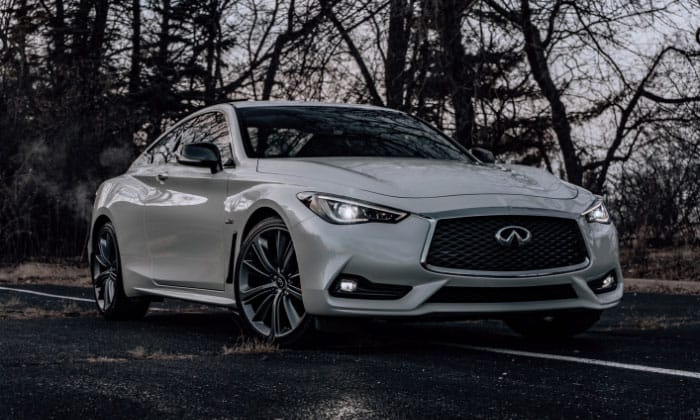 Is there a Michelin Pilot Sport All Season 5?
No. As of now, an all-season variant of the Pilot Sport 5 is yet to exist. However, if you want an all-season experience from the Pilot family, Michelin offers a Pilot Sport All-Season 4 tire and the Pilot A/S+ 3.
Is there a Michelin Pilot Super Sport 4S?
Somewhat no. While a Michelin Pilot Sport 4S definitely exists, a Super Sport variant doesn't. However, according to Michelin, the Pilot Sport 4S was actually derived from the Pilot Super Sport.
See now this comparison between Michelin pilot super sport vs pilot sport 4s here.
Conclusion
That concludes our Michelin Pilot Sport 5 vs 4S comparison, and I hope you've got the best tire in mind for your driving needs. As for what is the better tire for us, it was a close one, but we'll go with the Pilot Sport 4S on this one.
Although the Pilot Sport 5 has better mileage, it has slightly worse performance, which can make a big difference in lap times. It's also much more expensive. Meanwhile, the Pilot Sport 4S had better all-around capabilities aside from mileage.