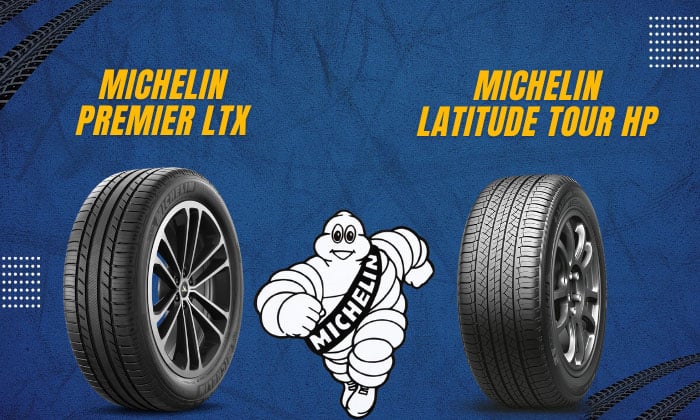 Tires that can travel off-road, carry heavy loads, and are durable are ideal for SUV and light truck owners. Unlike passenger cars, SUVs and light trucks are used for a couple of activities such as towing and scaling various terrains.
There are numerous excellent SUV tires available, but in this guide, we will compare two premium all-season touring tires. When comparing Michelin Premier LTX vs Latitude Tour HP, the former has better all-season traction. However, the latter excels in terms of ride comfort and fuel efficiency.
| | | |
| --- | --- | --- |
| | | |
| Tire Type | Premium All-season | Premium All-season |
| Usage | Touring | Touring |
| 3PMSFR | No | No |
| Tested Size | 235/60R18 | 235/60R18 |
| Tread Depth | 8.5/32″ | 9.5/32″ |
| Section Width | 9.5″ | 9.5″ |
| Diameter | 29.1″ | 29.1″ |
| Rim Range | 6.5-8.5″ | 6.5-8.5″ |
| Max. Inflation Pressure | 44 psi | 51 psi |
| Max. Load | 1,929 lbs | 1,929 lbs |
| Performance | Better wet and snow performance | More quiet and comfortable |
| Durability | Has a treadwear score of 620 | Has a treadwear score of 440 |
| Variety | Available in T, H, and V speed ratings | Available in H, V, and W speed ratings |
| Warranty | Has a 60,000-mile warranty | Warranty ranges from 30,000 to 55,000 miles |
Michelin Premier LTX
Michelin Premier LTX is a touring tire with excellent performance features from the Premier tire family. It is particularly worth noting for its dependability in all seasons.
With its symmetric tread pattern and continuous center rib, this tire promises excellent handling and consistent grip on dry roads. Its internal structure includes twin steel belts covered in polyamide cord to help with consistency and comfort on the road.
Michelin Latitude Tour HP
Michelin created the Latitude tire family specifically for owners of SUVs and crossovers. This tire family has a variety of models for different seasons, including the Latitude Sport for summer, the Latitude Alpin for winter, and the Latitude Tour for all-season tires.
The Latitude Tour HP has a symmetric tread pattern, stable shoulder blocks, and continuous ribs for excellent responsiveness, especially on dry roads. Internally, it features Michelin FAZ technology, which significantly improves ride quality by reducing bumping.
Differences Between Premier LTX and Latitude Tour HP
Let's see how Michelin Latitude vs Premier compares in terms of performance, durability, variety, and warranty.
1. Performance
Given that these are Michelin designs, we can expect these tires to be at the top of their class. And it shows in their UTQG ratings, with both the Premier LTX and Latitude Tour HP receiving an A in traction ratings, with the former receiving 620 AA and the latter receiving 440 AA.
How do these tires perform on dry, wet, and snow-covered roads?
2. Dry Performance
Premier LTX has Evergrip Technology, which is one of the main reasons for its excellent grip. This technology adds emerging grooves to the tire that appear as the tread wears down, allowing it to consistently provide a high level of dry traction.
For the Latitude Tour HP, Michelin used Comfort Contact Technology to enhance the tire's grip. This technology results in the effective distribution of forces along the tread, allowing it to maintain constant contact with the road.
3. Wet And Snow Performance
The Evergrip Technology that improves the Premier LTX's dry traction is also responsible for its excellent wet performance. This technology's hidden rain grooves help the tire gain traction and prevent hydroplaning.
The Latitude Tour HP would also not let us down in terms of wet traction and hydroplaning resistance. This tire has circumferential grooves and 2D active sipes to help evacuate water from the treads and improve grip.
If you're to examine the tread compound of the two tires, the Premier LTX will gain an edge with its silica and sunflower oil-enhanced formula, which helps the tire fare better in wet and cold weather. As such, it also received good ratings in light and deep snow traction.
The Lattitude Tour HP, meanwhile, only features an all-season tread compound, although its 2D sipes might improve its chances in rain and snow. Nonetheless, its snow and ice performance is pretty moderate.
4. Durability
The Premier LTX utilizes Michelin Total Performance, providing an all-around package that includes excellent handling, braking, comfort, and tread life. Its internal structure not only improves comfort but also contributes to the tire's durability.
On the other hand, you will also get a lot of mileage out of the Latitude Tour HP. However, choosing this model with a higher speed rating may result in lower mileage than its counterpart with a lower speed rating.
By looking at their UTQG ratings, you can already have a hint of which tire would last longer. The Premier LTX has a higher treadwear score of 620 compared to only 440 for the Latitude Tour HP.
If treadwear and durability are of utmost importance to you, you should consider the Michelin Defender tire line instead. For example, when comparing other Michelin tires vs Defender 2, the latter will always come out on top, being able to travel up to 94,400 miles.
Another Defender tire, namely the Defender T+H, is projected to last up to 90,000 miles based on Consumer Reports testing. For a tire that is capable of heavy-duty work, the Defender line has the Defender LTX.
5. Variety
The Premier LTX and Latitude Tour HP are both under the Light truck/SUV all-season touring category, which means they cater to the needs of the same type of vehicle. Having said that, the size range of these tires is nearly identical, with both models having rim diameters ranging from 16″ to 22″.
In terms of speed rating, there is a bit of a difference. The Premier LTX comes in T, H, and V speed ratings while the Latitude Tour HP comes in H, V, and W. Therefore, if you want to drive at higher speeds, go for the Latitude Tour HP.
6. Warranty
The Michelin Latitude Tour HP and Premier LTX come with a standard limited warranty that covers workmanship and equipment issues for the life of the functional tread, or 6 years.
In terms of limited treadwear warranty, the Premier LTX outperforms the competition, with a 60,000-mile warranty on all speed rating versions. On the other hand, the Latitude Tour HP is available with three different treadwear warranties, depending on its speed rating and tire version.
The treadwear warranty for the Latitude HP's H- and V-speed rated models is 55,000 miles, while the W-speed rated model is only 45,000 miles. The ZP tire has the shortest treadwear warranty among its varieties, with only 30,000 miles guaranteed.
7. Comfort levels
Michelin is known for producing tires that are incredibly comfortable and quiet. Having said that, if you want a smooth ride, the Premier LTX and Latitude Tour HP will not disappoint.
The Latitude Tour HP's Comfort Contact Technology improves road contact and reduces vibrations while driving. This tire also has a computer-optimized tread that aids in the reduction of tire noise.
For the Premier LTX, the internal structure and tread compound do the work for providing a comfortable and quiet driving experience.
It's difficult to say which of these Michelin tires is better in terms of comfort and road noise. However, the Comfort Contact Technology used in Latitude Tour HP gives it a slight advantage as it feels a bit smoother than its competitor.
Another dependable all-season tire from Michelin that you can try is the Premier A/S. It features the Comfort Contact Technology used in the Latitude Tour HP and Evergrip Technology used in the Premier LTX.
8. Cost
As Michelin tires are made of high-quality materials, it is expected that they come with a hefty price tag. Here is an estimated price range for the Premier LTX and Latitude Tour HP.
Premier LTX: $245-$317
Latitude Tour HP: $195-$411
Michelin Premier LTX
Top-level all-season traction
Excellent hydroplaning resistance
Produces little noise
Comfortable
Michelin Latitude Tour HP
Superb dry performance
More quiet and comfortable
Low rolling resistance
Available in higher speed rating
Expensive
Wet and snow traction could be improved
Frequently Asked Questions
Is Michelin Latitude Tour HP discontinued?
No, the Michelin Latitude Tour HP is not discontinued. This tire is still available on the Michelin website and a lot of tire retail chains. This tire replaces the Michelin Latitude Tour, which is another excellent all-season SUV tire.
Are Michelin Latitude Tour HP tires good in snow?
Although it has some features that help provide a decent grip on snow, the Latitude Tour HP lags far behind the leaders in its class in terms of snow traction and handling.
Conclusion
This Michelin Premier LTX vs Latitude Tour HP comparison was a close one. Both tires provide numerous advantages, making it difficult to choose which tire to buy. However, one thing is certain. Purchasing any of these tires will be a win for you.
We hope we've answered all your questions. However, if you have anything to ask, feel free to reach out to us. We'd be happy to answer.
Read more: