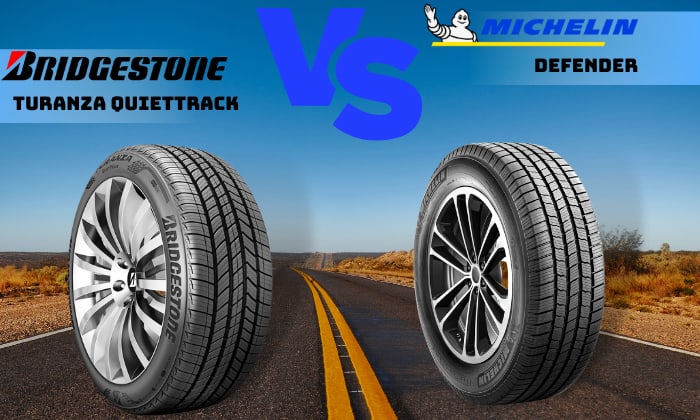 As of 2020, Bridgestone surpassed Michelin as the largest tire manufacturer in the world despite being 40 years younger than the French empire.
The two tire giants have been neck and neck in providing excellent products for passenger cars, SUVs, and trucks. In this post, we'll dive into detail the winning features of their all-season premium touring tires.
Which is better: Bridgestone Turanza Quiettrack vs Michelin Defender? The Michelin Defender wins because of its more practical warranty plan, cheaper price, lower noise level, better dry traction, corner stability and steering response. On the other hand, Bridgestone's Turanza Quiettrack performs better in wet and snowy conditions.
What Are They?
Bridgestone Turanza is an all-season touring tire that aims to provide smooth, quiet rides.
Meanwhile, Michelin Defender is a line of products with three tires: Defender2, Defender LTX M/S, and Defender T+H.
Differences: Bridgestone vs. Michelin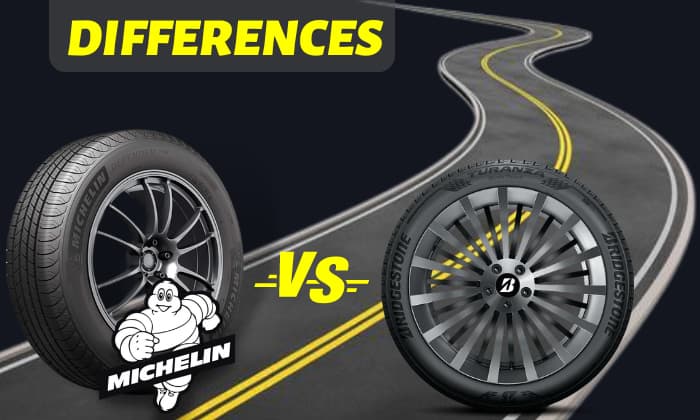 1. Origin
Bridgestone derived its name from its founder, Shojiro Ishibashi, wherein Ishi means stone and bashi means bridge. It was established in 1931 in Kurume, Fukuoka, Japan.
Thanks to the company's unique Deming plan that produced original high quality tires, its partnership with Scuderia Ferrari and the championship titles won by Michael Schumacher in Formula One, Bridgestone gained popularity worldwide.
Today, its headquarters can be found in Kyobashi, Tokyo, Japan.
Michelin was named after the founders, Andre and Edouard Michelin. They established the tire company in 1889 in Clermont-Ferrand, France, and its headquarters is still there today.
Michelin has 133 years of experience in manufacturing a wide range of innovative tires brought by their expertise in racing.
2. Purpose
The differences in the performance of the Michelin Defender vs Bridgestone Turanza Quiettrack can be traced to their purpose. The former was built for passenger cars and crossovers, while the latter mainly fit SUVs. Below are the vehicles for each tire:
Turanza Quiettrack – sedans, coupes, minivans
Defender T+H – passengers, SUVs
Defender LTX – SUVs, crossovers, light trucks
Defender2 – SUVs, passengers, electric vehicles
3. Features
The Michelin Defender T+H scored higher than the QuietTrack in dry traction, corner stability and steering response. It is also quieter on the road. On the other hand, the Bridgestone Turanza has better wet and snow traction.
If you examine the Turanza QuietTrack vs Michelin Defender LTX, the results are mixed. The Defender LTX prevails in most categories, except in ride comfort and wear, but in other aspects like wet and dry performance, the scores are close.
Finally, if we pit the QuietTrack against the Defender2, the former has a shorter treadlife (70,000 miles vs 94,000 miles) but better traction and temperature ratings (scores of A vs B).
4. Price
In general, Michelin and Bridgestone tires are closely matched when it comes to price. Both are expensive, but in most cases, Michelin has a higher price tag, whether at Costco or elsewhere.
However, based on this list of lowest prices for Bridgestone Turanza and Michelin Defender, the French tire is $30-70 cheaper than the Japanese tire.
| | | | |
| --- | --- | --- | --- |
| Tires | Discount Tire | Consumer Reports | Amazon |
| Bridgestone Turanza QuietTrack | $160- $307 | $212.99 | $195 |
| Michelin Defender T + H | $117 to $231 | $178.99 | $123.97 |
| Michelin Defender LTX | $151-$467 | $254.99 | $234.99 |
| Michelin Defender 2 | $156-258 | Not available | $203.99 |
5. Warranty
The Bridgestone Turanza, Michelin Defender T+H & Defender2 have warranties of 80,000 miles. Meanwhile, the Defender LTX has a guarantee of 70,000 miles.
Both tire brands provide limited mileage warranty and replacement promise, but they differ in length of coverage from date of purchase.
Michelin's coverage is one year longer (6 years) than Bridgestone's 5 year tread warranty, but the Tokyo-based tiremaker is confident in giving tire buyers a 90-day buy and try guarantee while Michelin will accept replacement requests within 60 days of purchase.
On top of the 60-day satisfaction guarantee, Michelin's warranty package includes 3 years of roadside assistance which adds practical value. This feature provides services such as flat tire change, fluid delivery, or free towing service up to 150 miles in case of unavailable spare tires.
Therefore, in the warranty war between Michelin Defender vs Bridgestone Turanza, Michelin claims the top spot.
Pros and Cons: Michelin Defender vs. Bridgestone Turanza Quiettrack
Based on the differences above, here are the pros of the Michelin Defender compared to the Bridgestone Quiettrack:
Better warranty (with free towing)
Cheaper price if you can get a good deal for the Defender T+H)
Better dry road performance and less noise (for the Defender T+H)
Better overall except for comfort during usage (for the LTX)
Meanwhile, here are the pros of the Turanza, which are where the Defender could improve on:
Better ride comfort
Better snow traction
Bridgestone Turanza Quiettrack vs other Michelin tires
It is hard to tell who's exactly winning when we compare Michelin and Bridgestone tires because there are plenty of factors to consider aside from driving habits and conditions.
For instance, if you compare the Turanza vs Michelin Pilot Sport All Season 4, Bridgestone's rating in every aspect is more impressive except for dry traction.
When pitted against the Michelin Crossclimate 2, the Turanza's weaknesses include less traction on snowy and icy roads, but you can count on its high level of dry and wet traction, ride comfort and wear.
In the Turanza QuietTrack and Michelin Primacy MXM4 matchup, the former performs better in all aspects, especially on wet and snowy surfaces. The gap is striking in ride comfort and wear.
After assessing the QuietTrack vs Michelin Premier A/S, the Michelin pales in comparison with the Turanza tire in all weather conditions. Their scores have an 8-10 percent difference.
Overall, it would be a huge advantage to check the tire reviews of consumer and industry experts in a variety of forum like Reddit before buying, whether you're eying the Bridgestone Driveguard, Michelin Premier, or any other model.
Frequently Asked Questions
Which is better: Michelin Defender or Bridgestone Ecopia?
If you compare the Michelin Defender vs Bridgestone Ecopia, Michelin dominates the results because it scored noticeably higher in almost all aspects, especially in wet and dry traction.
Understandably, Ecopia was marketed as a fuel-efficient tire rather than an all-season one. Its unique feature is giving you an extra 20 miles per tank.
Which tyre is best, Michelin or Bridgestone?
Michelin is the best tire brand overall because it offers a wide array of tire choices that can fit almost any type of vehicle. However, there are certain tire selections as seen on this post that Bridgestone scores higher in wet and snow traction.
Afterall, Bridgestone was named as the best tire brand for run-flat tires and winter weather. Its winning edge most of the time boils down to wear and overall ride comfort.
Is Bridgestone Turanza a good tire?
Bridgestone Turanza delivers excellent dry and wet performance. It is not as good as a dedicated winter or snow tire, but it can keep you on the road under light snow conditions. It also offers a strong tread wear warranty of 80,000 miles.
Is the Bridgestone Turanza QuietTrack good in the snow?
The Turanza QuietTrack can't replace a dedicated snow tire, but it can handle light snowy conditions better than the Michelin Defender.
Conclusion
Michelin and Bridgestone are well-matched in performance, quality, warranty and cost.
For instance, when comparing their all season premium touring tires – the Bridgestone Turanza Quiettrack vs Michelin Defender, neither one completely outscores the other in every category.
If you are intrigued by other Michelin or Bridgestone tires, tell us which product you would like to know more about.