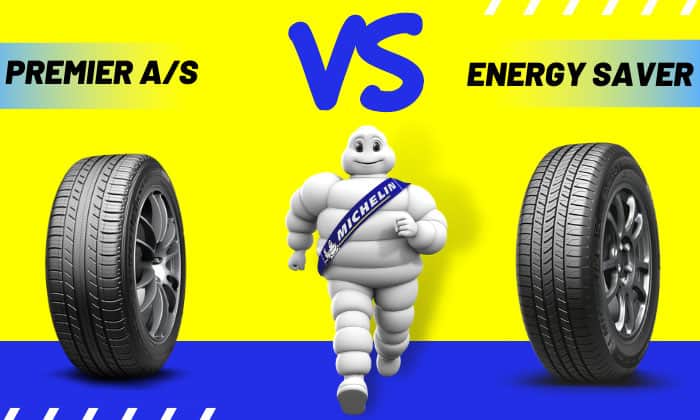 In 1992, Michelin pioneered the extensive use of silica on tires to achieve a fuel efficiency advantage. But how does this feature actually boost the road performance of some Michelin tires?
We investigated the Michelin Premier A/S vs Energy Saver and learned that the silica compound made the A/S a more reliable grand touring tire in unpredictable weather conditions, while Michelin's Energy Saver relied on silica to have better gas savings during summer drives.
| | | |
| --- | --- | --- |
| Factors | | |
| Wet | Winner | Poor |
| Dry | Excellent | Comparable |
| Snow and Ice | Usable in Light Snow | Summer tire, not intended for snow/winter |
| Noise | Equal | Equal |
| Comfort/Ride Quality | Comfortable | Average |
| Fuel Consumption | Higher | Lower |
| Price | Slightly More Expensive | Lower Price |
| Mileage Warranty | Higher | Lower |
What Are They?
1. Michelin Premier A/S
Michelin Premier A/S is a grand touring all-season tire built for coupes, sedans, CUVs, SUVs and minivans.
It was launched in 2014 with an attractive promise of delivering increased traction in wet and snow conditions, even when worn, thus, providing safety in harsh weather.
The tire was equipped with the following features:
Evergrip technology- dedicated to reducing stopping distances on wet roads
Rubber compound made of high amounts of silica and sunflower oil so that the tire doesn't stiffen in colder temperatures and skid
Comfort Control technology – suppress road noise for excellent rides
Rain grooves on the tire's circumference for hydroplaning resistance and additional wet traction
Snow grooves on the tire's shoulder for biting edges in wintry conditions
2. Michelin Energy Saver
There are two main Energy Saver tires: one is the Energy Saver for summer use; the other is the Michelin Energy Saver A/S, which has a wider scope of usage.
Other tires that belong to the Energy line are:
Michelin Energy Saver 4- a touring summer tire released in 2020
Michelin Energy XM2 – a touring summer tire released in 2011
Michelin Energy LX4 – an all-season passenger tire released in 2007
You can find other models as well, but they're largely discontinued.
Unlike the Energy Saver, Michelin's Energy Saver A/S consistently ranks as one of the best fuel-efficient tires. Some lists include the Michelin Defender T+H and Michelin Energy Saver Plus, which are worth checking out as well.
Similarities and Differences: Energy Saver vs Michelin Premier A/S
1. Specifications
Michelin Premier A/S and Energy Saver were developed with the same maximum speed and carrying capacity. They both display high traction and temperature grades (AA).
| | | |
| --- | --- | --- |
| Specifications | Michelin Premier A/S | Michelin Energy Saver |
| Tire type | Grand touring all season tire | Summer touring tire |
| Tire Size Inspected | 195 55R16 | 195 55R16 |
| Speed Rating | 149 mph (V) | 149 mph (V) |
| Tread Depth | 8.5/32 in. | 9.5/32 in. |
| Max PSI | 44 PSI | 51 PSI |
| Load index | 1202 pounds | 1202 pounds |
| UTQG | 640 AA | 400 AA |
| Price | $194.99 | $180.96 |
| Mileage warranty | 60,000 | 40,000 |
2. Warranties
Energy Saver has a higher tread depth, but its wear life is shorter than the Premier A/S, as indicated by its treadwear rating (400) and mileage support (40,000).
3. Wet Performance
Both tires sport silica-enriched tread compound, shorter braking distances, and lower rolling resistance.
Interestingly, its additive caused the Premier A/S to deliver enhanced grip in wet surfaces and cold temperatures, while the Energy Saver struggles if the road temperature is consistently below 45 degrees, considering its tread stiffens. Reviews added that the Energy Saver has poor aquaplaning in curves.
Overall, the Premier A/S has a more solid wet performance than Michelin's Energy Saver.
4. Dry performance
Since Michelin's Energy Saver was engineered to handle warmer months, this tire is expected to perform better than the Premier A/S in the summer. It was praised for precise handling and braking.
Some drivers claim that the Energy Saver's dry grip is as good as the Michelin Crossclimate, but performance in this aspect declined when the tire reached 10,000 km or so.
Meanwhile, Tire Rack Michelin Premier A/S and other reviews reveal the tire has excellent dry traction.
5. Noise/Comfort/Ride Quality
Michelin's Energy Saver is neither exceptionally quiet nor loud. It gives decent road feedback when you hit hard uneven grounds. You can easily tell if the tires are grippy or not, so the comfort level is not that impressive.
In general, the Premier A/S can deliver smooth, quiet, and comfortable rides. However, some Reddit users claimed that the tire was a bit noisy. The sound may not be intolerable, but it's noticeable on the highway.
On the upside, bumps are mostly negated while using this tire.
6. Snow and Ice
The Michelin Premier A/S is not a snow-certified tire, but because of increased grip brought by Evergrip technology and the sunflower oil in its tread, the tire can decently pass through snow-covered paths.
In comparison, forum users shared that the Energy Saver couldn't handle snow because of its weak sidewall. Nonetheless, this model was not designed for winter driving.
7. Availability and Cost
Michelin Premier A/S is slightly more expensive and easier to find than Michelin's Energy Saver tire.
For instance, Michelin Energy Saver 225 50r17 is unavailable even on Amazon, while the Michelin Premier A/S 225/50r17 can be found on Walmart. It was sold at $193.29.
There are only two tire sizes available at Simple tire for the Energy Saver, while there are more sizes for the Premier A/S. This situation probably stems from the Saver's age, as it's older than the Premier.
Some shoppers look for the Energy Saver A/S Costco and other retailers sell instead, since it's newer.
Although there were talks circulating about the Michelin Premier A/S replacement and possible phase-out, this tire is still available on Michelin's official website.
8. Fuel Efficiency
Reddit users shared their experience on the Premier, Defender, and Energy Saver tires, and the Energy Saver stands out in fuel savings if driven mostly on the highway without bad weather conditions.
More drivers are vocal about the Energy Saver's excellent rolling resistance and lower fuel consumption than the Premier A/S.
Pros and Cons
Michelin Premier A/S
Superior hydroplaning and wet performance
Excellent dry performance
Usable in light snow
Higher mileage warranty
Michelin Energy Saver
Better gas mileage
Comparable dry performance
Poor wet performance
Not designed for wintertime
Shorter tread life
Limited availability
Conclusion
Now that you know about the road performance of Michelin Premier A/S vs Energy Saver, we can now put an end to the Michelin Premier vs Energy Saver debate.
Depending on your driving habits, either may be the better choice. Buyers who don't drive in wet conditions and want to save money may opt for the Energy Saver, for instance.
We also compared the Energy Saver to Defender 2, so you might want to check out this post as well.
Furthermore, please take a look at these comparisons to make the best choice: