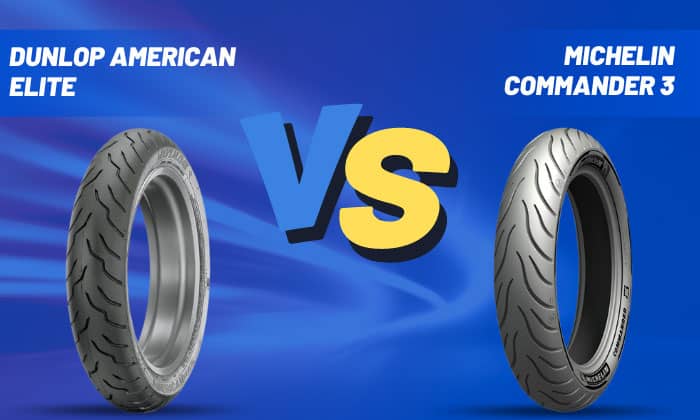 When there are hundreds of options, deciding what type of touring tire to buy is challenging. This is where the comparison comes in.
The Michelin Commander 3 vs Dunlop American Elite Touring tires are among the best Motorcycle touring tires you can find on the market. They have different benefits and offer you a different experience altogether.
What makes them unique? Let's dig deep down into their specifications and performance ratings.
Here is a comparison chart:
| | | |
| --- | --- | --- |
| Specifications | | |
| Brand | Michelin | Dunlop |
| Tire type | Motorcycle Touring | Motorcycle Touring |
| Usage | Highway | Highway |
| Section Width | 180mm | 180mm |
| Tire Aspect Ratio | 65 | 80 |
| Load Index Rating | 81 | 77 |
| Load Capacity | 1019 pounds | 908 pounds |
| Size Tested (Rear) | 180/65B16 81H TL | 180/65 B 16 81H Reinforced TL/TT |
| Tire weight | 22 pounds | 14.8 pounds |
| Price | $345.16 | $280.66 |
Dunlop American Elite Vs Michelin Commander 3: Detailed Comparison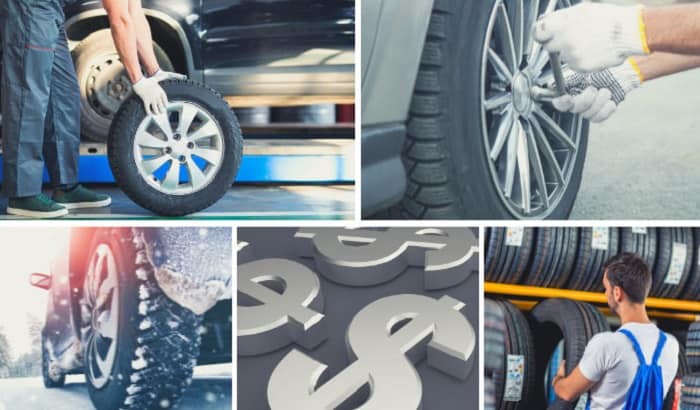 1. Specifications
01
Dunlop American Elite:
The tread design provides even tread wear and silent noise in dry and rainy situations.
The MT rear tire formula, which combines a long-lasting compound at tire's middle part, helps the American Elite achieve improved tire mileage.
Each shoulder has lateral-grip elements for excellent handling.
The Made in USA logo and American Elite logo are prominently displayed on the vehicle's sidewall.
There are currently numerous sidewall designs available, including black, thin, and white walls.
02
Michelin Commander 3:
To stop all types of uneven wear, Silica Rain Technology incorporates silica into the tire tread compound.
In addition to increasing mobility, the tire's unique high-density carcass and aramid fiber crown ply also increase durability while lowering mass.
A dense, ultra-rigid tire casing that provides outstanding feedback and handling is known as "amplified density technology."
The tire's aramid tread plies prevent centrifugal expansion, which enhances stability.
Square bead wires enhance the casing's handling, installation, and rigidity.
2. Performances
01
Dunlop American Elite:
The tread design provides even tread wear and silent noise on dry and slippery roads.
H-Rated Tires, thus ideal for commuting vehicles. It has an H rating of up to 130 mph.
02
Michelin Commander 3:
Unparalleled tire life without sacrificing dry or rainy traction
Numerous longitudinal tread grooves provide water dispersion for exceptional traction in wet conditions.
3. Warranties
01 Michelin Commander 3
60-Day Satisfaction Guarantee
Roadside Assistance
Manufacturer's Limited Warranty & Treadwear Warranty
02 Dunlop American Elite:
Dunlop American Elite Tires is under Highway Auto and Light Truck Replacement and Adjustment Policy (HALT) warranty.
Dunlop motorcycle tires are serviceable under 6 years from the manufacturing date.
4. Pros and Cons
Pros
01
Michelin Commander 3
Maintain traction in wet conditions, including rain
Effective cornering ability
Accepted by a single or many motorcycle manufacturers
02
Dunlop American Elite
Featuring long-wearing compound in the center for durability and stability
Tread patterns are designed for wet conditions
A sleek-looking tire for touring motorbikes
Cons
A big back tire adds weight to the motorcycle, making the brakes and suspension work harder and possibly wear out faster. It also has a larger area of contact with the road; therefore, the motorcycle needs more power to overcome the frictional resistance. Fuel usage may rise as a result.
5. Cost
Dunlop American Elite Tire's back and front tire price range from about $140,000 up to nearly $300,000.
Michelin Commander 3 price range from $180,000 to nearly $350,000.
FAQs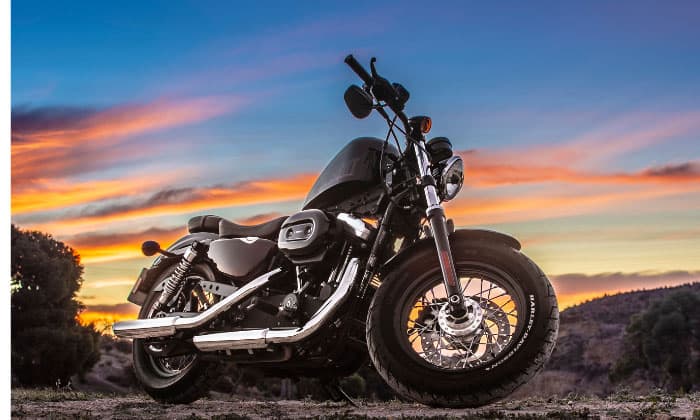 Where are the Dunlop American Elite made?
It is widely known that the design, testing, and production of Dunlop American Elite tires are all done in the United States.
Who makes American elite motorcycle tires?
The engineering team at Dunlop, which has years of experience with Harley Davidson motorcycles, developed, produced, and tested the product here in the United States.
How long do Dunlop American elite motorcycle tires last?
Dunlop American Elite motorcycle tires have a six-year warranty from the production date. But how long it will last will depend on your driving habits, road conditions, and the miles you use your tires.
What's the difference between Michelin Commander 2 and Commander 3 tires?
Michelin Commander 2 and Commander 3 tires are two different tires with almost the same materials. The Commander 3 has a 100% silica composition, a more robust fabric than the Commander 2.
The Michelin Commander 3 tire is a successor of the Michelin Commander 2 tire, but both use aramid fibers.
Is Metzeler ME 888 in the summer touring category?
Yes. Metzeler me888, Michelin Commander 3, and Dunlop American Elite are in the Summer Touring Tire Category.
Is Metzeler Cruisetec the same type as Dunlop Elite 4?
No. Although they are both cruiser-type tires, Both tires are different. Dunlop Elite 4 has an MT Multi-thread type, while Metzeler Cruisetec is a V-twin type tire.
What is the Problem with Michelin Commander 3? Why did they issue a recall on the product?
Recently posted on Michelin bulletin, they issued a recall for their Michelin Commander 3 tires because of issues with handling and thread wearing out quickly. The company also announced that it would be changing the design of the tire to address the problems.
The Michelin Commander 3 is designed to last up to 12,000 miles before needing replacement. However, there have been complaints about the tire's durability, handling, and vibration levels. This has caused Michelin to issue a recall on this product.
https://youtu.be/fV9bmgjH-Mo
Conclusion
Michelin Commander 3 vs Dunlop American Elite? Have you chosen? Both are top-tier tires in their category. But both tires have their pros and cons.
Your choice will depend on your riding style, driving habits, and riding comfort. We suggest that you test both tires so you know how it feels to drive both tires. We hope this article helps you with your choice. If you have something to add, don't hesitate to shoot us a message.