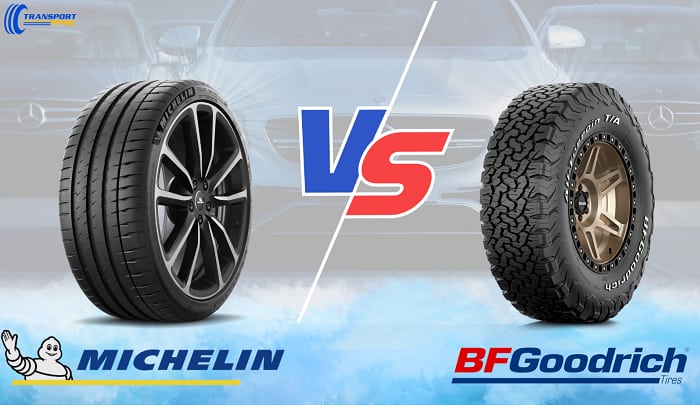 BFGoodrich is 19 years older than Michelin, but both tiremakers have a rich history of producing innovative tires that make them well-known worldwide.
When Goodrich Corporation left the tire business in 1990 to concentrate on aerospace products and services, the BFGoodrich brand was sold to Michelin. Since Michelin technically owns BFGoodrich, what is the difference between the two?
Which is better: BF Goodrich vs Michelin Tires? Michelin tires provide a smooth driving experience with reduced noise level in almost all conditions except off-roading. In contrast, BFGoodrich is the go-to off-road tire because it delivers quality performance at a more affordable price.
Differences: Michelin Tires vs BF Goodrich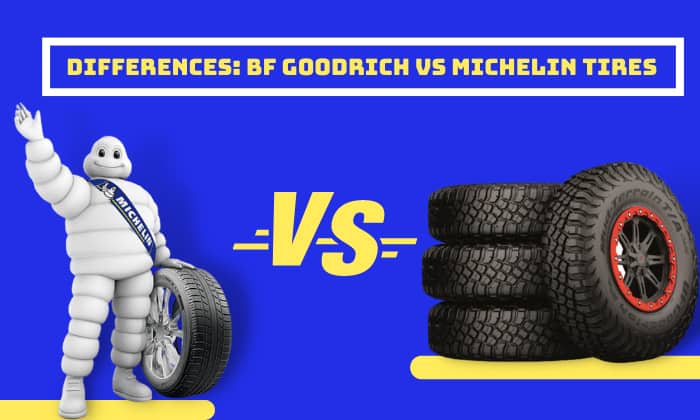 What is BFGoodrich? What is Michelin?
BFGoodrich was founded by Benjamin Franklin Goodrich in Akron, Ohio in 1870. It used to be an American tire company that manufactured radial tires and ruled Baja competitions.
Today, Michelin is the parent company of BFGoodrich. The business empire was established by Andre and Edouard Michelin in 1888. Today, its headquarters is in Clermont-Ferrand.
Brand Portfolio
BFGoodrich lacks the tire diversity that Michelin can offer. For instance, there are 54 tire choices for Michelin, ranging from cars, SUVs, to trucks, vans and more while BFGoodrich specializes in all-season and off-road tires.
Below are the most popular tire series of BFGoodrich. The brand's passenger options are limited in sizes:
15 inch – 2 options
16 or 17 inch – 3 options each
| | |
| --- | --- |
| Type | BFGoodrich |
| Passenger cars | Advantage Control |
| Performance tire | g-Force Rival S |
| SUV | Advantage T/A Sport LT |
| Truck | All-terrain T/A K02 |
| All-season tire and winter tire | g-Force COMP-2 A/S Plus |
| Off-road | Mud Terrain T/A KM3 |
On the other hand, Michelin's best sellers include the Michelin Defender, Michelin Premier A/S and Michelin Pilot. Other popular tire models are:
| | |
| --- | --- |
| Type | Michelin |
| Ultra-high performance sports car | Pilot Sport |
| Fuel Efficiency | Energy |
| Crossover and SUVs | Latitude |
| Light Truck | LTX |
| Luxury performance | Primacy |
Treadlife warranty
The highest tread life warranty of BF Goodrich is 75,000 miles while Michelin goes as high as 90,000 miles.
Michelin tires also provide:
30-days satisfaction guarantee
3 years flat-tire changing assistance
Read more: how many miles do michelin tires last?
Cost
Michelin is arguably expensive. The price range falls between $166 to $600 per tire. In contrast, BFGoodrich tires cost around $102 to $400.
Pros and Cons: Michelin Tires vs BF Goodrich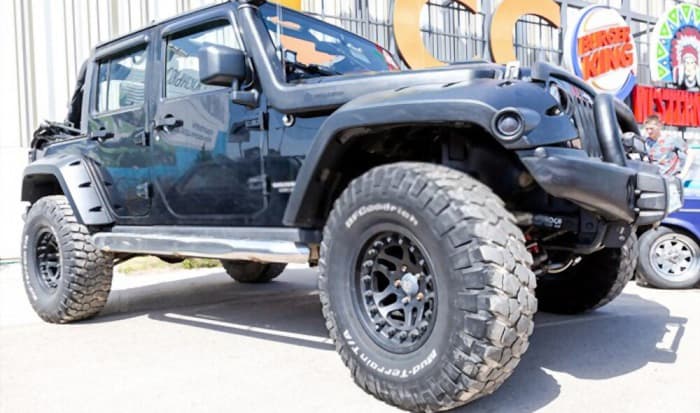 In general, BF Goodrich good tires rank well in consumer reviews and forums like Reddit because of the notion that it shares the same facilities and production standard with Michelin.
But, let's compare some of the two brands' tires to better understand their unique features.
BFGoodrich Advantage Control vs Michelin Crossclimate 2
If you check the features of the BFGoodrich Advantage Control vs Michelin Crossclimate 2 for Subaru STI, the Crossclimate 2 is a better grand touring option because it delivers a higher speed and severe snow adaptation. Meanwhile, the Advantage Control can only handle light snow.
Also read: Michelin Crossclimate 2 vs Michelin Cossclimate+ vs Michelin Defender
BFGoodrich Advantage T/A Sport vs Michelin Premier A/S
BF Goodrich's Advantage T/A Sport scored higher than Michelin's Premier A/S when it comes to dry traction, corner stability, steering response, and wet traction.
Both tires can handle light snowy surfaces, but the Advantage T/A Sport is more usable in deeper snow because of its lug type pattern. However, the same feature is the reason why BFGoodrich's Advantage T/A is noisier than Michelin Premier A/S.
Prices for the two models vary, but the BFG tire costs around $155.32 while Michelin's price is $165.79.
Michelin LTX AT2 vs BFG KO2
Michelin LTX AT2 and BFG KO2 are both all-terrain tires, but the BFG KO2 outperforms Michelin's LTX At2 on muddy terrains, gravelly areas, and stony paths because of its aggressive open tread design. It was produced to cater to the needs of jeeps, sports utility vehicles, and pickup trucks.
However, these features also cause BFG KO2 to be noisy on the road.
Michelin's LTX AT2 fares better in on-road driving, whether in dry or wet conditions. It has a bigger contact patch with the road because it has narrower grooves than the BFG KO2.
This compact tread design makes the LTX AT2 quieter and more comfortable, suitable for SUVs, crossovers, and commercial trucks.
If you compare the treadwear warranty of the Michelin LTX AT2 vs BFG all terrain, the former is prone to excessive wear but offers a treadwear warranty of 60,000 miles while the BFG KO2 shows reliable wear that lasts 50,000 miles.
BFGoodrich Advantage vs Michelin X Tour
BFGoodrich's Advantage Control is available in 69 sizes that are recommended for compact SUVs such as Honda Accord, Honda Civic, Hyundai Tucson, Hyundai Elantra, Chevy Equinox and Ford Escape.
Its distinct features include clean sidewalls, full-depth sipes, and channels for water to evacuate from the center of the rib to the outer tread blocks.
The treadwear warranty of its W and V-rated tires is 65,000 miles, while its H-rated tires have a warranty of 75,000 miles.
On the other hand, the Michelin X Tour provides an 80,000 miles warranty. It is a touring tire that performs well in almost all situations, especially in heavy rain. Its design and features are identical to the Michelin Defender. Its drawbacks may include cornering and traction under severe snow conditions.
The price of BFG Advantage tires ranges from $110-245 while the Michelin X tour falls between $92.80- $230.99.
Frequently Asked Questions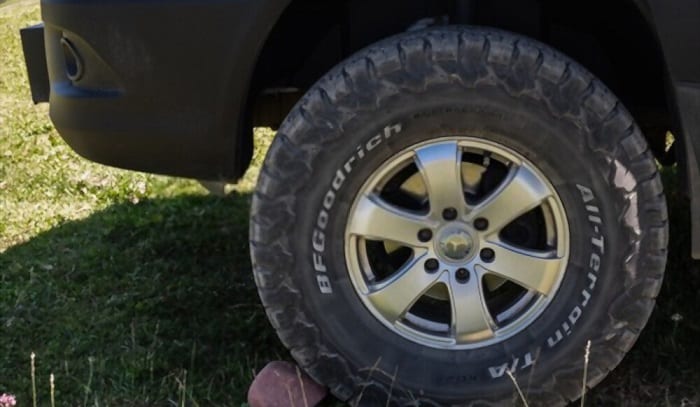 Are BFGoodrich tires as good as Michelin?
BFGoodrich excels in off-road performance compared to Michelin. It provides a reliable all-season tire with increased snow traction. But for on-road driving, Michelin tires promise comfortable driving, reduced noise level and superior performance in dry and wet conditions.
Are BFGoodrich tires noisy?
BFGoodrich tires are considerably noisy because the tread design is meant to handle rough gravel, muddy areas, and stony patches. It lacks a dedicated technology for noise reduction.
Where are BF Goodrich tires made?
BFGoodrich tires are made in three US facilities in Alabama and Indiana.
Also, be sure to read this article on where Michelin tires are made.
Conclusion
After comparing BF Goodrich vs Michelin Tires, it's clear that BFGoodrich takes the lead in off-road performance. Its main advantages include cheaper costs and usability in deeper snow.
On the other hand, Michelin performs slightly better in almost all conditions except off-roading. The noticeable advantages of Michelin vs BFGoodrich include having dedicated noise reduction features and providing a comfortable driving experience.
Now that you have learned about the attractive features of both brands, you might be interested in knowing about their tire series in detail. Don't hesitate to tell us which model is intriguing to you.