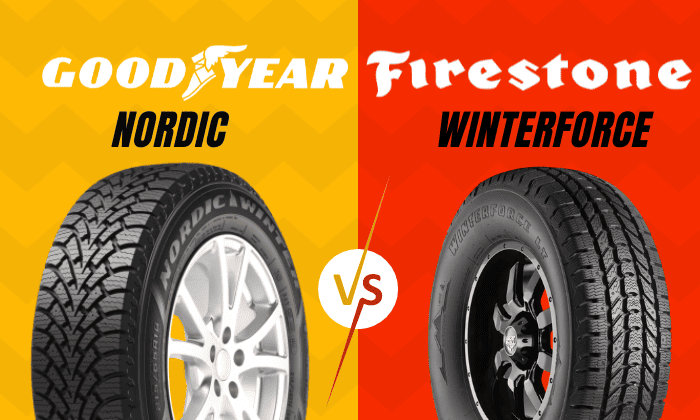 If you're currently looking for tires for snow and ice, then winter tires are the ones you need. They are the winter season when the terrain is so slippery and covered with either snow, slush, or ice.
Two great winter tires to consider are the Goodyear Nordic and Firestone Winterforce. Both come from reputable brands and offer enhanced traction on snow and ice. However, there are some differences worth considering.
To help you choose between the two, here's a comparison of Goodyear Nordic vs Firestone Winterforce. We'll inspect their performance in different road conditions, key features, warranty, price tag, and pros and cons.
An Overview
Below is a brief tire comparison chart regarding some of the technical specs of the Goodyear Nordic and the Firestone Winterforce.
| | | |
| --- | --- | --- |
| Attributes | Nordic | Winterforce |
| Tire Brand | Goodyear | Firestone |
| Tire Type | Winter | Winter |
| Sidewall | Blackwall | Blackwall |
| Tread Design | Directional | Symmetrical |
| Rim Range (in.) | From 6 to 7.5 | From 4.5 to 6 |
| Tread Depth (in.) | 13/32 | 13/32 |
| Highest Load Range | Standard (SL) | Standard (SL) |
| Max Load (lbs) | 1019 | 1047 |
| Max Speed (mph) | 112 | 112 |
About Goodyear Nordic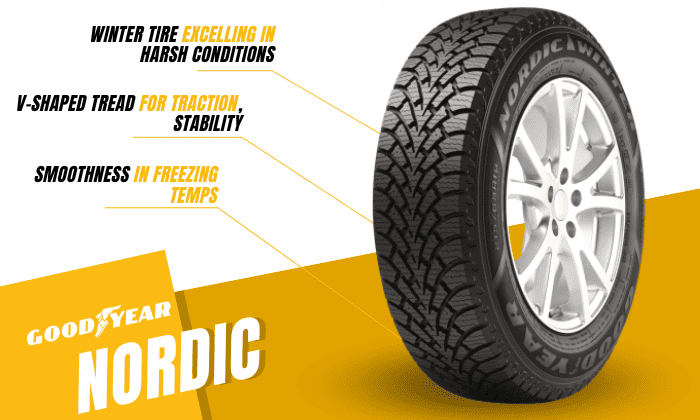 The Goodyear Nordic is a winter tire model that can withstand even the harshest winter driving conditions. It is engineered with tread compounds that improve its performance on slippery surfaces such as snow, ice, and slush.
It has a directional V-shaped tread pattern, a continuous center rib, and a flexible rubber compound that altogether contribute to delivering smooth, stable, and good traction ride properties in freezing temperatures.
About Firestone Winterforce
The Firestone Winterforce is another superb winter tire with a directional tread design and high-density aggressive sipes that ensure optimal wintertime traction. This winter tire is engineered for roads coated with either light or hard snow.
It is composed of dual steel belts that are coated with polyester, which allows improved winter capabilities and longer tread life. This is perfect for utility vehicles, minivans, sedans, and coupes.
Differences Between Goodyear Nordic and Firestone Winterforce
1. Performance
Here's how the Goodyear Nordic and the Firestone Winterforce perform in different conditions.
Traction on Snow and Ice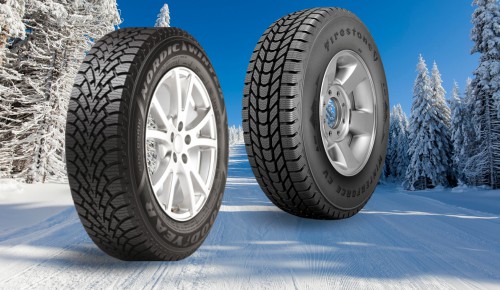 Goodyear Nordic – The Goodyear Nordic offers exceptional traction on snow and icy roads. Its design, featuring zig-zag microgrooves, provides confident traction in harsh conditions. The tire also supports additional outfitted metal studs for enhanced grip.
The continuous center rib maintains the vehicle steering stability while the directional V-Tred evacuates snow and slush, allowing complete control.
The Goodyear Nordic has a deep tread depth of 13/32, promising longevity. However, new tire models might have an upper hand against the Nordic on ice-covered surfaces. Unfortunately, the tire was discontinued.
Firestone Winterforce – The Firestone Winterforce also leaves a respectable performance. It delivers dependable traction using a directional tread pattern on both dry and wet surfaces. The biting edges provide additional traction and better braking in snow and slush.
However, Firestone discontinued the Winterforce and replaced it with the Winterforce 2. The new version, as reviewed, is a complete step-down. It produces less noise but sacrifices most winter capabilities.
Ride Quality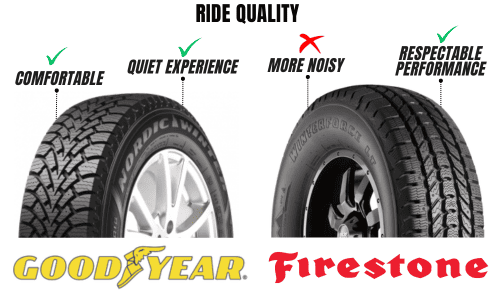 The Goodyear Nordic rides stably with confident control on snow and ice. It delivers a comfortable and quiet experience, thanks to its noise reduction and vibration reduction technology.
The Firestone Winterforce also drives confidently in winter conditions. However, it's on the more noisy side, which doesn't live up to its low-noise advertisement.
2. Warranty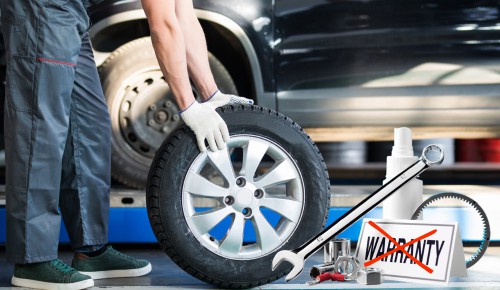 Both the Goodyear Nordic and the Firestone Winterforce don't come with a limited treadwear warranty. That means there's no protection from premature wear and tear or problems related to defective products or workmanship. However, retailers may have warranty programs in place.
3. Pricing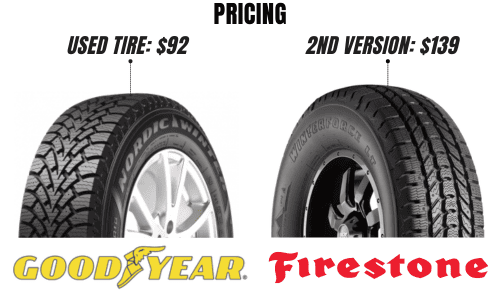 Another important aspect of the tire is its price tag. Take a look at the cost difference of these two tires.
Currently, the Goodyear Nordic is discontinued. It's hard to find new Nordic tires. However, you can pick up a used Nordic tire in decent condition for as low as $92.
The Firestone Winterforce (2nd version) starts at $139.
If you're on the market for a budget winter tire and don't mind using second-hand tires, the Goodyear Nordic is a great choice.
4. Pros and Cons
1. Goodyear Nordic
Pros
Cheaper if bought used
Excellent wet and wintertime performance
Optimal snow and slush traction
Stable and controllable
Smooth and quiet ride
Cons
Poor performance on ice-covered roads
No limited treadwear warranty
Discontinued, mostly used tires are available
2. Firestone Winterforce
Pros
Comes with decent warranty support
Impressive grip on snow (light and deep)
Long-lasting
Better braking distance on snow and ice
Cons
Generally more expensive
Noisy
No limited treadwear warranty
The 2nd version is a step-down
Which Tire is Better?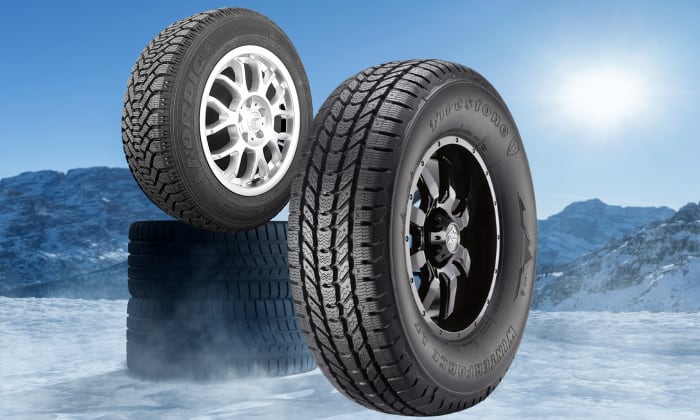 Speaking of solely winter performance, the Firestone Winterforce from Bridgestone definitely has the upper hand. However, it loses to the Goodyear Nordic when considering the ride comfort and noise canceling properties.
Sadly, both of the tires are discontinued by the manufacturers, meaning it's hard to find new tires of either model. With that said, purchasing used Goodyear Nordic tires is still worth mentioning, especially when the Winterforce 2 put up a lackluster performance.
Conclusion
Goodyear Nordic vs Firestone Winterforce is a pretty tough comparison since, as mentioned above, both tires perform in an almost similar manner. Both have ideal snow tire ratings and come with applaudable attributes for a winter tire.
We should leave the decision to you. This post provided a brief overview of these two winter tires, and we hope that it benefited you in evaluating their respective properties.
---
A related comparison: Goodyear Wintercommand vs Blizzak