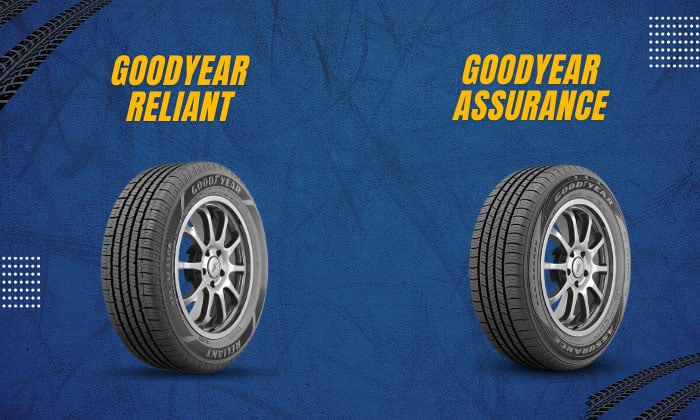 It's no secret that Goodyear makes some of the best tires in the market, along with Michelin and Bridgestone. However, because of its premium products, Goodyear tires prices might be a little too steep for most car owners.
Fortunately, Goodyear released the Goodyear Reliant All-Season in partnership with Walmart to provide drivers with a cheaper alternative. But how does it compare to one of Goodyear's top tires, the Assurance?
Let's find out in this Goodyear Reliant vs Assurance comparison. Join us as we'll compare the performance and specs of both tires and, of course, their price difference. For our comparison, we'll go with the Assurance Comfortdrive for a more accurate stand-off.
Let's jump in!
| | | |
| --- | --- | --- |
| Tire | | |
| Tire Type | Touring All-season | Grand Touring All-season |
| Tested Size | 225/65R17 | 225/65R17 |
| UTQG | 600 A A | 700 A A |
| 3PMSF | No | No |
| Tread Depth | 10/32" | 11/32" |
| Speed Index | H | H |
| Load Index | 102 | 102 |
| Warranty Distance | 65,000 miles | 60,000 miles |
| Price | $120.00 | $194.99 |
What Are They?
1. Goodyear Reliant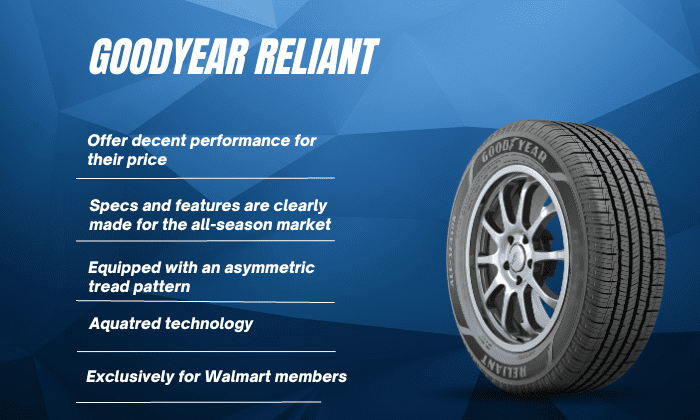 If you're looking for relatively cheap Goodyear tires, then look no further than the Goodyear Reliant. These tires offer decent performance for their price, which is great for everyday drivers and even car enthusiasts alike.
The Reliant's tire specs and features are clearly made for the all-season market, which makes it all the more versatile and appealing for car owners on a budget.
For starters, it comes equipped with an asymmetric tread pattern to help mitigate noise while improving traction and maneuverability to boot. It also features Aquatred technology, which helps the tire traverse wet roads with ease, along with wide grooves for aquaplaning resistance.
However, it's worth noting that the Goodyear Reliant is exclusively for Walmart members, so drivers without a membership need to subscribe to the store to get their hands on these tires.
Now let's move on to the Goodyear Assurance Comfortdrive.
2. Goodyear Assurance Comfortdrive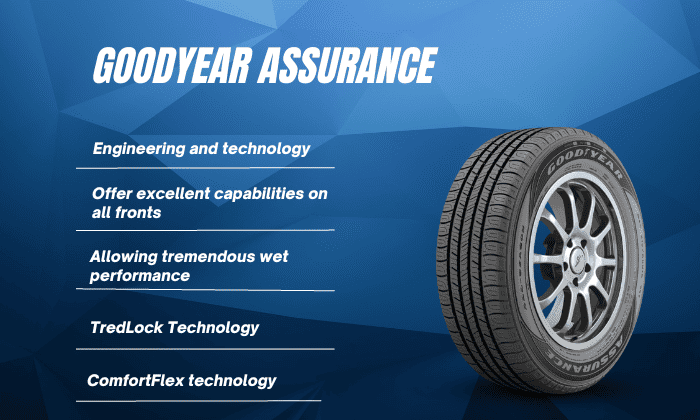 The family of Goodyear Assurance outlast many brands in the all-season tire category through advanced engineering and technology—and the Assurance Comfortdrive is no exception.
Undoubtedly one of Goodyear's most popular tires—and for good reason, these tires offer excellent capabilities on all fronts as an all-season touring option and are great for crossing all types of weather conditions.
And the Assurance Comfortdrive does this mainly with its optimized AquaChannel grooves to facilitate efficient water evacuation and minimize the risk of hydroplaning due to its symmetrical balance, allowing tremendous wet performance.
Combine that with Evolving Traction Grooves and TredLock Technology to further improve handling and traction, and you've got a tire that allows traversing through wet and cold conditions with relative ease and confidence.
For comfort, the Goodyear Assurance also has ComfortFlex technology and a noise suppression pattern to keep bumps and vibrations at bay.
Read more: Goodyear assurance comfortdrive vs Michelin crossclimate 2: what should I choose?
Differences
To further explore which is the better tire on this Goodyear Assurance vs Reliant comparison, we'll now discuss their difference in terms of performance, tire mileage, and price.
We'll be gathering data from consumer reports and personal testing to get the most accurate results for both tire ratings.
1. Wet Performance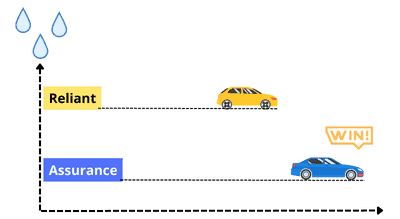 When it comes to wet performance, these tires heavily rely on traction technology to do their job. And right off the bat, we'll give this one to the Assurance Comfortdrive, mainly because of its design, which gave it an edge.
The Assurance Comfortdrive has a closed-sipe design that allows it to mitigate bending from strong braking forces, effectively preserving the tire's structural integrity. Meanwhile, the Reliant doesn't have this feature installed, so our wet experience was a little muddy.
2. Dry Performance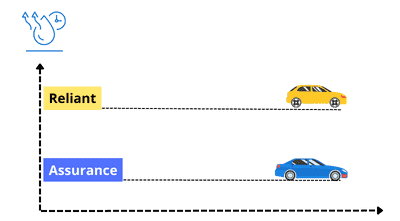 As for dry performance, the same principles can be applied. Performance in any weather condition relies on traction, and when the blocks bend due to the laws of physics, a tire's traction can be compromised entirely, especially when driving in rough conditions.
As such, larger or stiffer blocks mean better traction, and it was showcased when we tested both tires on dry roads.
3. Winter Performance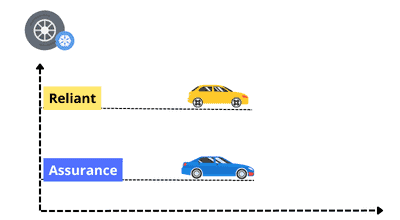 Since these tires don't have the coveted 3PMSF rating found on some premium all-season tires, like the Michelin CrossClimate 2 or Goodyear Weatherready, expect poor to mediocre performance on snow like we did.
4. Tire Mileage and Warranty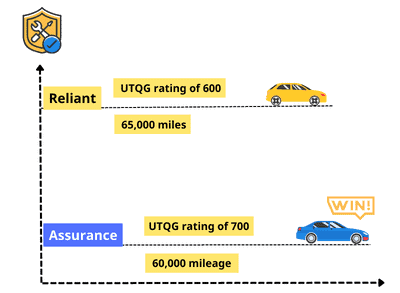 The Goodyear Reliant has a fairly decent UTQG rating of 600, which means it can last six times longer than your run-of-the-mill tires. It also has a decent mileage warranty of 65,000 miles, which is often a good indicator of how long the tire lasts.
Meanwhile, the Goodyear Assurance Comfortdrive has 700 as its UTQG rating, essentially outcompeting the Reliant. However, it only has a 60,000 mileage warranty compared to the Reliant's 65,000, so results may vary.
Regardless, UTQG rating is a much more reliable source, so we'll go with the Goodyear Assurance Comfortdrive on this one.
5. Cost
When it comes to price, there's a huge difference between the two. For a 225/65r17 sized tire, the Goodyear Reliant is priced at $120 per tire. As for the Goodyear Assurance Comfortdrive, the same size can set you back at around $194.99 per tire.
But do keep in mind that the Reliant is only available in Walmart stores, so you might need to account for membership fees. However, Walmart may also offer discounts and rebates from time to time, so watch out for some Goodyear Reliant rebate deals.
6. Pros and Cons
Goodyear Reliant
Cheap
Decent performance on wet and dry roads
Better warranty
Walmart-exclusive
No 3PMSF rating
Goodyear Assurance Comfortdrive
Excellent performance on wet and dry roads
Better tire mileage
More accessible, since it's not an exclusive
Expensive
No 3PMSF rating
What Should I Choose?
Well, it mainly depends on your budget and what you're looking for in a tire. If you simply want the better option in terms of performance, then go with the Assurance Comfortdrive. But, if you're on a budget, the Reliant is a decent alternative.
FAQs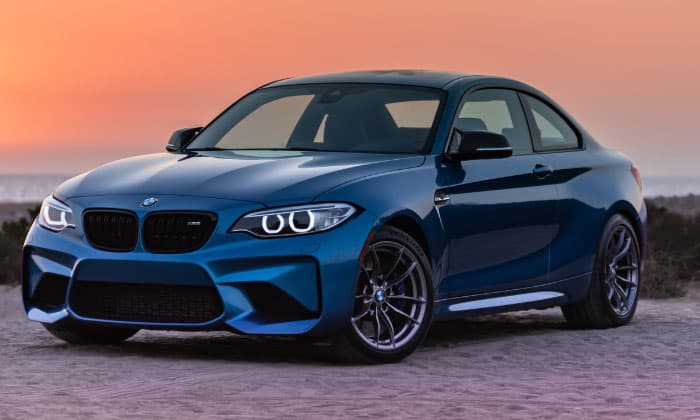 Where are Goodyear Reliant tires made?
If you're wondering what makes the Goodyear Reliant cheap aside from its specs and features, then it's because it's made in Mexico. So if you're looking for 100% American-made tires, the Reliant might not strike your fancy.
What Goodyear All-Season Tire has a 3PMSF rating?
If you prioritize snow performance for your all-season tire, then both the Goodyear Reliant and Assurance Comfortdrive aren't the tires for you, since they're not 3PMSF-rated. If you need a 3PMSF rating, go for Goodyear's Weatherready tire.
Conclusion
Goodyear offers a whole range of products for consumers to choose what they want most in a tire. And this Goodyear Reliant vs Assurance shows just how versatile the brand's products are, whether you're on a budget or simply want the best.
That being said, if you're looking for something cheap and reliable, then go for the Reliant, but if you simply want the better option, or don't have a Walmart membership, the Assurance Comfortdrive is an excellent choice.