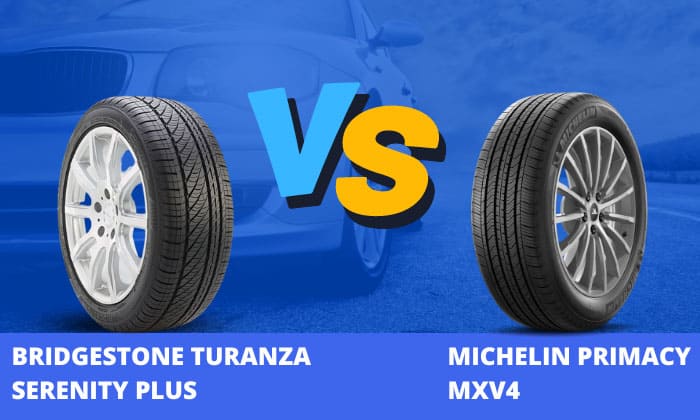 Michelin vs Bridgestone. These tires titans have been competing for quite some time now. And by the looks of it, one clear winner won't be decided anytime soon, as these premium brands have consistently put out the best tires in the market.
So, for today, we'll have to step back and compare some older products from Bridgestone and Michelin, particularly in the all season—grand touring department. Let's find out in this Bridgestone Turanza Serenity Plus vs Michelin Primacy MXV4 comparison.
But, as always, before we get into the nitty gritty part, let's see how these tires compare on the surface.
| | | |
| --- | --- | --- |
| Tire | | |
| Brand | Bridgestone | Michelin |
| Tire Type | All season—Grand touring | All season—Grand touring |
| 3PMSF | None | None |
| Tested Size | 225/55R17 | 225/55R17 |
| Tread Depth | 12/32" | 11/32" |
| Section Width | 9.2" | 9.2" |
| Rim Range | 6-8" | 6-8" |
| Max Inflation Pressure | 51 psi | 44 psi |
| Max Load | 1609 lbs | 1609 lbs |
| Revs/Mile | 778 | 777 |
| Tire Weight | 26 lbs | 26 lbs |
| Price | $192.67 | $215.33 |
What Are They?
1. Bridgestone Turanza Serenity Plus
The Turanza line is Bridgestone's dedication to giving utmost comfort. It offers standard and premium touring tires which fit every driver's needs, as well as OEM tires like the Bridgestone Turanza EL400.
That said, the Bridgestone Turanza Serenity Plus was released a decade ago and was superseded by the Bridgestone Turanza Quiettrack. Although there's an apparent age gap, there's one quality that these tires share—they're one of the quietest tires in the market.
The Bridgestone Turanza Serenity Plus achieves this through the brand's so-called silencer grooves. These grooves help mitigate hums from the tire outstandingly, especially at low speeds. Giving you the comfort that's expected from a grand touring tire.
Moreover, the Turanza Serenity Plus is also great on wet roads with its silica compound, asymmetric tread design, and high-angle grooves. These features work together to maximize traction and aquaplaning resistance, allowing utmost maneuverability and safety.
The tire also has broad treads made from Nano Pro Tech Rubber, which allows a wider contact patch, ultimately improving rolling resistance, grip, and fuel efficiency.
2. Michelin Primacy MXV4
Like the Bridgestone Turanza Serenity Plus, the Michelin Primacy MXV4 was released a very long time ago and has since been discontinued, replaced by the Primacy A/S. However, it's still a very capable, well-rounded tire.
For starters, it's fitted with a symmetric tread design integrated with 4 circumferential grooves to enhance grip and aquaplaning resistance. Meanwhile, a sunflower oil additive allows it to adapt to any weather condition, including snow.
Moreover, it also comes equipped with Michelin's Max Touch Construction technology, which maximizes the tire's footprint, incidentally improving its durability and fuel efficiency. Couple that with Comfort Control, and you're sure to have a peaceful time with this tire.
So how do these tires compare? Let's see their differences.
Differences
1. Wet Performance
For wet performance, the age of both these tires is vividly apparent. While they're not terrible by any means, the advancements made in tire technologies have shown that these tires are somewhat lacking when compared to newer iterations.
Regardless, both tires performed quite well at controlled speeds. Hydroplaning resistance was definitely solid, but maneuverability eventually became muddier at higher speeds.
2. Dry Performance
Similar to wet performance, it's definitely a tie on this one. Both tires gave respectable grip and braking distances despite their age. While they might not score 10/10 reviews, they're certainly on par with some mid-range brands out there.
Maneuverability is also decent, except on sharp turns. But then again, touring tires aren't exactly known for cornering like summer lines, so it's fairly understandable.
3. Snow Performance
While both tires have specialized tire compounds to combat snow, they're very limited. However, Michelin's sunflower compound made their tire pliable enough to handle light snow, which allowed it to perform better.
As for the Bridgestone Turanza Serenity Plus, maneuverability was definitely an issue, as grip and road feedback was noticeably compromised.
4. Comfort
True to its name, the Bridgestone Serenity Plus gave a very serene drive as vibrations and noise were significantly mitigated from entering the cabin.
Although the Michelin Primacy MXV4 wasn't too bad, especially at reducing vibrations from bumps and dips, the noise was definitely more noticeable with this one.
5. Price, Availability, and Warranty
Both tires are premium products at price ranges that might be too expensive for everyday drivers. However, the Bridgestone Turanza Serenity Plus is cheaper at $192.67, while the Michelin Primacy MXV4 comes at $215.33.
But both tires can be hard to find in America. For instance, Bridgestone Turanza Serenity Plus Costco and American Bridgestone site stocks are nowhere to be seen, while the Michelin Primacy MXV4 is discontinued, except in Canada.
As for warranty, the Bridgestone tire has a mileage of 80,000, 75,000, and 50,000 for H, V, and W-rated vehicles, respectively, while the MXV4 is a flat 60,000 miles.
Other comparisons:
Pros and Cons
Bridgestone Turanza Serenity Plus
Michelin Primacy MXV4
Pros
– Decent wet and dry performance
– More comfortable
– Better warranty
– Cheaper
– Decent wet and dry performance
– Average snow performance
– Comfortable
Cons
– Poor snow performance
– Hard to find
– More expensive
– Flat 60,000-mile warranty
– Discontinued (except in Canada)
FAQs
Does Michelin have a run-flat tire?
Yes. Michelin run flat models can be distinguished by their ZP (Zero Pressure) printing on the tire's sidewall, so look for these if you're worried about driving on a flat tire.
What Vehicles Will the Michelin Primacy MXV4 Fit?
This tire can fit various vehicles, including sedans, minivans, and coupes. It's also suitable for various car brands, such as Honda, Lexus, Audi, Mitsubishi, Nissan, Toyota, etc.
Conclusion
In this Bridgestone Turanza Serenity Plus vs Michelin Primacy MXV4 comparison, the choice is up to you. Bridgestone's tire is very comfortable, while Michelin's performs better on snow.
However, since both tires have been replaced, they can be hard to find, especially the Michelin Primacy MXV4, which has since been discontinued.