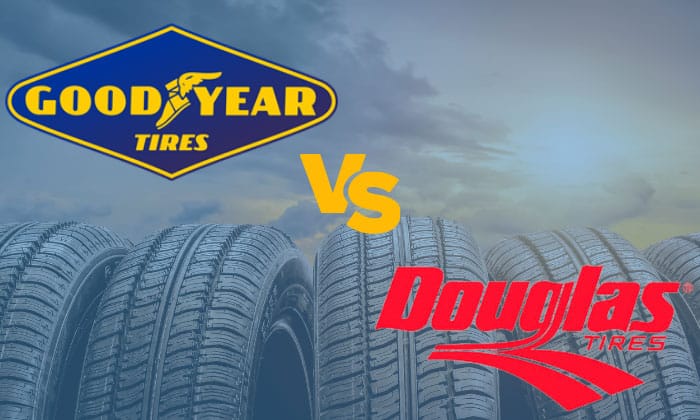 When comparing Douglas vs Goodyear tires, which brand offers the best-valued tires for your money? To put it simply, Douglas excels at offering affordable and reliable tires, while Goodyear is known for its excellent performance selection.
Below is a comparison table between both brands' all-season tires to preview their strengths.
| | | |
| --- | --- | --- |
| Brand | Goodyear | Douglas Tire |
| Tire categories | All-season, all-terrain, sports performance, summer, winter, and electric | All-season and performance |
| Sizes | 14 to 18." | 13 to 18." |
| Tire Rating (Speed) | R | H, S, & T |
| Mileage Warranty | 45,000-80,0000 mileages warranty | 45,000 miles warranty |
| Vehicles | Passenger cars & CUV | Passenger cars, Minivan, SUVs, & CUVs |
| Performance | Superior grip for wet, dry, and snow roads | Decent performance on dry and wet roads. Don't fare well with heavy snow and icy terrains. |
Know how Goodyear and Douglas's Tires compare by reading our article below.
Compare in Detail
1. About Goodyear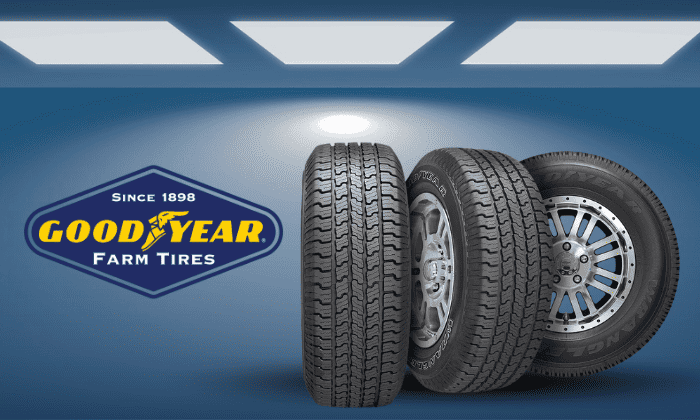 Established in 1898, Goodyear has produced tires for nearly any vehicle and machinery. The leading tire brand has been making innovative contributions to the industry, such as the first nylon tires.
2. About Douglas Tire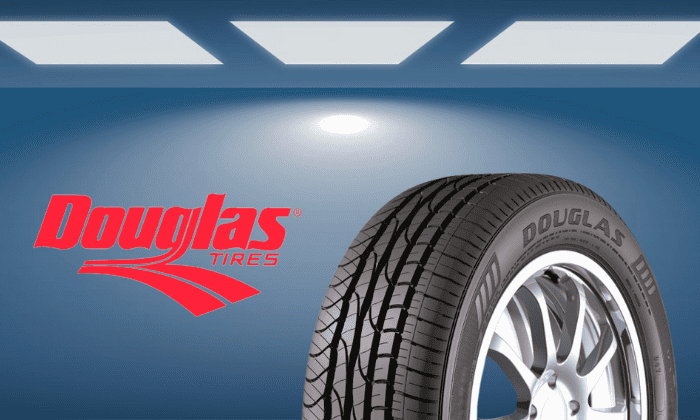 Douglas Tire company, meanwhile, is considered a subsidiary of Goodyear. However, these tires can only be bought via Walmart.
Through its Kelly Springfield Tire Company subsidiary, Goodyear trademarked the Douglas name in 1992. The same manufacturer of Goodyear tires is also responsible for Douglas Tire lines.
Differences Between Two Tires
1. Availability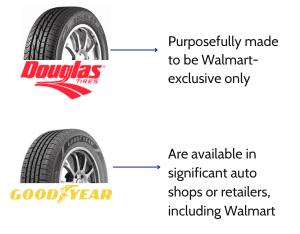 Douglas tires are purposefully made to be Walmart-exclusive only. In contrast, Goodyear tires are available in significant auto shops or retailers, including Walmart.
2. Tire Types
Only two Douglas Tire lines are available in Walmart—performance and all-season–built primarily for passenger vehicles. You can find nearly any type of tire from Goodyear, which offers several lines for various vehicles and road conditions, including heavy snow.
3. Performance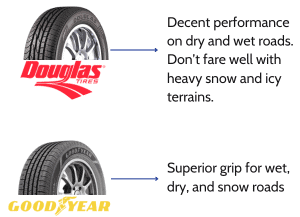 Douglas lines have an above-average tire rating on dry road traction. That said, they still pale in comparison with Goodyear tires, especially when it comes to superior lines like Assurance.
Regarding wet performance, Goodyear is still the clear winner – their products offer excellent braking and responsiveness even on damp roads. And although Douglas' All-season line can fare pretty well on wet terrains, the same can't be said about their Performance family.
The disparity becomes clearer when you compare snow performance. Goodyear's All-season, although not designed specifically for winter, still boasts a strong grip on icy roads. The brand also offers several specialized tires for heavy snow, such as Winter Sport and Winter Maxx.
Meanwhile, Douglas tires perform poorly on snow and icy roads.
4. Warranty
All Douglas Tire lines have a 45,000-mileage warranty and qualify for Walmart Return Policy.
Meanwhile, every Goodyear tire has a 5-year Limited Warranty upon purchase. The brand also offers a mileage warranty of 45,000 to 80,000, depending on specific tire options.
5. Pros and Cons
Douglas Tires
Affordable tire prices
Reliable drive quality on wet and dry roads
Good performance tires for their value
Only available at Walmart
A limited selection of tires
Goodyear
Wide range of tires
Superior traction and road performance
Available in most tire shops
6. Cost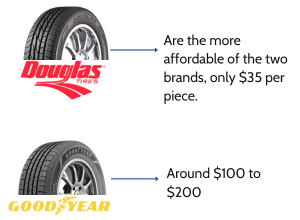 Douglas tires are the more affordable of the two brands. You can buy their all-season tire for only $35 per piece, making them the best choice among vehicle owners with a tight budget.
Meanwhile, the price range for Goodyear is much higher—around $100 to $200.
Goodyear tires cost more than the same kinds from Douglas, ranging from $100 to $200. You will likely get the same price as Douglas tires from legacy products, such as the Goodyear Arriva tires.
Popular Tires of Each Brand
1. Douglas Tires
The Douglas Xtra Trac II is a high-performance all-season tire with optimized road traction for dry conditions. It has reinforced steel belts to limit the treads from flexing for improved steering response and stability.
The all-season line from Douglas is touted as a budget tire that satisfies everything your vehicle needs. Its dry traction is acceptable but has poor wet and winter performance, making it unsuitable for regions with heavy snow.
2. Goodyear
The Eagle line is performance tires that provide superior traction on wet and dry roads while providing a smooth and quiet ride. Its popular variant is the Eagle F1 series, which has optimized steering responsiveness, stopping power, and reduced road noise.
The Assurance line is a standard all-season Goodyear tire comparable to Douglas tires. This line has specialty tires that improve specific aspects, such as the TripleMax, which is implemented with HYDROGRIP technology for maximum braking performance.
Read more: Goodyear Reliant vs Assurance: which is better?
Goodyear's Integrity line is an all-season tire with superior grip in most road conditions. Its high-tensile steel belts are the main feature that gives the tire better durability and a longer lifespan than most of its competitors.
Integrity tires also have a solid centerline rib that makes the tread last longer while providing a quiet ride.
Which is Better?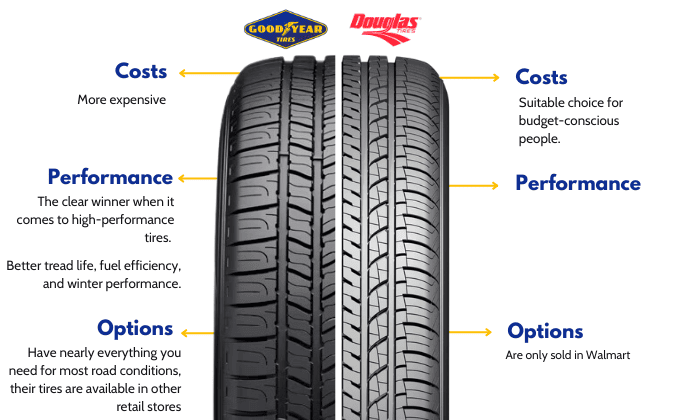 There are three aspects where a brand is ahead of the competing brand.
Douglas Tires are the cheapest choice among the two brands, with their all-season available for only $35. This makes the brand a more suitable choice for budget-conscious people.
Goodyear is the clear winner when it comes to high-performance tires. This brand's Eagle tires can achieve reliable grip in wet and snow conditions, which even the Douglas Xtra Trac II cannot do.
In addition, Goodyear's product lines also feature tires with better tread life, fuel efficiency, and winter performance.
Goodyear has nearly everything you need for most road conditions, whether performance, all-season, all-terrain, or winter tires. This brand also wins regarding availability, since their tires are available in other retail stores, while Douglas tires are only sold in Walmart.
What Should I Choose?
When you need a budget-friendly replacement tire, Douglas is the better choice out of the two. Even at a low price, their products are reliable when it comes to daily commutes in dry and standard road conditions. Their tires are also suitable as a spare in case of emergencies.
Goodyear tires are better when you require a better road grip on various road conditions, especially wet and snow. For example, Goodyear's Winter Command is an excellent option for frozen roads.
You will also want to pick Goodyear tires for the best value for your money. Goodyear tires are better since they last longer and offer a more extended mileage warranty. While cheap, Douglas Tire's problems include a short tread life and limited warranty coverage.
Things to Consider Before Choosing a Douglas or Goodyear Tire
Drivers within the southern hemisphere only experience dry and wet conditions, while those in the north face snow and iced roads. All-season tires from either Douglas Tires or Goodyear are both okay if you only experience dry weather or occasional light rain.
You must consider winter tires if you expect to drive on snow or frozen roads. Goodyear tires built for winter conditions would be better in this case.
Another essential factor to consider is your budget. Even if you need better road performance for your vehicle, you can only get tires you can afford. While Douglas Tires are recommended for those on a budget, there are affordable Goodyear lines you should check out as well.
Frequently Asked Questions
Who makes Douglas Tires?
Goodyear is the parent company of the brand with Douglas Tires made by the same people who made the Eagle and Wrangler line.
Where are Douglas Tires made?
As explained above, Douglas Tire is manufactured by Kelly-Springfield—a company owned by Goodyear. Therefore, these tires are produced in Kely-Springfield's manufacturing facility, which is located in Fayetteville, North Carolina.
Should I still buy Douglas Tires all-season line if I can buy Goodyear Integrity tires?
Buying premium tires for old vehicles or rarely used ones can be a waste of money. Douglas Tires can save you money when you only need a basic tire as a replacement or spare.
Conclusion
When comparing Douglas vs Goodyear tires in terms of affordability, the latter is the best choice when you need a simple tire with dependable performance and a mileage warranty. However, Goodyear tires are the best choice for performance, long service life, and comfortable drives in most road conditions.