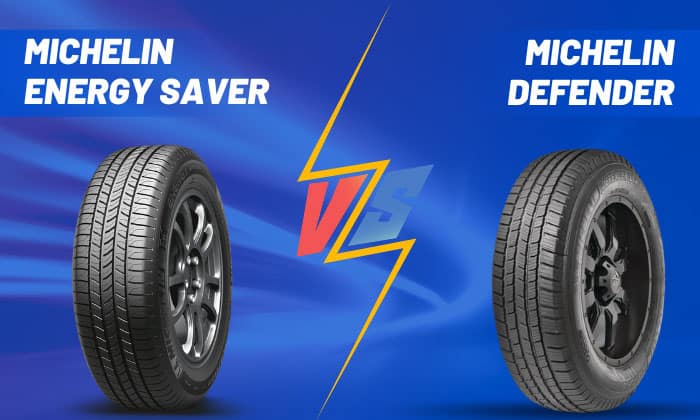 Fuel-efficient tires are gaining traction because of gas price hikes. So, we looked into the most talked about fuel saving tires, Michelin Energy Saver vs Defender, and here's what we found.
Michelin Energy Saver was engineered with fuel efficiency in mind, but its performance falls short on dry and wet surfaces. Meanwhile, Michelin Defender tires are reliable year round with exceptional wear life.
| | | |
| --- | --- | --- |
| Factors | | |
| Wet | Poor | Winner |
| Dry | Capable | Winner |
| Noise/ Comfort/ Ride Quality | Competitive | Winner |
| Snow and Ice | Summer tire | All season tires |
| Price | Slightly more expensive | Cheaper |
| Warranty | Above-average | Winner |
What Are They?
1. Michelin Energy Saver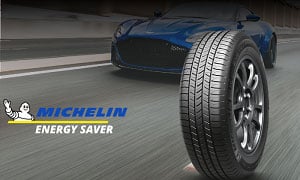 Michelin Energy Saver is a summer tire that promises excellent wet braking ability and a mileage warranty of 50,000 miles.
It belongs to the family of fuel-efficient tires called Michelin Energy. The other two tires in the line are:
Michelin Energy Saver All Season – developed for passenger vehicles with a mileage support of 65,000 miles
Michelin Energy LX4 – another passenger tire with a 50,000 miles warranty
Michelin Energy Saver was released in Europe in 2007 while the Energy Saver A/S was launched in 2009 in North America.
2. Michelin Defender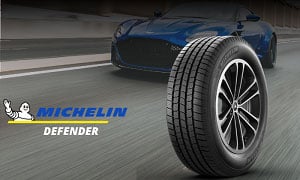 Michelin Defender is composed of three tires that promise long-lasting mileage, all-season safety, and excellent rides.
Michelin Defender 2 – developed for CUV and passenger vehicles with a warranty of 80,000 miles
Michelin Defender T + H – designed for CUVs, SUVs, and passenger cars with brand support of 80,000 miles
Michelin LTX M/S – eco-friendly tire that can last up to 70,000 miles. It promises SUVs, CUVs, and light trucks fuel economy, dependable wet grip, and snow traction.
Michelin's LTX M/S was introduced in 2015, followed by the Michelin Defender T +H in 2017 and the Defender 2 in 2022.
Differences: Michelin Defender vs Energy Saver
1. Warranties
Michelin Defender tires have longer support than Michelin Energy tires. Its mileage warranty ranges from 70,000 – 80,000 miles while the Energy tires are capped at 50,000 to 65,000 miles.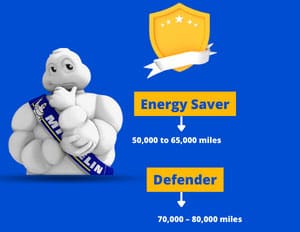 At Costco, you might encounter offers such as X tour vs Energy Saver. Essentially, the X tour A/S T +H has similar features to the Defender T+H and also boasts fuel efficiency, but its best selling point is the ultimate treadlife of 130,000 miles, almost double that of Energy Saver tires.
2. Results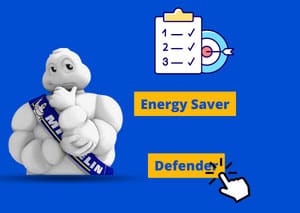 If you look at their tire types, Michelin's Energy Saver is a summer tire, while the Defender line consists of all-season models. Hence, the Defender tires excel in wet and winter conditions in this Michelin Defender vs Energy Saver debate. Here are more details.
3. Wet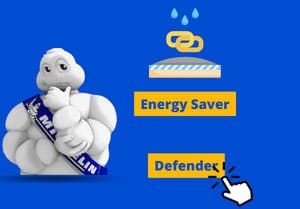 The aquaplaning resistance of Michelin's Energy Saver and Energy Saver A/S in wet conditions is not as good as the Defender tires. The Energy Saver actually has poor wet grip.
Defender tires drive well on slippery roads because they can effectively evacuate water and increase grip through wide circumferential channels, lateral and longitudinal sipes, and a tread compound rich with silica content.
4. Dry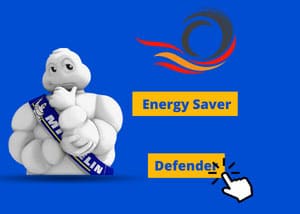 Consumers loved the firm handling and braking ability of the Energy Saver on dry roads, which was carried on by the Energy Saver A/S. However, this performance is far from the excellent dry traction that the Defender T+H, LTX M/S, and Defender2 can offer.
Defender tires with their Maxtouch technology run better than the Energy Saver, as the latter will squeal under high-speed cornering.
Related comparisons: Michelin LTX M/S 2 vs Defender – Which is the Better?
5. Noise/comfort/ride quality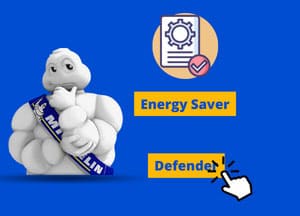 Energy Saver tires are quiet, but their tread life is disappointing. These tires have high road feedback in that you can feel bumps more easily, though the drive is still reasonably smooth.
The Defender 2 can lessen airborne noise with its Piano Acoustic tuning, while the Defender T+H and LTX M/S depend on Comfort Control technology to reduce vibrations. As a result, they emit minimal to low noise on the road, less than what the Energy Saver gives off on rough surfaces and at high speeds.
6. Snow and Ice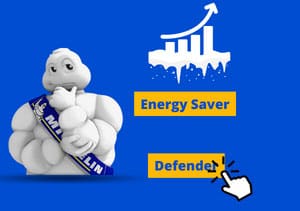 Since Michelin Energy Saver is a summer tire, it is not usable in any winter condition.
On the other hand, the Michelin Defender tires are not snow-rated, but they are usable in light snow conditions. They rely on a silica-rich compound and zigzag sipes for snow traction.
7. Fuel Economy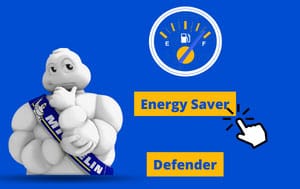 Many forums view Energy Savers as one of the best fuel-saving tires in the market, so concerns about these models being discontinued triggered comparisons of its gas mileage to Defender tires.
For instance, when compared with Defender models, the Energy tire has a 2-3 mpg gain, and the net savings you get is enough to buy a new tire.
In some reviews, the Defender T+H mpg is consistent. It remained at 39 mpg. Some shared that the Defender tires have reduced fuel efficiency in wintry conditions.
8. Cost
The Defender T + H has the lowest starting price, which is $117.
| | |
| --- | --- |
| Tires | Price |
| Energy Saver | $142- $217 |
| Energy Saver A/S | $152 – $277 |
| Defender 2 | $156-$258 |
| Defender T + H | $117-$404 |
| Defender LTX M/S | $155-$472 |
Pros and Cons
Michelin Energy Saver
Low fuel consumption
Quiet on the road
Good on dry roads
Inferior wet traction
Unusable in snowy conditions
Michelin Defender
Durable and reliable all seasons
More affordable
Exceptional tire longevity
Less noise and better handling
Reduced fuel efficiency in winter
FAQs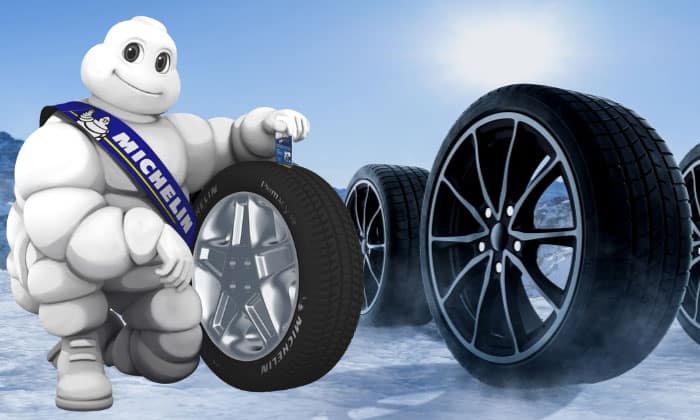 What replaced the Michelin Energy Saver?
Michelin Energy Saver Plus replaced Michelin Energy Saver. It improved the predecessor's fuel savings up to 60 liters through heat reduction technologies.
How long do Michelin Energy Saver tires last?
Michelin Energy Saver tires are designed to last up to 5 years. Reddit users shared that they work well on the highway and provide higher gas mileage compared to Defender and Premier models.
Which is better, Michelin Energy LX4 or Defender?
When comparing Michelin Energy LX4 vs Defender tires, the LX4 has the poorest performance. Its wet and winter features are not good enough to sustain top performance as the tire wears out.
Which is better, Premier Vs Energy Saver?
Michelin Premier tires perform better than Energy Saver models. For instance, when you compare the Premier A/S vs Energy Saver, the Premier A/S has a higher tread wear rating (a score of 640 vs 400 or 480).
The Energy Saver wears out quickly despite providing smooth and quiet rides.
Conclusion
The Michelin Energy Saver vs Defender comparison revealed that the fuel savings you get from an eco-friendly summer tire is truly valuable if you live in areas with mostly warm weather.
That said, Defender tires are the better choice if you drive on rough roads frequently under different weather conditions.
Tire dealers recommend Defender tires on hybrid vehicles, so if you want to know the real deal about defender hybrid, stay tuned.