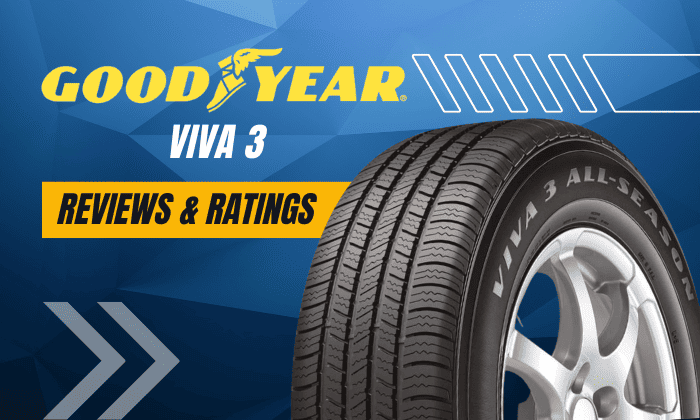 Are Goodyear Viva 3 tires good? The answer is a big YES! In fact, the Viva 3 receives a lot of positive feedback from customers and high tire ratings on Walmart and other retailers.
Outstanding all-season properties, traction performance, and superb ride quality are all excellent features that the Goodyear Viva 3 has promised.
But the question is: "Does this tire have what you're looking for?". So continue reading for a more comprehensive Goodyear Viva 3 tire review including its performance and design, specifications, price range, and more.
Short Overview of Goodyear Viva 3 Tire
The Goodyear Viva 3 is no doubt an improved edition of the Goodyear Viva 2. This all-season tire inherits the unique tread patterns, which deliver smooth and quiet rides. The tread design also expels water for hydroplaning reduction too. Regarding the treadwear mileage warranty, it's the same across the two versions.
The key difference between Goodyear Viva 2 vs. Viva 3 is that the latest version now comes with newly improved tread grooves that can evacuate slush, which is ideal for winter use. Moreover, The Viva 3 boasts better durability thanks to its innovative rubber compound that prevents uneven wear.
Notable Features of Goodyear Viva 3 Tire
Here's what the Goodyear Viva 3 offers!
1. Design
The tread design and embedded technologies of the Goodyear Viva 3 play a huge role in its stunning properties on the driveway.
These tread blocks enhance handling, traction, and cornering capabilities, providing a smooth driving experience in all seasons.
Four Circumferential Grooves
This tire comes with four wide circumferential grooves that allow quick dispersion of water as well as enforce hydroplaning prevention.
The Goodyear Viva 3 uses multiple symmetrical sipes in the form of zigzag lines that hold firmly on snow. Such patterns also contribute to the tire's uniform treadwear, low noise level, and vibration reduction.
2. Performance
Let's see how the Viva 3 performs on different surfaces and driving conditions.
1. Dry performance
This tire behaves well on dry tarmacs. The Viva 3 is stable and offers a good handling capability and road contact on dry surfaces. It also possesses good braking distance under normal conditions.
You might experience slow steering reaction time during cornering and higher speed driving, so do be extra careful.
2. Wet performance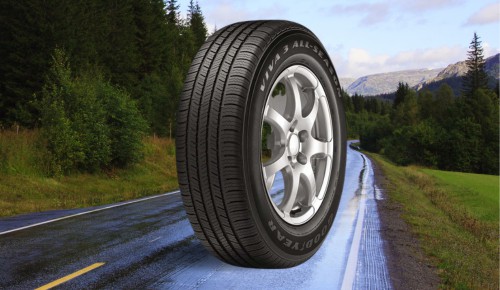 Accordig to some consumer's reports, the Viva 3 tends to lose its grip on rainy days, crippling the handling, responsive steering, and smooth cornering on wet road surfaces.
At higher speeds, you may experience instability. Moreover, keep in mind that it has a long braking distance on wet surfaces. We advise against high-speed driving on slippery roads or under stormy conditions.
3. Winter performance
The handling, traction, and grip levels the Goodyear Viva 3 provides in light snow are decent, but not on par with what other all-season tires deliver.
Unfortunately, this tire struggles in deep or packed snow, and generally does not have an ideal braking distance on icy roads.
4. Off-road performance
It is not this tire's fault that it is not built for off-road expeditions. Sure, it features groove technology that drains mud and can withstand minimal dirt roads. However, keep in mind that Goodyear Viva 3 is an all-terrain tire and not an off-road one.
5. Ride quality/comfort
In terms of noise levels, Viva 3 provides a quiet ride, but not on highways, as it creates tread noise.
Comfort-wise, this tire allows great ride quality even when driving on bumpy or uneven roads. At normal speeds, the tires operate smoothly and stably. However, do expect vibrations at higher speeds.
6. Specifications
Below are the specifications of the Goodyear Viva 3 all-season tire:
| | |
| --- | --- |
| Attributes | Goodyear Viva 3 |
| Tread Depth | 9/32nds |
| Section Width (in.) | 5 |
| Rim Range (in.) | 5-6 |
| Overall Diameter (in.) | 23 |
| Load Index (lbs) | 1047 (82) |
| Load Range Rating | Standard (SL) |
| Max Speed (MPH) | 118 (T) |
| Wet Traction | A |
| Inflation Pressure (PSI) | 51 |
The Goodyear Viva 3 offers a size range that is ideal for a variety of vehicles, including small and medium-sized automobiles and minivans.
7. Warranty
On average, Goodyear tires come with tread wear warranted mileage of around 45,000 to 65,000 miles.
The Viva 3 offers a 60,000-mile limited manufacturer tread life warranty, just shy of the longest mileage warranty Goodyear provides. You can expect the tire to last at least 60,000 miles. This assumes proper use and maintenance are followed.
8. Pricing
All-season tires typically cost from $80 to $120 each. And by using this price range as our basis, Goodyear Viva 3 is considered to be a slightly affordable one for an all-season tire.
You can purchase the Viva 3 tire for as low as $54 (for the 14-inch model), and the price can go up to $112/tire (18-inch model).
3. Pros and Cons
In summary, here are the key features of Goodyear Viva 3, which mostly are exhibiting beneficial properties while some are surely red flags.
Affordable price point for a Goodyear tire
Promotes uniform treadwear
Decent treadwear warranty length
Average dry road performance
Great light snow performance
Minimal off-road features
Average ride quality
Bad traction on wet surfaces
Poor overall performance at high speeds
Poor overall braking power
Is Goodyear Viva 3 Tire Worth It?
Frankly speaking, Goodyear Viva 3 is a decent choice at its price. It does most of the things you expect an all-season tire to do. The tire performs acceptably on dry or light snow surfaces and allows some minimal off-roading. It also comes with a good mileage warranty.
However, if you're living in areas where expect high precipitation, the Viva 3 might not be the choice. Its poor traction on wet surfaces is a big concern. On top of that, the tire doesn't perform well at higher speeds.
Consider your needs, preferences, as well as your typical driving conditions before making the purchase.
Conclusion
Are Goodyear Viva 3 tires good? Yes! That depends. The Goodyear Viva 3 tires are a budget-friendly option that provides decent performance for everyday driving needs.
However, there are different tires from mid-range brands that offer an exponential boost in performance at just a $10 to $20 difference. Again, we suggest a careful inspection of your options. Take into account your specific driving requirements, the weather conditions in your area, and your budget to make the best choice.
---
Read next: